Getting a Zambia Tourist Visa Made Simple
Are you planning to see the Big Five of wildlife, check out one of the seven natural wonders of the world, or get your adrenaline going with adventure activities? A trip to Zambia is guaranteed to be a fun and unique experience, but only after obtaining a tourist visa. If you need one but don't know where to start, this comprehensive guide explains what the easiest way to get a Zambia tourist visa is and how to speed up the process with DoNotPay!
Does Zambia Require a Tourist Visa?
Yes, U.S. travel document holders need to apply for a tourist visa, but they don't have to request pre-approval of their entry. The Embassy of Zambia states that you can apply for the following types of tourist visas:
Number of entries
Fee
Validity
Single
$50

Three years for U.S. passport holders
Three months for all other nationals

Double
$80
Multiple
$150
The embassy usually takes up to five days to process visa requests. If you're in a rush, you can expedite the process by paying:
$50 for same-day service
$40 for next-day service
At the time of writing this article, to enter Zambia, you also need to get tested for COVID-19 upon arrival despite bringing a negative PCR test result.
To ensure you have the latest information regarding COVID-19 restrictions, contact the Embassy of Zambia by calling 202-234-4009 or 202-234-4111.
How To Apply for a Zambia Tourist Visa
To successfully apply for a Zambia tourist visa, check out the following list of application requirements:
Your passport with at least six more months of validity and two blank pages
Fee payment (money order or bank-certified check)
A photocopy of your passport (non-U.S. citizens need to submit a photocopy of their proof of residence as well)
Two visa applications
Two photographs 2 x 2 inches signed on the back and stapled to the upper right corner of the applications
A flight itinerary or booking confirmation
The Embassy of Zambia allows you to apply:
In person
By mail
Apply for a Zambia Tourist Visa in Person
The Embassy of Zambia processes visa applications Monday–Friday, 9:30 a.m.–12:30 p.m. at the following address:
EMBASSY OF ZAMBIA
ATTN: VISA DEPT.
2200 R Street, NW
Washington, DC 20008
Send a Zambia Tourist Visa Application by Mail
To obtain a Zambian tourist visa by mail, send your application and other required material to the embassy using a USPS or FedEx return envelope and a prepaid shipping label. Double-check your package contents to ensure quick application processing. The Embassy of Zambia returns incomplete packages or leaves such applications on hold.
Zambian Traditions and Customs
Zambia is a country of singing people and beautiful nature, but the laws are strict. What may seem normal in the rest of the world can get you punished in Zambia, so, before you go, you should get acquainted with the do's and don'ts:
Zambians find it rude if you accept anything with your left hand, even if left-handed
4 p.m. tea is a leftover custom from the time when the country was a colony
Zambians usually kneel when greeting elders
You mustn't wear clothing similar to the local law enforcement because it can get you up to 15 years in prison
Zambians sing a lot. All of their ceremonies consist of drumming and singing
Public intoxication is punishable by law
Get a Zambia Tourist Visa Faster With DoNotPay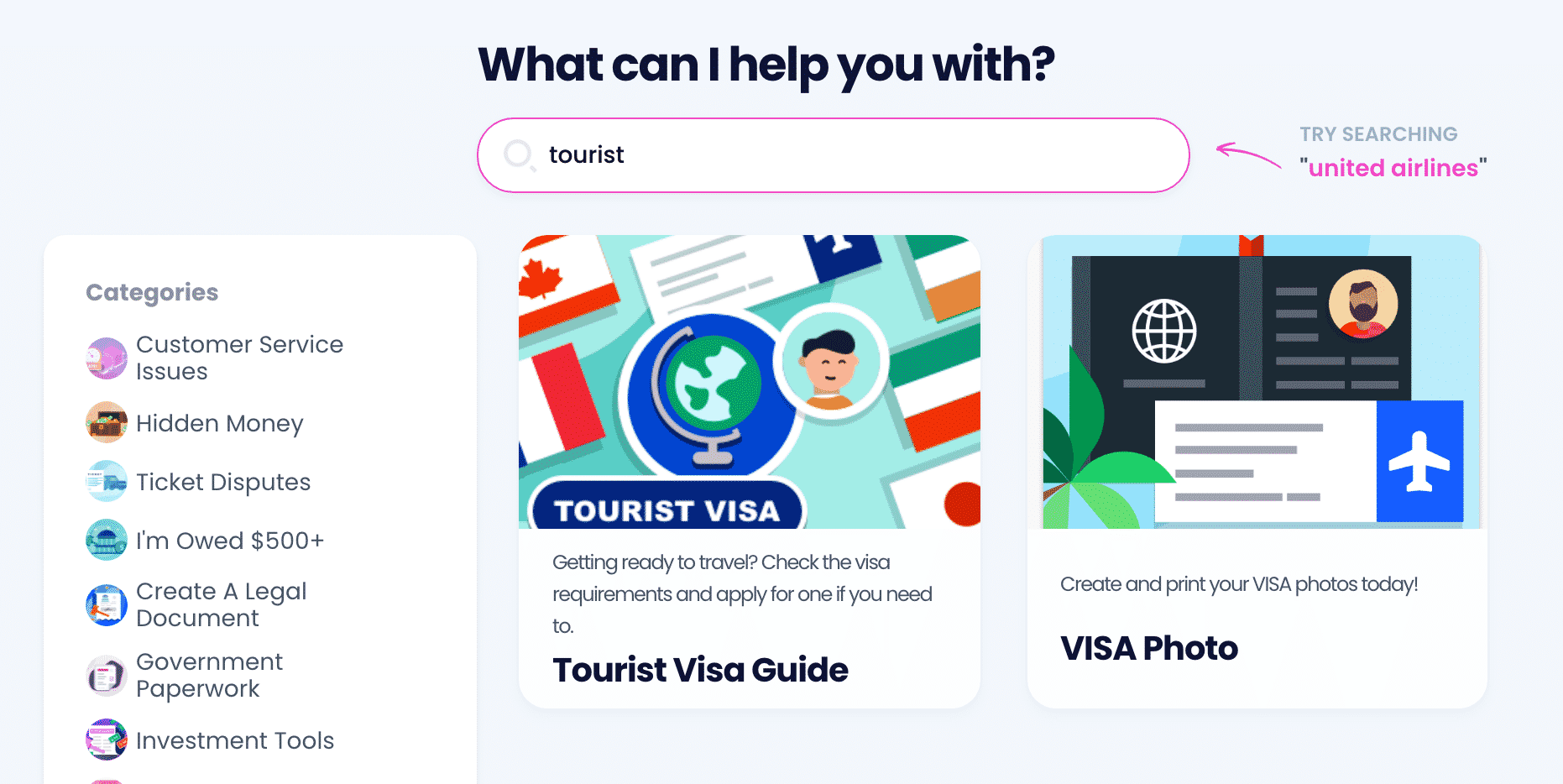 Applying for a Zambian or any other tourist visa can be a time-consuming process, and it's of no help that the information available online is often outdated. You can be sure that you'll get the correct information and shorten the application process every time with DoNotPay!
To get started:
Type Tourist Visa Guide in the search bar
Answer a few questions, including whether you're a U.S. passport holder and which country you're traveling to
Here's what we can do for you:
Check if you need a visa to enter a country of your choice
Check whether you have all of the necessary paperwork to apply for a visa if you need one
Provide you with a direct link to the online application form, if the country offers one
Contact the country's embassy to inquire about remote applications so that you can avoid getting exposed to COVID-19
Create a step-by-step PDF guide for you in case there is no way to apply online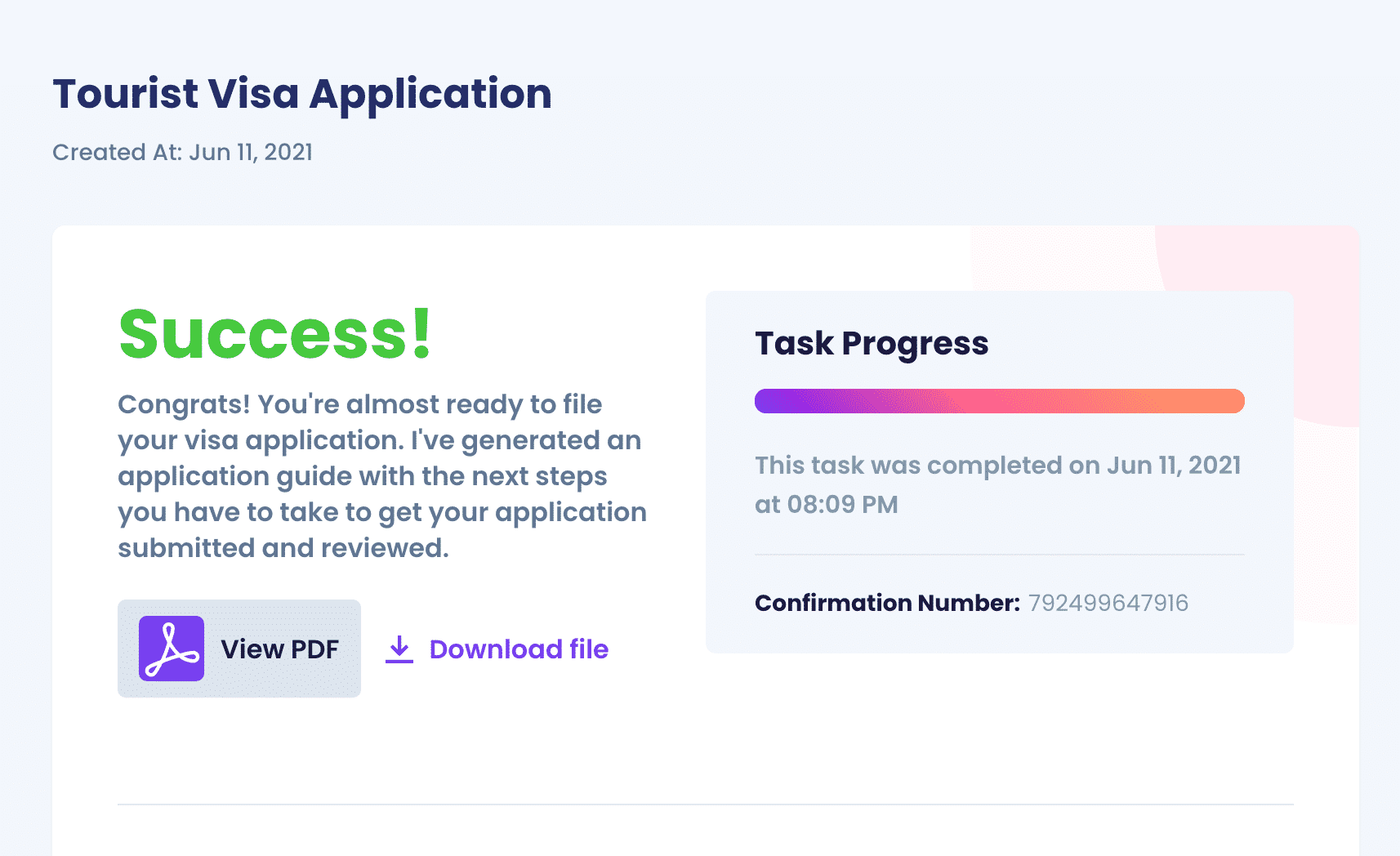 Use DoNotPay To Discover More of What Africa Has To Offer
Whether you want to climb Kilimanjaro, see the pyramids, or go on safaris, Africa is a continent that has a lot to offer, and DoNotPay can help you explore all of it. Find your next destination and check out whether you need a visa for the following countries:
DoNotPay Helps You Tackle All Kinds of Problems From the Comfort of Your Home
Are you too busy to go to Target, Walmart, or photo studios to get your passport photos taken? DoNotPay offers you the possibility of taking them yourself and having them edited without going anywhere!
Thanks to our app, you don't need to visit the post office if you want to initiate a return. You can also skip going to a notary office because we'll help you get your documents notarized.
Here are some other tasks you can complete with ease using DoNotPay:
We Help You Get Fuss-Free Subscriptions to Any Service
Interested in a specific service or platform? Make sure to get the best out of your free trial without getting charged and ending up with an unwanted paid membership. Even if you make a mistake, DoNotPay can end your subscription in a few simple steps!
Our system allows you to generate virtual credit card numbers to prevent platforms from getting your real bank details and using them for unauthorized transactions. We also offer burner phone numbers that will help you go through any subscription or verification procedure without disclosing personal details.