How to Obtain a Yuba County Certificate of Divorce
Divorce or the dissolution of a marriage can be a stressful and frustrating time that is often fraught with mixed emotions. After the divorce is finalized, you may need copies of your divorce records for any number of reasons. From handling financial accounts and insurance policies, to getting your name formally changed, or a myriad of other issues, divorce records help both parties get their affairs in order after the marriage ends. Obtaining a copy of your divorce certificate should not be a difficult process, so if you are searching for how to get your , DoNotPay is here to help you navigate the process.
Are Divorce Decrees and Divorce Certificates the Same?
A divorce decree and a  are two different types of documents with different information. So, what is the difference, and what purpose do they serve?
What's a Divorce Decree?
Your divorce decree is the final, legally binding document, that is issued by the court that formally ends your marriage.
It will contain very specific details regarding your case, including, but not limited to:
division of property, assets, and debt
child custody, visitation and/or child support if minor children are involved
spousal support
name changes, if applicable
other important information
Divorce decrees can be used as proof of divorce and for handling official business related to property division, or taking an ex-spouse to court for violation of the decree, among other reasons.
What's a Divorce Certificate?
Divorce certificates are not court-issued documents, but are issued in California for record-keeping purposes. Your  includes only basic information pertaining to the divorce: the individuals' names, date of the divorce, and place of the divorce. It does not include all of the specific details regarding the dissolution of the marriage, but it is typically acceptable to use as proof of divorce.
How to Obtain a Yuba County Divorce Certificate
If you need to obtain a Yuba County certificate of divorce, you have a couple of different options.
1. Yuba County Superior Court
You can request copies of divorce certificates from the California County Superior Court where your case was originally filed.
| | |
| --- | --- |
| Website | https://www.yuba.courts.ca.gov |
| Address | 215 Fifth Street, Suite 200 Marysville, CA 95901 |
| Phone Number | (530) 740-1800 |
| Business Hours | Monday through Friday 8:30 AM - 4:30 PM |
| Clerk Hours at the Phone | Monday through Friday 10:00 AM - 3:00 PM |
2. California Department of Public Health
This option is available for divorces granted between 1962 and 1984. The California Department of Public Health (CDPH) issues divorce certificates, but it can take six months or longer to receive one in this manner.
3. DoNotPay
DoNotPay takes the hassle out of everything. It's the fastest, easiest, and most reliable way to order your .
DoNotPay Can Easily Request a Yuba County Certificate of Divorce
Instead of worrying about filling out multiple forms and stressing over whether you got the correct forms, trying to get to the courthouse during business hours, or playing phone tag, let DoNotPay handle the request for you.
If you want to get a copy of a  but don't know where to start, DoNotPay has you covered in 7 easy steps:
1. Go to the Certificates of Divorce product on DoNotPay.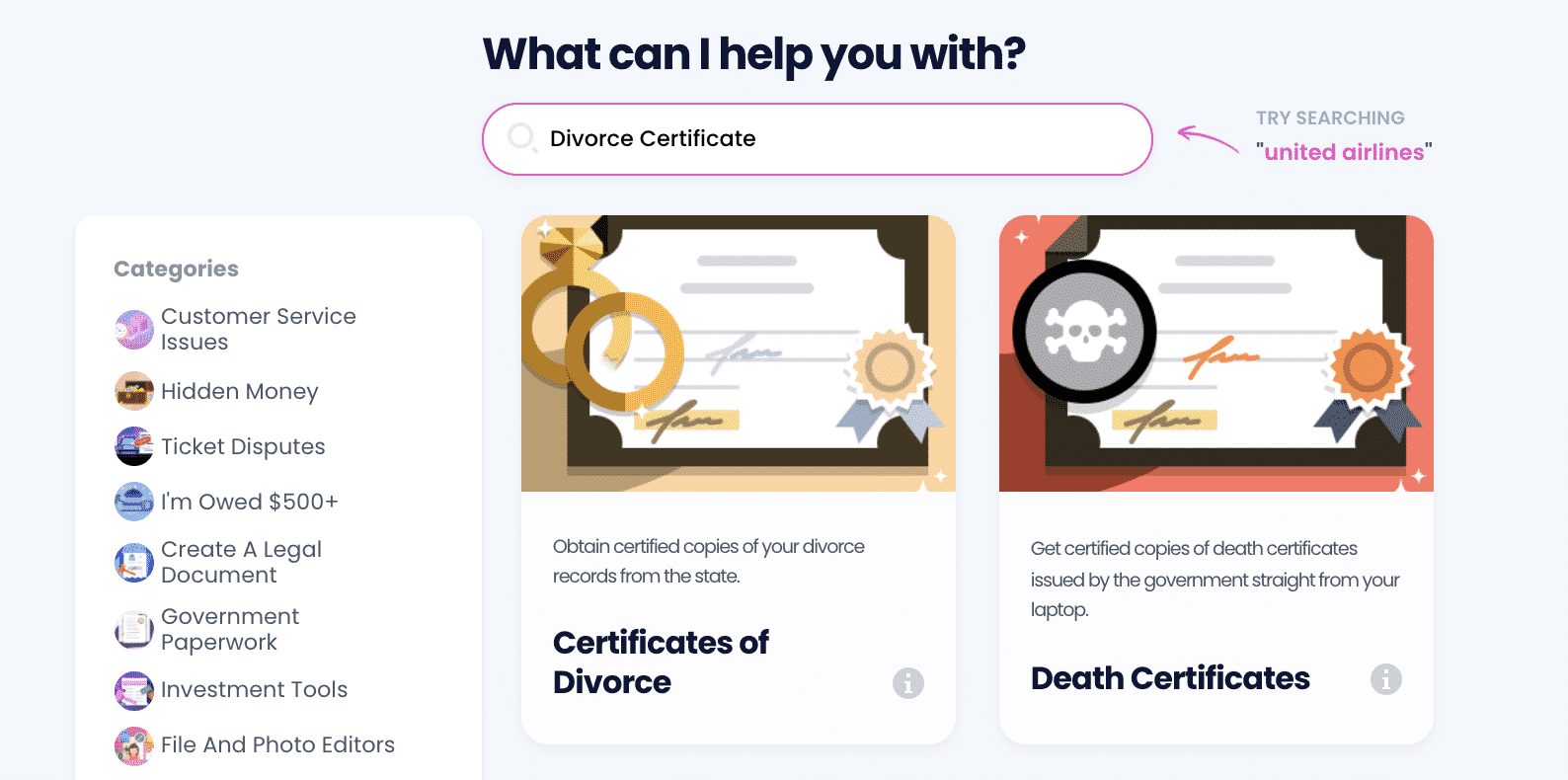 2. Select whether the certificate belongs to you or a relative/loved one. If it belongs to someone else, enter the details of both people on the certificate and select/upload evidence that proves your relationship with them. If the certificate is yours, enter the details of your spouse.*Please note: some states only allow people named on the certificate to apply.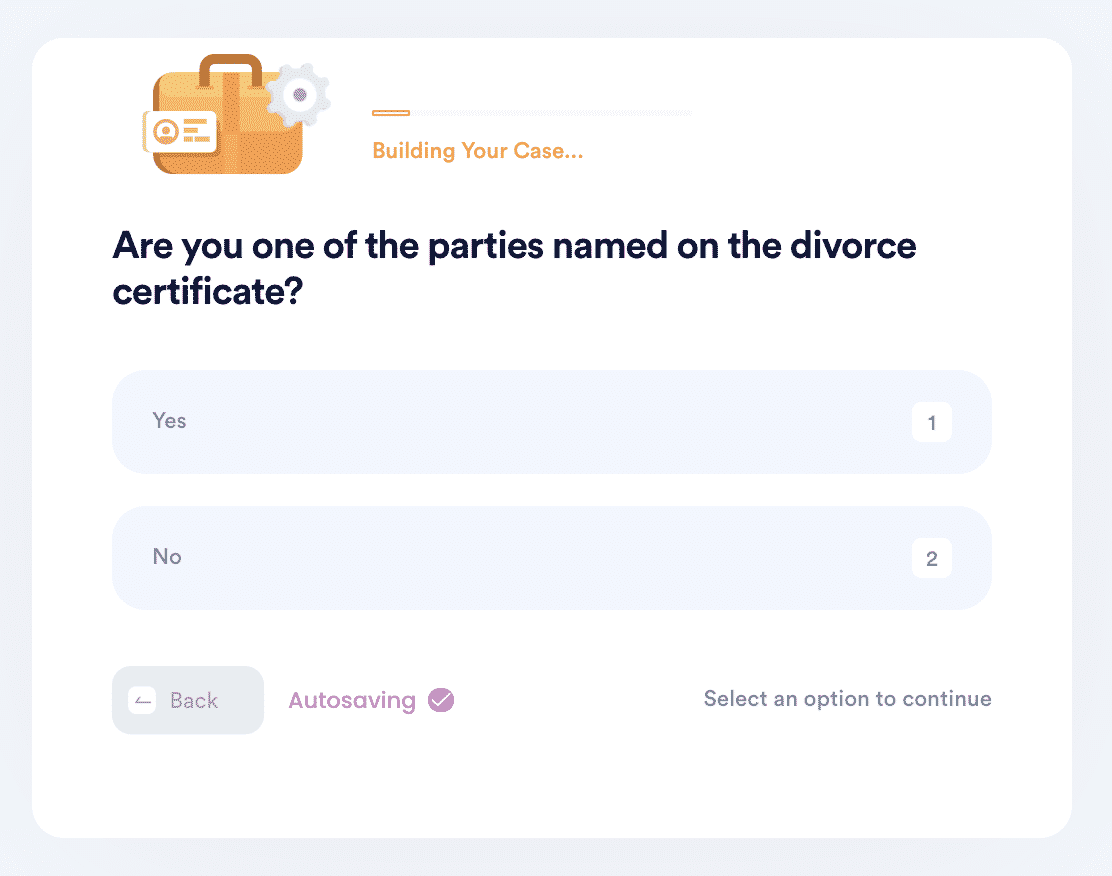 3. Enter the city, state, and county where the divorce certificate and original divorce certificate were issued as well as the dates they were issued.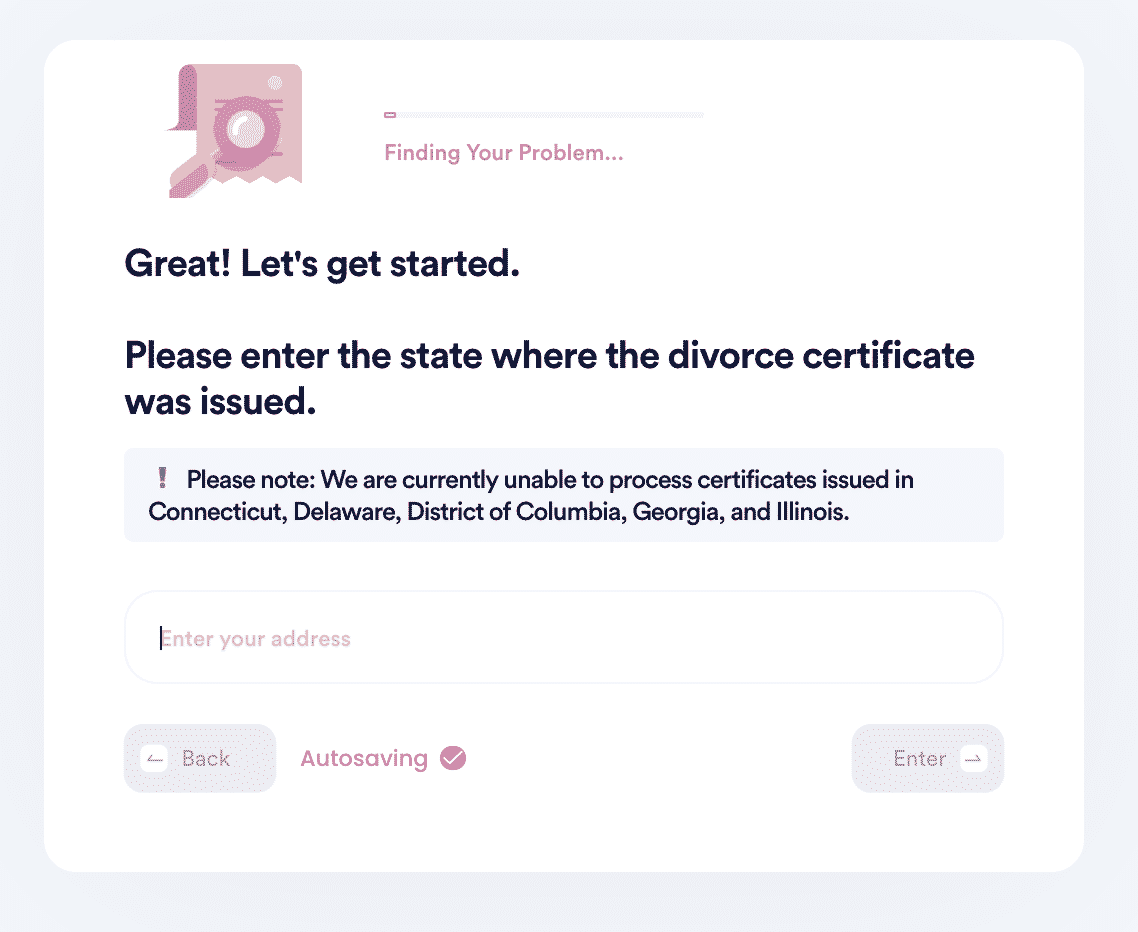 4. Indicate what you will be using this certificate for, and choose whether you need an authorized or certified copy.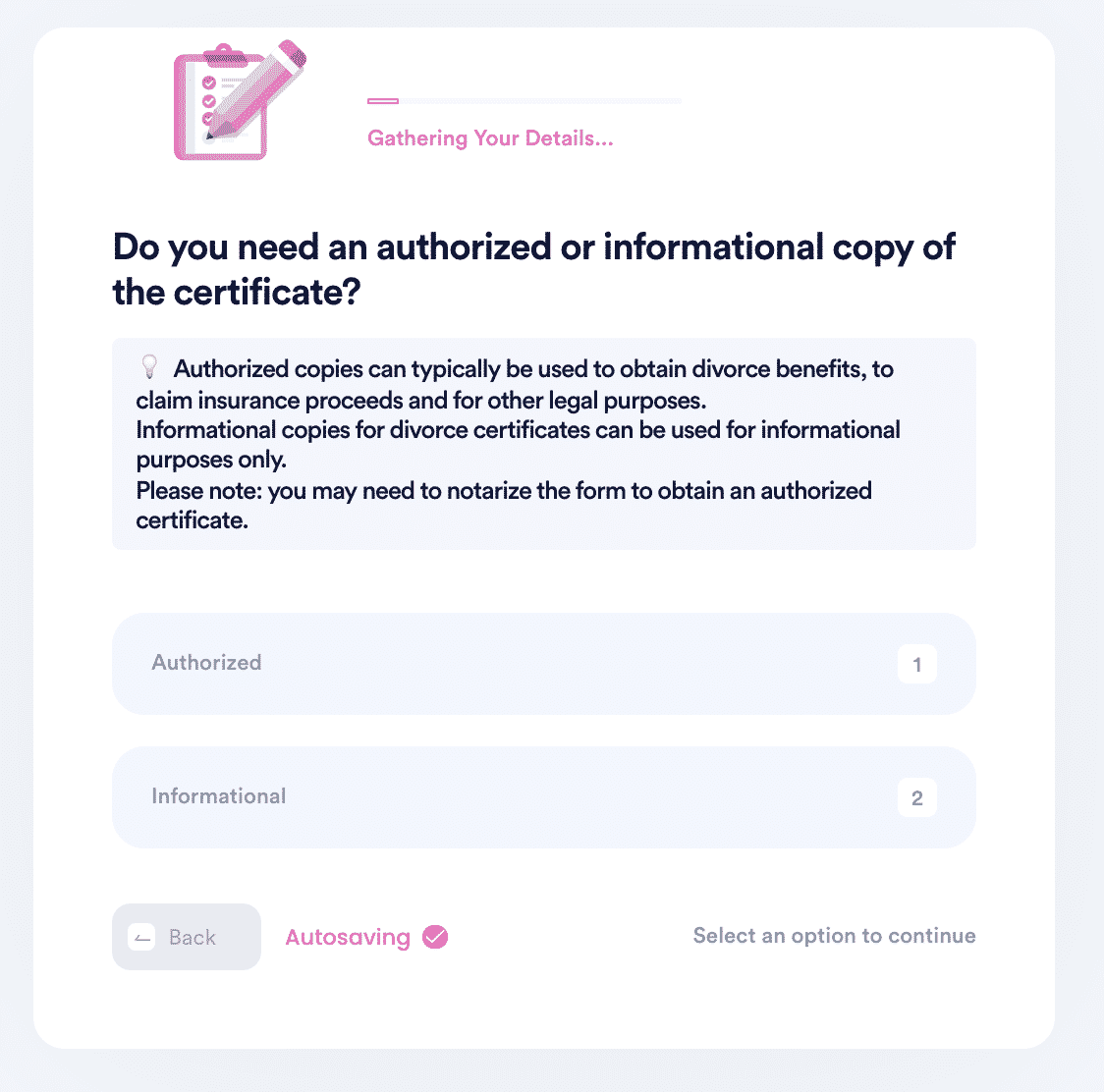 5. Enter your contact information and shipping address. Upload copies of your government-issued identification, such as a driver's license.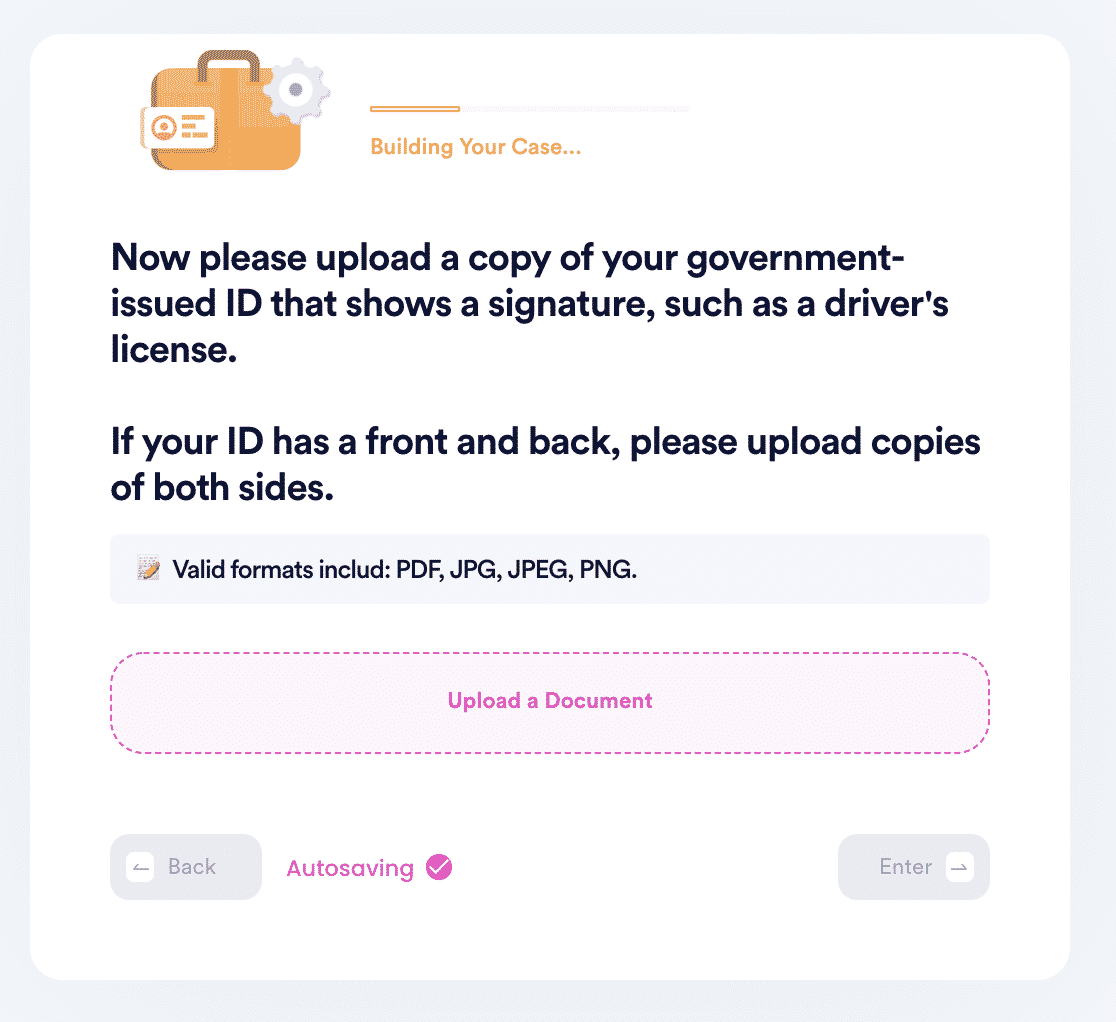 6. Choose whether you would like to electronically sign this form or not. Once we generate the form, verify that all of the information is correct.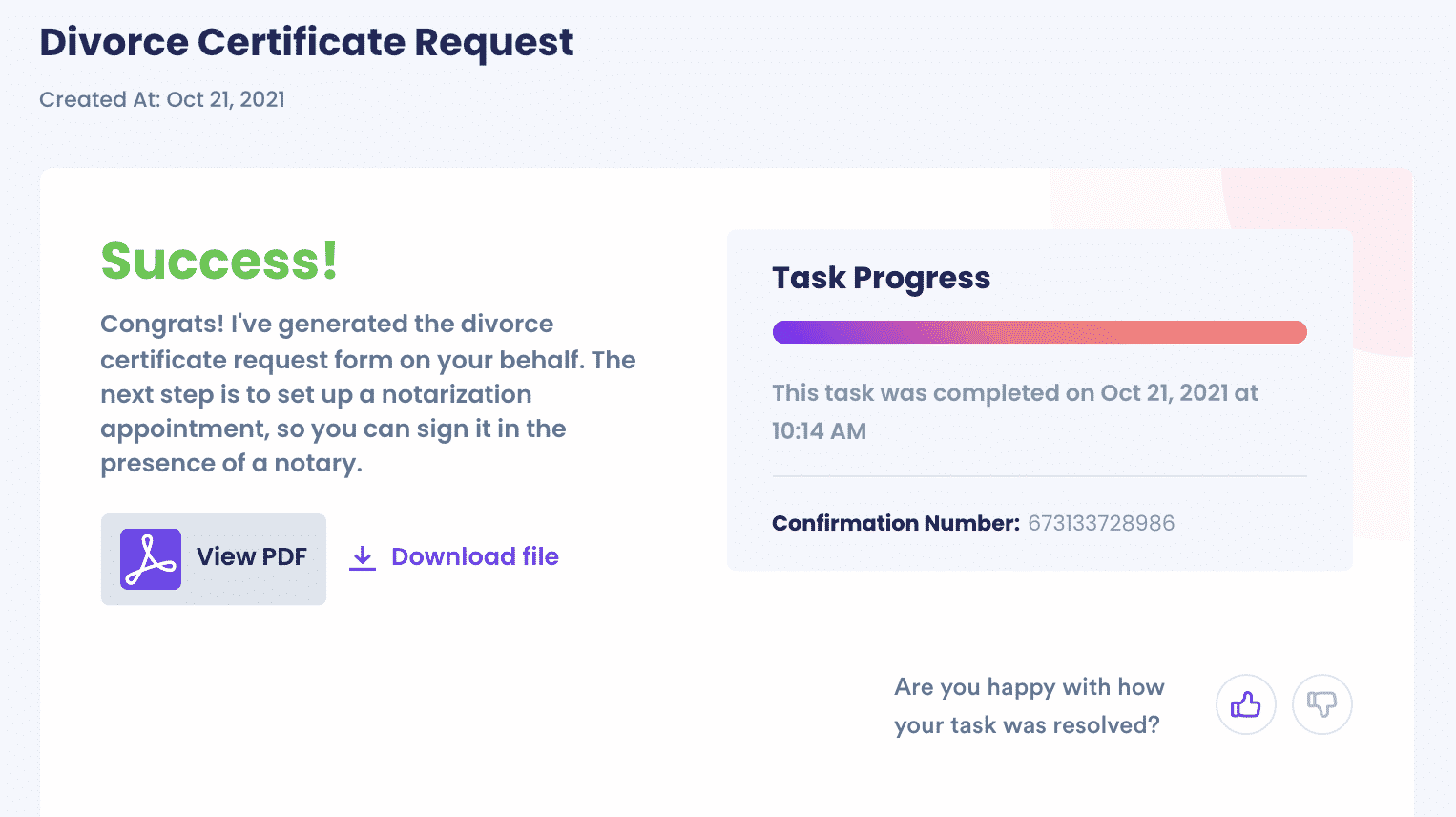 7. If you need the document to be notarized, schedule a notarization appointment using our Notary product. Otherwise, proceed to our Mail Checks product and let DoNotPay mail in your request form with a check on your behalf.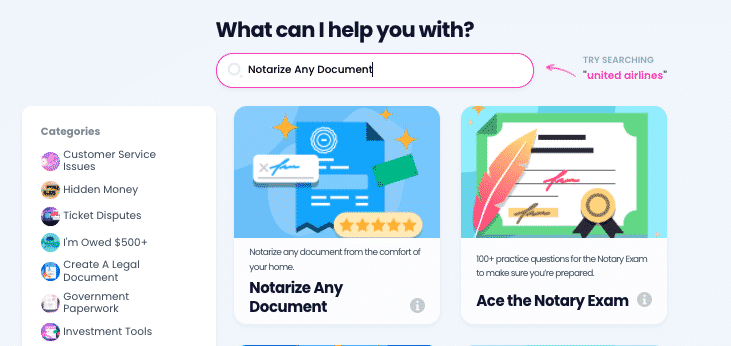 How Else Can DoNotPay Help Today?
DoNotPay can help you obtain a divorce certificate from any county in any state. From New York to Florida, Texas to Nevada, to Arkansas, or California, DoNotPay has you covered.
In addition to obtaining divorce certificates, DoNotPay can also assist you with a variety of other concerns, such as:
No matter what concern or problem you have, DoNotPay has a solution that is quick, simple, and successful.