Yelp Lawsuit Defamation - Questions Answered
Defamation cases against online reviews have been common in this day and age. Businesses are at the mercy of consumer reviews made on review platforms like Yelp. So what happens when a Yelper posts a review that is completely false? Business owners are now taking legal action against negative reviewers in the form of a defamation lawsuit.
This article will help you understand what defamation is and your potential liability as a Yelp reviewer. For business owners, we'll go over the steps you can take to report false reviews. This article will also go over an easier way to put a stop to defamation with DoNotPay.
Defamation Types and Elements
Defamation is a false derogatory statement that is communicated to a third party, harming the reputation of the person it is about. There are two types of defamation: written defamatory statements are libel and spoken defamatory statements are slander. There are five elements that make a statement defamatory:
The statement must be false
A defamatory statement must be presented in the form of a fact about the plaintiff
The statement must be said to a third party
The defendant must have made the statement with malice
The statement must cause serious damage to a person's reputation
Negative Yelp Reviews: Defamation or Free Speech
Business owners have the right to protect their reputation from false and harmful statements that are published on the internet, but at the same time, customers are protected by the first amendment, which grants the inherent right of free speech. The line is often blurred when it comes between defamation and free speech.  "Protected opinions" and "matters of public interest" are protected under the first amendment, therefore, they cannot be considered defamation:
Protected Opinion:
Matters Of Public Interest:
Statements of opinion are protected under the laws of the first amendment.
Matters of public concern include political scandals and current events, like the COVID-19 virus.
The US Supreme Court views a statement of opinion to be:

A matter of public concern.
Expressed in a way that cannot be proven whether it is true or false by analysis.
Cannot be reasonably viewed as a fact.

Sharing your opinion on these types of matters is protected under the first amendment laws.
If the defendant can prove the statement they made was true, then it is not defamation.
If the defendant can prove the statement they made was true, then it is not defamation.
Can You Sue Yelp?
Section 230 of the Communications Decency Act protects Internet service providers and online platforms, such as Yelp and Twitter, and holds that they are not liable for the content posted on their platforms by third parties.
This immunity covers all defamation and privacy claims, as well as negligence claims connected to a statement published on their platform.
As long as the untrue and defamatory statements are published by an external user, Yelp cannot be held accountable and will be immune from liability.
If you want to sue someone for defamation for a negative Yelp review, you have to find the person who has commented on the review and sue them personally.
For this reason, you must always be careful with the truthfulness of the statements you publish on Yelp, not everything you say is protected under the First Amendment laws of free speech, and you may face a defamation lawsuit if the plaintiff can prove that your statement meets the five elements of defamation.
Tips for Business Owners on Yelp
In 2019, the Supreme Court ruled that they would no longer hear cases relating to defamatory Yelp reviews. There is also no official appeals process for removing reviews through Yelp - this means that false reviews can remain on the platform! So what can business owners do to stop libel when necessary?
If you have claimed your business through Yelp, you can start replying to customer reviews. When carefully structured and detailed, your response can prove that the customer's review was full of false claims. Future Yelpers can see both sides and decide for themselves.
Another option is to send a cease and desist letter to and sue the reviewer if you are able to get a hold of their contact information.
Draft a Cease and Desist Letter With DoNotPay!
If you or your business are facing online defamation, you can write a cease and desist letter before taking more drastic action, like taking the case to court. Let the AI-powered robot lawyer draft a convincing cease and desist letter with accurate details and specific information about your state laws. All you have to do is follow these three simple steps:
1. Search for the Defamation Demand Letters on DoNotPay.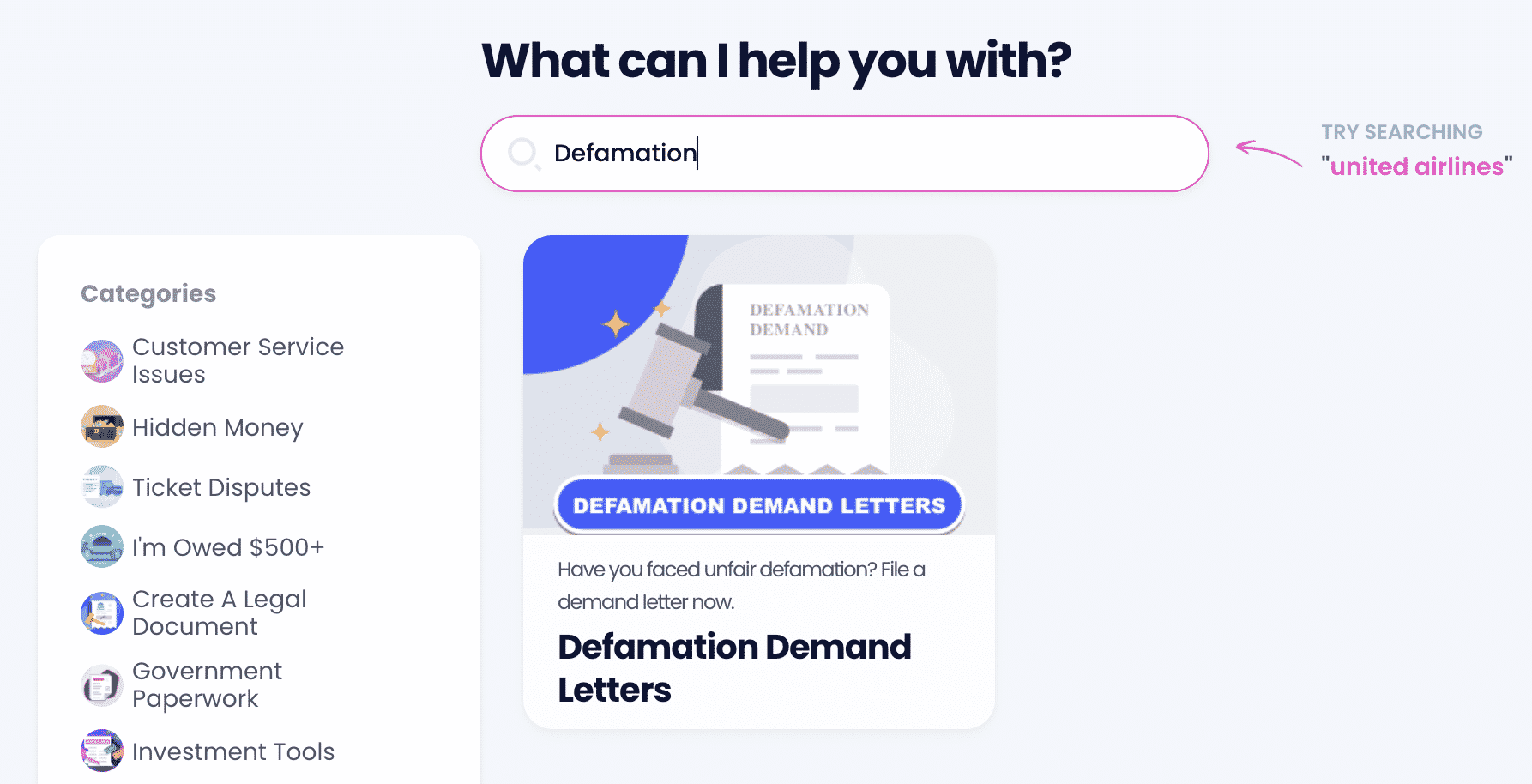 2. Explain the situation, why the statements made were false, and how you would like to be compensated.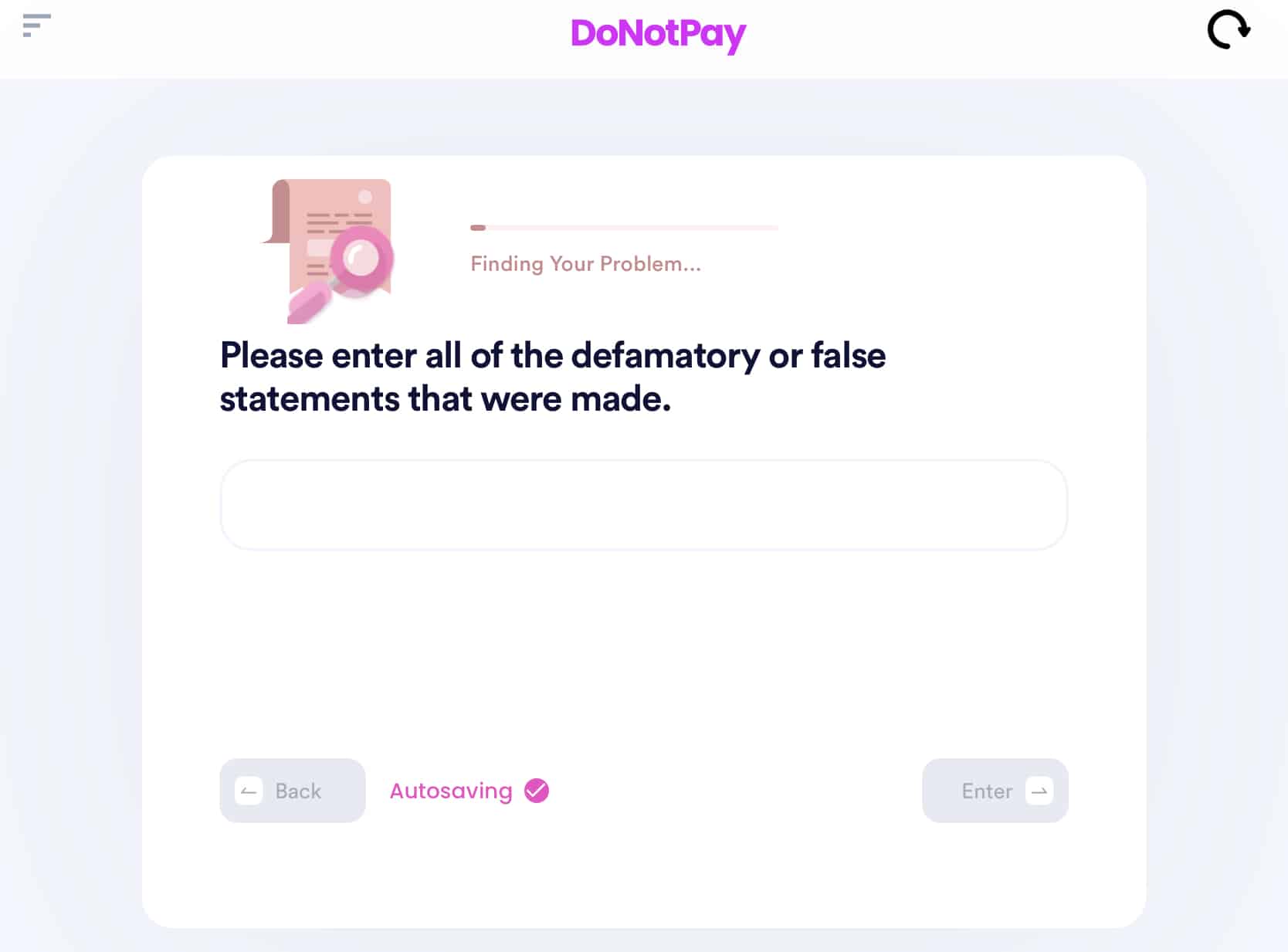 3. Once you submit the details, you'll receive a downloadable cease and desist letter in seconds! The letter will state that you intend to take legal action if the defamatory actions continue. Feel free to send it to the defamer's way!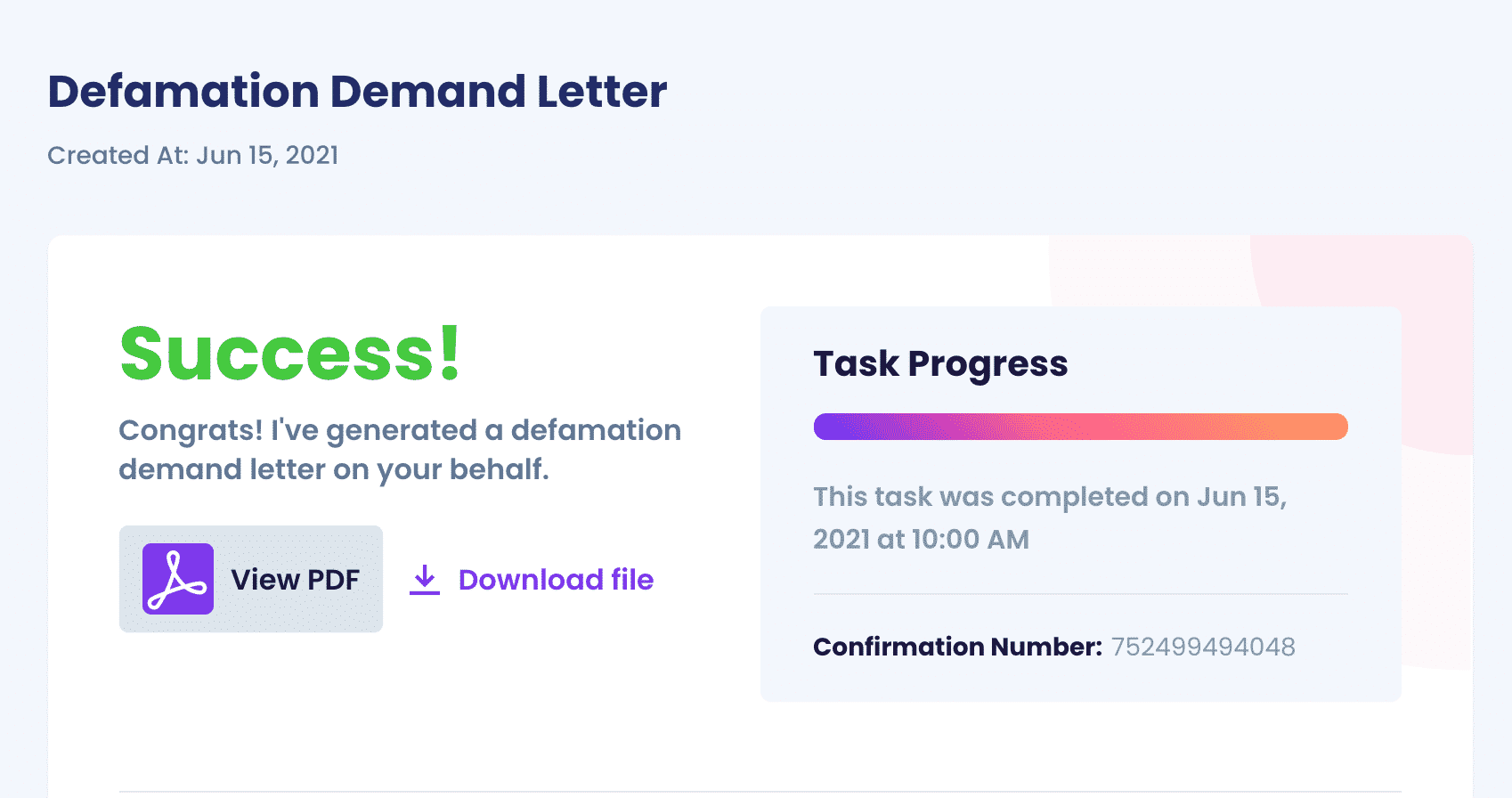 DoNotPay Can Help You With: