Get Your Yavapai County Divorce Done and Dusted With DoNotPay
Filing for divorce is a big step, but it doesn't need to be as daunting as the media would have you believe.
If you follow the correct process, your divorce in Yavapai County, AZ, can be quick, cheap, and free from court appearances. You can even manage the whole process yourself in a DIY divorce, without the help of lawyers.
However you want to proceed, DoNotPay has all the info you need to make your Yavapai County divorce as painless as possible!
Who Can Get Divorced in Yavapai County?
Anybody who has lived in Arizona for the last 90 days or more can file for divorce in the state.
You do not need to prove your spouse has done anything wrong as Arizona is a no-fault divorce state. It is enough for you to state that you and your spouse have irreconcilable differences.
Divorce in Yavapai County is known as dissolution of marriage and is relatively easy as long as you and your spouse are not in a covenant marriage.
A covenant marriage is entered into by couples who see marriage as a life-long commitment, and it can only be dissolved if one of the spouses commits:
A felony resulting in a prison sentence of a year or more
Adultery
Abuse
Habitual drunkenness or drug use
Separation for two years or more
Non-covenant marriages can be dissolved more easily and can even be ended with an uncontested divorce, meaning that both spouses:
Agree that divorce is the right thing to do
Reach a settlement before their case comes to court
How Do You File for Divorce in Yavapai County?
Starting the Yavapai County divorce process consists of three steps:
Filing divorce papers
Agreeing on a settlement
Filing Divorce Papers
Your first action is to get the correct divorce forms from the Yavapai County Self Service Center—you can choose between:
Divorce with minor children
Divorce without minor children
Once you have filled the forms out, you should file them with the Yavapai County Superior Court and pay the filing fee of $280.
Having the Papers Served
You have to arrange for your divorce papers to be delivered to your spouse, and they have to sign a confirmation of receipt.
Once the confirmation of receipt is filed with the court, a mandatory waiting period of 60 days begins. This gives each spouse time to either prepare a contested case or work on an out-of-court settlement.
Agreeing on a Settlement
The next step determines whether or not your divorce will be uncontested.
If you and your spouse cannot agree on a settlement, your spouse can file an answer within 20 days. Each party will now begin gathering facts to contest the case in court.
If you can agree on a friendly divorce, you can use the 60-day waiting period to work out a settlement agreement. This can be filed with the court at any time before your first hearing and will result in the judge granting your divorce with no further hassle. This can be completed in as little as 70 days.
What Does a Settlement Agreement Have To Cover?
The most difficult and time-consuming part of your divorce is agreeing on a settlement.
Your settlement agreement is a legal document that must convince a judge that your divorce will be fair and equitable without the court having to intervene.
In your initial filing, you and your spouse will have declared your family and financial situation in full, and your settlement agreement has to cover everything you declared, including your:
If you can finalize a settlement before your first court appearance, the judge will check it to make sure:
Everything has been declared and dealt with in the agreement
Neither party is being disadvantaged in the settlement
The divorce timelines have been adhered to
The agreement is legally admissible
Where Can You Get Your Settlement Agreement?
Your settlement agreement needs to be comprehensive and legally valid in Yavapai County for it to be accepted by the judge.
This does not mean it has to be overcomplicated, though. You have the following options for having your settlement agreement drawn up:
| Settlement Agreement Sources | Explanation |
| --- | --- |
| Attorneys | You and your spouse can hire lawyers to draw up your agreement, but this will come at a cost. Arizona uncontested divorces that involve lawyers typically cost around $4,000 per spouse in lawyers' fees—if the two of you agree on most of your settlement, you need to question whether this expense is necessary. You can possibly reduce your legal fees by using mediation to settle minor differences. Trained mediators can often help you work out your settlement at a fraction of the cost of attorneys |
| Online divorce service | Various online providers offer templates for you to download and fill out, but these can be a dangerous solution. While they are often cheap, many are inadequate or even inadmissible under Arizona legislation, resulting in your divorce landing in court |
You can avoid both exorbitant lawyers' fees and the danger of an inadequate agreement with DoNotPay—we can generate the perfect settlement agreement for you with no need for lawyers or cut-and-paste exercises!
Your Yavapai County Divorce Made Easy With DoNotPay!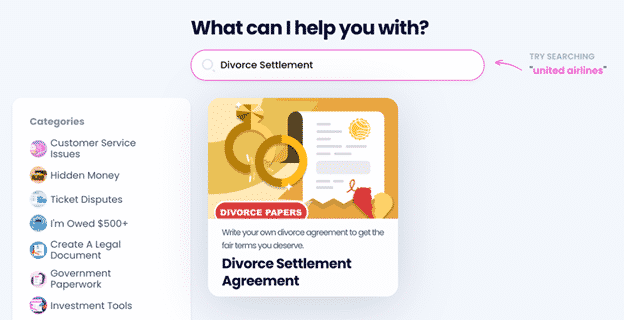 Getting your divorce settlement agreement done and dusted should be quick and easy!
DoNotPay is committed to helping you through complex and expensive legal processes, and our Divorce Settlement Agreement product does just that. With no need for you to visit a lawyer, we will create a settlement agreement incorporating all the terms you and your spouse have agreed on.
Here's what you need to do to set your agreement up:
Click on our Divorce Settlement Agreement product
Answer the questionnaire about the terms of your settlement
Your settlement agreement will be ready to print and sign in a few seconds.
You will need to have it notarized, but DoNotPay has you covered on that score, too! No need to go hunting for a notary in your area—just let DoNotPay handle the task for you!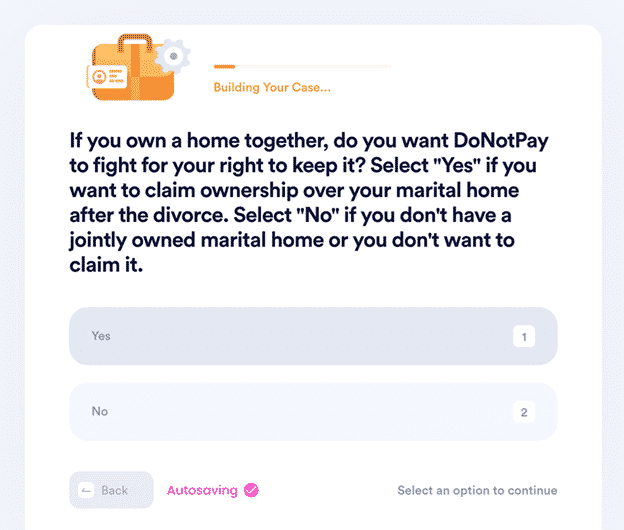 Use DoNotPay To Complete a Variety of Tasks at Any Time
Why waste time and money completing mundane tasks on your own when you can let DoNotPay assist you? Take a look at the table below to find out what our AI-powered app can do for you:
| DoNotPay Can | Services |
| --- | --- |
| Protect your safety and privacy | |
| Draft legal documents | |
| Help you get your money back | |
DoNotPay Has More in Store for You!
Since communication is key, you'll appreciate our feature that helps you get in touch with customer service reps quickly! We'll also show you how to send faxes online and have your documents notarized by an online notary with ease!
Going on vacation? Use DoNotPay to take a valid passport photo at home or get a tourist visa!