Getting a Yale Scholarship—Can DoNotPay Help?
Yale University is one of the most prestigious colleges in the world. As tough as it is to get in it, it's almost as tough to stay there. Tuition fees—starting with the application fee—at Yale can reach such heights that it can take you decades to pay off your debts.
Thankfully, various organizations and the government are aware of this—that's why students have hundreds of options to get financial aid in the shape of scholarships and grants. In this guide, we'll show you how you can find a Yale scholarship you qualify for in a matter of minutes—using DoNotPay.
Does Yale Give Scholarships?
There are four types of scholarships that Yale students can apply for:
Yale scholarship
Merit-based scholarships
Entitlement grants
Military benefits for veterans
Yale Scholarship Program
It is a non-repayable, need-based scholarship program run by the University. To get a Yale scholarship, you need to be enrolled at the University. Both U.S. citizens and international students can apply and get a scholarship. The University doesn't have programs for specific groups, such as minorities (e.g., Hispanics, Filipinos, and Africans), women, or adults.
The main idea is to provide financial aid to those in need. The aid can vary from a few hundred dollars to over $70,000.
Yale estimates how much you will receive based on your family's income. Check out this table to see information on median costs and scholarships:
| Annual Income Range | Median Net Cost | Median Scholarship | Percentage of Students in the Class of 2023 Who Qualified for Scholarship |
| --- | --- | --- | --- |
| Less than $65,000 | $2,850 | $76,925 | 100% |
| $65,000–$100,000 | $5,701 | $70,217 | 99% |
| $100,000–$150,000 | $15,528 | $60,295 | 99% |
| $150,000–$200,000 | $29,721 | $46,326 | 95% |
| $200,000–$250,000 | $42,964 | $31,196 | 79% |
| Greater than $250,000 | $43,704 | $28,881 | 25% |
Yale Merit Scholarships
Yale students have the opportunity to receive one of the merit-based scholarships that have nothing to do with the University itself. Students can receive these scholarships from:
Companies
Employers
Non-profit organizations
The most difficult part of getting a scholarship is learning how many of them are available in the first place. With hundreds of Yale University scholarships being offered by different organizations, a simple Google search won't do you justice. Since you have to sift through so much information, you might get discouraged right from the start.
That's why it's important to know where to begin searching for scholarships. Some options include:
Talking to your high school financial aid office—Most high schools have staff dedicated to helping high school students (be it juniors or seniors) find out about the right scholarships even before they reach college
Visiting the Free Application for Federal Student Aid website—The FAFSA form can help you out to see which scholarships you can apply for
Browsing through the Yale University website—You can find some scholarship options on the official website of the University
DoNotPay—To avoid spending time visiting different websites and aid offices, you should . With our app, you will get a list of all available scholarships you're eligible for in a few minutes
Entitlement Grants
Entitlement grants reduce your yearly scholarship. The federal government and state agencies issue these grants to students that fulfill a certain federal need, have an affiliation with an employer, or come from a specific state or city.
Aid for Veterans
The U.S. government runs several programs for veterans who go to study at Yale once they retire from service. These programs include:
Applying for a Yale University Scholarship
If you want to apply for the need-based Yale scholarship as a college or graduate school student, you have to hand over the following paperwork:
The FAFSA form
The College Board CSS Profile application
Signed copies of your parents' federal tax returns
Since you're already a student at Yale, you won't need to write essays, get letters of recommendation, or prove your GPA score.
The application process is different if you're going for a merit-based scholarship. Each scholarship has a different process, but the general guidelines are the same. Typically, you should:
Find a suitable scholarship
Make sure you fulfill all the criteria
Check out if you're not late for the deadline
Fill out the FAFSA form
Send all the required information and documentation, including essays and letters of recommendation
How To Find Yale Scholarships You're Eligible for With DoNotPay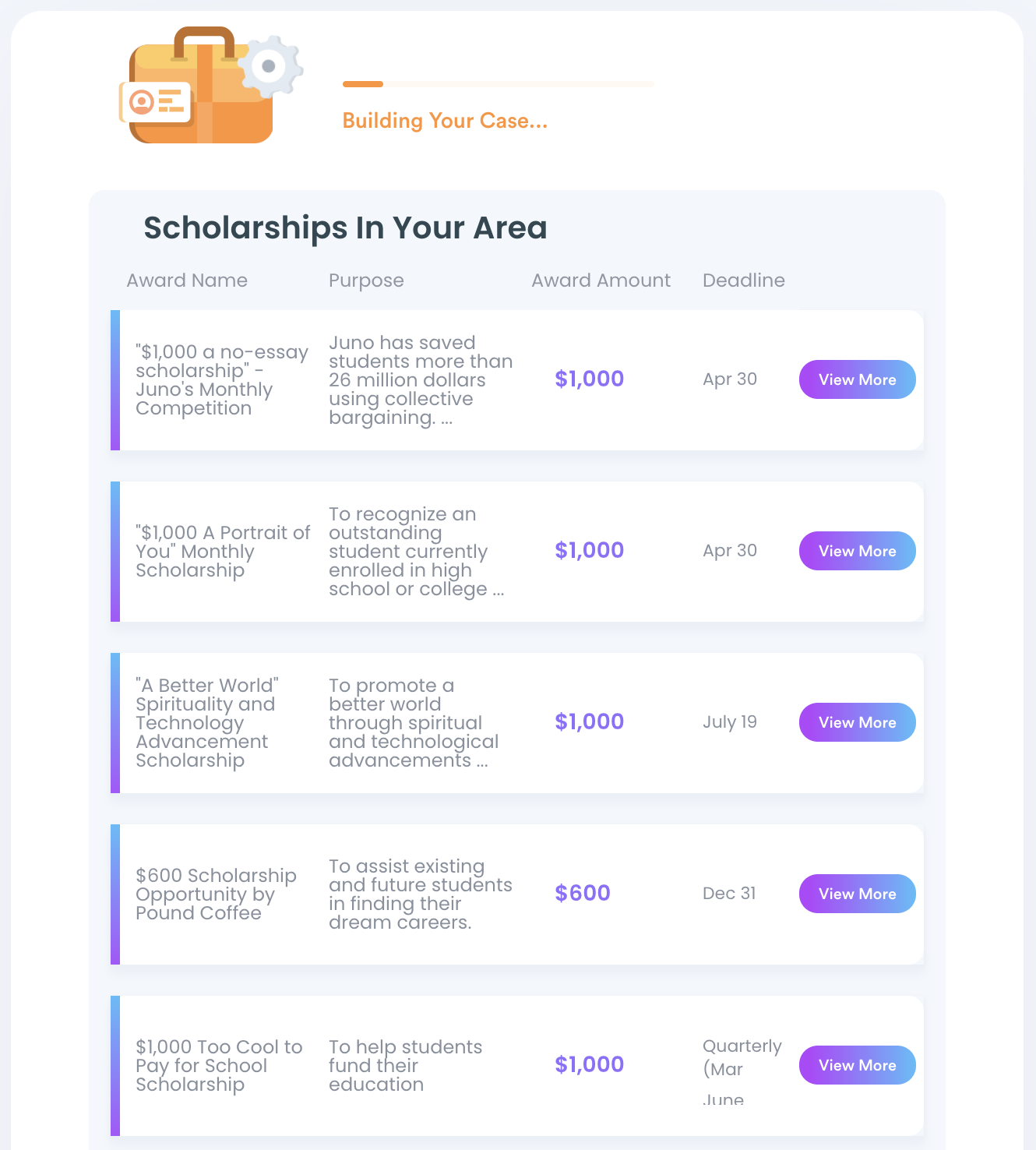 DoNotPay allows you to conduct a personalized search to see all the available scholarships that suit your academic profile and ambitions. With our app, you no longer need to look up all the individual programs on your own. Instead, your only task is to complete the following steps:
using any web browser
Click on the Apply for Scholarships product
Provide information about your qualifications
Select the type of scholarship you're looking for
After this, our app will provide you with a list of scholarships you can apply for so you can have a realistic chance of getting one.
Better yet, if there's a no-essay scholarship available, you can use DoNotPay to apply for it automatically without any extra steps on your part.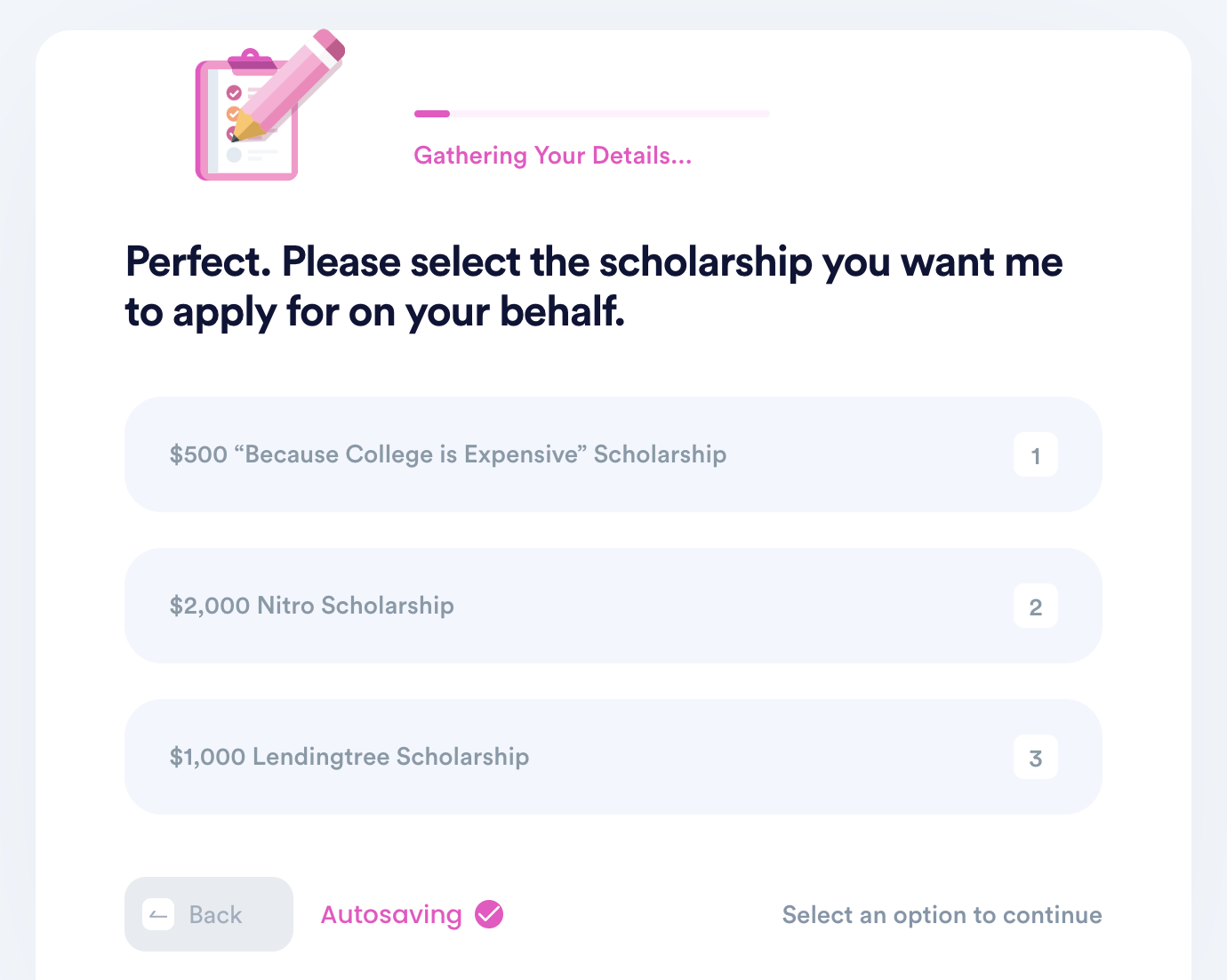 DoNotPay Offers Quick Solutions to Tedious Problems
Are you overwhelmed by your never-ending to-do list? We're happy to jump in with a perfect solution to deal with everyday tasks the easy way!
Once you subscribe to DoNotPay, you'll be able to schedule DMV appointments, lower your monthly bills, and contest parking tickets without breaking a sweat!
If you are looking for further assistance, our app will show you how to deal with the following tasks effortlessly:
Rely on DoNotPay's Legal Assistance Any Time!
If a company refuses to cooperate, use DoNotPay—the world's first robot lawyer—to sue it in small claims court! Getting the justice you deserve is only a few clicks away!
You can also use our app's various features to do the following:
Demand refunds

Reduce your property taxes