Understand Wyoming Home School Laws With DoNotPay
Homeschooling your child can open the door to opportunities and experiences you can't get from traditional schooling.
As a parent and homeschool teacher, though, one of your main responsibilities is to make sure you stay within the law in your state.
Wyoming regulates homeschools fairly heavily, but this does not mean that homeschooling is out of reach—follow the rules, and nothing should stand in the way of you giving your child the best education possible from home.
DoNotPay has all the info you need on Wyoming home school laws—your homeschooling journey begins here!
The Basics of Homeschooling in Wyoming
If you have decided to homeschool your child in Wyoming, there are a few prerequisites you have to fulfill, namely:
Adhering to a standard set of subjects
Submitting an annual curriculum
Informing your school district
Adhering to a Standard Set of Subjects
Under Wyoming homeschooling laws, every child has to be taught a fixed set of core subjects at the elementary level, after which the high school requirements are:
| Subject | Minimum Teaching Period After Elementary School |
| --- | --- |
| Reading | Four years |
| Writing | Four years |
| Math | Three years |
| Literature | Four years |
| Science | Three years, one year of which can be computer science |
| Civics | Three years |
| History | Three years |
Homeschool students have more leeway, and parents or homeschool teachers can determine their own graduation criteria and issue diplomas.
Homeschooling in Wyoming does not require testing for graduation, although you may want to check your child's eligibility for a college education without a GED.
Many colleges and employers will require transcripts of education for each year, but Wyoming homeschooling parents can create their own ones, assign credits, and determine graduation criteria.
Submitting an Annual Curriculum
For each year of homeschooling, you have to submit a:
Curriculum summary
List of the teaching materials to be used
This has to be submitted to your school district in advance, and any mid-year changes should be communicated before they are implemented.
As a homeschool teacher, you don't have to keep records of what you have done, but it is a good idea to record:
Lessons taught and lesson plans used
Attendance and school hours
Milestones achieved
Immunizations
Informing Your School District
You are required to officially inform your school district of your intentions before you remove your child from school and begin homeschooling.
You must submit a notification of your intent to homeschool every year.
How Can You Start Homeschooling in Wyoming?
The most important things you need to prepare before you begin homeschooling your child are your:
Curriculum
Infrastructure
To set up your curriculum, you have two basic options:
Designing your own
Buying a ready-made program
Designing Your Own
Depending on your confidence as a subject expert and as a teacher, you can build your own curriculum around the required core subjects.
This gives you the freedom to:
Assign timetables according to your availability
Take account of your child's learning and subject preferences
Use a range of teaching methods
You need to make sure your curriculum is detailed enough to satisfy your school district when you submit it before each school year, but designing your own curriculum means your homeschooling is truly tailored to your child's needs and wishes.
Buying a Ready-Made Program
Numerous providers offer comprehensive ready-made curriculums, including lesson plans, support material, and all the content you need.
When choosing your off-the-shelf curriculum, you should take account of the:
Teaching methodology it favors versus your child's preferred learning style
Subjects covered and balance between disciplines
Cost of the curriculum
Ready-made curriculums are far more convenient than DIY ones, but you may sacrifice some of the latitude in teaching methods and approaches a bespoke curriculum can give you. You may also need to get help with teaching subjects you are not comfortable with.
Getting Started With Homeschooling in Wyoming
Before you start homeschooling in Wyoming, you have to inform your school district of your intention.
You can begin homeschooling at any time in the year by sending a letter of intent to the superintendent of your school district with the following information:
The name, address, and school grade of the student
Details of each parent, including contact numbers
Your curriculum plan for the current year
If you get any of the details wrong, your notice of intent will be considered non-compliant and your child may end up being accused of truancy.
DoNotPay doesn't want this to happen, so we can help you create the perfect letter of intent in a few clicks!
Get Your Wyoming Homeschool Off to the Perfect Start!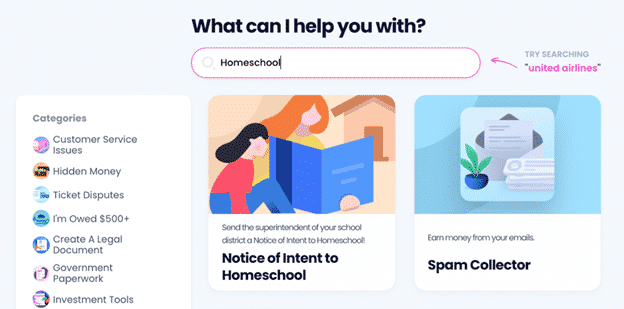 DoNotPay is here to make homeschooling your child as easy as possible!
We can get you over the first hurdle in the process by generating your letter of intent as required by Wyoming law.
In a few seconds, we can generate a fully compliant letter and even send it automatically if you choose!
Here's how to set your letter up:
Subscribe to DoNotPay in your web browser
Go to our Notice of Intent to Homeschool feature
Answer a few on-screen questions to submit your details
That's all you need—your letter will be ready in an instant!
You don't need to have your letter notarized in Wyoming, but—for added peace of mind—we can do that for you with our online notarization service.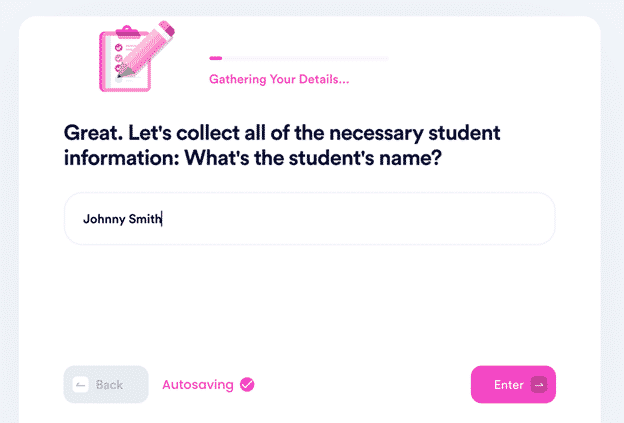 Don't Let Admin or Legal Issues Wear You Down—Hand Them Over to DoNotPay
Do you believe you may have some missing assets? Use DoNotPay's nifty product before the government claims them! Have you ever wanted to enter sweepstakes without purchasing anything? Our app will sign you up for them instantly! Trying to figure out how to reduce your property taxes or utility bills? DoNotPay can show you the way. Want to avoid getting charged for free trials that never fail to auto-renew into paid subscriptions? We'll help you cancel them before they expire.
Anything else you may need? Check out how our app can:
Check Out Our Other Robust Products
It doesn't stop there—DoNotPay can help you send a defamation demand letter, create passport photos, get gift card cash back, get any document notarized, request access to public records, claim insurance and warranty, request a college application fee waiver, appeal parking tickets, and much more.
Sign up now to get access to any of our products for one low monthly fee!