Learn About Wyoming Divorce Laws and Sail Through the Process With DoNotPay
Since divorce is not governed by federal law, it is important to learn all about the laws of the state you live in. DoNotPay has all the essential information about the Wyoming divorce laws and can help you handle this procedure. We can also create a divorce settlement agreement for you!
What You Should Know About Divorce Laws in Wyoming
Wyoming divorce laws cover four relevant issues related to the marriage dissolution process:
Residency requirements
Grounds for divorce
Waiting period
Property division
What Are the Divorce Residency Requirements in Wyoming?
Wyoming's residency requirements are simple enough—you or your spouse need to have lived in the state for at least 60 days prior to filing the divorce papers.
If you got married in Wyoming and the spouse filing for divorce (the petitioner) has lived in the State from the date the marriage started, there is no other residency requirement.
What Are the Grounds for Divorce in Wyoming?
Wyoming is a no-fault state, meaning that neither of the spouses can blame the other for the termination of their marriage. There are two reasons spouses in the Equality State can list as to why they want to end their marital union:
Irreconcilable differences—You and your spouse don't see eye to eye anymore
Incurable insanity of the other spouse—A spouse has been institutionalized for at least two years before the other party files for divorce
Is There a Waiting Period Associated With a Divorce in Wyoming?
Wyoming law states that no decree of divorce may be final unless and until 20 days have gone by from the day of the filing of the complaint. That makes Wyoming one of the states with the shortest waiting period in the country.
What Are Wyoming Divorce Laws on Dividing Property?
The process of property division is affected by state laws.
Wyoming is an equitable distribution state, which means that the assets acquired both prior to and during the marriage can be a part of property division. The judge will keep in mind how the property was acquired, how long the marriage has lasted, and whether you have any debts and liabilities. The court has relative freedom to decide what is fair. Still, the law requires the judge to look at the conditions the spouses will face alone after the divorce, such as:
Earning potential
Medical needs
Childcare costs
Property division can be agreed upon in two ways:
During the judicial process of divorce
Through a divorce settlement agreement
A divorce settlement agreement is a legal document that you need to make when going through an uncontested divorce (when you and your spouse agree on everything). This type of divorce is the option that comes with multiple benefits, such as less stress, lower costs, and shorter duration. It's also known as a friendly divorce, which you can learn more about in this guide.
Make a Divorce Settlement Agreement With DoNotPay's Help
When you choose to make a divorce settlement agreement with DoNotPay's help, you will not only save your time but money as well. Using our app for this task prevents you from spending a small fortune on hiring a lawyer. You only need to:
Find our Divorce Settlement Agreement product
Provide essential information about your spouse and children if you have any
Give us the relevant info regarding your income and financial assets
You also have the option to get your divorce settlement agreement notarized. We will find an online notary for you in no time!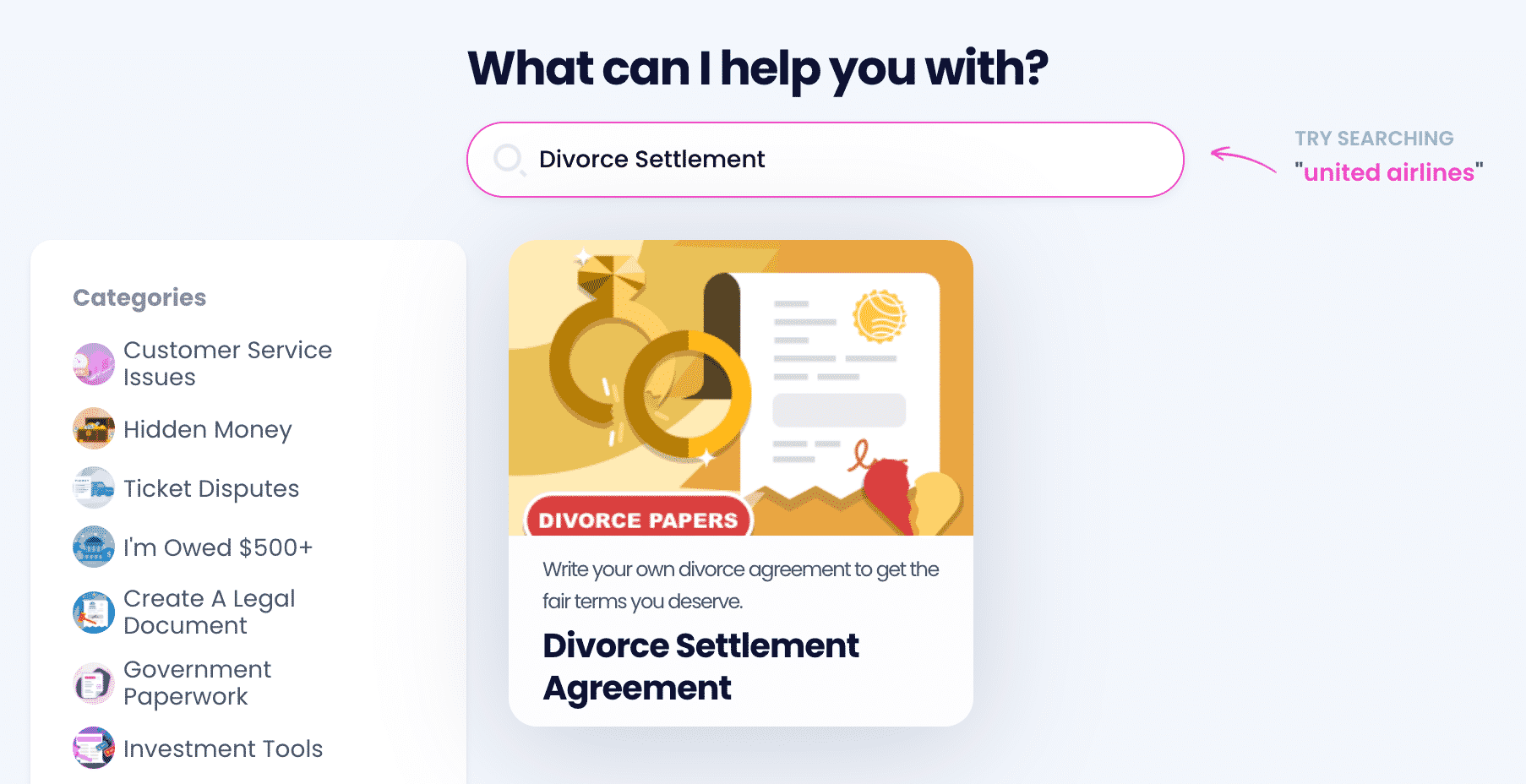 How Much Does a Divorce in Wyoming Cost?
The court fees for filing the divorce papers in Wyoming for a basic divorce are around $70. The exact amount will depend on the district you file for divorce in. This will be the main expense if you choose to have an uncontested divorce, but you can also count on additional fees if you have an attorney.
Do You Need To Appear in Court To Get a Divorce in Wyoming?
It is not necessary to have a court hearing in Wyoming if you and your spouse don't have children. In such situations, when both of you are in agreement, the court has nothing to decide.
In case you do have children, you will have a short hearing that will focus on both of you understanding how visitation, custody, and support will work.
Find Answers to Other Divorce-Related Questions With DoNotPay
You're not sure if online divorce is an option? Maybe you want to know if it is possible to get a divorce without a lawyer? DoNotPay can answer these questions alongside numerous others:
Let DoNotPay Be Your Virtual Assistant!
Why bother with deciphering legal terminology or figuring out how to write a legal document when you can let us do it for you? You don't have to waste your time any longer. Once you sign up for DoNotPay, we'll do much more than draft your legal documents or help get them notarized!
DoNotPay will show you how to perform a number of tasks with ease, including suing any company in small claims court, filing insurance claims, claiming warranties, creating passport photos, and sending your neighbor a complaint letter!
Should you need assistance with requesting a refund for a delayed flight or fighting workplace discrimination, our virtual assistant shows you how it's done.
There's More We Can Do!
Tired of dealing with mundane tasks and spending hours running dull errands? We offer the perfect solution!
DoNotPay can assist you in completing tedious tasks with ease! The best part is that you will spend significantly less time on them, and you can get them done from the comfort of your home!
Paying bills, getting a free trial, canceling subscriptions, getting revenge on robocalls, requesting refunds, or making a DMV appointment is only a few clicks away!