Written Agreement 101—The Importance of Putting Your Deals in Writing
Having a valid and legally enforceable agreement is a must when doing business, but deciding what type of contract is right for you can be difficult. We are here to explain all you need to know about a written agreement and why having one is your safest bet.
Sign up for DoNotPay to draw up various legal documents in a snap!
What Is a Written Agreement?
A written agreement is a legally binding contract two or more parties sign when doing business. The contract is used to set out all the terms, conditions, and obligations the signers have to honor.
Although verbal agreements exist and can be valid, some contracts can't be agreed upon in a conversation—they must be put in writing. Some popular agreements that have to be in written form are the non-disclosure and non-compete agreements.
Written agreements come with numerous benefits. We'll break them down for you.
The Benefits of Having a Written Instead of a Verbal Agreement
Contracts can be both written and verbal. Although valid, verbal agreements aren't as reliable and don't provide the level of protection written agreements do. Proving a verbal agreement in court can be pretty challenging—sometimes even impossible.
Having a written agreement will minimize the risk of disputes by ensuring that all parties involved are on the same page. If disputes or claims arise, a written and signed contract will help you resolve them efficiently in court or through mediation.
Draft a Legally Binding Written Agreement in Six Easy Steps
Writing a contract yourself can be overwhelming and confusing, but don't worry! We step in to walk you through the key points your agreement should cover so you don't have to mess around with unreliable contract templates.
An enforceable document must have the following clauses:
Clause
Description
Names and addresses
The full names of the parties involved must be stated, along with their addresses and other relevant contact details
Offer and acceptance
One party has to make an offer that another party should accept
Consideration
A certain item of value has to be exchanged. The item of value is usually money, but it can also be a service, forgiveness of debt, etc.
Terms and conditions
Parties have to agree on all the terms and conditions of the agreement, which must be transparent and described in detail
Intention
Each party involved must have a clear intention of making the agreement legally binding and accept the responsibilities in the case of violation
Payment terms
There has to be a clear payment schedule, specifying the:

Payment method
Schedule and frequency
Total amount

Liabilities
A section explaining the liabilities of each party involved must be included
Signatures
All involved parties have to provide their signatures after carefully reading the contract and agreeing to the terms
DoNotPay Makes Written Agreements for You!
Don't want to spend hours writing your agreement? DoNotPay saves the day!
We can take the burden of writing a contract off your back and draft it in your stead! The process is super easy as well. All you need to do is provide the info about the contract you need, and we'll draw it up in only a few minutes. Here's how the process works:
Enter the name of the written agreement (e.g., lease agreement)
Answer a few simple questions about the contents of the document
Once you finish the above-mentioned steps, we generate your contract! You'll be able to print or download it instantly.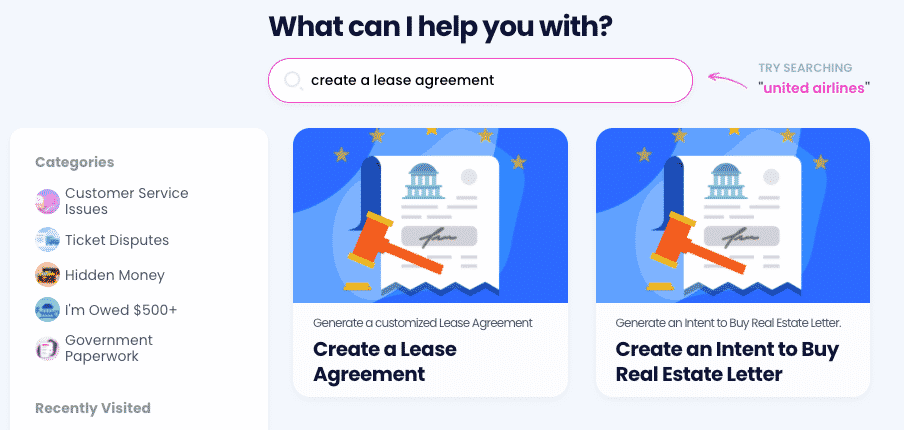 There is no shortage of contracts DoNotPay can generate! Check out the table below to see some of the documents we can make:
Real Estate Agreements
Business Agreements
Other Agreements

Intent To Purchase Real Estate
Quitclaim Deed

Non-Disclosure Agreement
General Business Contract
Non-Compete Agreement

Promissory Note
General Affidavit
How Can I Get a Written Agreement Notarized?
Getting contracts and agreements notarized is usually optional. Certain legal documents must be notarized, such as contracts for buying or selling real estate. Although you don't always have to do it, having a notarized agreement is beneficial.
Once a notary signs and stamps your contract, they ensure that all signing-related legal protocols have been followed. Notarization may provide a certain level of security and protection should any claims or disputes arise.
We can help you get your written agreement notarized online from your home or office easily! Once you subscribe to DoNotPay, you'll gain access to our Notarize Any Document feature and be able to book a remote notary in only a few minutes!
The notary will handle the entire process in a virtual environment via a video call and add a digital stamp and signature afterward.
DoNotPay Gets the Job Done—Solve Any Issue in Several Clicks
DoNotPay is an ever-growing app, which is constantly adding new ways to help you with your everyday tasks and those not so common.
Count on your virtual assistant when you need to:
Deal with noisy and rude neighbors
Have Your Cake and Eat It Too—Earn, Save, and Get Your Money Back
Not only can we help you complete numerous tasks, but we can also make sure your money stays where it belongs—in your wallet. Let DoNotPay assist you in getting different types of refunds and compensation:
Late delivery refund
Gift card cash back
Our app can also help you find your unclaimed funds, get free trials and free raffle tickets, and obtain a college fee waiver.