How To Combat
Workplace Discrimination
Discrimination in the workplace is not a new phenomenon. The legislation to combat it has been in place across the U.S. for around fifty years, yet it is still one of the most common complaints heard in courts throughout the country.
DoNotPay understands the problem and is here to help you if you feel you are a victim of workplace discrimination.
What Is Workplace Discrimination?
Discrimination in the workplace means deliberately treating someone differently because of their:
Discrimination can take many forms and may not always be recognizable. Some typical ways in which discrimination takes place are:
Discrimination Type

Explanation

Unfair treatment

Discrimination often takes the form of unfair treatment towards employees based on any of the above criteria—this could include:

Biased shift planning

Differing workloads for different employees

Higher targets for certain employees

Harassment

Harassment can take many forms, both explicit and implicit. Generally, you will see harassment from managers, supervisors, or co-workers taking one or more of these forms:

Bullying

Psychological abuse

Physical or mental intimidation

Refusing to make changes

If you require a change in work practices or facilities due to your religious beliefs or a disability, the company's refusal to comply with your reasonable request could be seen as discrimination

Intrusive questioning

Any company that wants to pry too deeply into your personal information is potentially guilty of discrimination

Retaliation

If you report an incident of discrimination and suffer any form of retaliation from the company or co-workers as a result, the company or the co-workers are practicing discrimination against you
What Can You Do if You Are Facing Discrimination?
There are several courses of action you can take if you feel you are the victim of workplace discrimination:
Talk to your employer

Insist on formal procedures

Record every incident

Check your company's policy

Review state legislation
Talk to Your Employer
Your first course of action is to talk to your direct supervisor, your HR department, or a senior employee in the organization. Let them know what you feel is happening and seek intervention from them to rectify the issue.
Insist on Formal Procedures
You should make it clear that you are taking the matter seriously and expect your company to do the same. Their response should include:
Written reports to be made every time you highlight an incident

A formal investigation of your allegations

Disciplinary or corrective action if the offenders are found to be guilty of discrimination
Record Every Incident
You should write down every incident of discrimination against you, keep any communications you receive, and note the times, dates, locations, and people involved in the incidents you record. If any witnesses were present, you should include their names.
Check Your Company's Policy
Most organizations have a written anti-discrimination policy in place, and you should check it thoroughly for the definition of what the company views as discrimination.
If the incidents you are suffering are similar to any examples in the policy, your case will be considerably stronger. Most importantly, your company's policy will state that the company seeks to actively work against discrimination.
Review State Legislation
Federal anti-discrimination legislation may be given extra power by laws specific to your state—most states have implemented legislation to make sure discrimination in the workplace can be tackled.
Who Can Help if the Discrimination Carries On?
If you can't resolve the discrimination internally, your next recourse is the Equal Employment Opportunity Commission (EEOC).
The EEOC is a federal body tasked with enforcing federal laws against discrimination in the workplace.
The EEOC oversees most companies with 15 or more employees and is authorized to investigate charges of discrimination. If the allegations are proven, the EEOC attempts to settle the matter through arbitration but has the authority to launch a lawsuit if this method fails.
By law, you can only launch a lawsuit against your employer for discrimination in the workplace if you have already lodged a formal complaint with the EEOC.
You must lodge your complaint—known as a Charge of Discrimination—within the following timeframes:
180 days for most cases

300 days for cases that are also covered by state or local laws
Your strongest course of action is to file a complaint as soon as you become aware of discriminatory activity in your company. After your complaint has been lodged, you can contact a lawyer if you feel it will help.
Federal employees have to follow a slightly different route to employees in private companies, but, in either case, DoNotPay can help you lodge your charge of discrimination with the EEOC.
How Can DoNotPay Help You Combat Workplace Discrimination?
We want to make it as easy as possible for you to fight workplace discrimination, so we can help you file your complaint with the EEOC in a few clicks—here's what you need to do: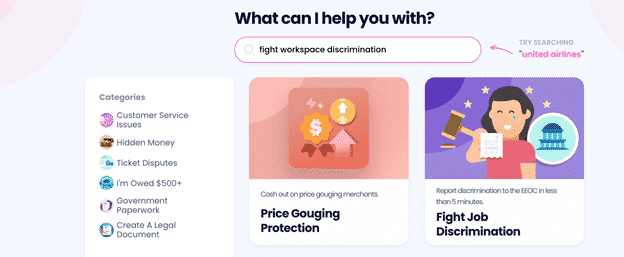 Sign up for DoNotPay

in your web browser

Click on the

Fight Workplace Discrimination

feature

Give us the information we ask you for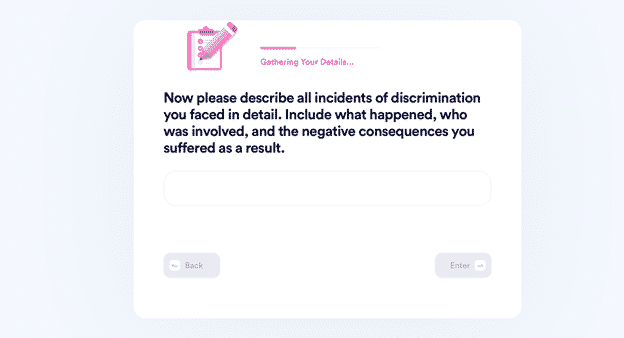 We will handle the rest and send your complaint to the nearest EEOC office.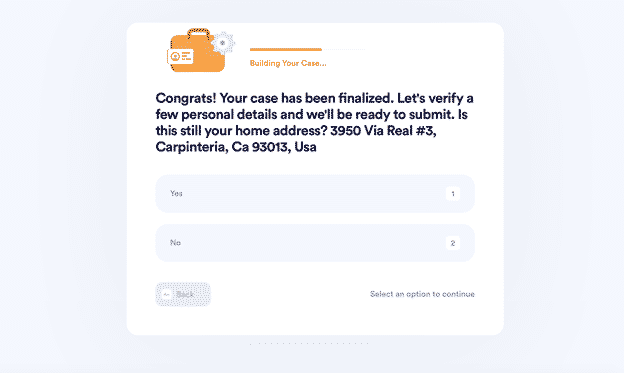 DoNotPay—The Virtual Lawyer You Can Rely On
Discrimination at a workplace is a serious issue. Unfortunately, the problems sometimes escalate into full-blown hate crimes. 
DoNotPay recognizes the importance of easy and affordable access to legal help, especially for population groups that are particularly vulnerable. For that reason, our platform keeps adding various useful tools and products that ease the burden of bureaucracy for the victims. 
With your DoNotPay subscription, you can:
Our app can even help you draft various legal documents, have them notarized, and fax them to the right person—all from one place.
Concerned About Your Online Safety?
We teach our children to be careful about using the internet, but how much do we pay attention to our online safety? Scammers are getting more and more creative and flourish thanks to new technologies. 
DoNotPay is a great resource for fighting irritating spam emails, dangerous texts, and annoying robocalls. If you use our virtual credit card, you won't have to worry about subscribing to free trials—even if they turn out to be a scam! Our AI bots will jump in to secure you a refund, whenever an online purchase goes wrong!