Workplace Discrimination Statistics—Find Out the Numbers
However much we like to claim that society is getting better, the only way to prove our point is to look at numbers.
DoNotPay has analyzed the latest numbers relating to workplace discrimination statistics—here are the highs and lows of what we have found.
What Statistics Are Available?
The most reliable source of employment discrimination statistics is the Equal Employment Opportunities Commission (EEOC).
The EEOC enforces federal anti-discrimination laws and oversees all employment discrimination cases in companies with 15 or more employees—you can't launch a discrimination lawsuit without first filing a charge of discrimination with the EEOC.
This means that the EEOC tracks every discrimination case that is not solved in-house and publishes the data annually.
What Kind of Discrimination Cases Does the EEOC Monitor?
The EEOC categorizes each case by the type of discrimination alleged by the victim. The discrimination categories are:
The EEOC also logs cases of retaliation, color discrimination, and wage discrimination but does not differentiate between de jure and de facto cases—this is only determined after investigations have been completed.
How Many Complaints Does the EEOC Receive in a Year?
Recent reports show the following numbers of complaints lodged with the EEOC, ranked by the number of charges:
| | | | | |
| --- | --- | --- | --- | --- |
| Discrimination Type | 2017 | 2018 | 2019 | 2020 |
| Retaliation - All statutes | 41,097 | 39,469 | 39,110 | 37,632 |
| Retaliation - Title VII only | 32,023 | 30,556 | 30,117 | 27,997 |
| Disability | 26,838 | 24,605 | 24,238 | 24,324 |
| Race | 28,528 | 24,600 | 23,976 | 22,064 |
| Sex | 25,605 | 24,655 | 23,532 | 21,398 |
| Age | 18,376 | 16,911 | 15,573 | 14,183 |
| National origin | 8,299 | 7,106 | 7,009 | 6,377 |
| Color | 3,240 | 3,166 | 3,415 | 3,562 |
| Religion | 3,436 | 2,859 | 2,725 | 2,404 |
| Equal Pay Act | 996 | 1,066 | 1,117 | 980 |
| Genetic Information Nondiscrimination Act | 206 | 220 | 209 | 440 |
| Total cases* | 84,254 | 76,418 | 72,675 | 67,448 |
*The total number reflects cases filed under multiple laws
What Do These
Discrimination in the Workplace Statistics
Mean?
The numbers of cases in almost all categories have been declining gradually since 2017—if the trend continues, it could be an indication that examples of discrimination are on the wane.
The total number of cases is still high, though. Perhaps most alarming is the fact that retaliation—the deliberate victimization of whistleblowers or complainants after they have filed a charge—is the most frequent complaint the EEOC receives.
Does the EEOC Take Employers to Court?
Once you have filed a claim, the EEOC follows these steps:
Contacting your employer

Requesting a written response

Asking for a counter-response

Investigating the evidence submitted

Deciding on further action
Contacting Your Employer
The EEOC contacts your employer to inform them that a charge has been filed. The employer's best course of action is to cooperate as fully as possible from the outset—non-cooperation can antagonize the EEOC and negatively impact any decision the commission reaches on further action.
Requesting a Written Response
Your employer can submit a written response to the charge, offering counter-evidence and any extenuating circumstances, as well as providing a copy of their anti-discrimination policy.
Asking for a Counter-Response
Once the EEOC has received your employer's deposition, they will ask you for a written counter-response, with any substantiating evidence that may still be required.
Investigating the Evidence Submitted
The case officer from the EEOC will investigate all the evidence submitted by both parties and recommend the next steps.
Deciding on Further Action
If your case seems to be without basis, the EEOC will dismiss it and close your file—this is normally a final decision.
If there is a case answer, though, your case officer will do one of the following:
Recommend mitigation between you and your employer to reach a settlement

Launch an EEOC-led lawsuit

Issue you with written permission to sue
Permission to sue means that you are free to contact a discrimination lawyer and pursue private litigation against your employer.
In the past several years, the EEOC launched and resolved the following numbers of lawsuits:
| | | | | |
| --- | --- | --- | --- | --- |
| Year | 2017 | 2018 | 2019 | 2020 |
| Cases launched | 201 | 217 | 157 | 97 |
| Cases resolved | 125 | 156 | 180 | 176 |
| Compensation secured (in millions) | $42.4 | $53.6 | $39.1 | $106.1 |
The amount of compensation secured through litigation in 2020 was the highest in 16 years. In addition to that amount, the EEOC also won $333.2 million through mitigation and conciliatory settlements.
How Much Compensation Do Employees Get on Average?
The average payout through pre-litigation settlements is about $40,000.
If your charge of discrimination is upheld, you could receive the following:
Compensation for lost pay or benefits

Damages for psychological trauma

Reimbursement of your court and legal costs

Punitive damages.
The bottom line is that you could win substantial compensation, but you must have enough evidence to be able to win in court if it comes to that.
How Can DoNotPay Help Me?
Your first step is to file a charge of discrimination with the EEOC—this can be complicated, but DoNotPay can help you .
All you need to do to get the ball rolling is follow these steps: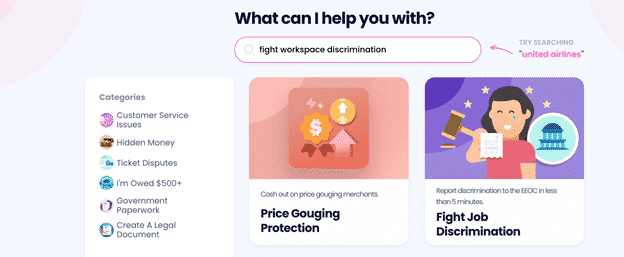 in your web browser

Search for our

Fight Workplace Discrimination

product

Fill in all the details of your case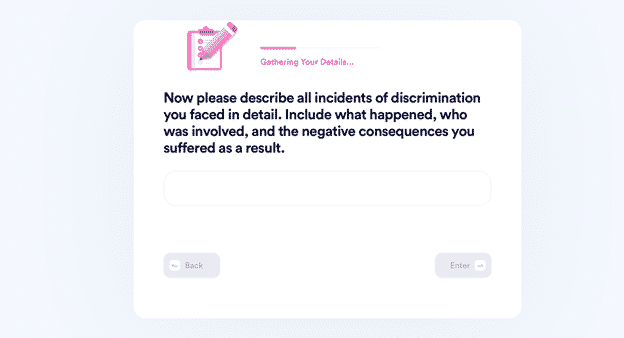 DoNotPay will take it from there—we will file your case with the nearest EEOC office, and the representatives will contact you to explain the next steps.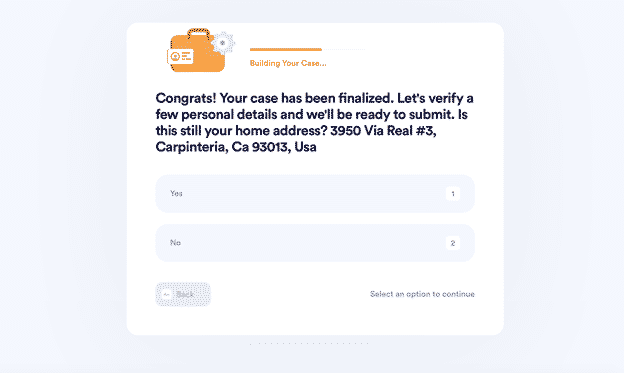 DoNotPay—The Virtual Lawyer You Can Rely On
Discrimination at a workplace is a serious issue. Unfortunately, the problems sometimes escalate into full-blown hate crimes.
DoNotPay recognizes the importance of easy and affordable access to legal help, especially for population groups that are particularly vulnerable. For that reason, our platform keeps adding various useful tools and products that ease the burden of bureaucracy for the victims.
With your DoNotPay subscription, you can:
Our app can even help you draft various legal documents, have them notarized, and fax them to the right person—all from one place.
Concerned About Your Online Safety?
We teach our children to be careful about using the internet, but how much do we pay attention to our online safety? Scammers are getting more and more creative and flourish thanks to new technologies.
DoNotPay is a great resource for fighting irritating spam emails, dangerous texts, and annoying robocalls. If you use our virtual credit card, you won't have to worry about subscribing to free trials—even if they turn out to be a scam! Our AI bots will jump in to secure you a refund, whenever an online purchase goes wrong!