Recognize Discrimination When It Occurs With These
Workplace Discrimination Examples
There is a fine line between banter, prejudice, and outright discrimination in the workplace.
Being able to spot discrimination is your first step towards eradicating it. DoNotPay is your go-to resource to recognize discrimination with these common workplace discrimination examples!
How Is Discrimination Different From Banter or Prejudice?
Discrimination means deliberately treating someone differently at work due to their:
It can be a result of deliberate policies put in place by the organization (de jure discrimination) or due to prejudices that drive the company to work in a discriminatory way (de facto discrimination).
There are many gray areas between discrimination and either banter or prejudice, but both can cross the line into illegal discrimination if they are accompanied by actions that disadvantage you.
Banter can be regarded as harassment if it is persistent, inappropriate, or targeted at one person or group. Harassment can take the form of:
To be classified as discrimination, the questionable behavior has to include some action that disadvantages a person or group in the company in contravention of company policy and anti-discrimination laws.
What Are De Jure
Examples of Workplace Discrimination
?
De jure discrimination—where a company deliberately flouts anti-discrimination legislation—is easy to recognize.
Examples of de jure discrimination could be:
Discrimination Category

De Jure Example

Age

Company policy dictates that cabin staff in an airline must be under 30

Race

The company advertises for sales reps from a particular ethnic group

Religion

The company insists that only Christian holidays may be observed, and its policy does not allow for paid leave on any non-Christian holidays (Eid, Pesach, or similar)

Gender

Company policy states that only women are to be employed in its call center

Disability

Disabled workers are routinely

paid less

than co-workers, with the argument that they are less productive
Each of these examples represents a clear breach of the law, and a discrimination lawyer would have no hesitation in launching legal action against the company.
What About De Facto Discrimination at Work Examples?
De facto discrimination is more difficult to spot—the company does not actively contravene any laws, but accepted methods and practices in the company may lead to passive discrimination.
The following are examples of how de facto discrimination works:
| | |
| --- | --- |
| Discrimination Category | De Facto Example |
| Age | Company policy states that age is not a deciding factor in hiring applicants, but hiring managers favor candidates under 40, and the company's average age is decreasing every year |
| Race | The company advertises job opportunities internally to specific racial groups, including factory floor posts being advertised predominantly to Black and Hispanic staff and accounting posts to predominantly white office staff |
| Religion | Shift planning includes regular Friday night and Saturday shifts for all employees, and leaving your post for mandatory prayer times is frowned upon by supervisors |
| Gender | The company collects family planning information from female employees using "anonymous" survey tools |
| Disability | Disabled employees are welcomed into every area of the business, but the company stalls on providing wheelchair access to the factory floor |
| LGBTQ status | Mandatory dress codes include the wearing of binary-specific uniforms for all employees according to their biological sex |
De facto discrimination can be subtle and, therefore, hard to recognize. In many cases, such discrimination only comes to light when an employee feels its effects and lays an official complaint with an external agency. Internal complaints are often ignored or brushed aside with the excuse that no laws are being broken.
You Think You Have Spotted Discrimination—What Should You Do?
Your first step is to address the issue internally by talking to your supervisor and your HR department.
You should make sure:
Your complaint is recorded

The company has a clear written policy that has been breached

You have documented evidence of all the transgressions you have experienced
If this yields no results, you need to consider launching an employment discrimination case against your company.
Before you can initiate legal proceedings, you need permission to do so from the federal agency charged with enforcing federal anti-discrimination laws—the Equal Employment Opportunities Commission (EEOC).
To get your permission to sue, you first need to file a charge of discrimination with the EEOC, who will then:
Tell your employer that a complaint has been made

Investigate your

discrimination allegation

Decide on whether they will

Launch their own litigation against the company

Grant you permission to sue

Dismiss the case
Lodging your complaint with the EEOC can be complicated and time-consuming, but DoNotPay can simplify the process for you.
DoNotPay's Easy Solution to Lodging a Complaint
DoNotPay can help you file your complaint with the EEOC in a flash—here's how: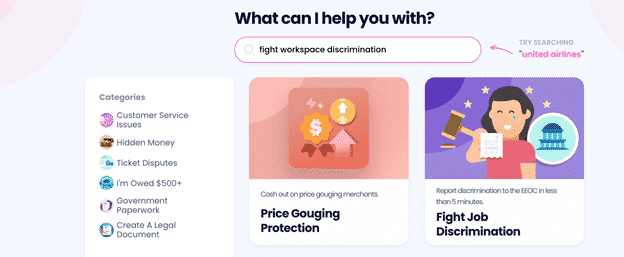 Sign up with DoNotPay

in your web browser

Open our

Fight Workplace Discrimination

product

Give us all the details of your case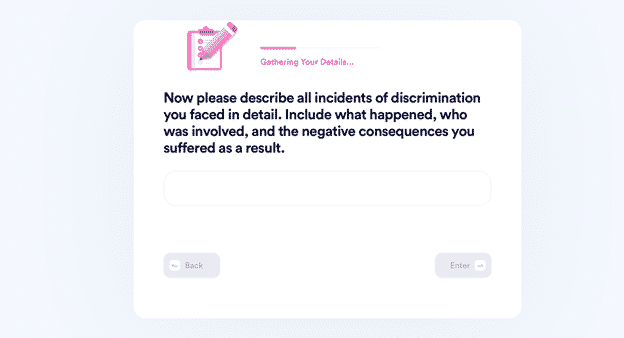 Bear in mind that there are time limits for filing charges of discrimination—normally, you must lodge your complaint within 180 days of the alleged incident. If you lodge in time, the EEOC will let you know how you can proceed.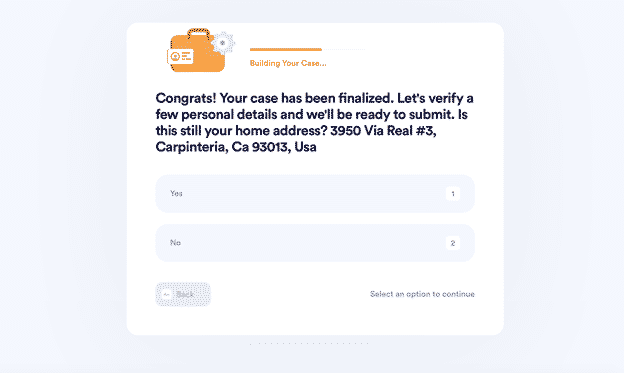 DoNotPay—The Virtual Lawyer You Can Rely On
Discrimination at a workplace is a serious issue. Unfortunately, the problems sometimes escalate into full-blown hate crimes. 
DoNotPay recognizes the importance of easy and affordable access to legal help, especially for population groups that are particularly vulnerable. For that reason, our platform keeps adding various useful tools and products that ease the burden of bureaucracy for the victims. 
With your DoNotPay subscription, you can:
Our app can even help you draft various legal documents, have them notarized, and fax them to the right person—all from one place.
Concerned About Your Online Safety?
We teach our children to be careful about using the internet, but how much do we pay attention to our online safety? Scammers are getting more and more creative and flourish thanks to new technologies. 
DoNotPay is a great resource for fighting irritating spam emails, dangerous texts, and annoying robocalls. If you use our virtual credit card, you won't have to worry about subscribing to free trials—even if they turn out to be a scam! Our AI bots will jump in to secure you a refund, whenever an online purchase goes wrong!