How To Apply for Workers' Compensation for Victims of Workplace Violence
While one's workplace should be a safe place, that's not always the case. One of the reports by the Bureau of Labor Statistics Census of Fatal Occupational Injuries shows that there were over 5,000 fatal workplace injuries in 2019, which is an alarming figure. The victims who survive face various repercussions of crime- or accident-related injuries at work, including physical harm, mental trauma, and unexpected medical and counseling costs.
Did you suffer injuries at your workplace due to a violent act of another person? If the costs caused by the incident are burning a hole in your pocket, you should check if you qualify for workers' compensation for workplace violence victims.
DoNotPay is here to provide a detailed explanation regarding workers' compensation and help you apply for your states' crime victims compensation program in no time!
What Is Workplace Violence?
Workplace violence can be defined as an act or threat of intimidation, harassment, physical violence, or any other rowdy behavior that occurs at a place of work. Some examples are:
Office threats

Shootings

Sexual harassment

Brutality against race, gender, and sexual orientation

Muggings

Physical fights
Some workplaces bring more risks than others. For example, people who work with money or valuables, mentally unstable individuals, or people working in high-crime areas are more likely to suffer workplace violence.
Other than minor or severe physical injuries, these violent crimes can also cause the death of the affected individuals, as well as depression and post-traumatic stress disorder.
Does the Workers' Compensation Program Cover Workplace Violence?
Whether or not your employer needs to have workers' compensation insurance depends on the laws of the state you live in, but most states do require it. The insurance serves to cover the medical expenses and other costs that are the results of incidents that happen in the workplace.
You're eligible to file a workers' compensation insurance claim if you:
Suffered injuries caused by a fall, object strike, dangerous equipment injury, and similar at your workplace

Are an employee in a company that has purchased workers' compensation insurance

Were injured because of the violent actions of a co-worker or supervisor

File your workers' compensation claim in a timely matter, according to the rules of the state you work in
Consult the following table to check which costs workers' compensation in most states covers and which ones it doesn't:
Covered
Not Covered

Medical exams, treatments, and prescriptions

Lost wages

Rehabilitation

Stress and mental trauma

Treatment for self-inflicted injuries

Costs for injuries that happened during commute
What Happens if I Can't Claim Workers' Compensation Insurance?
If you can't get workers' compensation for workplace violence, you have a few other options to get reimbursement for your costs:
Suing your employer if he or she doesn't carry workers' compensation insurance even if it's required by your state's law

Filing a third-party lawsuit if the offender is someone outside the business organization you work for

Apply for the crime

victims compensation

(CVC) program in your state if you were a victim of violent crime in your workplace. You can apply for the CVC program even after you get workers' compensation if the insurance fails to cover all crime-related expenses
What Are Crime Victims Compensation Programs?
Crime victims compensation funds and programs provide financial assistance to violent crime victims who need help covering their crime-related costs, such as:
Medical and dental expenses

Mental health counseling

Lost income and support

Funeral expenses

Crime scene cleanup
CVC programs help not only victims but also their family members and dependents. Some of the violent crimes that most programs consider compensable are:
Homicide

Car accident

(only in cases of

hit and run

, driving under the influence, reckless driving, and when a vehicle is used to cause harm intentionally)

Child abuse

Kidnapping
Most crime victims compensation programs cover up to $25,000 of expenses per claim, but some states—such as Washington—offer higher compensable amounts (up to $150,000). States usually get the funding for violent crime victims from an annual Victims of Crime Act award and offender fees and fines. Some programs also get a percentage of inmate salaries.
Find Out if You Qualify for Your States' CVC Program
All CVC programs have certain eligibility requirements that victims must meet to get compensation. You can apply for crime victims compensation in your state as a victim of workplace violence if you:
Used your workers' compensation, insurance, restitution, Medicaid, and other collateral sources, but they didn't cover all costs

File a police report

Cooperate with law enforcement

Apply for the CVC program within a certain time frame

Didn't cause your injuries or willingly participated in a criminal activity that resulted in the injuries in question
Make sure to check your state's program website to find out more about additional requirements and acceptable filing and application time frame. If you qualify for victims compensation, to file your application in under five minutes.
Apply for Crime Victims Compensation in the Blink of an Eye With DoNotPay!
Do you feel overwhelmed by the complicated application process of the CVC program in your state? You're not alone! Compensation programs in most states have lengthy and outdated application procedures. If you'd like to save time and apply for a compensation program hassle-free, you can rely on DoNotPay.
We have created an easy-to-use product that can help you file your application in California, New Jersey, North Carolina, or any other state in a matter of minutes. We can even tell you all about the 9/11 Victims Compensation Fund and help you get reimbursement as a victim of a terrorist attack.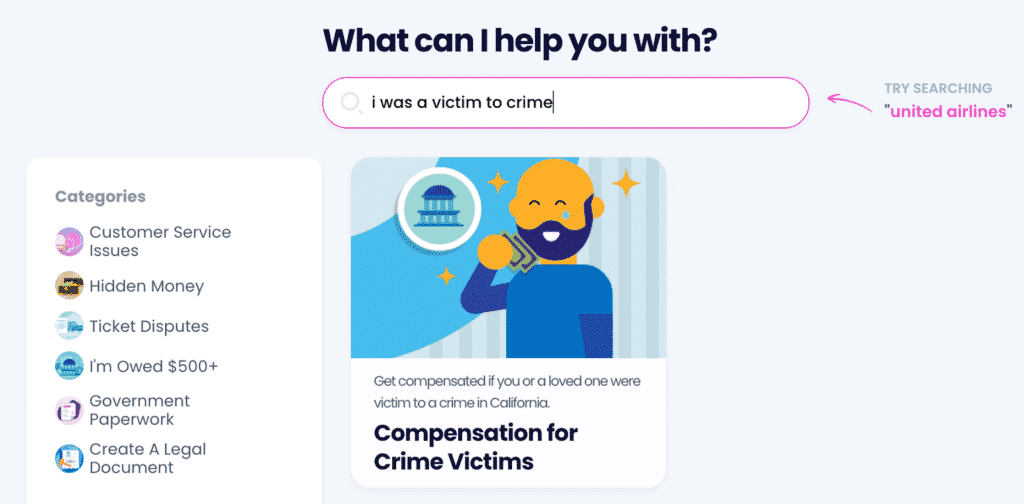 To try out our product, follow these steps:
Choose the

Compensation for Crime Victims

feature

Let us know whether you're the victim or a family member of the victim

Answer our questions and verify your signature
We will complete the application forms for you and send them to your state's program's office.
You can use our product in any state, including:
What Else Can Our Award-Winning App Do for You?
If you think that's impressive, wait until you've heard about other features we boast!
Our powerful app can draft paperwork for you, locate unclaimed funds under your name, cancel subscriptions, sue robocallers, and protect you from stalkers and harassers—all in one nifty browser app!
Our services have been recognized by the esteemed ABA Brown award, serving as a testament to our abilities to assist you with your small claims issues, college fee waivers, public records, copyright protection, and much more!
More Benefits of DoNotPay
DoNotPay is a useful tool for handling many otherwise annoying life's trifles, including: