A Work for Hire Agreement Template—Who Owns What?
Working as a freelancer can be advantageous. No one dictates your working hours or your pace. The problems start when you must deal with annoying details like taxes and payment methods, or more serious ones, such as intellectual property ownership. 
A work for hire agreement clarifies the matters and makes the relationship between a freelancer and a client transparent. If you are not familiar with this legal document, or if drafting any contract bores you, DoNotPay can help you create it in a few clicks. Stick around and get familiar with everything there is to know about a work for hire agreement.
What Is a Work for Hire Agreement?
A work for hire agreement is a contract between a worker and a client by which a worker gives up the rights to the service he/she is providing. 
Work for hire agreements are protected under U.S. copyright laws and are legally binding. Section 101 of the Copyright Act describes work for hire as:
A work prepared by an employee within the scope of his/her employment

A work ordered or commissioned for various purposes
Such purposes include:
Contribution to a collective work

Translation

Supplementary work

Compilation

Motion picture or other audiovisual work

Instructional texts

Tests

Answer material for a test
What Should a Work for Hire Agreement Include?
You should strive to make your work for hire agreement as detailed as possible. It can save you from potential disputes or misunderstandings. Any work for hire agreement must include:
Due date of the project 

Scope of the project (what should be done)

Payment methods

Rights to be sold

Arbitration terms

Severability (getting out of the agreement)
Putting everything in writing and making a legal agreement is the only way to protect your rights and avoid getting cheated. Beware of unreliable templates because they often don't have all the necessary sections and clauses. The only thing worse than having no contract is having a vague one.
Who Owns the Work Created Under Work for Hire Agreement?
Hiring a temporary contractor may leave you puzzled regarding the ownership of the work. A person who contributes to the project can sell the same material to another party without the hiring party's permission unless there is a special written agreement.
The situation is especially problematic with written works since the copyright law states the authors have ownership of any works they create. A work for hire agreement ensures the hiring party has the rights over the work it commissioned. 
The Difference Between an Employee and a Freelancer
Employees' work automatically belongs to their employer, and many companies tend to treat freelancers as employees to get ownership of their work. 
The Supreme Court established a test to verify whether a person working for a company should be deemed an employee or a freelancer. A worker will not be considered an employee if most of the following are true:
The commissioned work required artistic skill

The worker performed the work at his/her studio and not at the client's workplace

He/she supplied his/her tools

Apart from completion deadlines, the worker decided when or how long he/she worked

The work is not part of the client's regular business

The worker was retained for a short period 

The commissioner did not have the right to assign additional projects to the worker

A flat fee was paid to the worker instead of an hourly wage

If the worker used assistants, the client had no role in hiring them

The client did not provide any employee benefits to the worker, such as health insurance

The worker was not treated as an employee for tax purposes, meaning the client did not pay social security taxes for the worker
DoNotPay Can Help With Legal Documents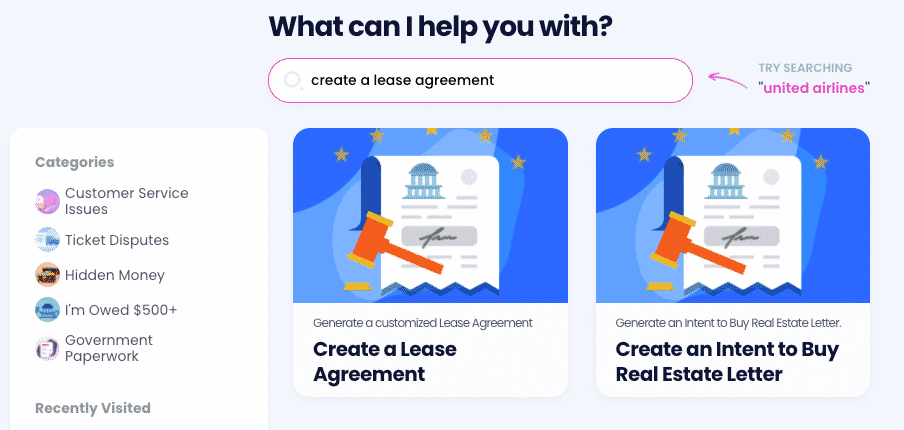 Do you hate spending money on lawyers whenever you need a contract? DoNotPay can help you save it. You don't have to use a template. Rely on DoNotPay.
DoNotPay can draw up various legal documents for you. All you need to do is:
Open DoNotPay in a

web browser

Enter the name of the document you want to make

Answer our chatbot's questions
We'll generate a personalized document using the information you provided. Sign the document or notarize it to make it official.
We give our best to make new templates available for you. At the moment, we can help you with the following documents:
Business 
Real Estate
Other Usages

General Business Contract

Non-Disclosure Agreement

Intent To Purchase Real Estate

Quitclaim Deed

Estoppel Certificate

Promissory Note

General Affidavit

Falling for Scams Is Less Likely With DoNotPay
Thanks to AI technology, DoNotPay is a great resource for protecting your privacy and finances from potential scammers. Our bots can help you report robocalls, keep your inbox clean from spam email and shady text messages, or even deal with stalking and harassment, if it comes to that. 
In case the issues escalate, skip the expensive lawyers and sue the offenders in small claims court with ease. 
Another great way to increase your online security is to use our virtual credit cards and sign up for any free trial without risking unwanted charges. You can even avoid sharing your contact info with our Burner Phone feature. 
The Solution to Your Driving Woes
DoNotPay provides invaluable help to future and current drivers. By helping you ace that driver's license test, scheduling a DMV appointment the easy way, or contesting parking tickets, our app saves you money and time. 
If you need to file a car warranty or an insurance claim, we will help you deal with the necessary paperwork within minutes. Trying to get out of a car wash membership? DoNotPay can cancel it in an instant. 
Our platform works above ground as well. You can use DoNotPay to secure refunds from airline companies or compensation for delayed and canceled flights.