The Ultimate Guide to Drafting a Killer
Work Agreement
Whether you are an employee or a business owner, you should always look for ways to strengthen your employment relationship. Creating a relevant legal document is the most convenient option, but not everyone has enough expertise to write a contract themselves. 
This guide will highlight the basics of the work agreement and show you the easiest way to compose any legal document without suspicious online templates or pricey lawyers.
What Is a Work Agreement?
A work agreement, or an employment agreement, is a document signed by an employer and employee detailing the terms and conditions of their relationship. This contract determines the essential job details and lists the rights and responsibilities of each party. It also supports a more fair and transparent collaboration and guarantees a clean deal for both signing entities. 
The parties can choose between three types of work contracts:
Verbal work agreements

—The entities reach the deal verbally without writing down the terms and conditions. This is the least secure option, as it's difficult to prove the validity of such agreements if any dispute arises

Written work agreements

—These contracts are more detailed and easier to prove. They usually propose specific termination rules

At-will work agreements

—It's the most common agreement type. This contract enables both parties to terminate the agreement anytime and for whatever reason
Why Do You Need a Work Contract?
Work contracts aren't mandatory, but it's highly recommendable to sign them because they:
Define both parties' duties

Protect everyone's rights equally

Bring stability to your business relationship

Allow the employer and employee to negotiate the terms of their collaboration

Prevent disputes, lawsuits, and misunderstandings by clarifying all ambiguities

Provide you with valid evidence in case the other party fails to honor the rules
What Disclosures Do
Work Agreements
Cover?
The specific provisions to include in your employment contract depend on your location or the job category. To create a valid agreement, you must consult state laws and adjust your contract sections accordingly. 
When it comes to the contract structure, you can use the scheme from the following table:
Section

Details

Identification of the signing parties

Legal names

Physical addresses

Contact information

Job information

Job title

Working hours

Work schedule—pauses, overtime activities, etc.

Employment duration—the start and end date of the contract, the number of working hours per week, etc.

Employment type—part-time or full-time

Description of the services the employee should provide

Salary

Starting salary amount

Salary payment frequency and method

Potential deductions from the salary

Potential raises and bonuses

Responsibilities of the employer

Benefits, including:

Life insurance

Health care and dental insurance

Paid time off—vacations, sick leave, or absence for personal reasons

Pension benefits

Stock options

Use of company's vehicles

Additional education

Potential promotions

Responsibilities of the employee

Assignments

Due dates

Probation period

Other work responsibilities the employee must concentrate on

Termination terms

Circumstances under which the parties can end the employment 

Required notices

Property that the employee must return upon the contract termination

Confidentiality

Prohibition of disclosing business-related sensitive information to third parties

Non-compete disclosure—prevents the employee from working with the company's competitor for a certain period after the contract ends

Intellectual property protection details

Technology privacy policy

Terms of using smartphones, computers, or other devices in the workplace

Social media use regulations
Get a Professionally Drafted Contract in Five Minutes With DoNotPay
Official agreements aren't easy to create. To make one, you must ensure it:
Is clear

Contains all relevant provisions

Complies with the governing laws

Doesn't have grammatical or technical errors
Not meeting these requirements can make your contract useless. Filling out online templates is simple but unreliable since they rarely include all the details you need. If you don't want to take risks or waste hundreds of dollars on lawyers, DoNotPay can help you!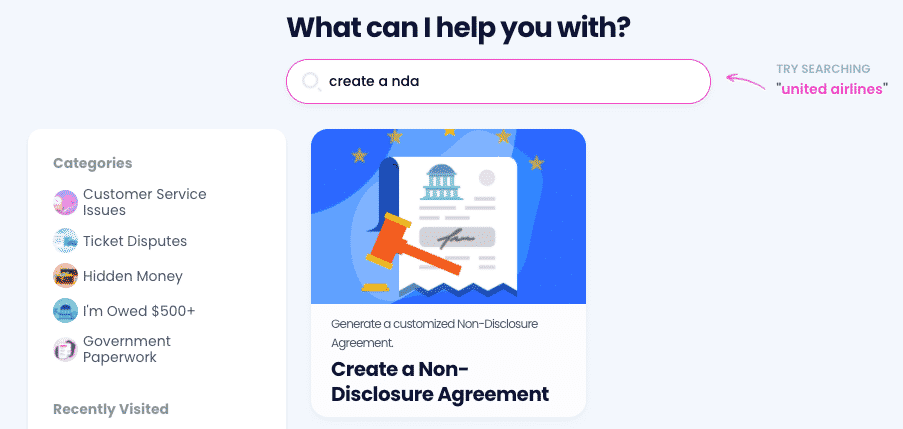 The new Standardized Legal Documents service helps you get a perfect agreement in a few minutes. Choose a suitable template from our database and turn it into a ready-made document by answering a few of our chatbot's questions! Here's how to do it:
Visit DoNotPay

in your preferred web browser

Pick a document you want to customize

Enter a few essential details you want to include in your contract
After downloading the document, our app helps you have it notarized by an online notary. Use our Notarize Any Document feature to arrange a virtual appointment with an official and verify your signature effortlessly. Once it's done, you can fax your contract from your phone or any other device using our app!
What Document Templates Does DoNotPay Offer?
We offer 15 document templates at the moment:
General Affidavit

Promissory Note

Child Care Authorization Form

Intent To Purchase Real Estate

Quitclaim Deed

General Business Contract

Estoppel Certificate
If you are interested in other documents, our knowledge base features many related articles. Access it from any web browser and learn more about:
Our Robot Lawyer Gets Rid of All Admin Tasks
What makes DoNotPay so unique is that it helps you get back what is rightfully yours in many different ways. You can appeal parking tickets, find unclaimed money, demand a refund for canceled or delayed flights, get help with bills you cannot pay, or get your college application fees waived with the help of our platform.
If you're sick and tired of annoying robocalls, spam emails, copyright violations, text message spam, or stalkers and harassers, DoNotPay can assist you in getting rid of them once and for all.
DoNotPay Can Help You Save Money
Have you ever subscribed to a service's free trial you forgot about after a few days? Many Americans have, which is why DoNotPay has a free trial feature that will help you avoid getting charged once the trial is over.
If you want us to scan all your active memberships and help you not pay for the ones you don't use, connect your email address or credit card to DoNotPay. Our cancel feature will ensure that you don't waste your money on subscriptions you don't even remember exist.
If a merchant charges you once the free trial is over, though, you can use our robot lawyer to request a refund and skip the phone queue when doing so.
In case a company refuses to grant you a refund, you can also use our app to sue them in small claims court.