All There Is To Know About Using a Word to HTML Converter
Word is a type of document file created by Microsoft Word. It can store text, images, tables, charts, and more.
HTML, on the other hand, is a type of document file created by the popular web page publishing program called HTML or Hypertext Markup Language. It describes the structure of a web page.
The difference between Word and HTML is that Word files are accessible through word processing programs, whereas HTML files are accessible through your web browser. The main reason why people convert Word to HTML is for their web pages.
Regardless of what your reason for the conversion is, we can help. Instead of wasting time looking for a reliable Word to HTML converter, sign up for DoNotPay! Using our nifty File Converter product, you'll be able to convert an unlimited number of Word files to HTML quickly and safely!
How To Convert Word to HTML
A Word document can be converted to HTML by using the export function in Microsoft Word. To accomplish that, you should take the following steps:
1. Open the document in MS Word
2. Click File and select Save as
3. Choose Web Page, Filtered Web Page, or HTML Only as the file type.
4. Hit the Save button
If you, for whatever reason, can't use Microsoft Word to export your file to HTML, you can opt for one of the following:
Using online conversion software
Using a desktop app
Using an Online Converter To Convert Word to HTML
Using an online Word to HTML converter is a fast and easy way of converting documents. You won't have to waste time downloading and installing additional software on your computer. Online file converters will only require a good internet connection and the completion of three simple steps:
Uploading the file you want to convert
Selecting the output format
Clicking the Convert button
Using a Desktop App To Convert Word to HTML
When you are looking to convert a file, it can be tempting to just look for the quickest solution. In most situations, an online converter is a good enough solution, but for large files or critical data, offline converters may be a better choice. They deliver higher-quality files and offer more control over the conversion process.
Online Word to HTML Converters—The Common Disadvantages Explained
Using online Word to HTML converters has its share of disadvantages, even though it is the fastest way to generate web pages. You should be aware of the following issues:
Some Word to HTML converters fail to convert words with special characters or generate files that are simply unreadable
There's a risk of downloading data infected with viruses or malware
Conversion of multiple files in one go isn't possible
You'll have no control over the conversion process
Ads that pop up are annoying but could be malicious, too
Use DoNotPay To Convert Word To HTML Safely and in No Time!
DoNotPay is the quickest, safest, and most reliable way to convert your Word files to HTML. It is easy to use, requiring minimum effort on your part. All you need to do is:
Open the File Converter product
Upload your Word file
Select HTML as the format you want to convert it to
The conversion will take only a few seconds. Once it's finished, you can download your new HTML file from the My Disputes page.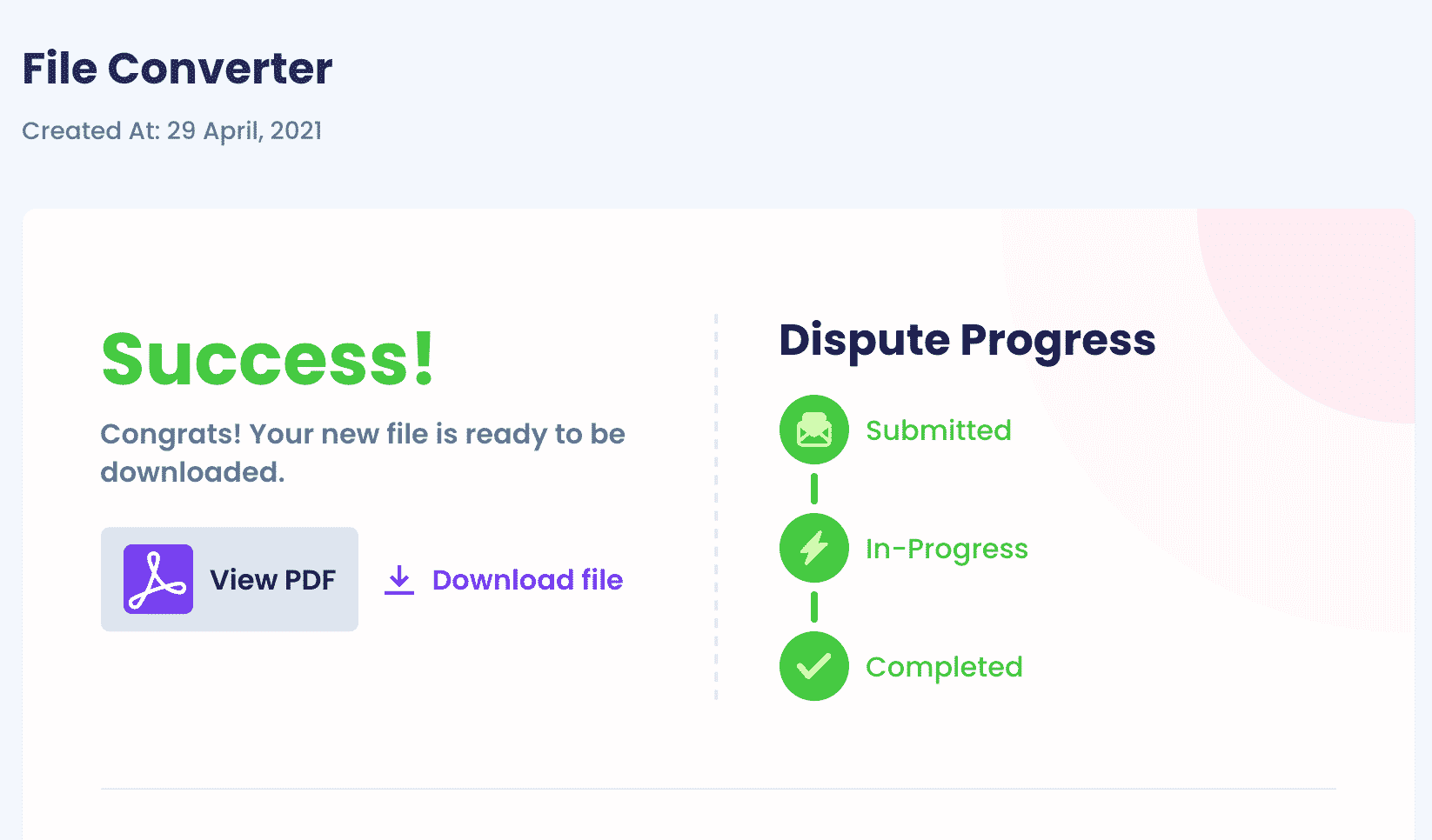 Our nifty File Converter product is browser-based, which means you can convert your files regardless of what system you're using. What's more, you can convert an unlimited number of files without annoying ads popping up along the way.
What Other Files Can DoNotPay Convert?
DoNotPay can convert a variety of different files, including audio, video, image, eBook, and others. Here's a table of other document-specific files our award-winning app can help you convert with ease:
Have All Your Files in One Place
DoNotPay is designed to help you do more with less work. Apart from converting hundreds of different file types, you can also leverage DoNotPay to compress your files to take up less space on your device.
Found a video online that you'd like to save as an MP3 to play it on the go? Whether it's a music video, a guide, a lecture, or a podcast, DoNotPay can convert all manner of online videos to MP3 files with ease! You can also use our award-winning app to download videos from social media and the web so you can enjoy them even when you don't have access to the internet.
DoNotPay Helps You Tackle All Manner of Different Tasks With Ease
Streamlining complex processes and saving you a ton of time and money in the process is what DoNotPay does best!
For instance, we can help you skip the phone queue of any company by waiting on hold in your stead. We can also help you cancel any unwanted subscription or service with a single click, as well as request a chargeback, return an unwanted item, and get a late delivery refund.
You can also use DoNotPay to find unclaimed funds in your name, lower your bills, reduce property taxes, appeal parking tickets, and dispute seatbelt tickets. Apart from saving you a ton of money each month, DoNotPay can also give you that much-needed peace of mind by helping you get rid of annoying robocalls and email spam for good!