All About Wisconsin Small Business Loans
Wisconsin's economic health is firmly tied to the success of its small businesses. According to the SBA, companies with fewer than 500 employees make up 99.4% of Wisconsin's businesses. Many government- and bank-sponsored small business loans are available to finance your enterprise.
We will show you the types of loans, best loan providers, and loan requirements that apply in Wisconsin. If you want to increase your chances of getting a loan in WI, DoNotPay's app can help you .
What Type of Wisconsin Small Business Loans Should You Look For?
Small businesses are more in need of financial assistance today than in the pre-COVID era. Whether they're looking to start a new business or expand an existing one, business owners in WI are spoilt for choice regarding available options.
What loans you can apply for depends on several factors:
Your loan objective and loan type that best fits your needs
The value and scale of your business
The down payment you can afford and your business budget
The urgency for funding
Most loan types have restrictions on how the funds are used. This is why businesses and brands are often opting for SBA loans rather than traditional bank loans. These types of loans offer the borrower more freedom in using the funds and present more favorable loan terms and interest rates.
The Best Small Business Loans in Wisconsin
As of August 2021, more than 1,400 Wisconsin business owners received around $891 million in small business funding. Some of the best small business loans in WI include SBA loans, lines of credit, USDA loans, commercial construction and real estate loans, and working capital loans provided by:
IncredibleBank
Summit Credit Union
Wisconsin Women's Business Initiative Corporation (WWBIC)
Huntington National Bank
IncredibleBank
This institution is a Preferred SBA Lender that provides loans for small businesses nationwide. IncredibleBank offers personalized loan solutions and support for its customers until they succeed. The bank offers several loan options, including:
Business term loan
Commercial real estate loan
Business lines of credit
USDA loans
SBA 7(a) program
IncredibleBank usually needs six weeks from the receipt of the application documents to process SBA loan applications.
Its business term loans offer a maximum repayment term of ten years—you'll need a solid annual revenue and personal credit score to qualify.
Wells Fargo
Wells Fargo is a big player in the Wisconsin small business loan market. Their loan products are ideal for small or established businesses that want to supplement cash flow, expand, or cover day-to-day expenses. The multinational financial services company offers unsecured business lines of credit, business credit cards, letters of credit, commercial real estate financing, and SBA loans:
Types of Loan
Nested Options
Business credit cards

Business Platinum Credit Card
Business Secured Credit Card
Business Elite Signature Card

Lines of credit

Business Lines of Credit
Prime Line of Credit

Letters of credit

Commercial Letter of Credit
Standby Letter of Credit

Commercial real estate loans

Real Estate Purchase Loan
Real Estate Refinance Loan
Real Estate Equity Loan
Equity Line of Credit

SBA loans
Summit Credit Union
Operating out of Madison, Summit is the top credit union SBA loan lender in Wisconsin. It is also among the top three lenders in the state, having provided $9.56 million to 47 businesses as of August 31, 2021. Apart from SBA 7(a) loans, it offers business term loans and lines of credit as well.
Wisconsin Women's Business Initiative Corporation (WWBIC)
While WWBIC accepts loan applications from anyone, they prefer applicants who are women, from a minority group, or in a lower-income bracket. The organization is the largest microlender in Wisconsin. They offer loans from $1,000 to $100,000, fixed and variable prime rates, and terms of up to 72 months. If you are eligible for an SBA Community Advantage Guarantee, you can get up to $250,000 and the term of up to 120 months. There is also a nonrefundable $100 application fee.
Huntington National Bank
Wisconsin-based small businesses have recorded tremendous success in securing SBA loans from this bank. They loaned over $8.6 million in SBA loans to Wisconsin businesses in the first eight months of 2021. Huntington National Bank also offers real estate loans, term loans, and lines of credit to business owners.
Required Documents for a Small Business Loan Application
The range of documents needed for small business loan applications varies depending on the type of loan you want to take out. Not providing copies of these documents or submitting the wrong documents will get your loan denied.
These are the most important documents that are necessary for a range of loan types:
Business plan
Financial statements—profit and loss statement, balance sheet, and cash flow statements—to show costs, expenses, and business budget
Business and personal tax returns
Articles of incorporation
Business licenses
Commercial lease(s)
Documents of ownership and affiliations
DoNotPay Can Help You With Your Small Business Loan Application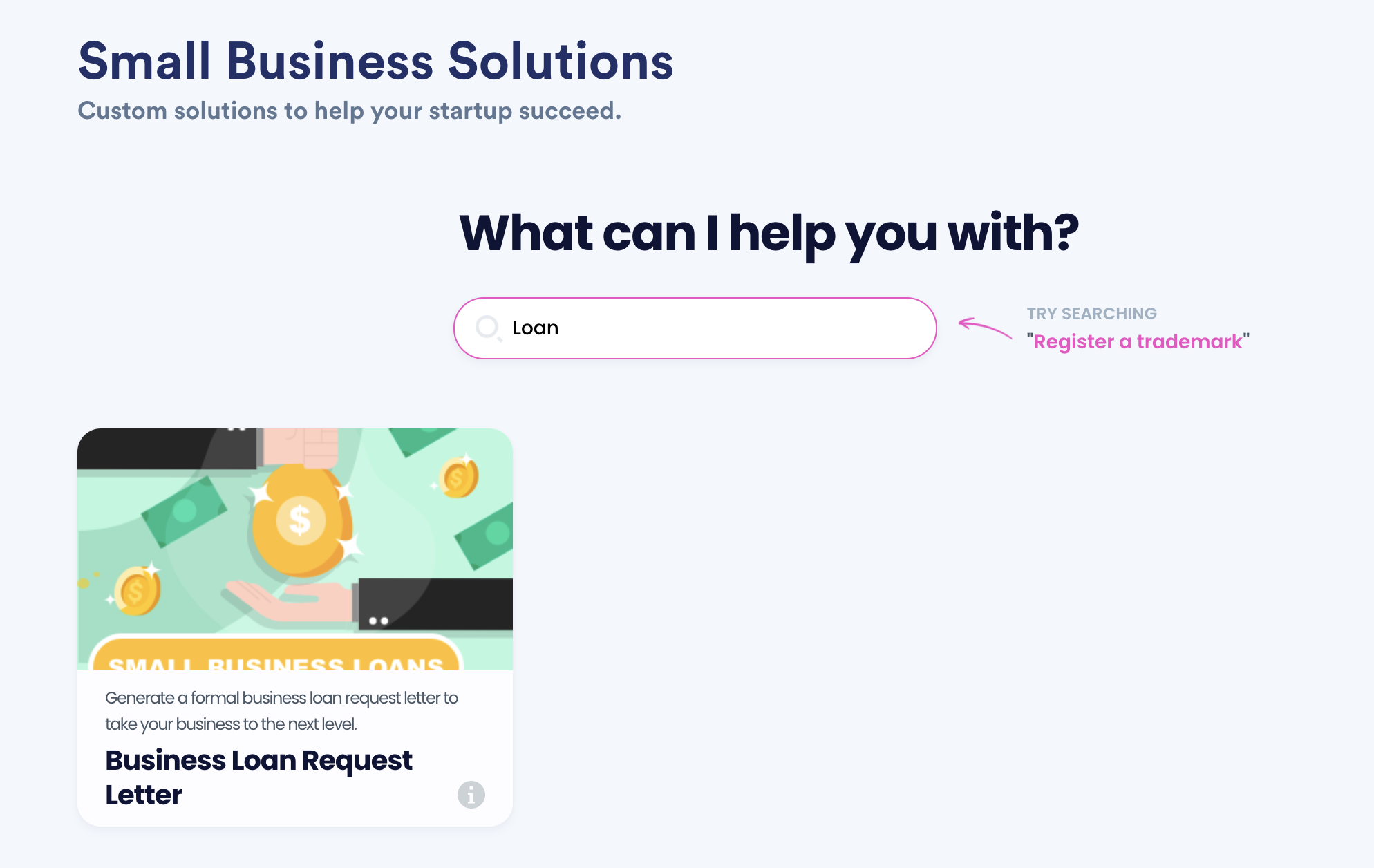 Many business owners are at a loss about what to do when applying for a loan. They are afraid to take the first step because they understand one wrong move could mean failure. DoNotPay's Business Loan Request Letter tool can provide you with a professional loan request letter in minutes.
You need to take the following steps:
via a web browser
Locate the Business Loan Request Letter tool
Answer the questions about your company and the desired loan
Upload all applicable financial documents
That is it. DoNotPay will draft and send a formal loan request letter that pushes the case for your loan in the most effective way.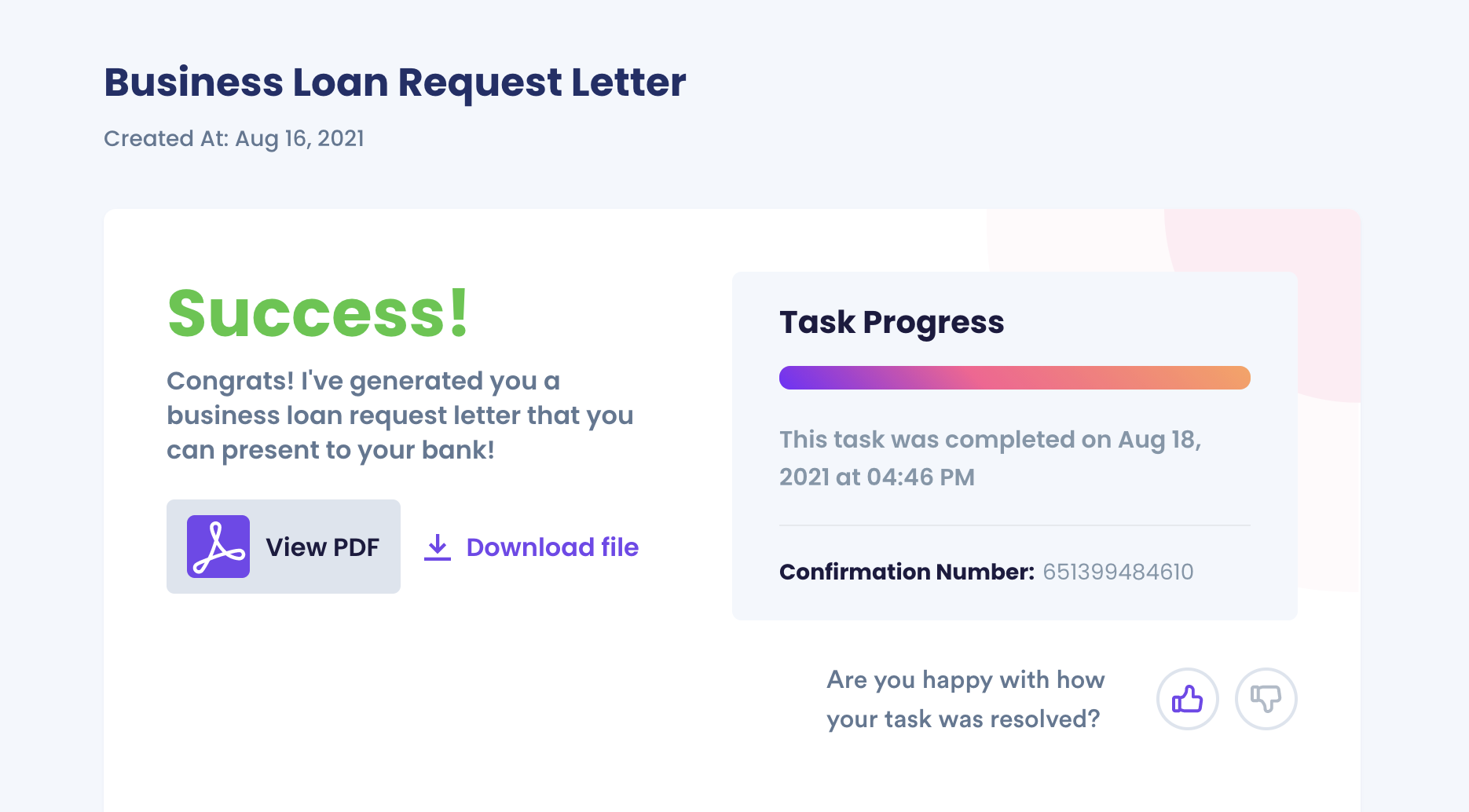 Not sure which lender to apply to? No need to worry because DoNotPay has another useful product—Find an Online Business Loan Lender—that can help you identify the top lenders for your particular loan needs.
Small Business, Big Issues—Resolve Yours With DoNotPay
DoNotPay is here to offer a helping hand in your business endeavors. We can help you handle various procedures as effortlessly as possible. Want to make sure you get a small business loan for real estate purchases, job creation, debt repayment, and similar? DoNotPay is here to assist you in writing a convincing request letter! Want to make sure your employees and shareholders save money on taxes by filing 83(b) election forms? We can help with that too!
The world's first robot lawyer has a myriad of nifty features at your disposal. Use your precious time to work on your brand while we take care of most business-related issues for you. Our app can help you:
Fight unfair chargebacks
Deal with illegitimate online reviews
Send formal demand letters to clients who won't cover the cost of your services
File the self-certification request with the Privacy Shield program in a matter of clicks
Send documents to your customers or business associates from the comfort of your office with our faxing and mailing tools
DoNotPay Helps You Deal With Various Registration Processes!
One of the first tasks you should complete as a business owner is to obtain an Employer Identification Number (EIN). Applying for it is usually a tedious process unless you use DoNotPay! We can file your application on your behalf and notify you accordingly.
Does your business have a website that allows users to share or store content? An important aspect you should take care of is registering a DMCA agent, and DoNotPay is here to make the process easier!
If you wish to register your business name, slogan, or logo as a trademark but you're not sure how the process goes, rely on DoNotPay and finish your registration in no time! We can also help you protect your trademark by monitoring it every month and filing a cease and desist demand if anyone tries to steal it.