Wisconsin Property Tax Exemption—All You Should Know

Did you know that the average annual property tax in Wisconsin hits around $3,286? With such numbers, America's Dairyland is far from being among the states with the lowest property taxes.
The good news is that Wisconsin offers certain ways to lower your tax bills and save some hard-earned money. One of the possible solutions is property tax exemptions, which give you a chance to reduce the amount of taxes you need to pay.
This mini-manual will explain Wisconsin property tax exemption options and give you clear instructions for using DoNotPay to ease the process. 
Other useful guides on our platform will explain tax exemptions for veterans, senior citizens, and other qualified groups. With our advice, you will learn how to pay your property tax bills more easily and get peace of mind!
What Is Property Tax, and Why Do You Need To Pay It?
Owning a house or any other type of property may sound like a simple, rent-free option, but it brings other types of expenses. Every property owner must pay a certain amount based on the value of the land or object they possess. 
Paying property taxes has its purpose—the authorities use this money to handle other state-related issues and improve the quality of life by:
Investing in education

Contributing to road works and constructions

Establishing satisfying fire protection methods

Financing sewer and water quality improvements

Building new libraries and renovating the existing ones
How Is Property Tax Assessed?
The amount that property owners need to pay depends on several factors, such as:
Location

Market values

Size of the property in question
A local tax assessor is responsible for the property tax assessment—they estimate the value of your land or any other type of property according to the mentioned criteria. Once they do it, they multiply it with the tax rate, determining the annual amount you need to pay.
Ways To Lower Your Property Taxes
No one likes to spend several thousand dollars on taxes, which is why people come up with various ways to reduce these expenses. Here are some handy tips for keeping some money in your pocket:
Check the information on your tax bill

—Revising these details will allow you to notice inaccuracies more easily and address them on time

Say "no" to home improvement regardless of how much you want it

—The more value you add to your home by renovating it, the more your taxes will grow

Participate in the assessment procedure

—Being present while the assessor evaluates your property helps you notice any unfair or suspicious decisions they may bring

Get familiar with possible tax exemptions

—You can get informed about the possible tax reduction methods your state proposes
Most Common Wisconsin Property Tax Exemptions
The following table shows the two most popular tax exemptions available for Wisconsin citizens:
| | |
| --- | --- |
| Type of Tax Exemption | Details |
| Homestead exemption | It enables citizens to exempt $75,000 equity in the particular homestead, while married couples will be able to save $150,000 of equity. The debtor(s) need to own the homestead in question as individuals—if an LLC owns it, it won't be entitled to the exemption |
| Exemptions for disabled veterans and their surviving spouses | Disabled veterans and their widows are entitled to a complete exemption if the veteran is 100% disabled and if they lived in the state of Wisconsin when they started serving or within five years after they entered into service |
Reduce Your Property Tax Easily With DoNotPay
Most people accept that paying property taxes is inevitable and cash out huge amounts on such expenses annually. While it's true that you can't escape your duties, you can get informed and reduce your taxes significantly by using DoNotPay's easy-to-follow guide!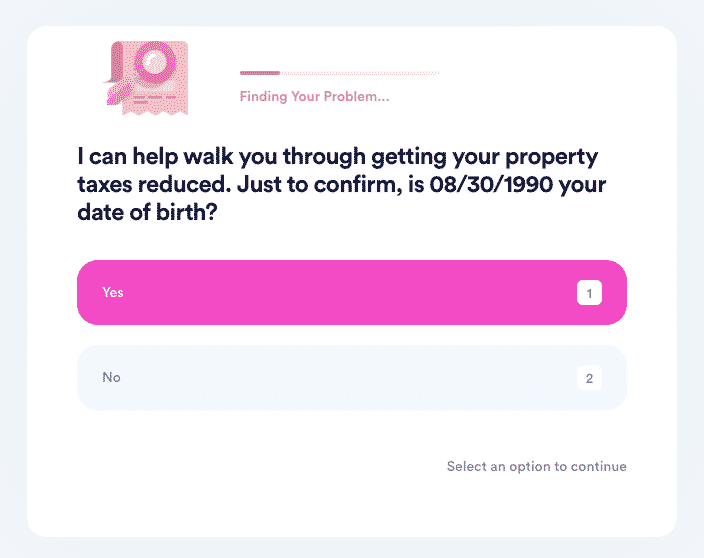 If you aren't sure whether you qualify for any tax exemption, our Property Tax service can help you find out! All we need is a few answers to our chatbot's questions, and we will provide you with all the relevant information you need to start your tax reduction procedure.
Here are the steps you should follow:
Visit DoNotPay in your

web browser

Open the

Property Tax

section

Give us more details about you and your property, including your age, location, and income information
Our app will process your details and generate a full personalized guide on reducing the specific types of taxes you are struggling with. This manual includes tips for getting the right request forms and submitting your applications properly. 
Besides helping you with Wisconsin property taxes, DoNotPay can assist you with handling this type of expenses in Oregon, Georgia, Arizona, Kentucky, Louisiana, and other U.S. states.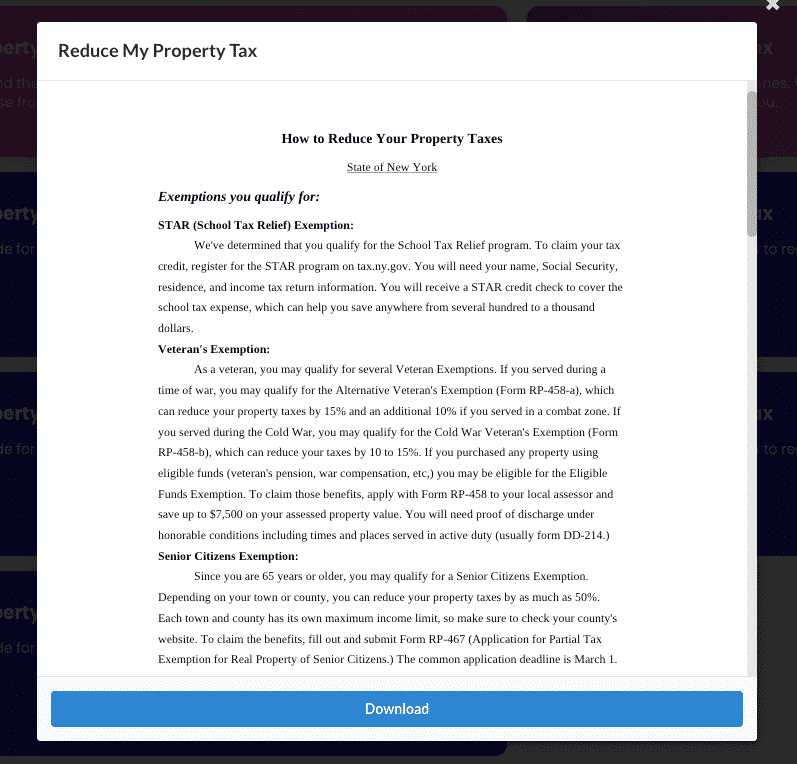 Can DoNotPay Help You Appeal Property Assessments?
If you believe that the assessor's evaluation is wrong, it's best to appeal their decision and fight for lower taxes.
Apart from significant tax reduction tips, our guide contains a set of instructions you need to follow if you want to file a property tax appeal. With our handy advice, you will find the common language with your local assessor more easily and get ready for your tax appeal hearing. 
This guide doesn't have to refer only to Wisconsin—you can use our advice to get the best property tax appeal service in any other state!
Need Help Fighting Bureaucracy? Use DoNotPay!
As the world's first robot lawyer, DoNotPay can help you resolve a plethora of tedious administrative issues. Our app will assist you in getting justice in small claims court, getting refunds from merchants, reporting annoying spam emails and text messages, reporting copyright infringement, bypassing phone number verification, and so much more!
You can also rely on DoNotPay's help when it comes to subscriptions. If you want to sign up for a free trial, cancel a service you no longer use, and skip the phone queue when doing so, our app will provide its assistance.
Our App Saves You Time and Money
Are you unable to pay your bills? Use the world's first robot lawyer app to cover them! Do you want to appeal your traffic or parking tickets? DoNotPay will help you appeal them in the blink of an eye.
Our app can do so much more than that, though—with DoNotPay by your side, you can sign up for clinical trials, ace government tests, claim any type of warranty, schedule an appointment with the DMV, and handle any other bureaucratic task.