Wisconsin Power of Attorney for Health Care Simplified
A Wisconsin power of attorney for health care (or a health care proxy) allows you to plan your medical care in advance and get peace of mind knowing that your future health-related wishes will be honored.
If you want to know the specifics of this document, you are at the right place! We introduce you to its advantages, list the requirements it must meet, and help you create it effortlessly using DoNotPay!
A Definition of the WI Medical Power of Attorney
A power of attorney for health care law is regulated by Chapter 155 of the Wisconsin Statutes. As per its definition, a health care power of attorney enables you to pick a person who will decide about your future health care if you can't do it yourself. In some states, this document is also known as a medical power of attorney.
An agent you choose—also called an attorney-in-fact—is responsible for carrying out your medical care wishes and informing the physicians about your end-of-life preferences.
The document is not the same as financial power of attorney, referring to the authorization you can give to a trusted person to make financial decisions in your stead. It's also different from a living will, which is an advance directive like a medical power of attorney but represents a list of your end-of-life wishes and preferred treatments.
Signing Requirements for a Medical Power of Attorney in Wisconsin
The Wisconsin Statute imposes several signing rules you must comply with when preparing a medical power of attorney:
The document must be in written form and voluntarily executed
You must sign the power of attorney and put an effective date on it
Two persons above the age of 18 must witness the signing. They shouldn't be:

Related or married to you
Entitled to receive any portion of your estate
Responsible for your health care expenses
Employed in a medical facility where you are being treated

Two physicians must confirm your incapacity before the document comes into effect
Wisconsin Health Care Agent and Their Responsibilities
Here are some of the most common questions and answers related to assigning powers to a health care agent in Wisconsin:
Question
Answer
Who can be your agent?

Friend
Relative
Spouse/long-term partner
Your child (above the age of 18)
Any other person of trust

Who can't be your agent?

Person who provides health care in the hospital where you are a patient
Employees in a residence or a hospice care facility where you are staying
Spouses of the employees in the facility where you are residing

Are you allowed to have more than one agent?
Yes—you can name an alternative agent to take over the duties if the primary agent is unable to
Can you limit your agent's powers?
Yes—the power of attorney for health care may contain a clause stating what limitations you want to impose on your agent
What can an agent decide about?

CPR and resuscitation
Specific drugs/medical treatments
Mechanical ventilation and artificial nutrition
Organ donation
Life support specifics
Hospice, palliative, and comfort care

What can't an agent do?

Decide on experimental and inpatient mental health services
Withhold comfort care
Approve or refuse:

Psychosurgeries
Convulsive therapies
Let DoNotPay Compose a Medical Power of Attorney for You in a Snap
The trickiest part of making a medical power of attorney is creating an error-free document. Lawyers can help you, but they charge immense amounts for creating a single living will or medical proxy. Online templates are often too generic and don't contain all the necessary sections.
DoNotPay offers a fast and inexpensive solution! Our app can assist you with generating the following documents in minutes:
Here's how the product works:
Click on Advance Health Care Directive
Tell us:

Who your agent and witnesses are
What powers you want to assign to the agent
It won't take longer than five minutes until you receive a personalized document ready for signing!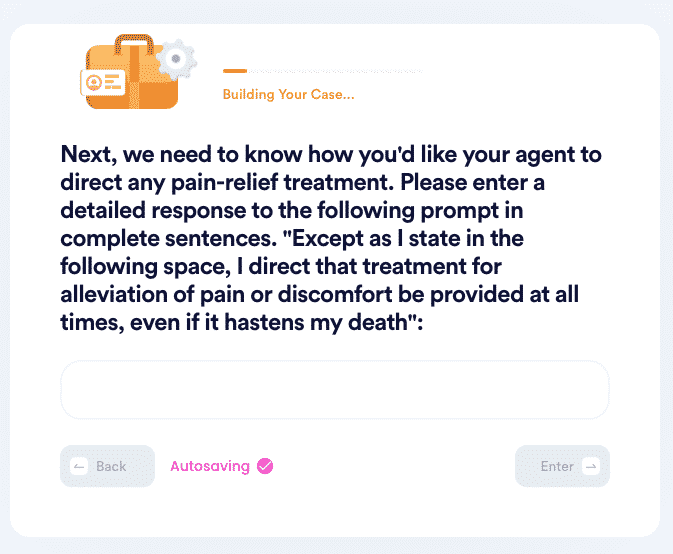 Save Time and Money Using DoNotPay
Being on hold while trying to reach customer service is no picnic. With DoNotPay, you can jump the phone queue and reach a rep with ease. Are you contacting a company to request a refund or cancellation? No need for that! Our app can get it done in a few clicks. We can also help you return an item or handle a late delivery.
Dispute parking tickets, claim your warranty or insurance, set up a DMV appointment, contact an embassy, and deal with any other task with our assistance.
You can also request access to public records, apply for tourist visas, or file complaints with the help of our AI-powered app.
We're Not Done Helping You!
Our multifaceted app keeps getting new features that can streamline numerous tasks and solve all kinds of problems.
Would you like to join sweepstakes or giveaways? Are you up for participating in clinical trials and earning some money? Are you interested in sending mail without visiting the post office? We've got it covered!
We will help you protect your privacy by putting an end to spam emails, incessant text messages, and robocalls. If you think you're being stalked, you can count on our assistance. You can also use our app to perform a sex offender search, fight workplace discrimination, and handle annoying neighbors.