How To Create a Top-Notch Wisconsin Lease Agreement
Lease agreements in Wisconsin are defined by the landlord-tenant law, which imposes specific responsibilities on the property owner and the renter.
Before creating a lease agreement, you should know what the contract must include. Any legal document that doesn't comply with the state's legal requirements can be dismissed.
If you think you can't create a contract without a lawyer—you are wrong. DoNotPay will show you the easiest and most affordable method of creating a Wisconsin lease agreement!
What Does a
Wisconsin Residential Lease Agreement
Entail?
A lease agreement is a written understanding between a landlord and a tenant for renting a property. Landlords typically conduct thorough research of the tenant's finances before signing the agreement. Once the tenant passes the background check, both parties sign the contract, making it legally binding. Before moving in, the tenant must pay a security deposit and a first month's rent.
Terms of a Standard Wisconsin Lease Agreement
Lease agreements outline each party's obligations and responsibilities. The most common terms include:
Names and number of occupants

Terms of the tenancy

Rent

Deposits and fees

Repairs and maintenance

Entry to the rented property

Illegal practices

Pet policy

Additional restrictions, such as:

Right to renew the lease

Parking rules and restrictions

Right to sublet the property

Possessions not allowed on the property

Behavior on the premises, for example, noise issues
While most standard lease agreements have a uniform structure, not all sections fit individual requirements. Before drafting an agreement, you should cross-check personal terms and landlord-tenant laws.
What Are the Most Important Landlord-Tenant Regulations in Wisconsin?
You can't write a lease agreement in Wisconsin without having a basic knowledge of landlord-tenant laws. Being aware of your rights will help you avoid misunderstandings and disputes in the future.
Here is an overview of the most important details of landlord-tenant laws in Wisconsin:
Regulated Matters
Details

Required disclosures

Landlords must disclose specific information to tenants, including:

Agent/landlord identification

—identifying a person who can act on the landlord's behalf

Lead-based paint

—referring to property built before 1978

Move-in checklist

—involving landlord's inspection of the premises

Water, heat, and electricity

—referring to the inclusion of these items in the rent

Security deposit limit and return

Landlords can charge any security deposit amount but must return it at least 21 days after the tenant moves out

Small claim lawsuits

Tenants can sue landlords in small claims court for a deposit return

Unconditional quit notices and other rent rules

The law defines situations when a landlord can use an unconditional quit notice, such as the tenant not paying rent on time

Tenant's right to withhold rent

A tenant has the right to withhold rent if a landlord fails to perform essential repairs

Eviction rules

Wisconsin law specifies criteria for terminating the lease or evicting a tenant, such as drug-related violations

Other items

Other state laws that impact both landlords and tenants refer to:

Providing a timely notice for entering the premises

Protecting tenants against landlord's retaliation for exercising their legal rights

Safeguarding tenants who are victims of domestic violence

Practicing fair housing rights

Handling abandoned property
How Can I Get a Wisconsin Lease Agreement?
You can obtain a Wisconsin lease agreement by:
Getting professional assistance

Drafting a contract

yourself

Downloading a

contract template
Each method has its advantages and disadvantages, as presented in the table below:
Contract Creation Method
Pros
Cons

Hiring a lawyer

Lawyers are familiar with state laws and regulations

Attorneys know legal terminology, which gives your contract a professional look

Lawyers are expensive

Most legal documents don't need such a level of expertise— plain English will do the trick

Writing a contract

This option is more affordable

Writing a contract requires patience and research

You will still have to ask a lawyer to check the document for potential mistakes

Downloading a contract template

Online templates are often free

They are easily accessible

They are risky—there is no way of telling which ones are legit

Online contracts are generic and don't apply to every situation

You will spend a lot of time correcting them to meet the demands of a specific situation
If the options we listed don't appeal to you, you can ! Our app offers professional, valid documents at an affordable price!
Which Legal Documents Can DoNotPay Create for You?
DoNotPay is your faithful assistant for creating various contracts and agreements. You won't have to spend money on pricey lawyers or stress about getting the language and technicalities right. If you give us the key information, we will create an agreement for you!
Take a look at all legal documents we can generate:
Quitclaim Deed

Promissory Note

Estoppel Certificate

General Business Contract

Intent To Purchase Real Estate

Residential Lease Agreement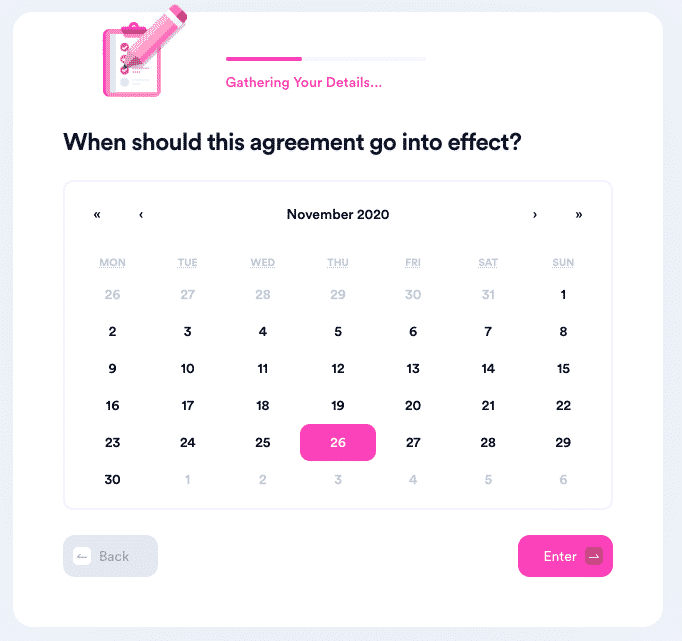 How Can DoNotPay Create Your Wisconsin Lease Agreement?
DoNotPay can generate your lease agreement within minutes. You only have to take a few simple steps to get a tailor-made professional contract.
Here's what to do:
in a web browser

Go to our

Legal Documents

product

Enter the name of the document

Give a few answers to our chatbot
DoNotPay will generate the agreement immediately. You can even use our notarization feature to notarize the document after creating it!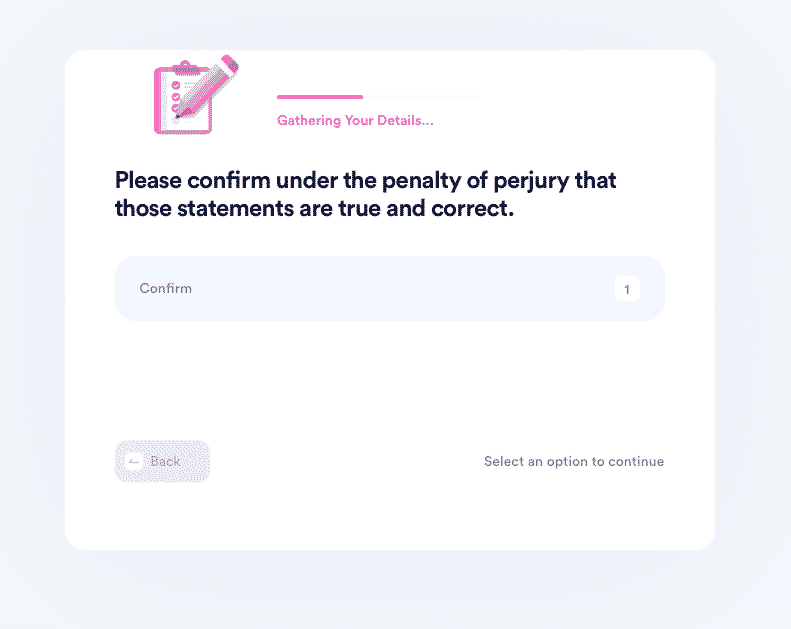 Forget About Bureaucracy With DoNotPay
There's no end to what our app can help you do. From drafting legal documents and asking for bill extensions and reducing property taxes to connecting with an inmate in a federal prison and contesting parking citations, DoNotPay can handle it all and cut through the red tape.
Need to pass a government test? Use our practice tests database to nail it. Looking to file an insurance claim? You've come to the right place. College applications drained your accounts? Request college fee waivers with our assistance.
The DoNotPay app is so versatile that it can easily locate any unclaimed funds under your name or any clinical trials that you're eligible to participate in. We can also schedule DMV appointments and take care of your small claims court documents.
Check Out What Else DoNotPay Has in Store
DoNotPay never stops upping the game. You can explore some of our latest features and see how you can access public records, receive free online fax, submit a warranty claim, or get compensation if you were a victim of a crime.
Alternatively, check out some of our most popular products that aim to reclaim your funds—from getting airline flight compensation and submitting refund and chargeback claims to canceling your unused subscriptions and getting class action cash from email, text, and robocall scammers.