Become an Excellent Driver With a Wisconsin DMV Practice Test
To start cruising along Wisconsin roads safely, you need to get familiar with traffic laws and rules first. Digesting all the information for your forthcoming driving test can be difficult. 
DoNotPay offers you an efficient way to deal with all the data. Take a practice permit test in WI to help you acquire numerous rules the right way.
We can introduce you to the driver's world by leading you through the driving test scheduling process and presenting a way to ace the written driving test.  
What To Prepare for the Driving Test in Wisconsin
Venturing out on the public roads in Wisconsin for the first time can be scary. You need to grasp all the traffic rules to become a safe driver. 
Start preparing with the Motorist handbook that will provide all the traffic basics.
You can receive a Wisconsin Class D driver's license if you are at least 16 years old and you provide proof of your:
Name and date of birth

Identity​

Citizenship or legal status in the U.S.​

Wisconsin residency

Social Security number
For a more detailed list of acceptable documents, review the Wisconsin DMV brochure. 
Use DoNotPay's Wisconsin DMV Practice Test To Pass the Knowledge Tests on a First Try
DoNotPay can help with your learning process. You should pay attention to the rules provided in the Wisconsin Motorist handbook, and let us provide helpful practice material for you.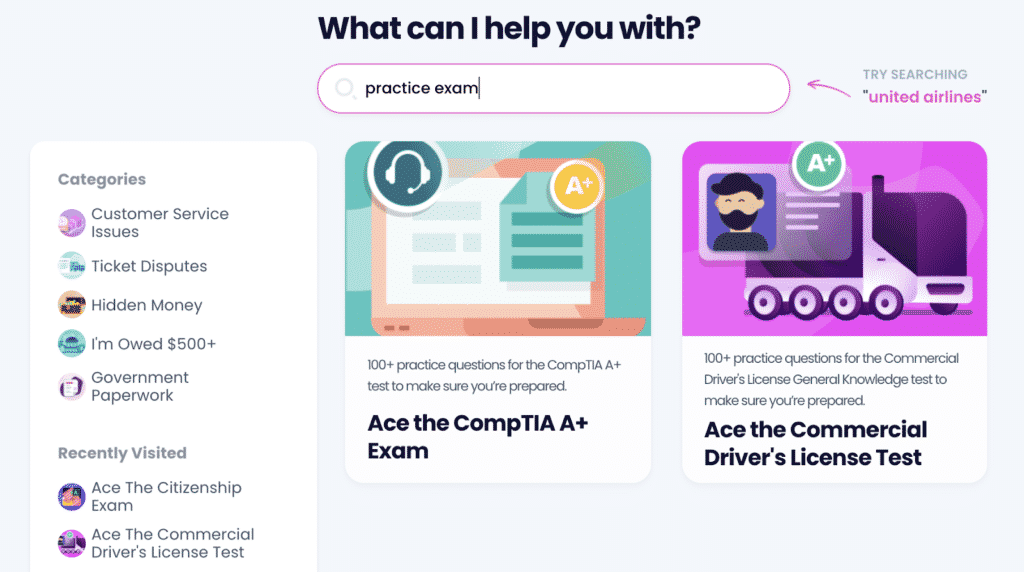 Our WI practice permit test will show you how much you have learned and if you are ready to take the real test.
Here is how:
Access DoNotPay from any

web browser

Enter the name of the test

Select the test 

Choose the length of the Wisconsin DMV practice test—10, 20, or 30 questions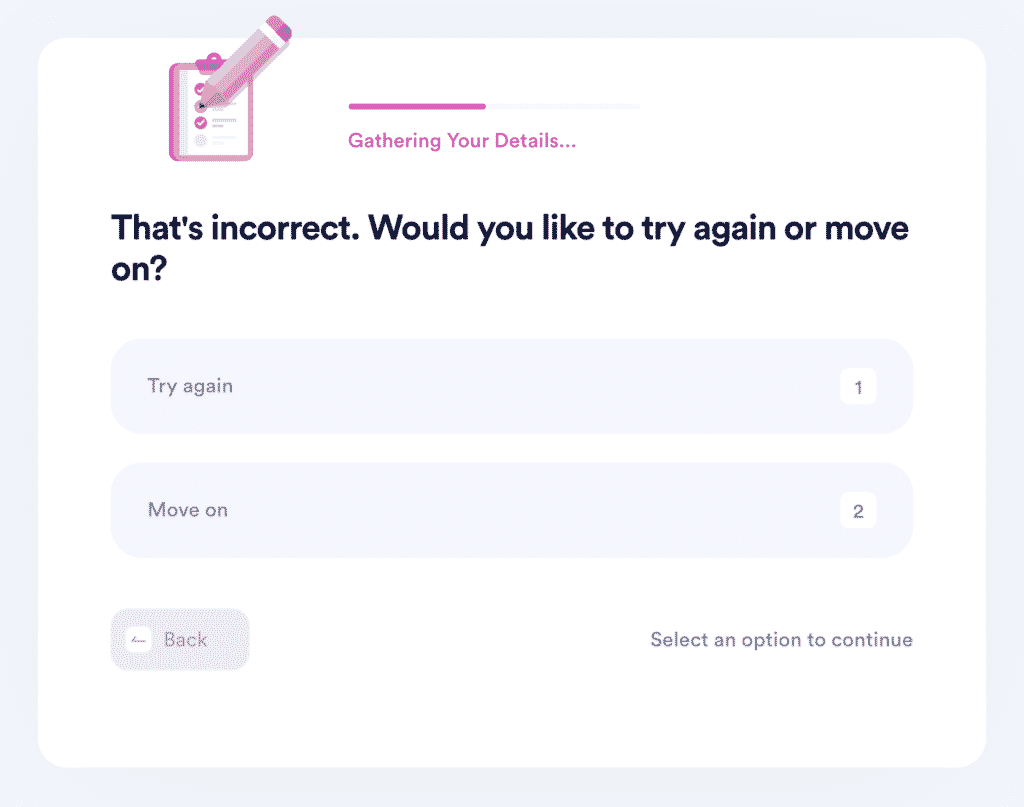 Don't obsess about mistakes. As the saying goes: "If at first you don't succeed, try, try again." You can go back to each question or wait to check your final score and retake the whole text. 
DoNotPay's practice tests help applicants ace many government tests, be it your upcoming DMV test or CompTIA, Postal, U.S. Citizenship, CCAT, Notary, and ASVAB test (including ASVAB test scores).
Once you perfect your driving skills, you might want to improve your employment opportunities by obtaining a commercial driver's license and a HAZMAT endorsement. DoNotPay will be waiting with our useful practice feature!
We can assist with further local issues and present an opportunity to pass a CDL exam, identify lost assets, file for a UW Madison fee waiver in Wisconsin, or dispute parking tickets in Milwaukee.
How To Apply for a Driving Test in Wisconsin
You can apply for a driving test in Wisconsin in one of the following ways:
Online

In person
Submit an Application Online 
The State of Wisconsin offers a helpful tool—the Interactive Driver License Guide.  You can use this guide to check the requirements, complete a required application, and make an appointment. Applicants can schedule a road test online. 
Apply for a Driving Test in Person
Should you feel reluctant to follow the prompts in the Interactive Guide, you can finish everything in a DMV center.
Here is what you need to prepare first:
Complete the application form 

Collect the required identification documents

Visit a nearby

DMV office

Pay fees
A Step-by-Step Guide to a Driving License in Wisconsin
Before getting behind the wheels, you need to present a satisfactory level of driving knowledge and skills.  
Here are the steps you will have to take to start driving on Wisconsin roads. You need to:
Fulfill

licensing requirements

Schedule an appointment

Visit a DMV office

Pay

fees

Provide required documents

Pass the knowledge tests

Take a vision test

Pass the skills test
You may qualify for a road test waiver in case you are still not 18 but have completed the following:
Driver education

Behind the wheel training

30 hours of supervised driving
When you complete all the necessary steps, you will receive your driver's license by mail.
Do I Need an Instruction Permit?
If you have never had a license, you must get an instruction permit in Wisconsin. To obtain this permit, you need to:
Be at least 15 years plus six months old

Pass the: 

Knowledge and highway signs tests

Vision screening
What Is a Probationary Driver's License?
All new drivers will first get a probationary driving license. The only difference between a probationary and regular license is in the restrictions listed on the back. 
Here is a list of requirements you must meet to get a probationary license:
Applicants Under 18 Years of Age
Applicants Over 18 Years of Age

Are at least 16

Have completed a driver education course

Have an adult

sponsor

Provide proof of:

Name and date of birth

U.S. citizenship

Identity

Legal permanent/conditional resident status

Temporary visitor status

Have held an instruction permit for a minimum of six months

Have not had any violations for six months

​Are a part of a school program or high school equivalency program

Have 30 hours of driving experience, including 10 hours of nighttime driving

Provide proof of:

Name and date of birth

U.S. citizenship

Wisconsin residency​

Identity

Legal permanent/conditional resident status

Temporary visitor status

​Have had an instruction permit for at least seven days 
Both age categories must:
DoNotPay Is Your Shortcut Through Bureaucracy
With our app, you don't have to spend hours figuring out how to request a refund, cancel a service, or book a DMV appointment. 
We take over all the hard work! Forget about waiting in a phone queue for hours in hopes of reaching a customer service rep. Our AI-powered app will call any company for you and ping you when a human appears on the other end of the line. 
DoNotPay also speeds up the process of filing insurance claims, claiming warranties, reducing property tax, and drafting various legal docs. 
Keep the Communication Lines Clear With DoNotPay
Do you know how powerful DoNotPay's virtual credit card is?
This super-smart feature can not only sign you up for no-risk free trials but can provide you with an alternative email address. You can test any service without giving out your real email, which will keep your inbox clean from spam!
If you have family or friends within the U.S. prison system, our app helps you get in touch with them quickly. 
We can also make sure you don't become a target of text and robocall scammers! Keep your phone number private and avoid this type of harassment by using our Burner Phone feature!
In case you need to fax a document, there is no need to search for the instruction manual on how to operate a fax machine. DoNotPay makes it simple to send online faxes anywhere!