Find Out What Wisconsin Divorce Forms You Need To File
Figuring out what forms you should fill out when filing for divorce is no easy task, but with a bit of assistance, it can feel like a breeze! We'll break down Wisconsin divorce forms and show you how to draft a divorce settlement agreement. File for an uncontested divorce in WI with ease and without a lawyer!
, and learn all about filing for a friendly divorce and settling divorce matters out of court!
Divorce in Wisconsin Explained
In Wisconsin, you can file for either contested or uncontested divorce.
Getting an uncontested divorce is quicker and cheaper than filing for a contested one. Why let the court drag the process out for years when you can get a low-cost uncontested divorce and avoid going to court altogether?
Wisconsin allows you to file a joint petition for divorce and accelerate the whole process as much as possible. By filing the petition, you and your spouse state that you agree on how to resolve all divorce-related issues. Another advantage of filing a joint petition is that you won't have to worry about serving your spouse with the divorce papers.
After you complete the petition, you should:
Check with your county clerk what other forms you should fill out
Draft a divorce settlement agreement
Finalize the procedure
What Are the Required Divorce Papers in Wisconsin?
The required paperwork you'll need when filing for divorce in Wisconsin depends on whether you and your spouse have kids.
Consult the table below for more info:
Divorce Without Children—Required Documents
Divorce With Children—Required Documents

Petition for dissolution of marriage without children
Marital settlement agreement
Financial disclosure statements
Vital statistics form
Findings of Fact, Conclusions of Law, and judgment

Petition for dissolution of marriage with children
Marital settlement agreement
Parenting plan (Child custody agreement)
Each Wisconsin county has different rules and requirements. You may not need all the divorce forms we listed above. It's best to ask your county clerk what exact papers you need to file.
Where Can I Get Wisconsin Divorce Forms?
You can search for the required WI divorce forms on the official Wisconsin Court System website. Apart from finding forms online, you can also visit your local courthouse and ask them to provide you with the necessary divorce paperwork.
Do I Need a Lawyer To Draft Uncontested Divorce Papers in Wisconsin?
You don't need a lawyer to file for an uncontested divorce in Wisconsin or for drafting your divorce papers—by law, you aren't required to hire one.
While hiring a divorce attorney can be beneficial when drafting a divorce settlement agreement—since this is one of the most important uncontested divorce documents—this isn't necessary.
Lawyers charge expensive fees for their services, and not everyone can pay them. Luckily, you can handle writing a divorce settlement agreement on your own.
WI Divorce Papers—How To Draft a Divorce Settlement Agreement Without a Lawyer
If you want to draft a marital settlement agreement without paying a pretty penny, you can do so by:
Following online templates
Using DoNotPay
Following Online Templates
You can search the Internet to find online templates containing information about how to write your divorce settlement agreement. Some of the issues you may encounter if you choose this option are:
Spending a lot of time making sure the agreement includes all important clauses
Failing to realize not all the info in the template is accurate and up to date
Using DoNotPay
Looking for a quicker option? DoNotPay helps you save time by using the info you provide to generate a perfectly valid divorce settlement agreement in minutes! All you need to do is sign up and answer a few simple questions.
How To Draft Your WI Divorce Settlement Agreement in Minutes With DoNotPay
If you're tired of trying to figure out legal terminology and you wish someone would save you from dealing with it, we got you covered! DoNotPay is here to take on the burden of drafting your divorce settlement agreement!
We streamlined the procedure to a tee! Here's how you can get a divorce settlement agreement in minutes:
Select the Divorce Settlement Agreement feature and answer a few questions
Select the notarization option
We'll get to drafting your agreement right away! All that's left is for you and your spouse to sign the document and get it notarized.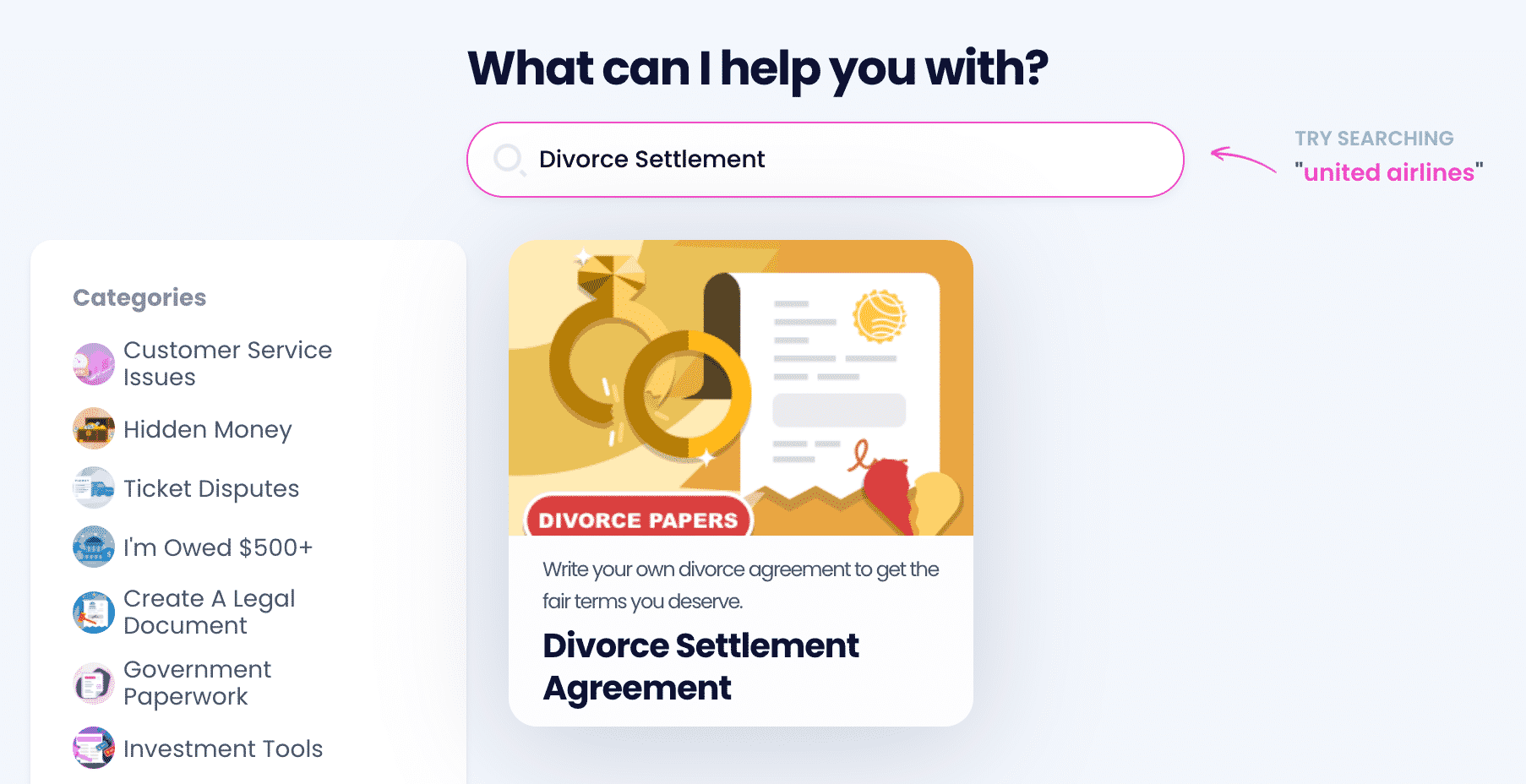 You don't have to waste any more time visiting a notary public to get your agreement notarized! Not only that DoNotPay will draft your document in a few minutes, but we'll also offer you the option to get it notarized by a remote notary in a snap.
DoNotPay can clarify various divorce-related concerns and answer numerous questions, including:
Useful Wisconsin Divorce-Related Info
If you need additional information regarding the divorce procedure in Wisconsin, we're happy to provide you with details! Check out the list below, and learn:
Want To Save Money on Lawyers? Use DoNotPay
Most people spend big bucks on expensive lawyers to overcome their bureaucratic obstacles. Don't waste your money on unnecessary fees—use DoNotPay and take care of any legal matter in a few easy clicks! Check out some of the issues the world's first robot lawyer can help you with:
DoNotPay Turns Your Everyday Hurdles Into a Piece of Cake
Did you receive a faulty or damaged item? Why not return it with your virtual assistant? We can also help you get a late delivery refund and jump the queue if the customer service phone keeps ringing to no avail. The list of handy DoNotPay features that make your everyday life easier goes on.
By subscribing to our platform, you won't have to worry about your tedious neighbors or parking tickets. We can do it all!