Get the Williamson County Divorce Forms You Need With DoNotPay!
Filing for divorce is never a pleasant experience, but at least you can make it hassle-free by using the right forms from the outset.
If you get the process right in Williamson County, TX, you can get your divorce finalized quickly and cheaply. Play your cards right, and you may be able to avoid court hearings and dispense with lawyers.
DoNotPay is here to help with the complete rundown on the Williamson County divorce forms you need!
What Are the Divorce Procedures in Williamson County?
Texas divorce laws require that you or your spouse have lived in the state for six months and the county for 90 days before you can file for divorce there.
Since Texas is a no-fault divorce state, you don't need to allege that your spouse has done anything wrong. The only reason you need to cite is that your marriage has irretrievably broken down.
Texas divorces fall into one of two categories, namely:
Contested
Contested Divorce
A contested divorce means that you and your spouse can't agree on how to dissolve your marriage, with the result that the case has to go to court for a judge to decide on a settlement.
This can be a long and expensive process, and it is best to avoid it if you can.
Uncontested Divorce
An uncontested or friendly divorce involves the two of you reaching an out-of-court settlement before your first court hearing.
In uncontested cases, you will have to wait out a mandatory period of 60 days, but your divorce could be finalized immediately after that time has elapsed.
What Divorce Forms Do You Need in Williamson County?
Williamson County does not provide divorce papers for you to fill out and will also not assist in verifying that your paperwork is correct when you file.
Your best course of action is to use the uniform Texas forms available from the state legal advice service. You can file on your own—neither your spouse nor a lawyer needs to be present when you lodge your forms.
The forms you have to file include:
A civil case information sheet
Financial affidavits concerning your joint and individual income, expenses, assets, and liabilities
Answer or waiver of service forms for your spouse to fill out
Once you have obtained the forms and filled them out, you have to file them with the Williamson County district clerk—you will have to pay the filing fee of between $280 and $300 when you file.
Which Set of Forms Should You Get?
Different sets of forms are required, depending on the type of divorce you are filing for, as follows:
You must then have your divorce papers served on your spouse by a deputy sheriff or a professional process server. Your spouse needs to sign a receipt to verify that the forms have been delivered.
When your paperwork has been filed and your spouse served, the 60-day waiting period begins.
You can use this time to ensure an uncontested divorce by preparing your settlement agreement.
What Is a Settlement Agreement, and Where Can You Get One?
A settlement agreement is a legal document that sets out how your marital responsibilities and finances will be divided after your divorce.
It needs to cover all the points you have declared in your initial filing, including:
Negotiating your settlement agreement can be easy or hard, depending on how much you and your spouse are willing to cooperate.
The resources available to help you negotiate your settlement are:
Settlement Agreement Resource
Explanation
Lawyers
Attorneys are the traditional choice for divorcing couples to hammer out a settlement, but this is also the most expensive route.

If both of you engage lawyers to negotiate on your behalf, you could easily face costs of over $5,000 per spouse. Much of this sum will also be payable as an upfront retainer

Mediation service
A lower-cost alternative is mediation, in which an impartial, trained mediator facilitates your face-to-face negotiations at a fraction of the cost of attorneys
DIY
If you and your spouse agree on the terms of your settlement, you can finalize your settlement without any third-party intervention
Getting Your Settlement Agreement Drawn Up
Once your settlement has been negotiated, you will need to have it drafted as a legal agreement.
Lawyers can do this for you, but the costs could easily reach $1,500 for the service—attorneys may also prove unwilling to draw up an agreement they have not been involved in negotiating.
An alternative is for you to use an online service to download a settlement agreement template. While this is a cheap option, you should be careful—many of these templates are woefully inadequate and may be rejected by a judge.
DoNotPay can solve both these issues. We can create a tailor-made settlement agreement to your exact specifications without you spending a cent on lawyers!
Your Williamson County Divorce Made Easy With DoNotPay!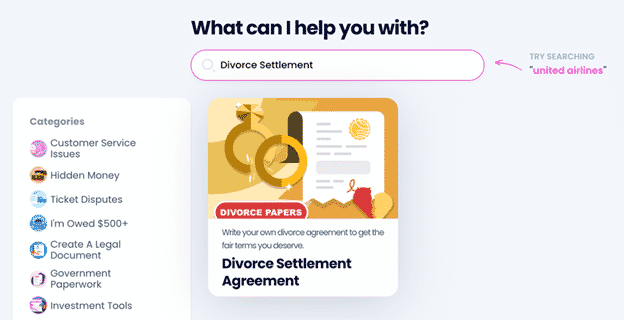 Your divorce should be as painless and hassle-free as possible—DoNotPay is here to help that happen!
Our Divorce Settlement Agreement product is your easiest way to generate a completely customized, watertight document that will pass muster with the judge in your case.
Using our product means you can avoid paying expensive lawyers and nail down an agreement that ticks all the boxes!
Here's what you need to do to set your agreement up:
Sign up with DoNotPay in your web browser
Find and click on our Divorce Settlement Agreement feature
Give us the details you want to be included in your agreement
We will take over from there—once you have given us the details of your agreement, we will create your document in an instant. You and your spouse can sign and have it notarized.
If you're unsure where to find a notary in Texas, we can even organize online notarization for you!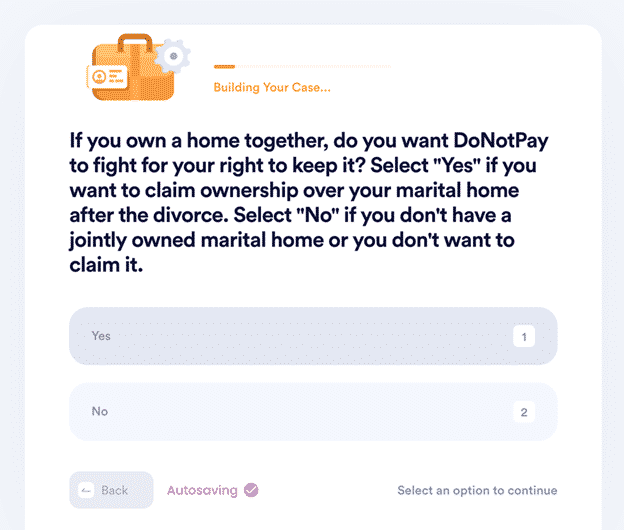 More Texas Help From DoNotPay
DoNotPay is a mine of information on divorce in different Texas counties—here are some more locations where our app can help:
If you are in the military stationed in Texas, DoNotPay can also help with the divorce process!
Learn How To Solve Legal Issues in Minutes!
Do you need to draft a legal document? Spending hundreds of dollars on lawyers is not the answer. We came up with a faster and more affordable solution. Not only can our app draft child consent forms, divorce settlement agreements, and powers of attorney for you, it can also provide legal assistance by helping you take anyone to small claims court!
Drafting numerous documents is not all DoNotPay does for you! Aside from drawing up contracts and agreements, we can also assist you in getting them notarized online from the comfort of your home or office!
Explore DoNotPay's Other Nifty Features
There is more assistance on the way! You can use DoNotPay's features to handle various tasks with ease, including:
We can also help you protect your safety. If you don't know how to deal with copyright infringement, stalking and harassment, work discrimination, sex offenses, and disputes with annoying neighbors, DoNotPay has got you covered.