Get the Essential Info on a Will County Divorce
A breakdown of the marriage is usually a stressful and emotionally draining experience. Besides the effect it has on your mental state, it can cause some serious damage to your finances. If you want to avoid unnecessary lawyer's fees and get a plain sailing divorce, DoNotPay knows how!
We'll tell you all you need to know to file for a friendly and low-cost Will County divorce.
What Is a Joint Simplified Divorce in Will County?
A joint simplified dissolution of marriage is a method of divorce in Illinois, which enables eligible couples to have an expedited divorce process instead of the regular lengthy one. Since it's a simplified procedure, you can do it completely on your own, without a lawyer's assistance.
Uncontested divorces in Will County—or elsewhere in Illinois—are available to spouses who have no children or significant assets and agree on all of the terms of the marriage dissolution.
Divorce Requirements in Will County, Illinois
Not everyone qualifies for an uncontested divorce in Will County. To apply for a quickie marriage dissolution, all of the following has to be true:
Irreconcilable differences caused the breakdown of your marriage
All efforts of reconciliation have failed, and any further attempts wouldn't be in anyone's best interests
You must have lived separately and apart for at least six consecutive months
You have been married for eight years or less
Either you or your spouse has lived in the State of Illinois and Will County for at least 90 days before petitioning for divorce
Both of you are willing to waive the requirements for a two-year separation
You and your spouse don't have biological or adopted children together
You meet the following financial requirements:

Neither one of you has a gross annual income over $20,000
Your combined gross annual income (from all sources) is less than $35,000
Your marital property's total value is less than $10,000

Neither of you owns or has any interests in real estate
Both of you are willing to give up the rights to:

Spousal support
Bifurcated hearing on your divorce petition

You've disclosed to one another all assets you have and all tax returns filed during the marriage
Which Divorce Papers Do I Need for a Quickie Divorce in Will County?
Preparing divorce papers is the first step to getting a marriage dissolution. To start the process in Will County, you have to fill out five forms for an uncontested divorce:
Form 49A 1-3—Joint Petition for Simplified Dissolution of Marriage
Form 49B 1 & 2—Simplified Procedure Joint Affidavit Regarding Separation of the Parties, Division of Property and Waiver of Bifurcated Hearing
Form 49C—Simplified Procedure Judgment for Dissolution of Marriage
Form 49D 1 & 2—Simplified Procedure Agreement as to Assets and Debts
Form 17B—Appearance
How To File for Divorce in Will County
To understand the process of filing for divorce in Will County, you should check the table below:
Steps to Filing for Divorce
Description
Get the documents notarized
In Illinois, divorce papers need to be notarized. If you use DoNotPay, you can complete this step in no time! We can help you set up a meeting with an online notary in a breeze
Pay the filing fees
The total filing fee for the five required forms is $603. The court in Will County doesn't accept business or personal checks
File divorce papers with the court
Once you get your divorce forms notarized and make copies of each, you should file them with the 12th Judicial Circuit Court. You can do that by submitting the papers digitally through the court's official website
Attend the court hearing
Either you or your spouse has to schedule the hearing, and both of you have to appear before the judge. The judge will:

Review the case
Listen to your testimony
Make a decision regarding the dissolution of your marriage
Define Your Divorce Terms in a Marital Settlement Agreement
Besides the required divorce forms, you should have another document when ending your marriage in Will County—a marital (or divorce) settlement agreement. The role of this document is to lay out the terms of the divorce you and your soon-to-be ex-spouse have agreed on and legally bind you to them.
If you need a custom-made divorce settlement agreement, register for DoNotPay—we can draft it in a heartbeat!
Expedite Your Will County Divorce Process With DoNotPay
Ending a marriage on good terms is great, but you shouldn't rely on your spouse's word—it's better to have all the terms you agreed upon in writing. A valid and enforceable divorce settlement agreement has to meet many requirements and follow state-specific guidelines. Making a mistake while drafting or filling out the document can make it void or cause problems in the future. You can minimize the risk by using DoNotPay to get a rock-solid divorce settlement agreement!
To commence the process, you should access DoNotPay and do the following:
Choose the Divorce Settlement Agreement product
Answer our chatbot's questions about your spouse, children, and financial situation
Inform us if you want us to connect you with a notary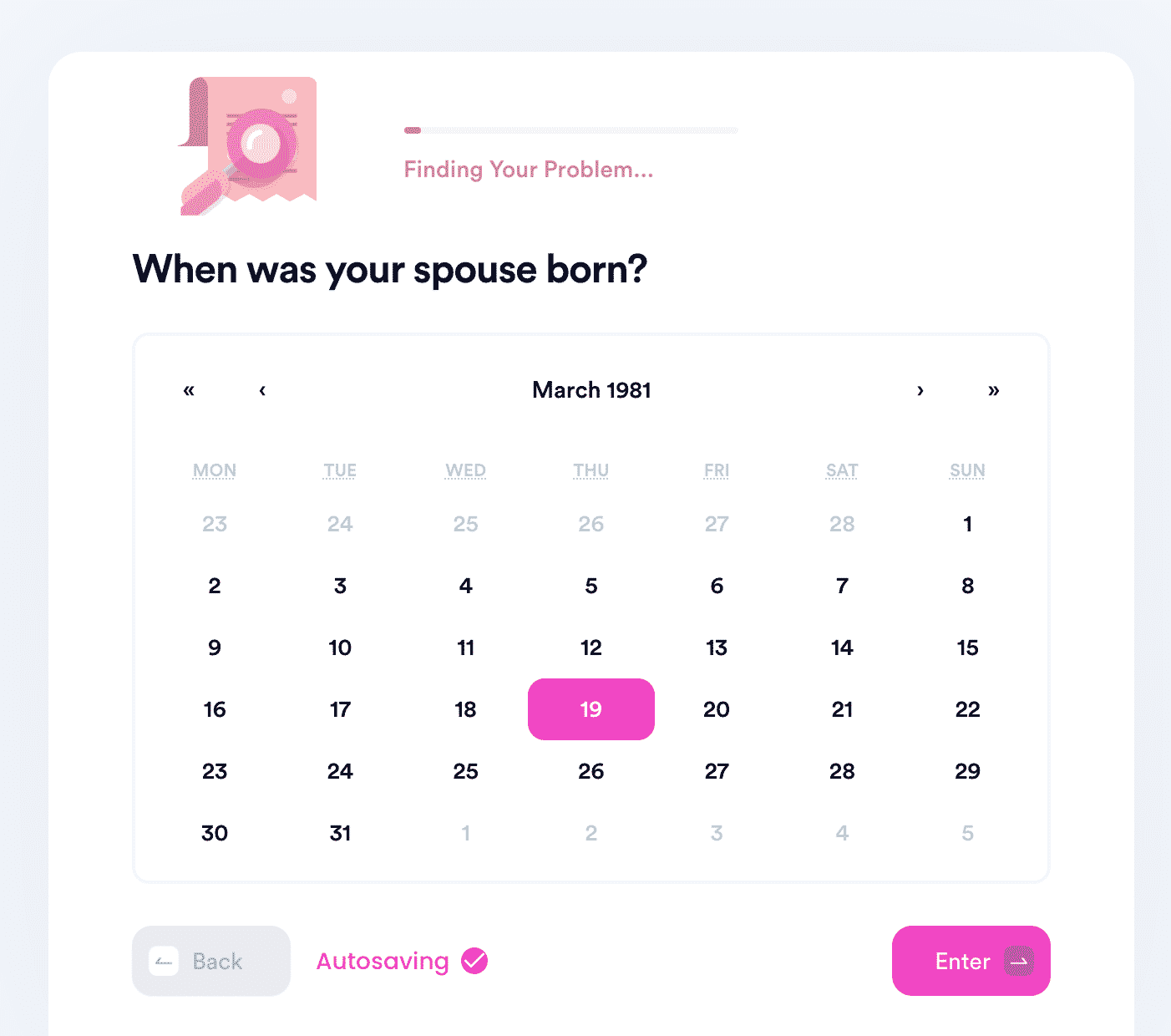 We'll draw up a tailored divorce settlement agreement that meets both the state requirements and your needs.
Do you have more questions about the divorce? Visit our learning center to find answers to some of the most commonly asked questions—general and Illinois-specific—such as:
DoNotPay Is Righting Wrongs Left and Right
DoNotPay is a platform that puts its subscribers' safety in the first place. We can keep you safe from sex offenders, stalking, and harassment. In case you're a victim of a crime, we can help you get compensation.
Fight for discrimination at your workplace with the world's first robot lawyer or sue any company or person in small courts if you feel like you've been wronged.
Is There Anything DoNotPay Can't Do?
The short answer is no, and the list of our AI-based app's features keeps growing by the day. We offer professional assistance with issues that no other platform can help you with. Sign up now and: