Differences Between a Will and a Power of Attorney Deciphered!
Legal documents and contracts can be tricky and difficult to understand, especially if you're not used to dealing with them. We are here to break down the main differences between a will and a power of attorney and to explain what these documents can do, including whether you need both of them!
Subscribe to DoNotPay and learn to draft legal documents in a few taps effortlessly!
Power of Attorney vs. Will—The Key Differences
To understand the differences between these two documents better, you should get acquainted with what wills and powers of attorney are and what they do. Check out the table below for the specifics:
Document
How It Works
Will
A will is a legal document you use to spell out your wishes regarding the care of your children and the distribution of your property and wealth to your heirs. The common types of a will are:
Power of attorney
A power of attorney (POA) is a legal document you use to give a trusted agent the authority to make legal, financial, health, and other decisions on your behalf. The exact powers you give to the agent depend on the POA type in question.

The common POA types are:
One of the crucial and most notable differences between a will and a power of attorney is in their validity period. The power of attorney is valid for as long you are alive, while the will comes into effect after you pass away.
Although both documents are used to appoint other people to deal with your affairs, they differ. The power of attorney is used to deal with your financial and personal affairs, while the will is used mainly to appoint the executors to distribute your belongings to your heirs.
Do I Need To Get Both a Will and a Power of Attorney?
Wondering if having one of these two documents is enough? Since they deal with different affairs, it would be wise to have both of them.
Having a will can be helpful in more ways than one. The agreement spells out your wishes and can save your heirs from future disputes.
The power of attorney comes with several benefits. It allows you to:
Choose the person you want to handle your affairs
Shape the agreement to your liking
Decide on the exact powers you want to transfer
Avoid the need for a conservatorship (conservatorship is a process where the court appoints a certain individual to be the principal's guardian)
Can I Write Wills and Powers of Attorney on My Own?
You can write these documents by yourself, but keep in mind that certain protocols must be followed for the documents to be valid. For example, most powers of attorney must be signed before a notary and two witnesses.
Hiring a lawyer to help you write these legal documents would be the best course of action. Note that lawyers can be quite expensive, so if you want to save a pretty penny, rely on DoNotPay to create a will or draft your POA in your stead instantly!
Let DoNotPay Draw Up Your Agreements at Will—Power of Attorney and Many Others!
DoNotPay offers a convenient feature you can use to create your power of attorney agreement in only a few clicks! Why spend hours writing the document on your own or waste money on a lawyer when you can get it done with our app easily and efficiently? Here are the instructions:
Tell us what powers you want to transfer
Provide the required info
We'll create your power of attorney document instantly! You will also be able to choose to get it notarized at this point. You don't have to waste time visiting a notary public in person—DoNotPay lets you both draw up and get a POA document notarized using the same app!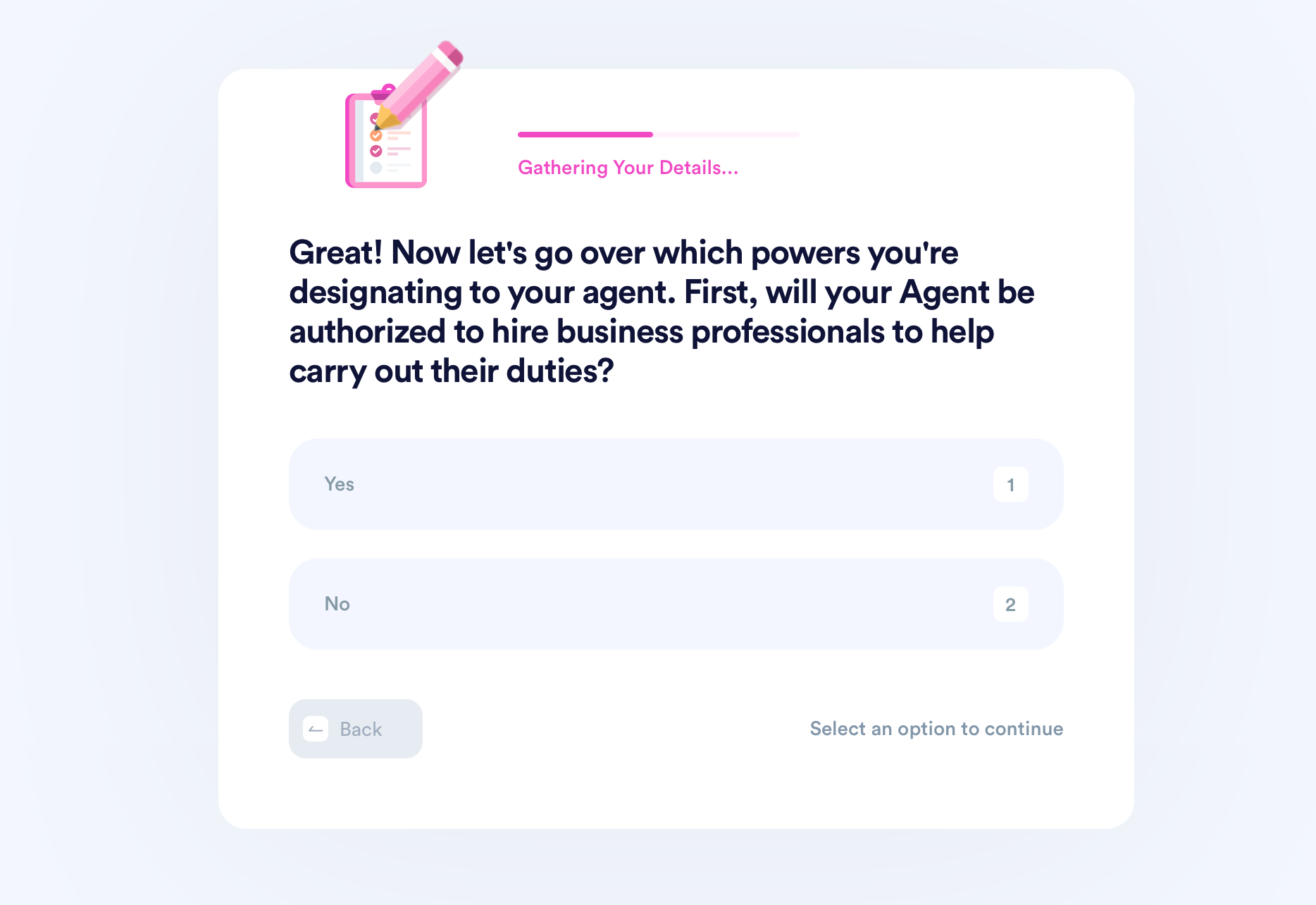 Useful POA-Related Info
DoNotPay's database can provide answers to various POA-related questions. If you are looking for more useful info regarding powers of attorney, check out the list below:
Take Control of Your Finances
DoNotPay is a great way of taking care of your money, whether you're cost cutting or looking for some extra income. Your new virtual assistant will help you:
Explore All the Facets of Our Multi-Purpose Platform
Our app is great for helping you with your money, but the benefits of your DoNotPay subscription don't stop there. The portfolio of DoNotPay's products and services is so diverse that anyone can find something useful to make their daily tasks easier.
We can help you deal with annoying DMV appointments, protect your privacy by offering a burner phone number, or avoid trips to the post office with our mailing service!
Find a more comprehensive yet cheaper subscription—we'll wait!