Do You Qualify for a Widow's Property Tax Exemption?
If your spouse has recently died, you need to handle lots of issues, including your taxes. A change in your marital status affects the way you file your taxes.
The Internal Revenue Service (IRS) provides an option to help the transition process regarding your filing status and income tax rates—the qualifying widow(er) tax filing status.
DoNotPay provides information on a widow's property tax exemption to ease your tax filing process. Apart from this, we can help you lower and pay your property taxes.
What Is a Widow's Property Tax Exemption?
A widow's property tax exemption is a decrease in tax burdens for a taxpayer whose spouse has died. A surviving spouse is entitled to a reduction in property taxes for some time in most states. You should check your state laws as the terms and conditions may differ.
In case your spouse died, you can get tax relief from:
Estate

Inheritance windfalls
Widow's Property Tax Exemption on a State Level
Here is an example of how a widow's property tax exemption works in Florida:
| | | | |
| --- | --- | --- | --- |
| Allowed Deduction | Property Taxable Value (PTV) | Benefit | Waived |
| $500 | $500 | Available in perpetuity | If the widow(er) remarries |
In the above-presented case, $500 is not a tax credit but the amount by which the taxable value of the surviving spouse's property is reduced. 
You should always check the specifics for your state.
Widow's Tax Exemption on a Federal Level
Surviving spouses can get even greater tax benefits on a federal level. A recently widowed person can:
Keep filing a joint return for up to two years after the death of the spouse

Get the first $250,000 of sale profit tax-free if the property sold was the couple's primary residence

File for a stepped-up basis on the

inherited property
The stepped-up basis is the cost basis of the property you inherit. It is the basis for determining taxes if the widow(er) decides to sell the property. 
What Is the Federal Estate Tax?
The federal estate tax applies when a wealthy individual:
Passes away

Leaves a significant estate to his/her survivors
The federal estate tax doesn't apply to assets below $11.7 million for deaths in 2021. As the estate and gift tax exemption figures may change, you need to check the specifics if such a situation arises.
All assets a surviving spouse inherits are legally exempt from federal taxation. The widow(er) exemption and additional taxation of the estate apply to the assets transferred to non-spouse family members. 
What Is Your Filing Status?
Your filing status is important since it determines:
The amount of taxes you need to pay

Standard deductions you can take

Special tax breaks you can claim
If your spouse has recently passed away, you should file your taxes using the filing status that provides you with the lowest tax bill. You are allowed to choose if you qualify for more than one status. 
Here are some filing status options you could use if you are a recent widow(er) and eligible:
| | |
| --- | --- |
| Tax Filing Status | Explanation |
| Married filing jointly  | You can keep using this filing status during the year of your deceased spouse's death unless you remarry |
| Married filing separately  | You can use this status in the year your spouse dies unless you remarry  |
| Married filing jointly (remarriage) | You can use a married filing jointly with your new spouse when you get married again |
| Married filing separately (remarriage) | You can use this status if you remarried and need to file a return for your deceased spouse. The IRS requires you to report your deceased spouse's income  |
| Qualifying widow(er)  | You can use this filing status for up to two tax years after your spouse's death unless you get married again |
| Single  | You can file as single in the year after your spouse's death unless your qualify for some of the above-listed options |
The Qualifying Widow(er) Filing Status—Eligibility Criteria
You are eligible for the qualifying widow(er) filing status if you:
Qualified for married filing jointly with your deceased spouse for the year of his or her death

Did not get married again before the end of the tax year when your spouse passed away

Claim a child, stepchild, or an adopted child as your dependent (the dependent needs to

meet certain requirements

)

Have remained unmarried, paid at least half the costs of maintaining the home in which you live with at least one qualifying dependent child for the entire year (excluding temporary absences)
Qualifying widow(er)s need to file a federal income tax return based on the following criteria:
| | |
| --- | --- |
| Age | Minimum Gross Income |
| Younger than 65 | $24,800 |
| 65 or older | $26,100 |
DoNotPay can help you with additional property tax exemptions for senior citizens. We can also show you how the property tax assessment process works. 
DoNotPay Can Help You Reduce Your Property Taxes in No Time
Would you like to pinpoint all the property tax exemptions you qualify for? Great, enter some basic information, and we will create a guide containing detailed instructions.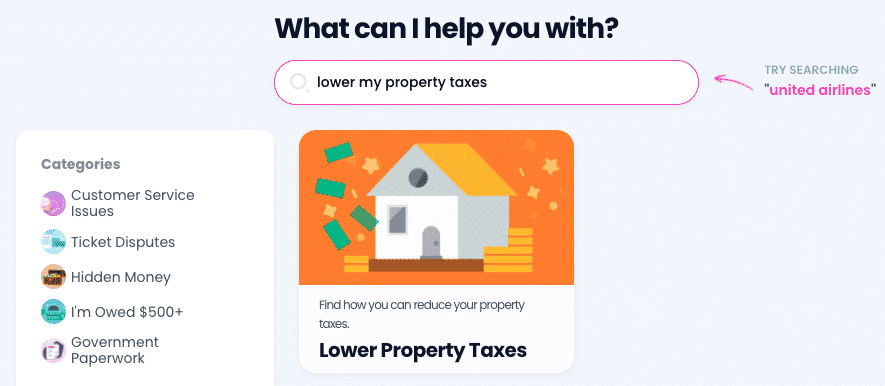 To initiate the process, follow these steps:
Sign up for DoNotPay

in any web browser

Locate the

Property Tax

feature

Answer a few questions about you and your property
DoNotPay will generate your personalized guide with property tax exemption and appeal specifics. 
DoNotPay Is Your Shortcut Through Bureaucracy
With our app, you don't have to spend hours figuring out how to request a refund, cancel a service, or book a DMV appointment. 
We take over all the hard work! Forget about waiting in a phone queue for hours in hopes of reaching a customer service rep. Our AI-powered app will call any company for you and ping you when a human appears on the other end of the line. 
DoNotPay also speeds up the process of filing insurance claims, claiming warranties, reducing property tax, and drafting various legal docs. 
Keep the Communication Lines Clear With DoNotPay
Do you know how powerful DoNotPay's virtual credit card is?
This super-smart feature can not only sign you up for no-risk free trials but can provide you with an alternative email address. You can test any service without giving out your real email, which will keep your inbox clean from spam!
If you have family or friends within the U.S. prison system, our app helps you get in touch with them quickly. 
We can also make sure you don't become a target of text and robocall scammers! Keep your phone number private and avoid this type of harassment by using our Burner Phone feature!
In case you need to fax a document, there is no need to search for the instruction manual on how to operate a fax machine. DoNotPay makes it simple to send online faxes anywhere!