Why Would You Get a Legal Separation Instead of a Divorce? DoNotPay Explains!
Filing for divorce is the final nail in the coffin of a marriage, but some couples stop short and opt for legal separation.
While divorce is irreversible, legal separation can be annulled at any time and so provides a get-out for couples who are not sure of their route forward.
Why would you get a legal separation instead of a divorce? DoNotPay looks at the reasons for and against legal separation.
Is Legal Separation the Same as Divorce?
If you're considering divorce, legal separation can be a good way to test the waters before seeking a final divorce decree from a court.
The main differences between legal separation and divorce are as follows:
Legal Separation Conditions
Divorce Conditions

Finances are separated
Spouses move to separate residences
Child custody and care is regulated by court order
The marriage continues to exist under the law
You cannot remarry
You cannot revert to your pre-marital name
The separation is reversible by court order

Finances are separated
Spouses move to separate residences
Child custody and care is regulated by court order
The marriage ends
You can remarry
Your name can be changed to the pre-marital one
The divorce is irreversible
Why Do Some People Choose Legal Separation?
Choosing divorce or legal separation is largely a matter of personal preference.
The main reasons for choosing legal separation over divorce are:
Religious or personal beliefs
The need for time to prepare for divorce
A desire for a time-out in the marriage
A wish to circumvent financial restrictions
Religious or Personal Beliefs
The most common reason for couples seeking a legal separation is that they wish to live apart but are forbidden from divorcing for religious or personal faith reasons.
Several religions regard divorce as a taboo under strict interpretations, namely:
Jainism
Catholicism
Sikhism
Hinduism
Your belief system may also view marriage as a permanent institution, meaning that legal separation is your only option to lead a separate life from your spouse.
Need for Time To Prepare for Divorce
Some couples seek legal separation as a way to buy time while preparing for a divorce.
A legal separation is a valid precursor to full divorce in such cases, as many of the steps in separation are also part of the divorce process.
A Desire for a Time-Out in the Marriage
As legal separation is reversible, couples can use it to take a rest from married life, with the intention of reversing the separation at a later date.
This is a fairly extreme measure, as legal separation involves obtaining a court order and not only moving out of the family home.
Wish To Circumvent Financial Restrictions
In some situations, separation offers financial benefits that would be lost in a divorce.
These can include:
Joint tax filing to take advantage of tax breaks
Continuation of a spouse's company health cover
Eligibility for social security or military benefits with a ten-year vesting period
Which States Allow Legal Separation?
Most states allow legal separation, with the following exceptions:
You can file for legal separation with your county court in every other state.
How Can You File for Legal Separation?
Filing for legal separation is a similar process to filing for divorce and can usually be accomplished:
It involves the following steps:
Filing a petition for separation
Drafting a separation agreement
Filing a Petition for Separation
If you or your spouse fulfill your state's residency requirements, you can file a petition for separation with the clerk of your county court. The paperwork is similar to the divorce papers the court provides.
Serving the Papers on Your Spouse
You have to arrange for the papers to be delivered to your spouse and for them to sign and confirm receipt.
Drafting a Separation Agreement
A separation agreement and a settlement agreement required in an uncontested divorce are essentially the same legal documents.
If you and your spouse can cooperate in drafting the agreement, you should be able to reach an out-of-court settlement similar to a friendly divorce.
This can reduce the cost of your separation significantly. If you subsequently decide to go ahead with a divorce, your settlement agreement is already in place and should be accepted by a court as sufficient.
How Can You Get a Separation Agreement?
A separation agreement is essentially the same as a settlement agreement in that it covers:
You can use the following resources to have your separation agreement drawn up:
Lawyer—A lawyer is the default choice for many separating couples but can cost in the thousands for each spouse. If the spouses agree on most areas of their separation, mediation could represent a more cost-effective option
Online service—Several online providers offer settlement agreement templates that could be adapted to fit your separation requirements. You should take care that the template you use is not too generic for your specific situation, though
If your separation is a precursor to an eventual divorce, DoNotPay has the solution. You can use our Divorce Settlement Agreement product to draw up a settlement agreement that covers all your separation needs!
DoNotPay's Settlement Agreement Helps With Your Legal Separation!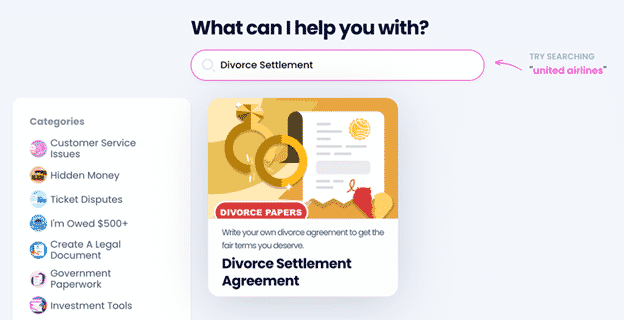 DoNotPay is here to make your life simple, even when you are going through a legal separation!
Your legal separation needs an agreement drawn up to divide your married responsibilities and finances. If you then progress to a full divorce, DoNotPay's Divorce Settlement Agreement feature can give you exactly what you need. You can tailor-make your agreement to your exact specifications, and you won't need to pay a cent in lawyers' fees!
Here's how to set your settlement agreement up:
Pick our Divorce Separation Agreement product
Fill in the terms you want to be included
You can leave the rest to us. We will generate your document in an instant, and all you need to do is print and sign it together with your spouse in the presence of a notary.
If looking for a notary sounds exhausting, we can even get your agreement notarized online in a flash!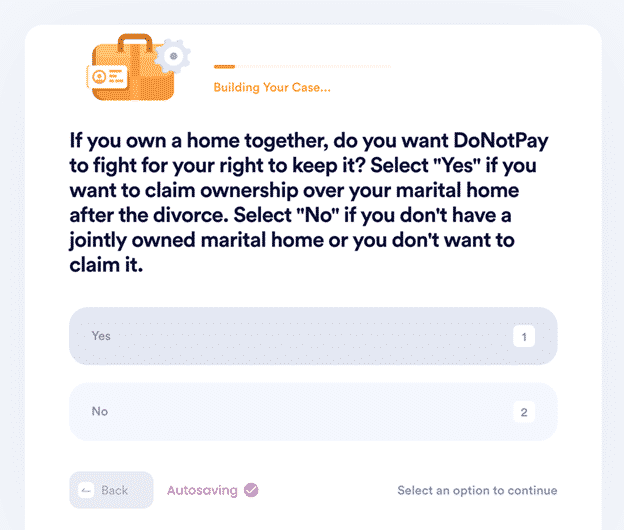 Use DoNotPay To Complete a Variety of Tasks at Any Time
Why waste time and money completing mundane tasks on your own when you can let DoNotPay assist you? Take a look at the table below to find out what our AI-powered app can do for you:
| DoNotPay Can | Services |
| --- | --- |
| Protect your safety and privacy | |
| Draft legal documents | |
| Help you get your money back | |
DoNotPay Has More in Store for You!
Since communication is key, you'll appreciate our feature that helps you get in touch with customer service reps quickly! We'll also show you how to send faxes online and have your documents notarized by an online notary with ease!
Going on vacation? Use DoNotPay to take a valid passport photo at home or get a tourist visa!