Why Trademark Your Brand?
Building a strong brand is not easy, but it's important. Good branding attracts customers, and registering your trademarks helps you protect all that hard work and your small business's reputation. In this guide, we will explain why trademarks are valuable, how to file a trademark application easily with , and more.
Why Are Trademarks Important?
Trademarks are valuable assets that give your business a unique identity. Customers can recognize your goods or services by your catchy phrases, logos, designs, and other brand elements.
As your brand reputation grows, your trademarks' value increases. This can even facilitate the expansion of your business to other industries. As you become more successful, imitators may attempt to get a cut of your success by attempting to sell products with the same or similar trademark.
Benefits of Registering Your Trademark With the USPTO
Here is how registering your trademark can protect your brand:
| Benefit | Explanation |
| --- | --- |
| Legal and exclusive ownership of the mark | You obtain the legal rights to use the mark throughout the United States in association with the goods or services listed in your application |
| The right to stop imports that can infringe upon your mark | You can present the registered mark to the United States Customs and Border Protection to stop the importation of goods that have an infringing mark |
| A basis for international trademark registration | You need to register your mark in the U.S. first to get protection in foreign countries |
| Right to use the ® symbol | You can only use the federal registration symbol ® if your mark is registered with the USPTO |
| Ability to initiate lawsuits in a federal court | If someone uses your mark without permission, you can file a trademark infringement lawsuit in a federal court |
| Proof of ownership | The USPTO issues a trademark registration certificate which serves as the official proof of your ownership of the mark |
Do Trademarks, Copyrights, and Patents Protect the Same Types of Intellectual Property?
Depending on what you sell, you may need a trademark, copyright, or patent registration. If you invent a new piece of computer hardware, you can apply for a patent to protect the invention, a trademark for the business name or logo, and a copyright for a TV commercial you use for marketing.
Check out what the main differences are in the list below:
A trademark or service mark protects any text, symbol, or design that you use to differentiate your products or services and help customers recognize the company behind them. The registration is permanent if you continue using the mark in commerce and file the necessary documents when required
A copyright protects your literary or artistic works for as long as you are alive and an extra 70 years
A patent protects original inventions by granting you exclusive rights to manufacture your innovative products, typically for 20 years
Some of the common elements you can trademark include:
How Do You Register a Trademark?
Federal registration is not necessary to acquire trademark protection. You can obtain common law rights based on the use of your mark in commerce under the trademark protection law. Such rights are only enforceable in your immediate geographic region.
It's also possible to register for state protection which means you can enforce your ownership in that state only. If you wish to have broader rights and protection, you must register with the USPTO.
There are two important steps in registering your mark with the USPTO:
Conducting a trademark search
Filing the application
Conducting a Trademark Search
Before filing for a trademark, you should verify that your mark is unique by conducting a USPTO trademark search. Identifying similar, pre-existing marks will help you avoid potential problems with unintentional infringement.
Since the USPTO rejects all applications containing potentially infringing trademarks and doesn't refund the fees, the clearance search is the crucial step.
Filing the Application
If your mark is indeed unique, you should start your application as soon as possible. The USPTO allows electronic filing only. To apply, you should create an account at their official website, which will enable you to access the registration system.
You can file your application using any of these two trademark application forms:
TEAS Plus—This form is ideal if you only intend to use the descriptions of goods or services available in the Trademark ID Manual. You will submit requirements upfront and pay $250 for every trademark class listed in your application
TEAS Standard—Use this form if you wish to add your own descriptions of products or services to those available in the manual. You must pay $350 for every trademark class in your application
Register Your Trademark Easily With the Help of DoNotPay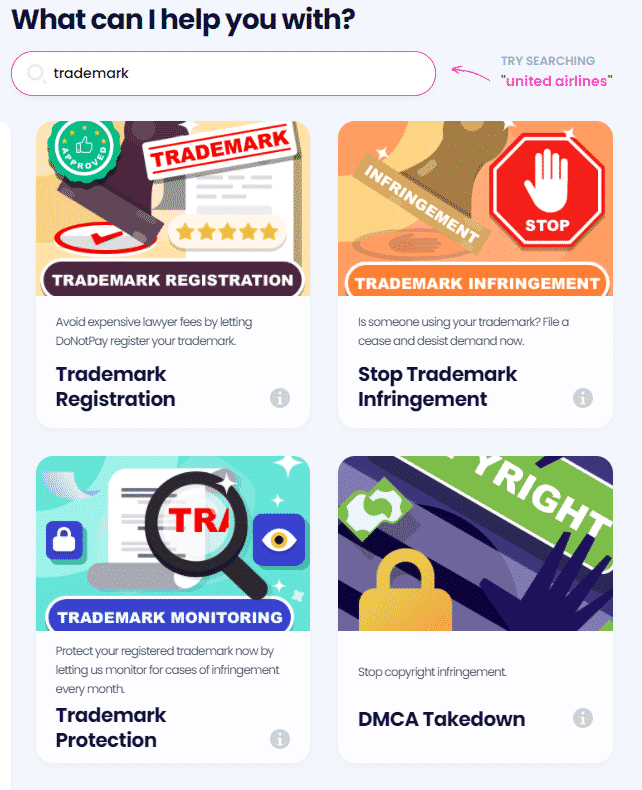 Filing a trademark application does not guarantee successful registration. You will also need to wait for around three months to get the first response from the USPTO. In the initial response, you may be required to correct errors found in your application.
If you want to have the best chances of success and avoid delays resulting from amendments, then you need to let DoNotPay file the application for you.
Our assistance covers all the steps—from searching for similar marks to submitting your application forms. All you have to do is:
Select the Trademark Registration tool
Answer the questionnaire
Pay the USPTO application fees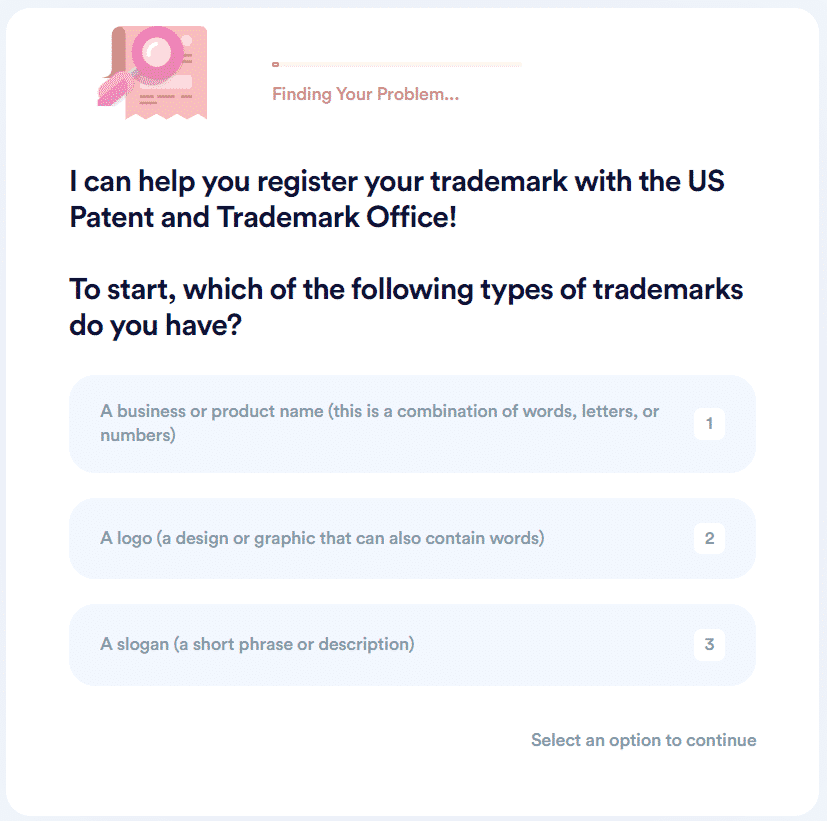 Small Business, Big Issues—Resolve Yours With DoNotPay
DoNotPay is here to offer a helping hand in your business endeavors. We can help you handle various procedures as effortlessly as possible. Want to make sure you get a small business loan for real estate purchases, job creation, debt repayment, and similar? DoNotPay is here to assist you in writing a convincing request letter! Want to make sure your employees and shareholders save money on taxes by filing 83(b) election forms? We can help with that too!
The world's first robot lawyer has a myriad of nifty features at your disposal. Use your precious time to work on your brand while we take care of most business-related issues for you. Our app can help you:
Fight unfair chargebacks
Deal with illegitimate online reviews
Send formal demand letters to clients who won't cover the cost of your services
File the self-certification request with the Privacy Shield program in a matter of clicks
Send documents to your customers or business associates from the comfort of your office with our faxing and mailing tools
DoNotPay Helps You Deal With Various Registration Processes!
One of the first tasks you should complete as a business owner is to obtain an Employer Identification Number (EIN). Applying for it is usually a tedious process unless you use DoNotPay! We can file your application on your behalf and notify you accordingly.
Does your business have a website that allows users to share or store content? An important aspect you should take care of is registering a DMCA agent, and DoNotPay is here to make the process easier!
If you wish to register your business name, slogan, or logo as a trademark but you're not sure how the process goes, rely on DoNotPay and finish your registration in no time! We can also help you protect your trademark by monitoring it every month and filing a cease and desist demand if anyone tries to steal it.