Why Register a Trademark—Top Reasons
Building a unique brand identity takes time, resources, and talent. If you don't register your trademark, someone else can do it instead and sue you for infringement. That is one of the biggest reasons why you should protect your intellectual property with trademarks or copyrights.
If you need more convincing, this guide will explain in detail why to register a trademark and how to do it the easy way using DoNotPay!
What Is a Trademark, and Why Should You Register One?
A trademark or service mark is a symbol, text, or any other element that differentiates your products and services from those of your competitors.
Acquiring a trademark doesn't mean that you legally own the mark or phrase. Instead, it prevents other businesses that offer similar products or services from using the mark without your permission.
This means that brands that offer different products can use a similar mark legally. For example, if you use a logo for your bookstore, other bookstore owners cannot use a similar logo, but a clothing brand can.
What Can Be Trademarked?
You can trademark almost anything to help customers recognize your products in the market:
Registering trademarks for some of these elements (ideas, phrases, book titles, etc.) comes with specific limitations, so make sure to research the rules thoroughly.
The Scope of Your Trademark Protection
The scope of your trademark protection depends on the type of registration. Based on the trademark protection law, you have the following rights:
Common law rights—You automatically own a trademark when you start using it for your business, even without registering. These rights apply only in the geographic region where you operate
State rights—If you register your trademark with the state, you get protection rights within your state only
Federal rights—Registering with the United States Patent and Trademark Office (USPTO) gives you nationwide trademark rights
Benefits of Federal Trademark Registration
Why would you register your trademark? Registering a trademark is not mandatory, but if you plan to expand nationwide, you should do it to protect your business.
Registering a small business trademark at the federal level comes with the following benefits:
Granting you exclusive rights to use the mark across the entire nation
Allowing you to file a trademark infringement lawsuit in a federal court
Listing your trademark in a publicly accessible database to notify others who are interested in a similar mark
Giving you a registration certificate for easier proof of your legal ownership
Providing grounds for filing for protection in other countries
Recording your registration with the U.S. Customs and Border Protection (CBP) to prevent the importation of products that bear an infringing mark
Offering legal protection for your business against fraud and counterfeiting
How Much Does It Cost To Trademark a Business Name, Logo, or Slogan?
When registering with the USPTO, the cost of a trademark depends on a number of factors, such as:
Filing method
Filing Method
For your first electronic application, you have two filing alternatives:
TEAS Plus—This option requires you to submit more information in your first application and costs $250 for every class of goods or services
TEAS Standard—This method has fewer initial requirements and includes the option to add custom descriptions of your products. It costs $350 per class of goods or services
Trademark registrations don't last forever, but you can maintain your registration status by filing the required documents and paying the corresponding fees.
The Class of Your Goods or Services
You will need to pay for every class of goods you intend to register. If your application involves goods and services in different classes, you will typically pay higher amounts. For instance, if you use the TEAS Plus form and register under three classes, the registration will cost you $750. If all your products fall in the same class, you will only pay $250.
If you hire an attorney, you can expect to pay $200 to $2,000 more for their services.
How To Register a Trademark
You can only submit a trademark application online as follows:
Search for similar trademarks with the USPTO's Trademark Electronic Search System (TESS)
Identify the class of your goods or services
Choose and complete your application form—TEAS Plus or TEAS Standard
Once you submit the application successfully, you will get a confirmation and serial number, which you can use to check the status of your registration.
Register Your Trademark the Easy Way Using DoNotPay
Trademark applications get rejected for different reasons, and the existence of a similar registered mark is among the most common ones. In such a case, you lose your application fees and the chance to protect your brand. That is why many people hire attorneys to deal with the registration on their behalf.
The problem is that the cost of hiring an attorney can empty your wallet fast. Fortunately, you have a cost-effective and convenient option—DoNotPay.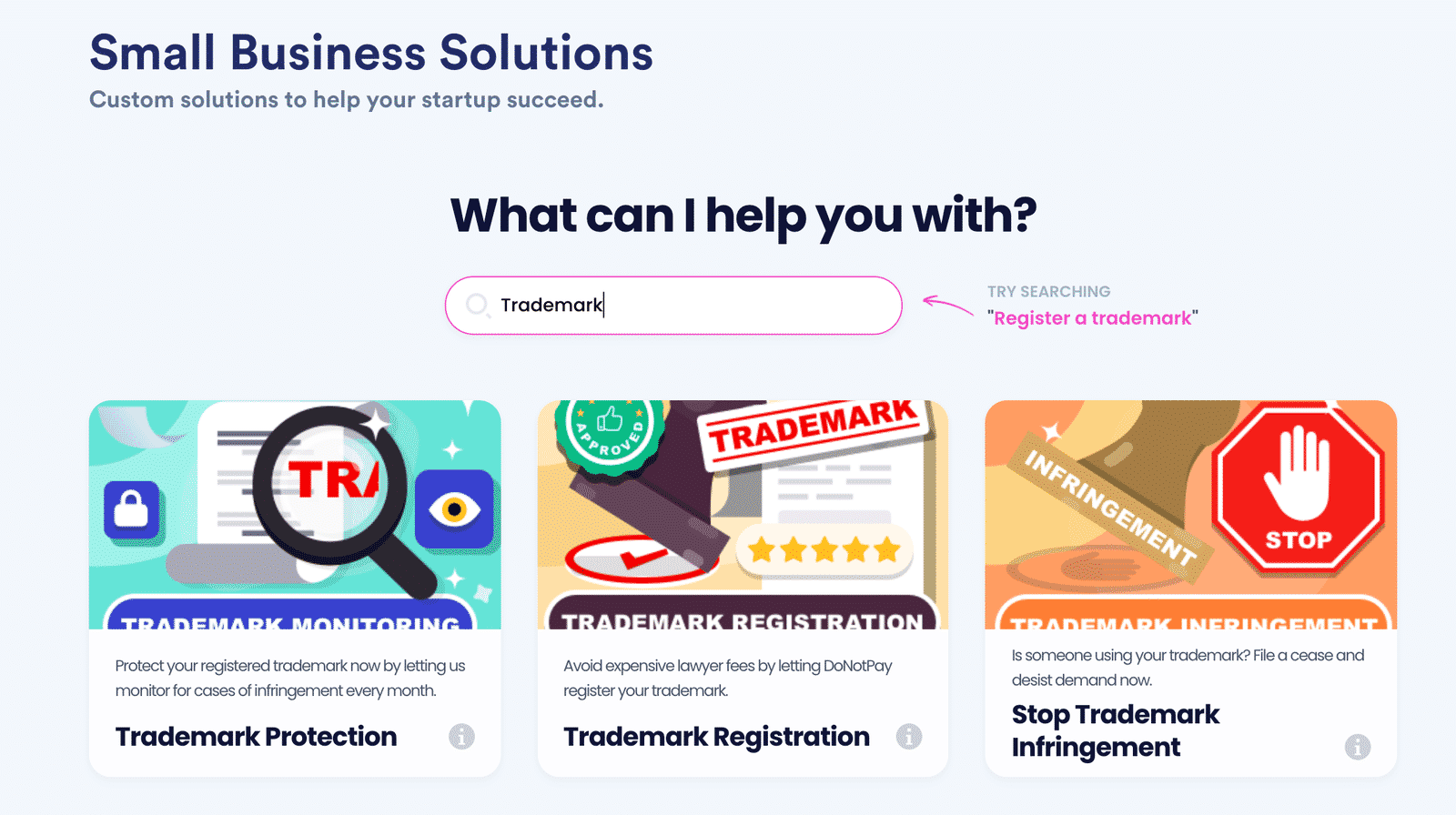 Here is what we will do for you:
Perform a clearance search and verify the availability of your trademark
Inform you of all the requirements needed
Complete the lengthy application form and send it to you for reviewing and e-signing
Submit the application to the USPTO
To register your trademark now using DoNotPay, follow these steps:
Select the Trademark Registration tool
Provide your trademark details
Pay the USPTO filing fee
After submitting your application, we will give you the application tracking number so you can follow up on the application status at your convenience.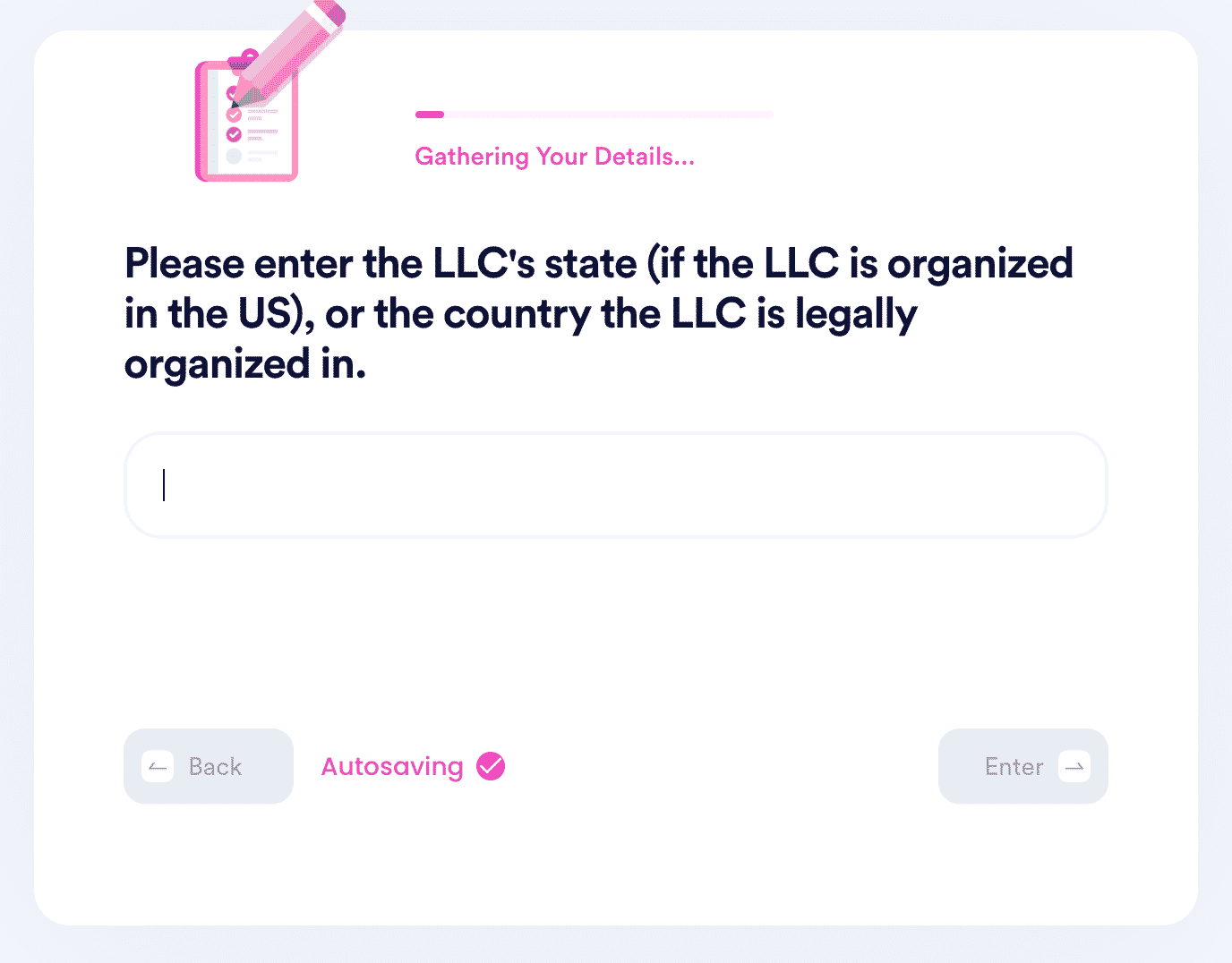 Deal With Any Small Business Matter With DoNotPay's Help!
Being a small business owner is not an easy task, and all the details that you need to pay attention to might seem overwhelming. From handling trademark registration and protection to dealing with crucial paperwork, such as the Employer Identification Number (EIN) SS-4 form and 83(b) election forms, you need to invest a lot of time and energy into each business-related aspect. That is why you should rely on DoNotPay and have us take care of everything in your stead!
If you need help handling copyright issues, you should consider registering a DMCA agent with the U.S. Copyright Office. Not sure how to do it? Use DoNotPay, and we will take care of it for you!
We can also help you dispute chargebacks and avoid losing your money to scams by generating a personalized chargeback rebuttal document based on the info you give us.
Run Your Business Stress-Free
DoNotPay strives to make your business endeavors free of unnecessary stress, which is why we created a variety of useful products to help you deal with complex issues hassle-free. With our assistance, you can:
Draft a professional letter requesting a loan for your small business
Enjoy convenient faxing and mailing services
Get rid of fake negative reviews that could harm your business
Prove your commitment to your clients' privacy by using DoNotPay's Privacy Shield Self-Certification product
Avoid hiring lawyers or collection agencies as our Breach of Contract product will help you send formal demand letters to clients who refuse to pay for your services