We the People—Why Jury Duty Is Important
Trials by jury in the United States go all the way back to the Founding Fathers who instilled them into our judicial system. Jury duty allows American citizens to apply laws and not rely on a single person to pass judgment as they see fit.
While it may be an inconvenience that requires time off work, Americans have to carry out jury duty and make sure everyone gets an unbiased and fair trial. In this article, we'll explain:
Why jury duty is important
How it works
How to use DoNotPay to notify your employer of your jury assignment
Why Jury Duty Is Important
The main reason why the Founding Fathers insisted on jury trials was to avoid tyranny. With a jury, no single judge can make a decision on their own. Instead, the accused can rely on 12 random citizens—jurors—to receive fair judgment based on the facts, not personal agendas.
Why is it important to serve jury duty? Aside from providing a fair trial, jury duty is also important because it:
Is a vital part of the U.S. system of checks and balances
Allows citizens to participate in the governing process
Offers voice of the people to the justice system
Provides peaceful dispute resolution
Educates jurors on the judicial system
Trials can't occur without jurors present. This is why responding to your summons is your civic duty, and there are penalties in place for those who fail to show up.
How Jury Duty Works
Wanting to be on a jury is commendable, but you can't volunteer for it. State and federal courts randomly select 12 people who:
Are aged between 18 and 70
Have a U.S. citizenship
Speak and read English
Are eligible to vote
Haven't been convicted of theft, felony, or misdemeanor
Are not an unemployed caregiver
Have no physical or mental disabilities
Are not employed in fire or police departments
If you get selected, you will receive a summons. When this happens, you'll need to prepare for jury duty and make sure you're able to turn up every time for as long as the case lasts.
When you show up in court for the first time, you will have to:
Answer attorneys' questions to see whether you can remain impartial and show no conflict of interest
Talk to the judge to inform yourself about the case
Jury Duty and Employment
If you're employed, you'll need to be absent from your job for an extended period. That may become an issue with your employer, especially if you get summoned multiple times.
Even if jury duty comes with pay, the law usually doesn't regulate what happens with your salary, so you may get lower wages during that period.
Federal courts pay $50 per day, while state courts offer different reimbursements, as shown in the articles from the table below:
Note that going on a jury is your duty, and it's job-protected leave. Your employer is prohibited by law to demote, fire, or punish you in any other way for being absent.
To avoid any potential drama, you can subscribe to DoNotPay and create a formal leave request letter and notify your employer.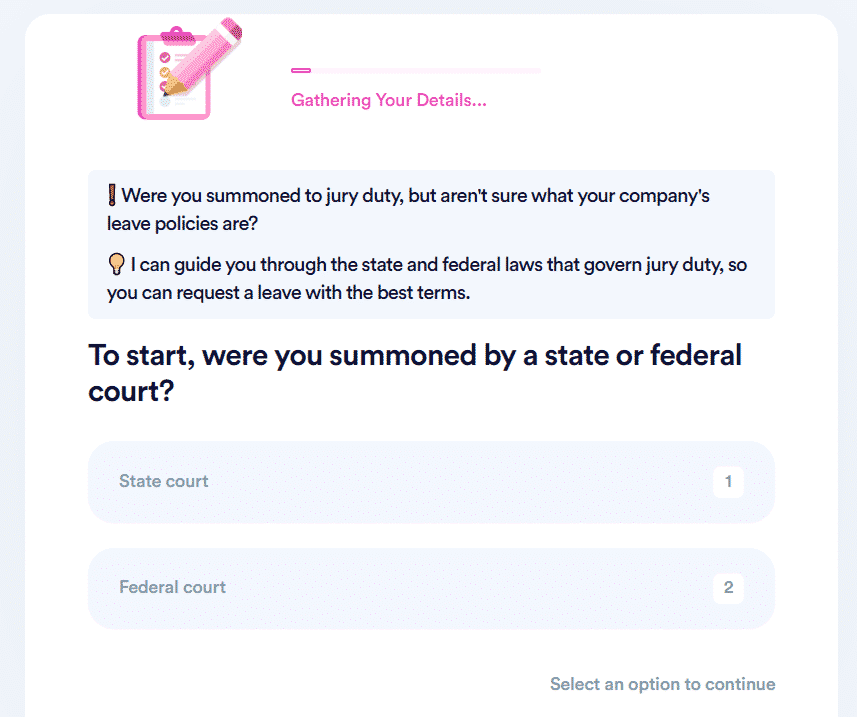 Use DoNotPay To Avoid the Hassle of Your Jury Duty Leave
If you formally request jury duty leave in advance, your employer will be able to prepare for your absence and won't have any power to threaten you in any way. Our app will draft a professional leave request letter, and we'll invoke the state law that grants you job protection.
You only need to:
Use your browser to sign up for DoNotPay
Navigate to the Request Jury Duty Leave feature
Answer a few questions
Upload a photo of your jury summons
You can use our app to send the letter to your employer directly, or you can download it and submit it as you wish.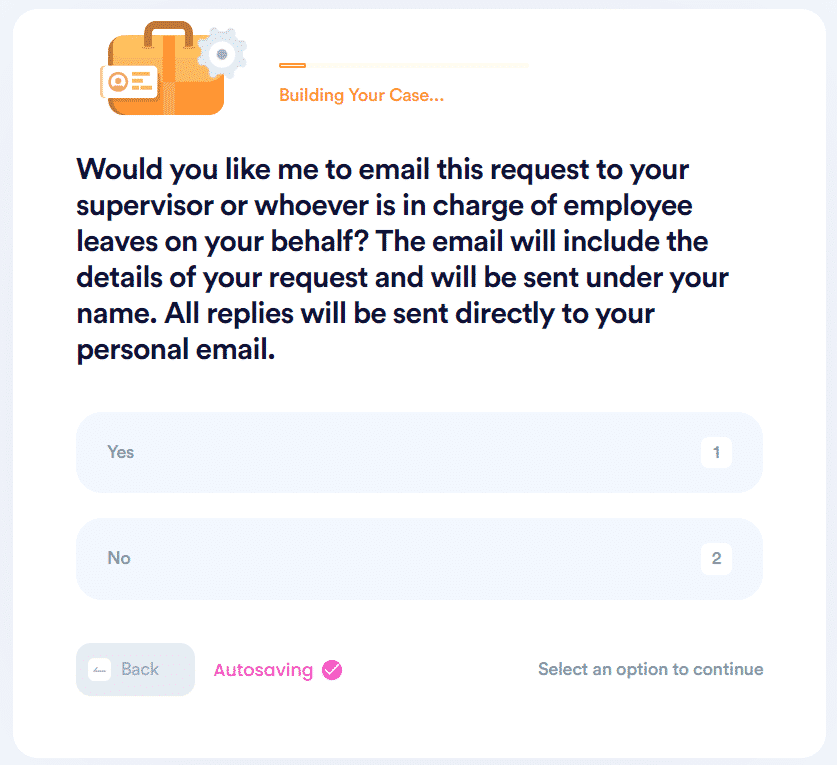 Solved Your Issue? Check Out More of Our Product Range
DoNotPay's forte is its versatility—you can use the app to resolve any problem of legal or bureaucratic nature!
As soon as you subscribe to our platform, you'll be able to:
Our App Helps You Both Save and Earn Money
Want to get more familiar with our extensive product range? Check out how, for one low monthly fee, we can help you both save and earn money by: