Why Do People Get Divorced—The Age-Old Question Answered
Making a marriage work is not easy—it requires a great deal of sacrifice, compromise, and patience. Sometimes, despite all the effort and years invested into the relationship, there's no other solution than to call it quits.
Why do people get divorced? While the answer is never simple, DoNotPay will break down the most common causes for a divorce in this article. We will also suggest a practical way to part ways with your spouse amicably and without unnecessary legal expenses!
The Reasons Why People Get Divorced Explained
While the reasons for ending a marriage are complex and unique for every couple, there are a few specific issues frequently cited during divorce proceedings.
Take a look at the table below for more details:
Reasons People Get Divorced
Details
Communication issues
The inability to have a productive conversation can leave spouses with a feeling of growing resentment, which can lead to a divorce
Young age
Marrying too young may imply that at the time, the couple didn't have:

A developed sense of self
Enough experience to know what they want in a partner

That can eventually lead to partners developing different values, beliefs, and expectations, which can become the reasons behind a divorce

Lack of intimacy or partnership
A lack of emotional support or intimacy between partners for a prolonged period can result in falling out of love, which typically leads to a divorce
Infidelity
An affair can feel like the ultimate act of betrayal that typically causes a person to lose trust in their spouse
Addiction
If a person doesn't want to get help or becomes a threat to their spouse, they should get a divorce immediately
Domestic abuse
Abuse can take on many forms, from physical confrontation to emotional manipulation. Separating from the abusive partner is sometimes the only way to ensure protection
Financial issues
Spouses are expected to manage finances as a team. Issues like spending too much or making too little money can cause tension in a marriage that can be impossible to overcome and ends up tearing the union apart
Lost sense of self
It's not uncommon for one partner to sacrifice their personal fulfillment for the sake of the marriage. That often leads to resentment and divorce
What Is the Number One Cause of Divorce in America?
According to the Certified Divorce Financial Analysts (CDFA), a survey done across North America has shown that the top five reasons couples in the U.S. get divorced are the following:
Basic incompatibility—43%
Infidelity—28%
Financial issues—22%
Emotional and physical abuse—5.8%
Addiction—5%
Is There Such a Thing as a Simple Divorce?
A divorce is stressful for both parties, regardless of the circumstances. The goal should be to get through the process as painlessly as possible, especially if children are involved.
An uncontested divorce can help the proceedings go much faster. It implies that the parties have reached an agreement about all crucial issues, such as:
Custody
Visitation rights
Child and spousal support
Division of debt and property
Education and religion
Life and health insurance
Apart from speeding up the process, an uncontested divorce will:
Help save the money otherwise spent on expensive court proceedings
Take a lot less of the spouses' energy
Reduce stress
Assist in preserving the relationship between former spouses
Minimize or eliminate time spent in a courtroom
Are you and your spouse candidates for an uncontested divorce? Having a divorce settlement agreement drawn up by a lawyer can be another unnecessary expense, especially if you have agreed on all divorce-related issues. A far more economical solution would be to sign up for DoNotPay and let us create a divorce settlement agreement within minutes!
DoNotPay Is Your Ticket to a Quickie Divorce
DoNotPay will create a divorce settlement agreement for you, making sure that it:
Complies with your state-specific laws
Is tailored to fit your and your spouse's specific situation
Contains all crucial legal provisions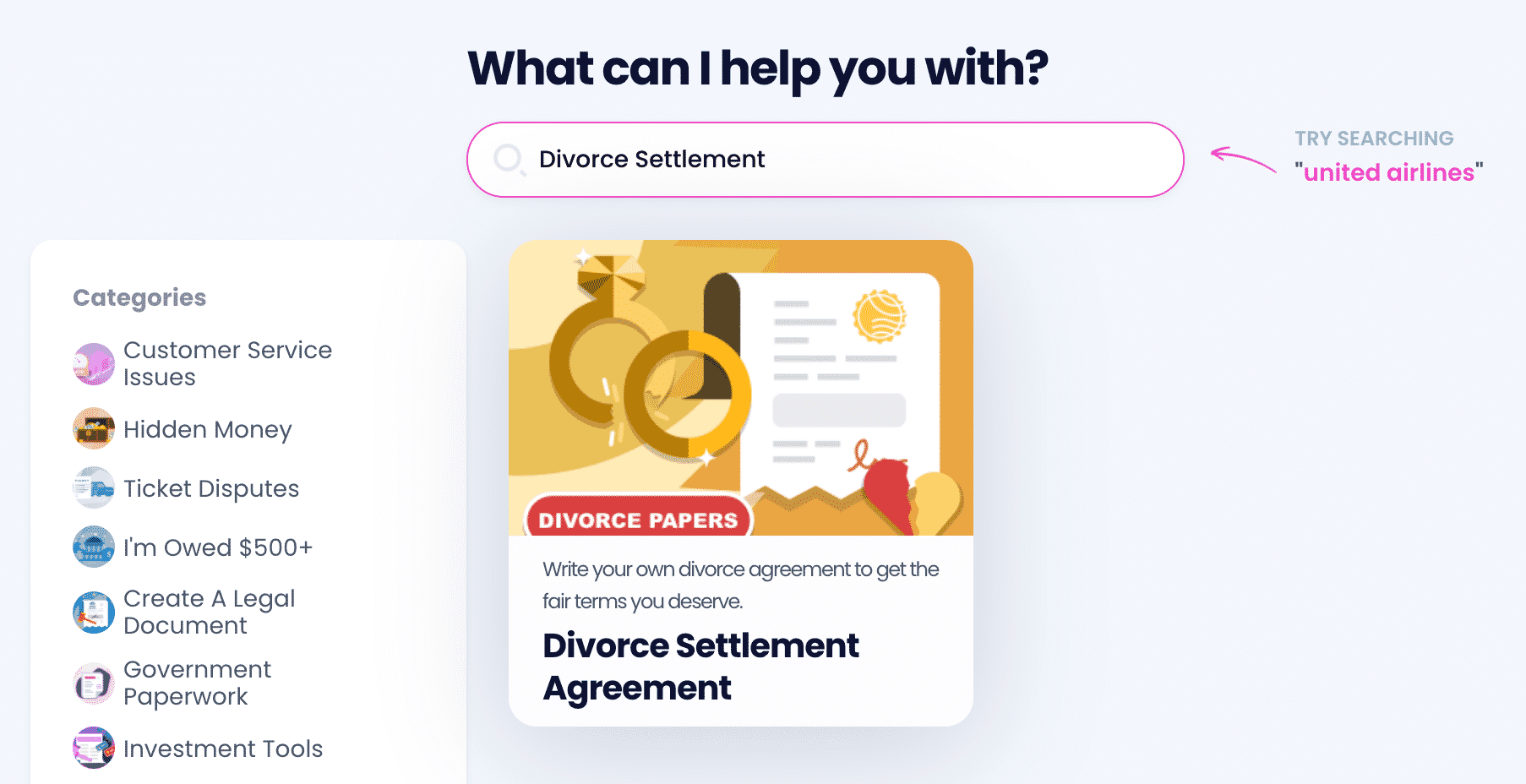 You can get your tailor-made divorce settlement agreement once you subscribe to DoNotPay and:
Find our Divorce Settlement Agreement product
Provide answers about your:

Spouse
Children (if applicable)
Income
Financial assets and how you want to divide them

Indicate whether you'd like to get the document notarized with our help
If you choose to have your document notarized with DoNotPay, our app will connect you with an online notary. They will witness you and your former spouse signing the document on a video call.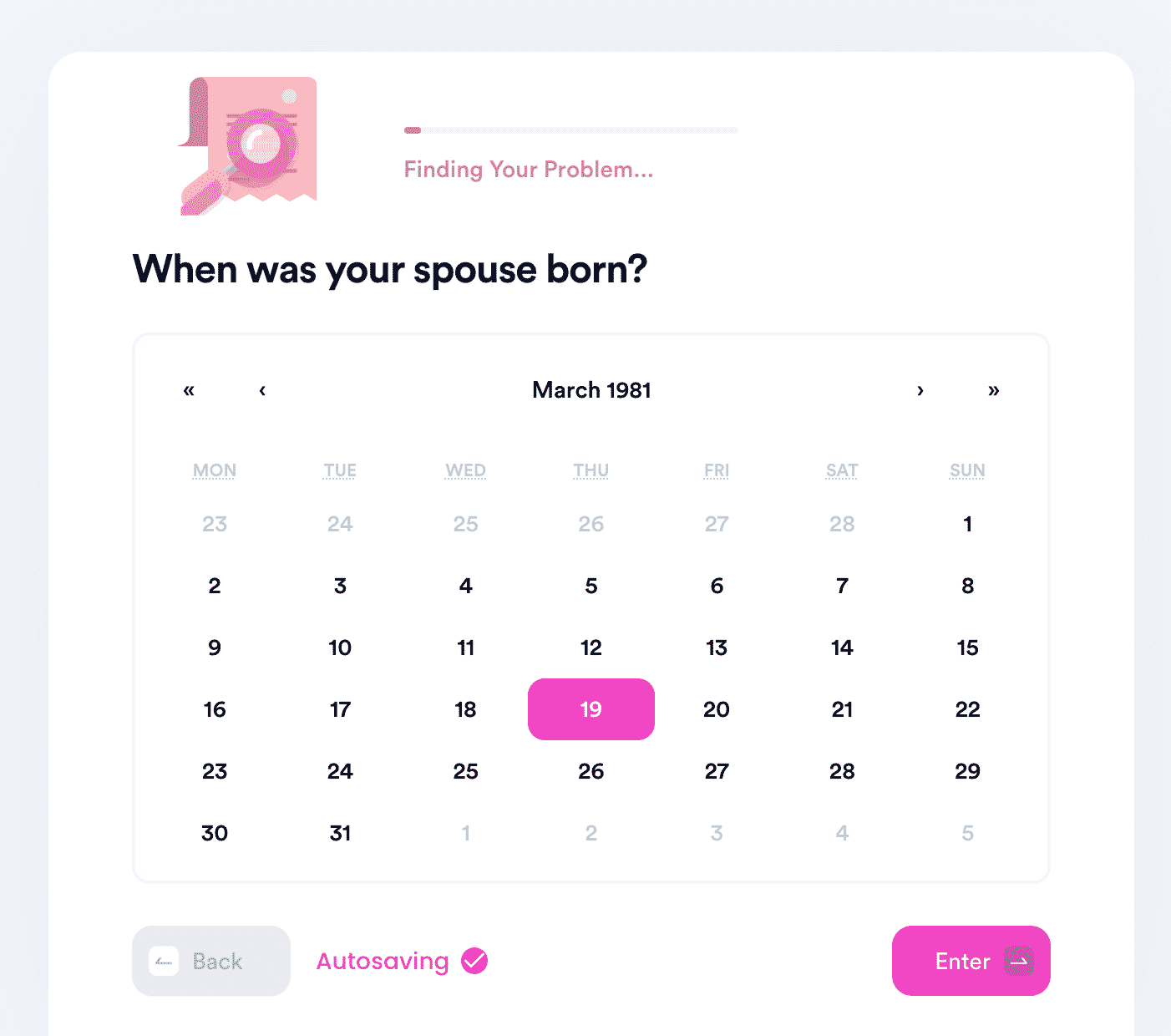 Want to know more about divorces? Check out our articles and get answers to the following questions:
DoNotPay Covers All the Bases
From getting you ready for various government tests to helping you reduce your property taxes, DoNotPay offers valuable assistance with the tasks that make most people at least roll their eyes. Dealing with bureaucracy isn't fun, but it also doesn't have to be as difficult as it is.
Every product in DoNotPay's portfolio is designed to efficiently deal with a specific issue within a few minutes and without sacrificing your comfort. Take a look at the tasks our app can make much more simple:
A Little More Money Never Hurt Anybody
Hardly anyone would turn down a chance to earn some more cash. That's why DoNotPay not only protects your rights and interests but also offers great opportunities to improve your financial situation.
With our help, you can find paid clinical trials, locate your missing money in any state, get your cash back from used gift cards, or enter various raffles and win great prizes.