Why Do Parents Homeschool? Here Are the Pros and Cons
To homeschool or not to homeschool is a common dilemma among parents in recent years. DoNotPay decided to join in the debate and tackle the question: why do parents homeschool?
Apart from holding an impressive database of different homeschooling topics, our AI-operated platform also streamlines administrative procedures. Whether it's homeschool enrollment or applying for a scholarship, will ease you through the paperwork.
Why Do Parents Decide To Homeschool Their Children?
The reason why parents choose homeschooling is different for every family. It mostly boils down to the following:
Religious reasons—It's quite common for religious families to homeschool their kids. You can integrate Bible studies into the lesson plan or use an entirely Christian curriculum. Some states provide a list of obligatory homeschool subjects, but other than that, there are few limitations
Health issues—If your child suffers from a chronic condition or mental health issues, homeschooling is worth considering. Special needs children especially benefit from the extra attention homeschooling provides
Safety precautions—You don't have to worry about your child getting involved with the wrong crowd and being exposed to violence or drugs
Flexible schedule—Classes and break-time are a matter of agreement. Homeschooling also makes it easier to synchronize work-related obligations and PTO, which is why more parents are homeschooling. Summer breaks will be less stressful as a result
Learning on the go—With homeschooling, you can keep teaching even if you're moving state-to-state. Your child will have a consistent learning experience without long gaps caused by relocation or similar circumstances
The Pros and Cons of Homeschooling
When asking "why do parents homeschool," you have to weigh the advantages and the disadvantages. Take a look at the most notable pros and cons of homeschooling in the table below:
How Can You Tell if Homeschooling Is Right for Your Family?
After learning why some parents homeschool, you need to figure out whether it's the right choice for your family. Think about your current circumstances and try to address the following concerns/dilemmas:
Is It Difficult To Start Homeschooling?
Depending on where you reside, getting started in homeschooling can be incredibly easy or somewhat complicated. Some states encourage the practice, while others impose strict homeschool laws.
If you plan on taking your child out of school, you'll probably have to complete the following steps:
Familiarize yourself with local homeschool requirements (e.g., some states have different procedures for the beginning, middle, and end of the school year)
File a notice of intent to homeschool to the school district superintendent
Don't Dread the Paperwork—Use DoNotPay To Generate Your Letter of Intent To Homeschool Within Seconds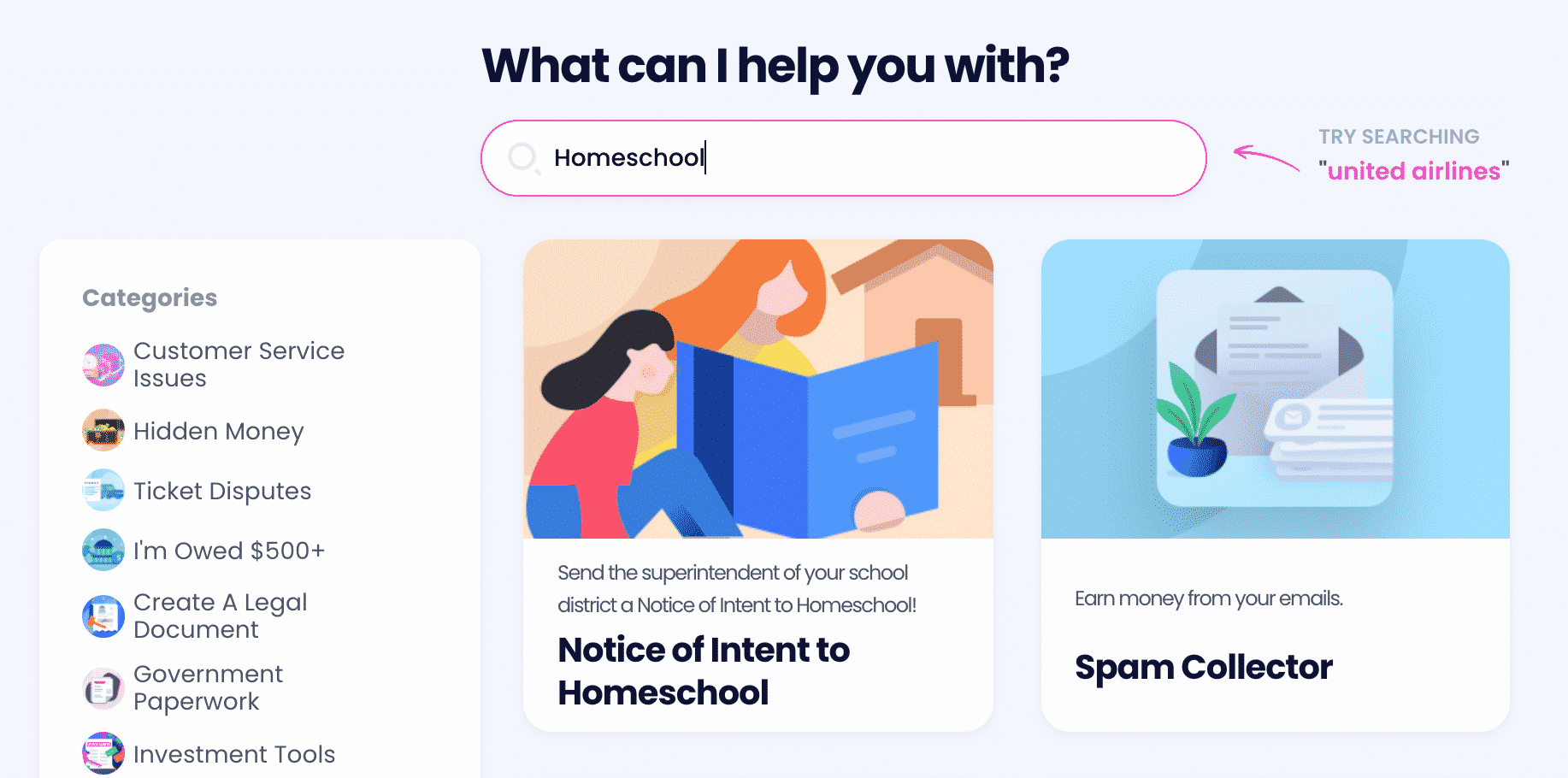 Your homeschooling journey can start right now with DoNotPay. No matter the circumstances, our Notice of Intent to Homeschool product will compose a letter of intent with speed and accuracy.
The feature is incredibly easy to use:
Access the Notice of Intent to Homeschool product
Enter your school district information
Answer questions about your family
The PDF version of the declaration of intent will be ready quickly. If you try our Notarize Any Document product, you'll get through your to-do list even quicker. Get your letter of intent notarized without ever stepping foot in a notary office!
Don't Stop There—Check Out DoNotPay's Product Range
DoNotPay has many tricks up its sleeve—no matter the admin or legal issue at hand, our AI-enabled app can power through it in a split second. Look into our product range to find out how you can:
What Else Do You Need? DoNotPay Will Provide!
If you want to cancel a subscription before your free trial expires so that you don't get charged, you can count on our virtual credit card to do it in your stead! We can also make sure that you get what's rightfully yours—be it a refund, insurance, warranty, unclaimed money, flight refund, raffle ticket, or gift card cash back.
You no longer have to go through legal or administrative hurdles on your own—as soon as you sign up for DoNotPay, you'll get access to our app's assistance and will be able to use it to fight injustice.