Why Do I Need a Living Will? Let's Find Out!
Some people are not familiar with advance care planning and do not understand what a living will is, how they can create this document, or how much it costs.
Why do I need a living will in the first place? This article gives you the answer and presents an effective product that can help you draft this document.
What Is a Living Will?
A living will is a document that you should create to specify your preferences for end-of-life health care treatments you would (not) want to receive.
This legal document is often associated with the following forms:
Keep in mind that while a living will is a legal document, you don't have to hire a lawyer to draft one for you.
Why Do You Need a Living Will?
The following table presents some of the reasons why creating a living will is a good choice:
Why Do I Need a Living Will?
Details
Protect yourself
A living will can protect you in situations when you cannot communicate your preferences for medical care on your own. This document:

Specifies what medical procedures or drugs meant to prolong your life you (do not) authorize
Provides explicit instructions to your health care agent, physician, and other medical providers

Prevent disputes
Since a living will conveys your decisions, it can:

Prevent arguments among your family members
Reduce the emotional strain on your family at the time of your death

Control medical expenses
If you are in a coma or vegetative state, you cannot evaluate the potential costs of life-prolonging medical procedures. Drafting a living will could:

Minimize unwanted hospital bills
Ease your family's financial burden at the time of your death
Keep in mind that, in case you do not have a living will but have a valid medical power of attorney, your health care agent will make decisions regarding your end-of-life medical treatments.
How To Create a Living Will
Since U.S. states have different regulations regarding living wills, POAs, and advance directives, you should start by checking your state legislation.
You also need to ensure your living will:
Fulfills legal requirements for notarization and the number of witnesses
Is updated or revoked if you decide to amend or terminate the document at any time
Covers all necessary elements, including:

Standard and specific directions about health care procedures
Anatomical gift decisions, i.e., whether you would like to donate your body or certain organs after your death
Palliative care preferences
Religious and spiritual considerations
Sign up for DoNotPay to make sure your living will includes all key segments and meets legal requirements.
Create an Airtight Living Will With DoNotPay
Our AI-powered app is familiar with:
That is why DoNotPay can help you draft a reliable living will tailored to your specific needs.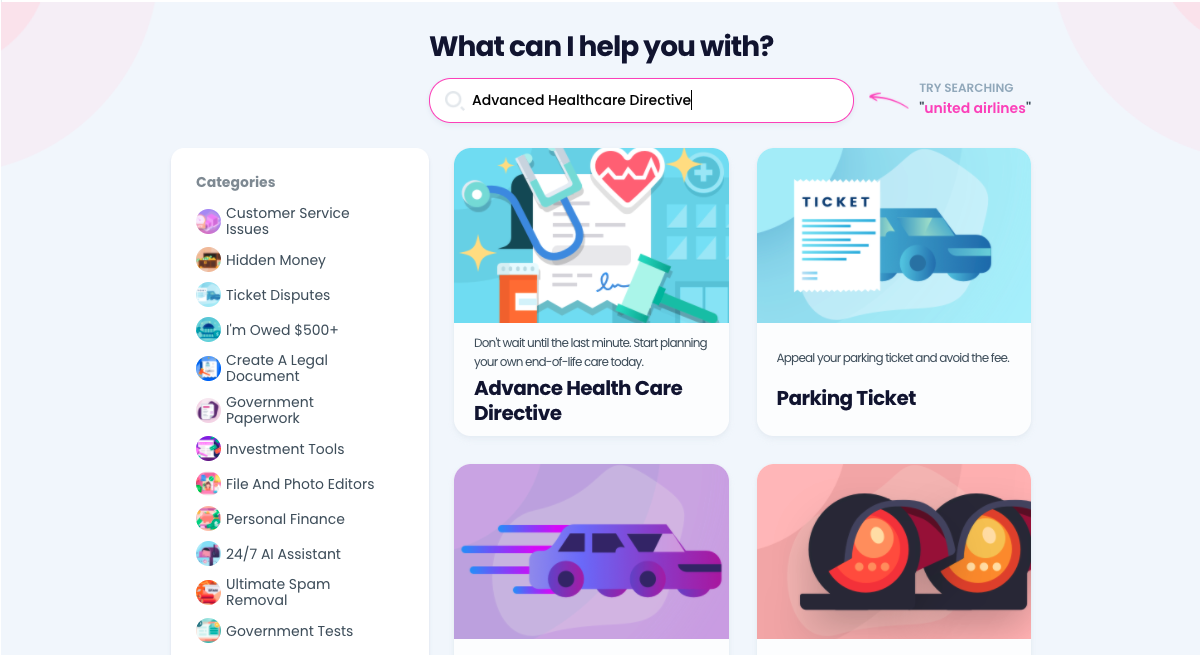 Once you are ready to put your health care wishes in writing, subscribe to DoNotPay and:
Find the Advance Health Care Directive product
Provide a detailed explanation of your medical preferences
Enter details about your health care agent and witnesses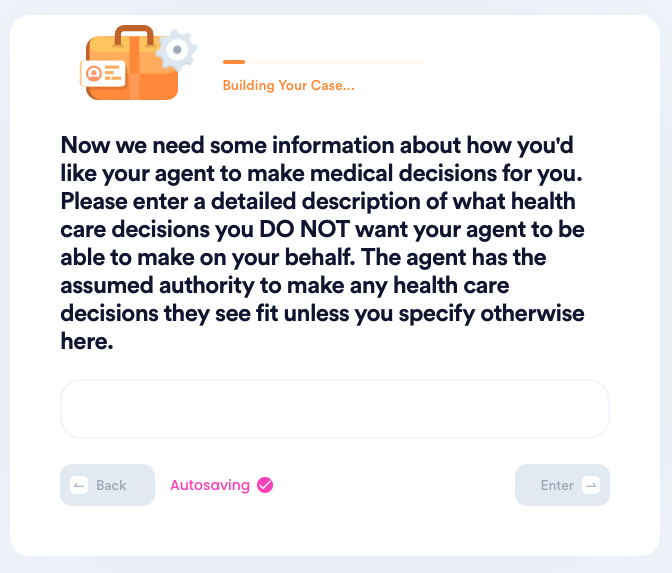 As soon as you complete the above-listed steps, DoNotPay:
Sends you a living will you can download and print
Offers to connect you with an online notary (if your state requires you to have the document notarized)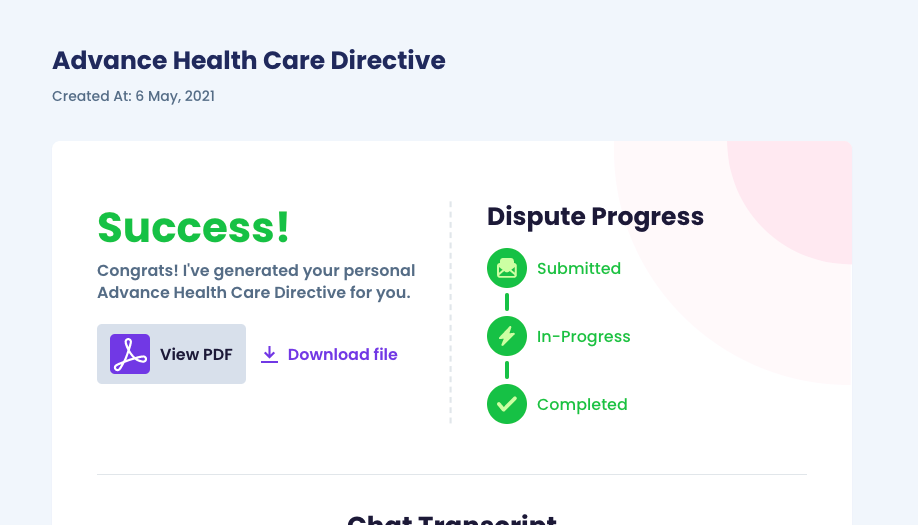 Solve Any Problem Within a Few Clicks
DoNotPay keeps adding new features that are designed to help you navigate your tasks and resolve issues. You can rely on your AI-powered app whenever you need to:
Earn and Save Money Using DoNotPay
When money is tight, every penny counts. DoNotPay can help you get what you're owed and also some extra cash.
Here are some of the ways our app can help you get paid:
We can also assist you in searching for your unclaimed funds, demanding a college fee waiver, and joining clinical trials.
If a company refuses to give you what you're owed, don't hesitate to file a complaint and take it to small claims court.