Everything About
Wholesale Real Estate Contract
The world of real estate trading is complex and entails specific legal procedures. These involve various legal documents serving to protect the rights of traders and ensure safe transactions. 
Making a wholesale real estate contract is a necessary but often nerve-wracking task. If you want to simplify the drafting procedure and learn more about writing contracts, DoNotPay can assist you!
What Is a Wholesale Real Estate Contract?
A wholesale real estate contract is a written agreement between a real estate seller and the wholesaler, granting the investor the right to buy a specific property. The wholesaler acts as an intermediary. Once they choose the right deal and settle the conditions, they assign this contract to a new buyer. The end buyers are usually other real estate investors or other persons searching for rental properties.
When the wholesaler finds a new buyer, they transfer the rights to purchase the particular property by signing a wholesale real estate assignment contract. This document imposes the end buyer as a new owner and releases the wholesaler from liabilities.
What Are the Benefits and Drawbacks of
Real Estate Wholesaling Contracts
?
Even though wholesale real estate agreements are usually beneficial for all parties involved, they may bring about certain problems. The following table shows the pros and cons of wholesale real estate contracts.
Advantages
Disadvantages

Sellers don't need to target potential buyers on their own

These contracts can bring significant profit in less than a month

Sellers don't need to pay for repairs of the damaged property since an experienced wholesaler will manage to sell it as it is

The wholesaler simplifies the procedure for future buyers, making the offer more appealing

The contract outlines all information and conditions of the collaboration, preventing misunderstandings and disputes

The contract allows the wholesaler to raise the price of the particular property to make a profit, but the seller can't benefit from that

The document proposes a higher price for the property since that's the only way for a wholesaler to profit. This may make buyers give up on purchasing the real estate in question
What Sections Should a Wholesale Real Estate Contract Contain?
To draft a solid wholesale real estate agreement, you must get familiar with the related laws. These rules will help you determine both entities' responsibilities and ensure the document meets all criteria to become a valid contract. The best bet is to use the standard agreement structure as suggested in the following list:
Information about parties involved

Names

Signatures

Optional contact details, including phone numbers and email addresses

Real estate information

Address

Property type

General physical condition of the premises

Potential malfunctions or damage

Personal property included in the real estate price

Price and financing

Purchase amount

Deposit

Financing terms

Deposits

Inspection contingencies

Lead-based paint disclosure for all buildings built before 1978

Adjustments and modifications related to charges (water, sewage, taxes, etc.)

Rights and responsibilities of the seller and wholesaler

Risk of loss and damage

Marketable title option

Other optional disclosures

Signatures of all parties

Date of signing
DoNotPay Will Draw Up a Perfect Contract in Your Stead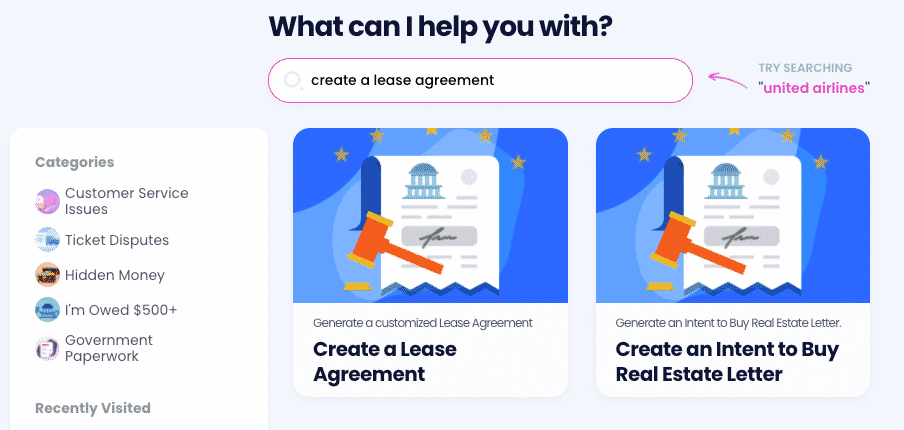 Most people who aren't familiar with state laws and legal terms will find drafting a contract confusing and complicated. If your clauses are incomplete or unclear, you risk the validity of your agreement. Professional drafts are more convenient, but they can cost you hundreds or even thousands of dollars.
DoNotPay offers an efficient and affordable tool that enables you to draw up a professional agreement in less than five minutes. Once you choose a suitable customizable template and answer a few short questions, we will generate a legal document based on the information provided! 
To use this service, follow the instructions below:
in your preferred web browser

Enter the name of the document you want to personalize in the search box

Tell us which details we should include in your contract—location, start and end date, etc.
Once you get the desired document, you can have it notarized and fax it in the same app! 
What Legal Documents Can You Draft With DoNotPay?
Our award-winning virtual lawyer allows you to use all modifiable templates from our collection! You can generate the best:
Promissory Note

Quitclaim Deed

Intent To Purchase Real Estate

General Business Contract

Estoppel Certificate

General Affidavit

Child Care Authorization Form
If you feel like learning more about legal documents, and get familiar with:
Discovering DoNotPay Will Make Your Day
If you feel overwhelmed by tons of paperwork flooding every area of your life, you can finally breathe out and let go of that stress. DoNotPay is the world's first robot lawyer that handles your bureaucratic chores for you. 
Some of the benefits that come with our service include:
Why Get a Lawyer When You Have DoNotPay?
Our agenda has one major goal—provide easy legal access to anyone who needs it. Every new feature we come up with relies on AI technology that simplifies bureaucratic procedures and saves you time and money. 
If you're wondering how to navigate tasks like contacting imprisoned friends and family members or reducing your property taxes, DoNotPay has the answers. Our service cuts through the red tape even if you need to deal with stalking and harassment, claim forgotten assets the proper way, or secure compensation for crime victims.