Who Makes Medical Decisions if There Is No Power of Attorney? DoNotPay Has the Answer
You can make sure you are in safe hands in medical situations by appointing a health care agent, but who makes medical decisions if there is no power of attorney?
DoNotPay provides an answer to this question and explains why it is paramount that you create a medical POA.
Who Makes Medical Decisions Without the Power of Attorney?
In case you become incapacitated without having made a medical power of attorney beforehand, doctors will act in accordance with your state laws. In most parts of the country, a family member will usually be called in to make important decisions regarding your treatments and procedures. This can be any adult related to you by blood or marriage.
What Is the Problem With Not Having a Medical Power of Attorney?
If you do not appoint a health care agent and create a medical POA, two potential problems can arise. Take a look at the table below for more information:
| Issue | Explanation |
| --- | --- |
| Having multiple family members | If there is more than one family member who wants to make medical decisions, they could argue about who gets the final word. There can be multiple opinions on the course of action, which can jeopardize your life if the situation requires acting promptly |
| Having no family members | If you do not have any family members, medical staff will need to make a decision for you. These decisions can differ significantly from what you actually wanted |
What Are the Benefits of Having a Medical POA?
If you choose to create a medical POA, you will get to:
Appoint an individual you trust as your agent
Avoid potential family feuds
Have peace of mind knowing your wishes will be respected
Know that someone reliable will make the right decisions even in unexpected situations
Alternative Names for a Medical Power of Attorney
Depending on the state where you live, you can come across various names for a medical POA, including:
What Other Documents Can Ensure Your Wishes Are Respected?
Most states allow you to make a living will in addition to a medical power of attorney. Some states consider it a separate document, but it's mostly regarded as the second part of an advance directive.
A living will enables you to state your exact wishes on the treatments you want or don't want in specific medical situations. This document is usually related to end-of-life scenarios when you are no longer capable of communicating your wishes. You can come across various living will forms online, but to avoid making an invalid document, you should turn to DoNotPay.
Create a Medical POA and a Living Will With DoNotPay's Help
If you want to have your opinions and wishes regarding medical treatment properly outlined in a legal document, you should use DoNotPay. Our app will save you a trip to an expensive lawyer and make sure you have the required info, unlike the generic online forms.
The process is straightforward—you only need to:
Choose our Advance Health Care Directive product
Name your health care agent and include other required medical information
Tell us what powers you want to appoint to your agent
Most states require you to have the document notarized or have two people witness you sign it. If the latter is the case, you should make sure to include your witnesses' names when completing the questionnaire.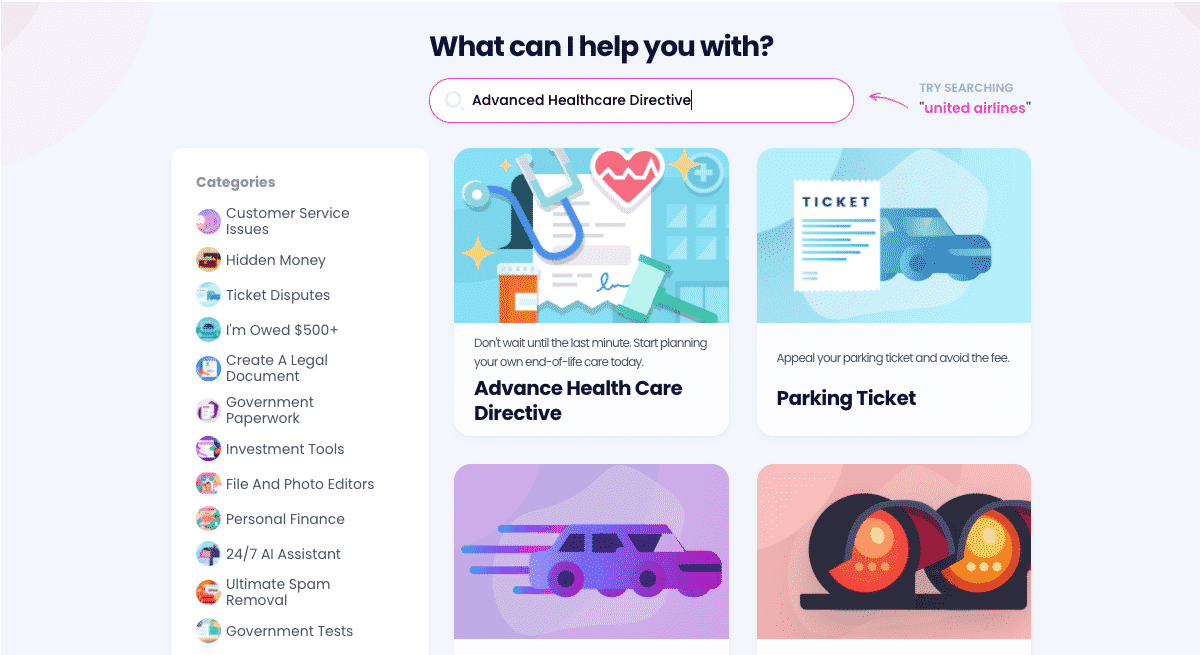 Skip the Bureaucratic Hurdles With Our Help
If your unfinished tasks are piling up each day, we can help save you time and energy. Let DoNotPay do the heavy lifting and complete the following for you:
| Bureaucracy | Spam and Harassment |
| --- | --- |
| | |
In one fell swoop, our app will draft legal documents, fax them online, and get them notarized. In case you need to request a college fee waiver, find unclaimed money, file a FOIA request, or contest parking tickets, you can count on DoNotPay's help.
We Offer Even More Ways To Assist You
Once you sign up for DoNotPay, there aren't many problems that we can't solve for you. Take a look at the table below to get an idea of what we can help you with: