Who Do You Call When Your Landlord Won't Fix Things In Your Rental?
Are you dealing with a landlord who isn't holding up their end of a bargain?  in your rental? There are several answers to that question, but only a few are legal.
We'll go over your options for getting your landlord back in line, either on your own or with the help of DoNotPay. DoNotPay is the consumer advocacy company that's helped thousands of people just like you take landlords to small claims court and solve other landlord and tenant conflicts.
6 Advocates to Contact When Your Landlord Refuses to Make Repairs
You might feel like you're all alone when you're going toe-to-toe with your landlord, but you've got a lot of support. Here's  unit:
The Landlord's Boss
Is your landlord the actual property owner, or is the landlord simply a management company acting on the owner's behalf? There's a good chance the owners of the property want to know if their rentals are going to ruin.
Your Local Tenant Advocacy Board
Every state and municipality has its own tenancy laws, and it's important that you understand your rights as a tenant. Tenant advocacy organizations can connect you with legal aid and advise you on local tenancy laws.
A Qualified Attorney
You might be able to get a low-cost or pro bono lawyer to help you with your case. They can help you:

Write a demand letter to motivate your landlord to do their job.
If your landlord continues to drag their feet, you can enlist the help of a lawyer to file a small claims suit. But this option can be costly.
Your attorney can also help represent you in court for severe issues.

Your Local Health Department
Is your landlord refusing to clean up dangerous mold, exterminate pests, or perform other duties required to keep the rental safe for you to live in? If your landlord isn't cooperating, you can report them to the health department. These agencies are typically run by your county government, and they're easy to find. Filing a report with the health department won't cost you anything but a few minutes of your time, and you can file anonymously.
Multifamily Housing Complaint Line
If you're in Section 8 housing, you can report your landlord by calling 1-800-685-8470. Section 8 property owners must abide by very strict regulations to be compensated for renting to low-income households, and the consequences can be devastating to an unethical landlord. If they're given a warning by Housing and Urban Development (HUD), they'll likely cooperate ASAP.
DoNotPay
We offer hundreds of consumer advocacy products and services, and we can help you motivate your landlord to take responsibility for rental repairs. With our Landlord Protection product, we can help you:
DoNotPay is a versatile, fast, and cost-effective option. We can help you send demand letters and start the process of suing your landlord in small claims court for not completing repairs.
How to Hold Your Landlord Accountable With DoNotPay
DoNotPay is here to guide you through your tenant issues and file demand letters and claims on your behalf for your disputes with your landlord over repairs. If you want to put your landlord on notice and get them to perform their duties,  DoNotPay has you covered in 4 easy steps:
1. Search for and open the Landlord Protection product on DoNotPay.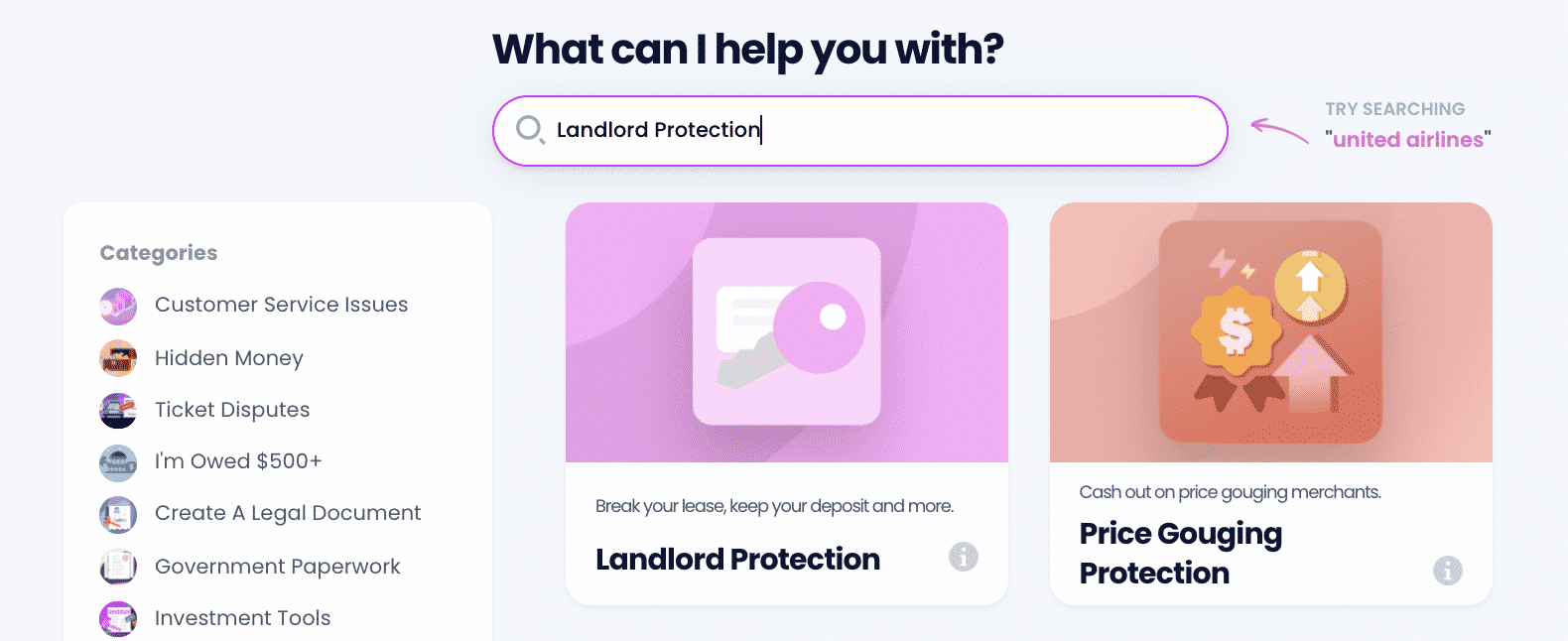 2. Select which issue applies to you.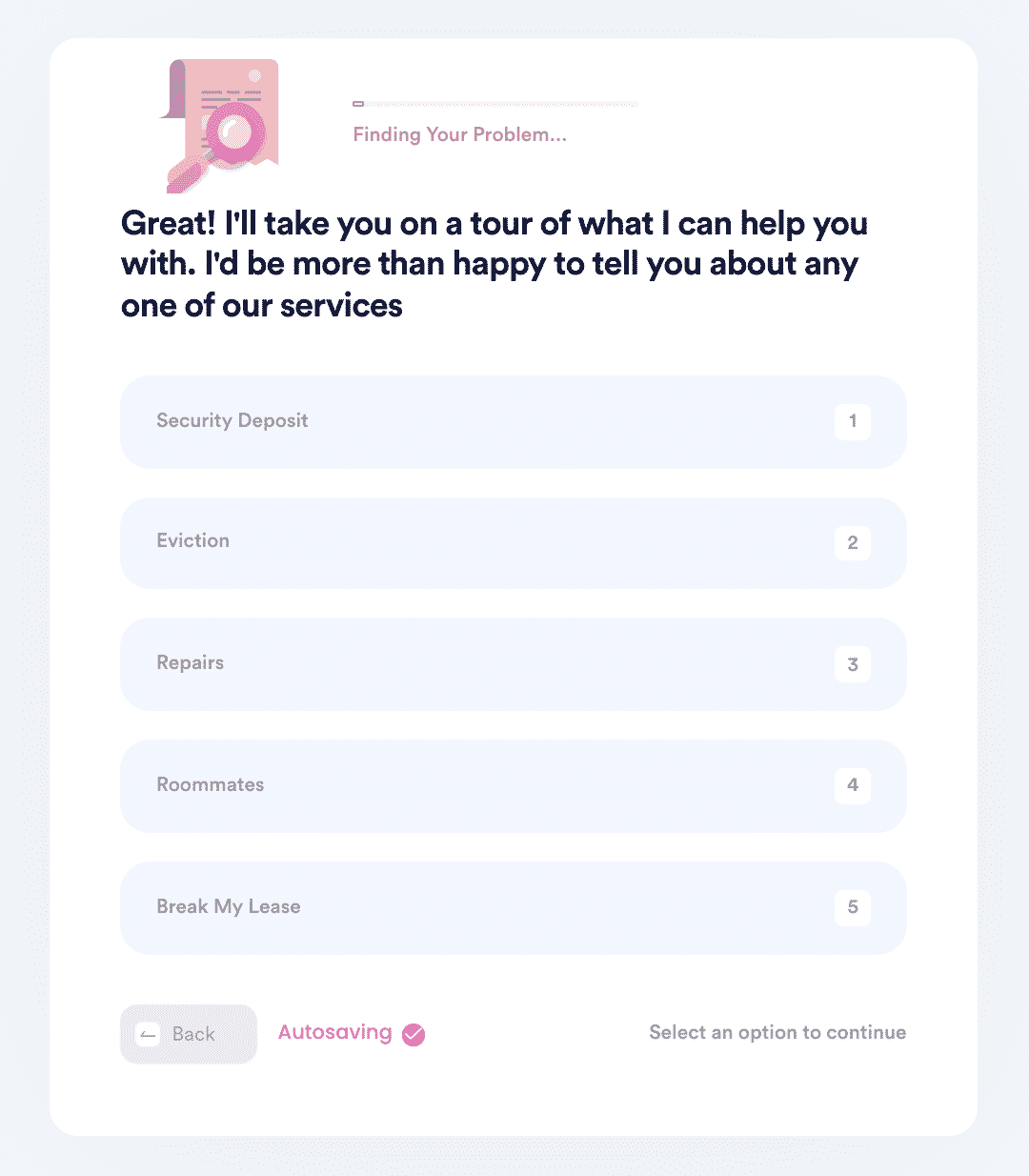 3. Answer a simple set of questions so our chatbot can collect the necessary information to create your demand letter.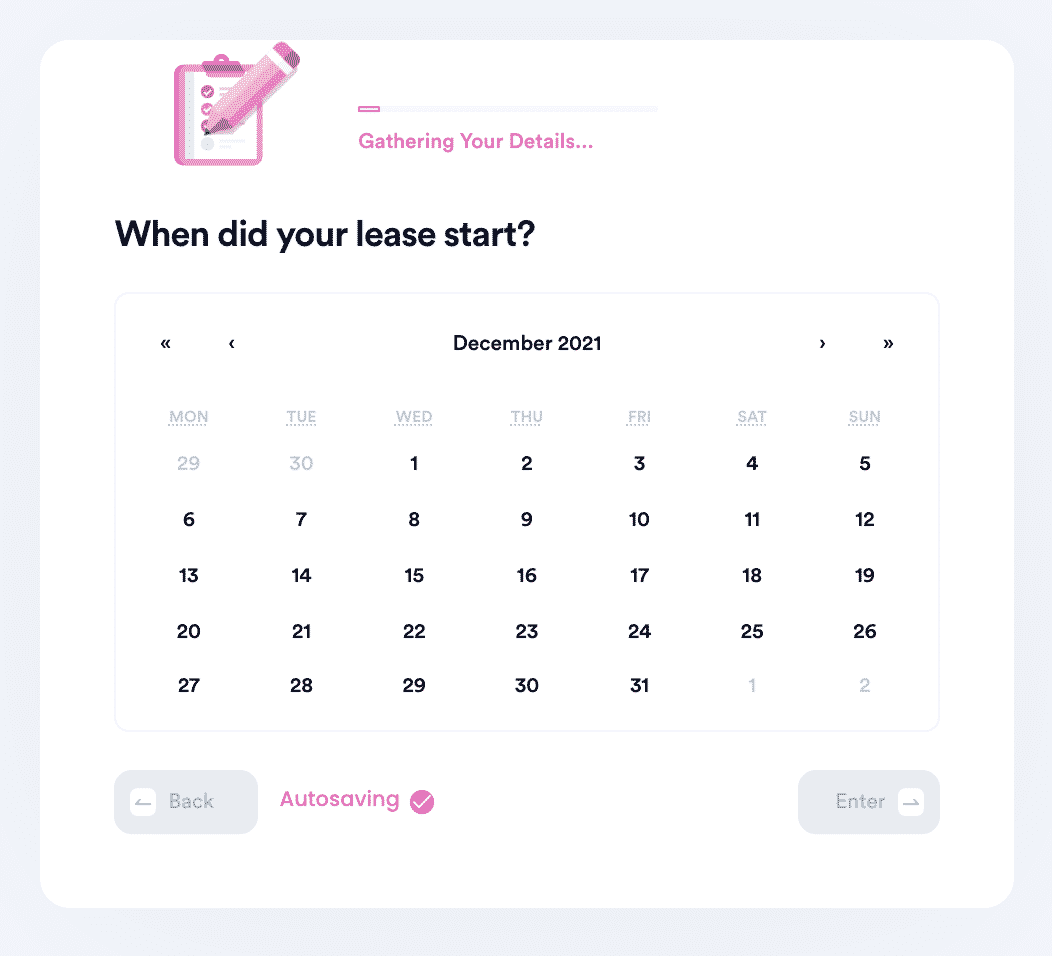 4. Choose whether you want DoNotPay to send the demand letter to your landlord or roommate on your behalf. If you already tried sending a demand letter and it didn't work, we can help you start the small claims court process.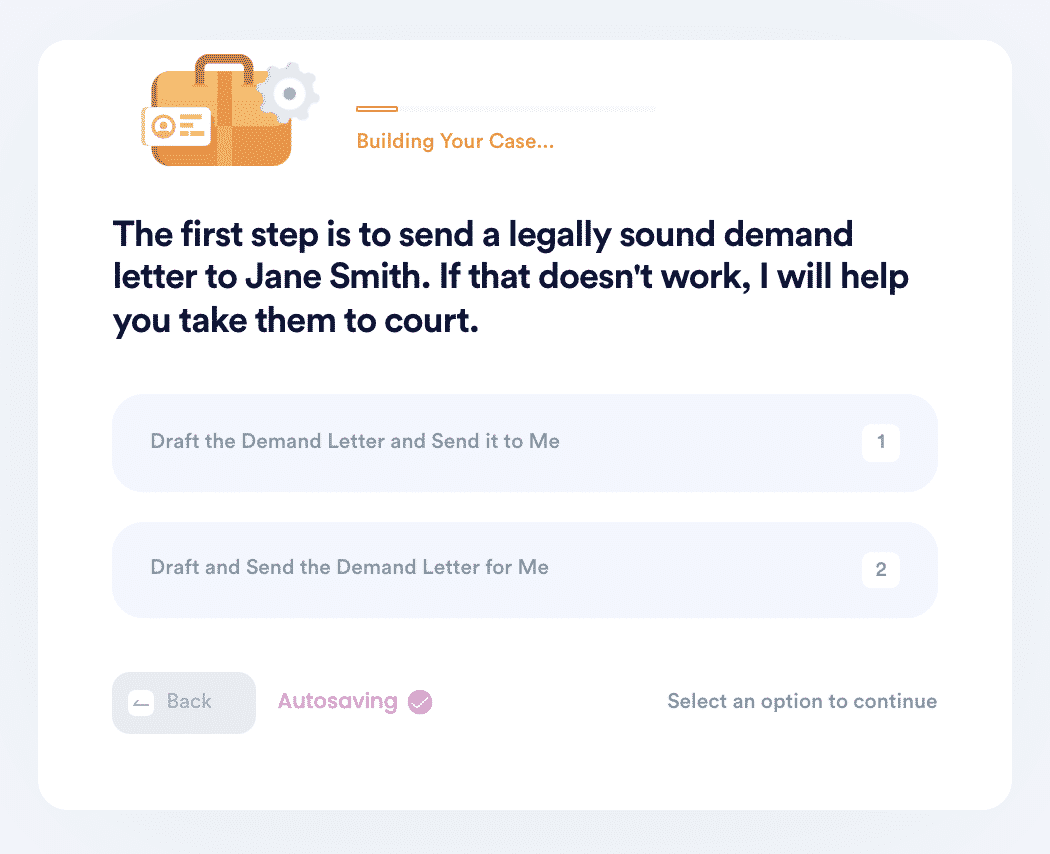 And that's it. You should hear back from your landlord directly once your demands are sent.
Does DoNotPay Only Handle Landlord Problems?
We have thousands of products developed to assist people like you with life's big and small consumer issues, like these options:
Why Is DoNotPay My Best Choice?
We're fast, we're affordable, and we get results. If your rental has repairs that need fixing ASAP, we'll get a demand letter sent off in minutes. If your landlord doesn't respond, we can help you file a suit in small claims court or break your lease without losing your deposit.
 We're confident you'll become a loyal subscriber, especially when you learn how much money—and how many headaches—we can save you.