Filing a Whistleblower Complaint: Best Practices
Just when you thought you did what was right by filing an employee complaint or reporting an employer's illegal activities to HR, you end up digging a deeper hole. Did you know that you can protect yourself from retaliation by filing an OSHA whistleblower complaint?
In this article, we will walk you through the process of filing a whistleblower complaint with OSHA, getting the necessary documents, figuring out the right way to file your complaint forms, and so much more. We will also provide you with an alternative on how to file HR reports anonymously, easily, and effectively with DoNotPay.
What Is a Whistleblower Complaint?
A whistleblower complaint is filed if you believe your co-worker or employer has engaged in illegal activities or has tried to subdue you from reporting them. This may come in the form of discrimination, workplace harrassment, refusal to pay your overtime pay, a hostile office environment, or any situations where your legal rights are violated. When this happens, you can proceed to file a complaint with the Occupational Safety and Health Administration (OSHA).
Before you file your complaint, make sure that your situation meets these requirements:
You reported illegal activity, entitling you to whistleblower protection law(s).

The employer knew or suspected that you were protected under such law(s).

The employer retaliated against you.

Your protected activity was a motivation for retaliation.
How to File a Whistleblower Complaint
Take note that you cannot file a whistleblower complaint anonymously. You can file your whistleblower complaint via:
Online – Go to the

OSHA Online Whistleblower Complaint Form

and fill up all required fields. 

Via Fax/Post/eMail – You can

write a formal complaint letter

or simply print a copy of the whistleblower complaint form you filed online and send it to the nearest OSHA Regional or Area office. Remember to include important details such as your name, mailing address, email address, telephone number, and fax number, so OSHA can contact you for a follow-up.

Phone – Call the local OSHA Regional or Area Office and you can discuss your complaints or ask any questions with the staff.

In-person – Go to the nearest OSHA Regional or Area office where you can file an oral or written complaint and get more information.
You can file a whistleblower complaint in any language. If you need an interpreter, OSHA can also provide assistance.
What to Expect When Filing a Whistleblower Complaint
After you have filed a whistleblower complaint, OSHA will get in touch with you to determine whether further investigation is necessary. You have a moral and legal responsibility to respond to the follow-up call or your complaint will be rejected.
If an investigation is required, OSHA will send a notice to your employer and will ask them to respond to the HR complaint that you filed. Take note that your original complaint form or letter will be shared with the employer, therefore, do not include names and addresses of witnesses on the form. You may include this information as supporting evidence during the investigation. If you need a sample complaint letter about a manager's behavior regarding an issue at work, DoNotPay can help!
When to File a Whistleblower Complaint
Depending on the law, there are different requirements when the whistleblower complaint should be filed. Timelines are surprisingly short, which require you to take action quickly.
Breaches under union contracts require that you file a grievance within three days of the incident.

Civil service employees must file a report within ten days of the incident.

Violations against federal environment laws must be reported within 30 days of the incident.

All infractions under

Section 11(c) of the Occupational Safety and Health Act

(OSH Act) — the law that applies to employees filing a whistleblower complaint in general — must be filed within 30 days. 
Whistleblower Complaint Sample Outline
When drafting your whistleblower complaint letter, you need to provide clear descriptions of the adverse action. Here is a sample outline that can serve as your guideline:
Contact Details

Include your name, position in the company, and your complete address.

Nature of Complaint

Include details such as the respondent's name, address, and a general statement of your complaint. Here is an example: I have been retaliated against in my employment as a Secretary at [Company, Inc.] located at [insert company address here], as a result of my having refused to obey an illegal order or directive. The entity (and/or persons) that have retaliated against me is as follows: [insert names, job titles, and addresses of the respondents here]. 

Statement of Facts

Include a chronological list of events that led to the adverse action. You should include details on the improper or illegal act you reported, who you reported it to, when the

employee incident

was reported, the acts of retaliation you experienced after reporting, and what employee protection laws they violated.

Damages and Relief Requested

Specify all the relief that you are requesting. This may come in the form of back pay, reinstatement, transfer, promotion, and others.

Disciplinary Action Requested

If you wish for disciplinary action to be taken against an individual, you should include their names and business address here. 

Sworn Statement

Sign your name and include the date here.

Supporting Materials

Include all material that can serve as supporting evidence to your whistleblower complaint.
File an Anonymous HR Complaint with DoNotPay 
Doing what is right to protect yourself and the general public by reporting illegal activities to Human Resources is a moral obligation. However, not all HR professionals are trained in handling complaints discreetly. What's even more difficult is the need to complain about your boss without getting fired. 
Avoid having to go through all the hassle and file all of your HR complaints with DoNotPay. With our new Anonymous HR Reports product, you can file a complaint to your HR department without having to submit your personal details. Whether it's a non-compliance issue or just general workplace concerns, you can file a complaint easily with only a few clicks. 
All you have to do is:
1. Open the Anonymous HR Complaints product on DoNotPay.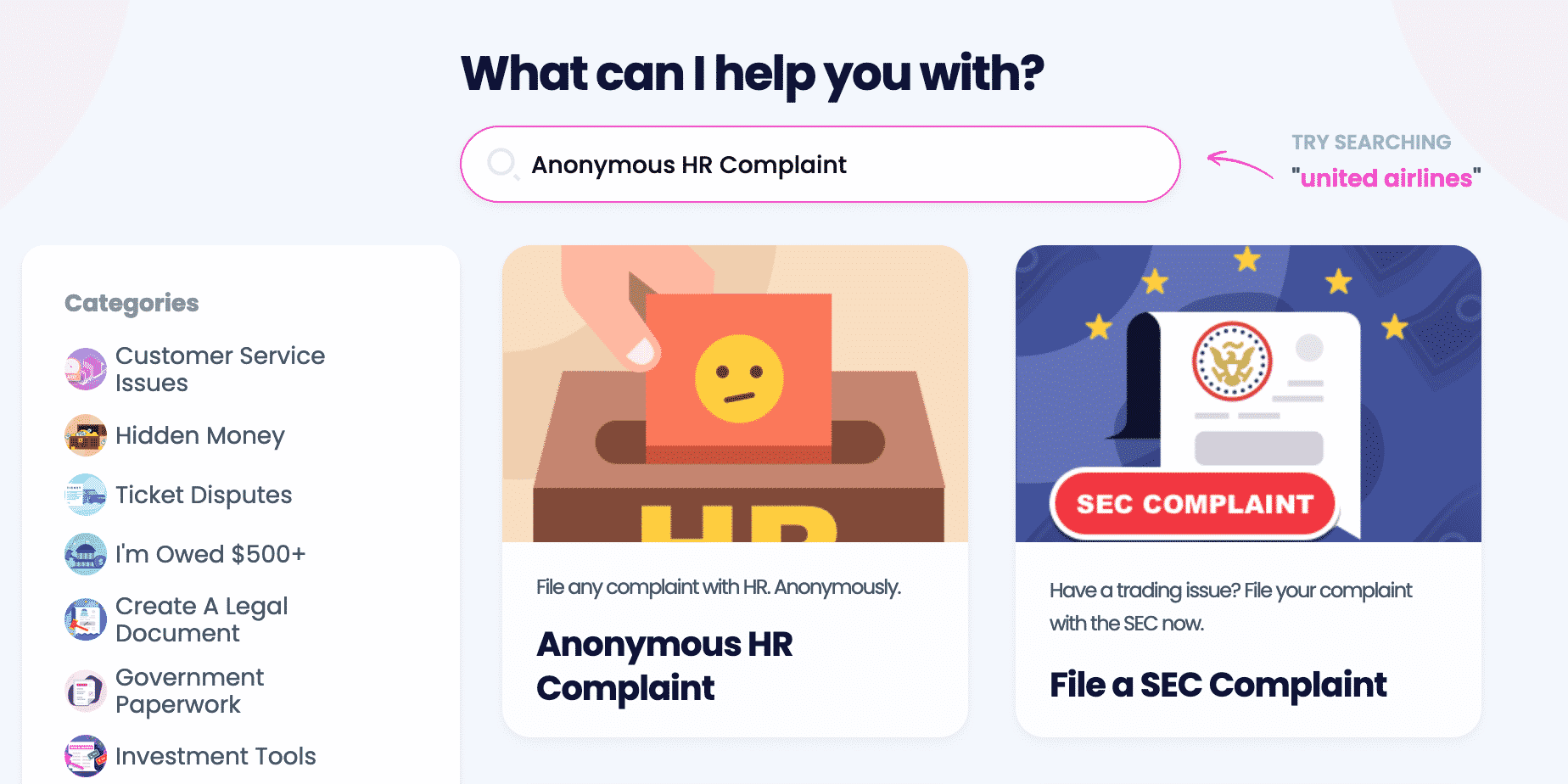 2. Fill in your employer name and HR department mailing address.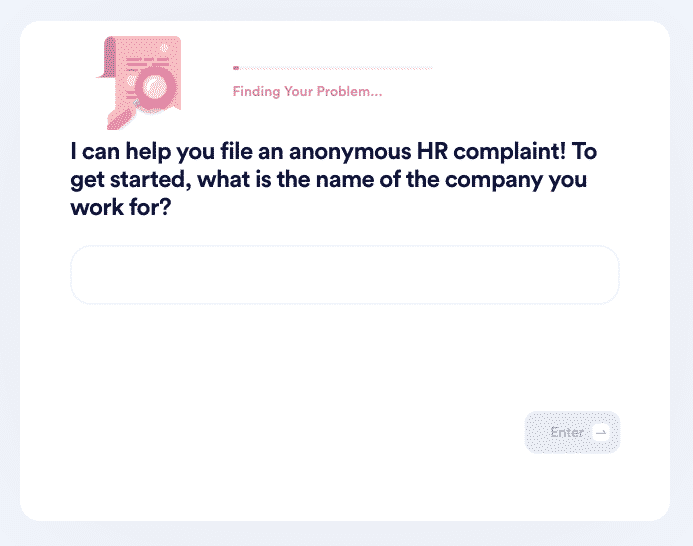 3. Explain clearly the issues that you are experiencing and how you want them resolved.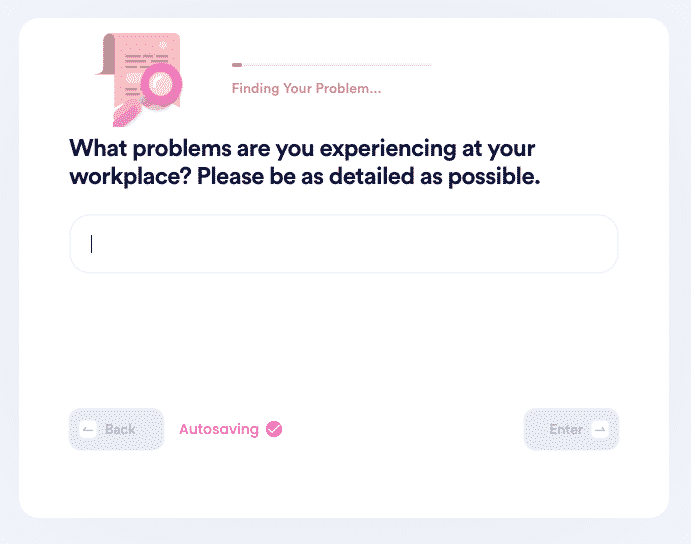 That's it! DoNotPay will mail the complaint anonymously on your behalf. 
DoNotPay Is Always by Your Side
Aside from Whistleblower Complaints, DoNotPay can do so much more! Take a look at what else we can offer: