Whistleblower Complaint Declassified: What You and Your Company can Learn
In September 2019, the House Intelligence Committee released a complete text of the . It contained information about the call between President Donald Trump and Ukraine President Volodymyr Zelensky in July.
Although the incident happened amongst high-profile individuals in the White House, there are a few lessons that the workplace can learn from it — especially when it comes to complaining about your boss. Read more on 's take on the issue!
Five Key Elements in the Declassified Whistleblower Complaint
The transcript of the whistleblower complaint alleged that President Trump tried to get Ukraine to meddle in the 2020 election and that the White House tried to conceal it. The five key takeaways from the complaint include:
The identity of the whistleblower or the government agency he or she worked for is unknown.

White House officials issued a 'lockdown' on the call transcript and records of the call. Apparently, this was not the first time they tried to bury sensitive information.

President Trump promised a meeting with President Zelensky if the latter agreed to "play-ball."

White House officials loyal to Trump assisted in the cover-up, and US ambassadors of Ukraine and the European Union mitigated the damage.
You can read the five-page transcript of the call here.
Lessons for HR Professionals
If there are issues in the workplace, those who work in the HR department are on the receiving end of employee complaints. Some employees are hesitant to report to HR and many HR professionals don't know how to handle serious complaints. However, one thing is clear — HR professionals need to take these reports seriously as employees can escalate complaints if needed. For HR professionals, here are a few things to take note of:
Have clear complaint policies and procedures in place – The best way to handle an HR complaint is to be proactive about it. Develop an objective and transparent process, so employees know what steps to take and everyone in the HR department is on the same page.

Make employees feel safe when filing a complaint – Create a work environment where employees feel protected from retaliation. Having a straightforward procedure in place and adopting an open-door policy for suggestions is crucial. Additionally, treat an employee's complaint with confidentiality.

Deal with complaints according to severity – Eliminate zero-tolerance policies as this only results in low-severity issues to be dismissed. Instead, HR should deal with matters according to context, nature, and severity. For example, you should deal with

sexual harassment complaints

differently than using-Facebook-during-work complaints.

Be swift and thorough when dealing with complaints – Regardless of severity, the HR department should deal with all complaints with respect and prompt response. What could start as a minor issue, when ignored, could blow up to become a significant legal concern.
Lessons for Employees
Filing a complaint with HR can be an intimidating process. If you're not sure on how to proceed, here are a few guidelines to help you:
You must go to HR if:
You must not go to HR if:
Use your best judgment if:

Your legal rights are being violated, such as issues of sexual harassment,

discrimination

, and others.

You have a personal issue with a co-worker, such as your colleague eating snacks at his/her desk.

Your complaint is not over something illegal. If there is a serious issue with a co-worker, you can

learn how to write a formal complaint letter about a co-worker

with DoNotPay.

You require paperwork to take advantage of government protection, such as the disability act, Family Medical Leave Act, and others.

You are upset about a co-worker getting a promotion instead of you, but you were not qualified in the first place.

You need guidance on your career or talk about personal problems. Some companies have employee development, and others have employee assistance programs (EAPs).

If you see something illegal going on, such as health and safety violations or non-compliance.

You suspect your salary is too low, but you haven't researched to make your case.

You will be complaining about someone who is in a higher role.

You need assistance with health insurance issued by the company.

You expect other people to change their behavior.

You want to talk about confidential issues and remain anonymous.
Depending on the nature of the complaint, going directly to HR may not be the best move. Some have reported complaints to HR and ended up worse than before. However, there is a different way to resolve issues without having to create uncomfortable situations, or worse, open yourself to backlash.
Let DoNotPay Deal With HR Complaints
For most employees, filing a complaint with Human Resources is a scary process. Plus, there is the added risk of retaliation, such as a direct manager blocking promotion or making the situation worse than it already is.
This is where DoNotPay can help with a . Our app ensures you file a complaint to HR anonymously.
All you have to do is:
1. Sign up to and choose the Anonymous HR Complaints product.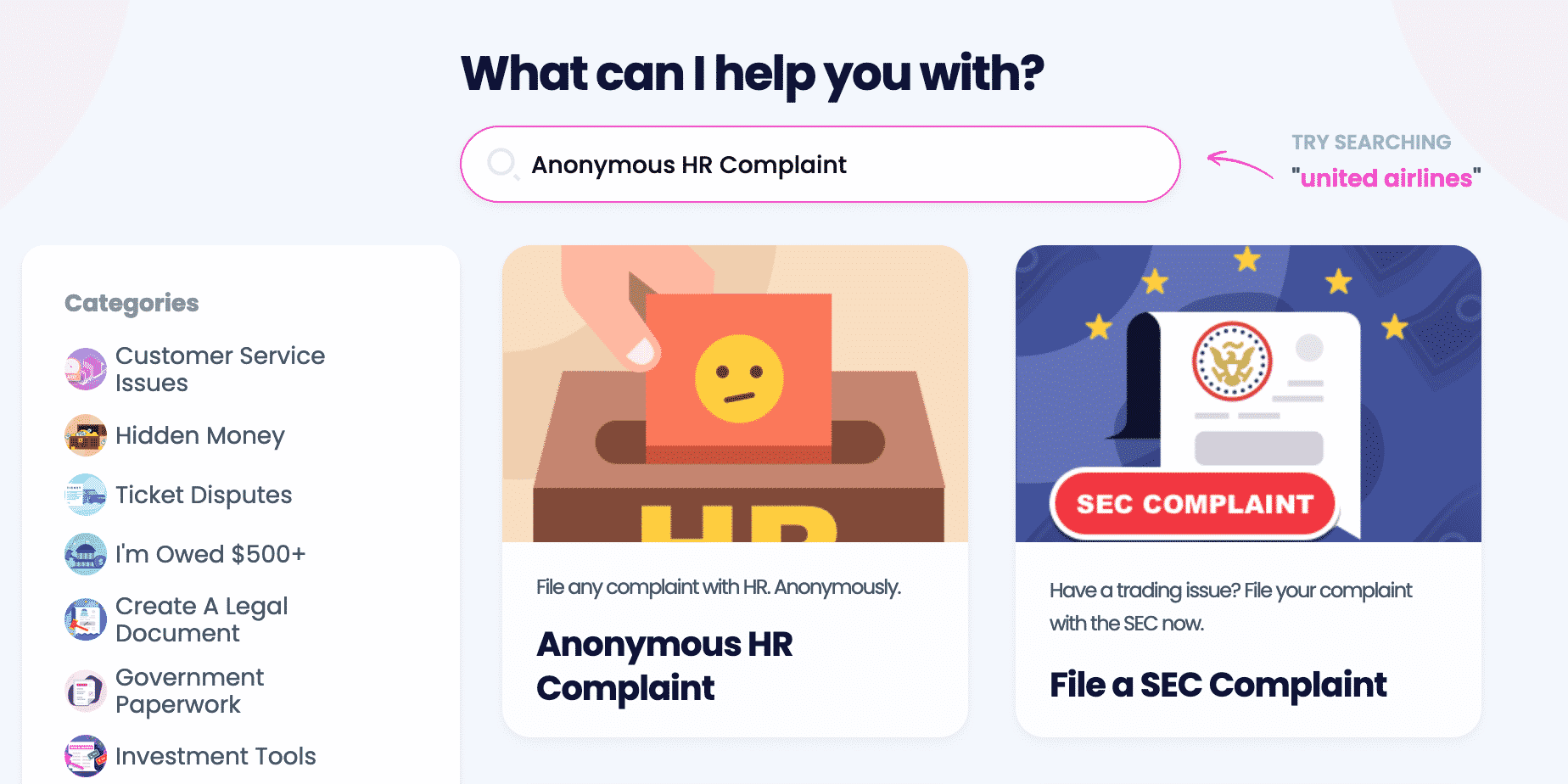 2. Fill in your employer name and mailing address of the HR department.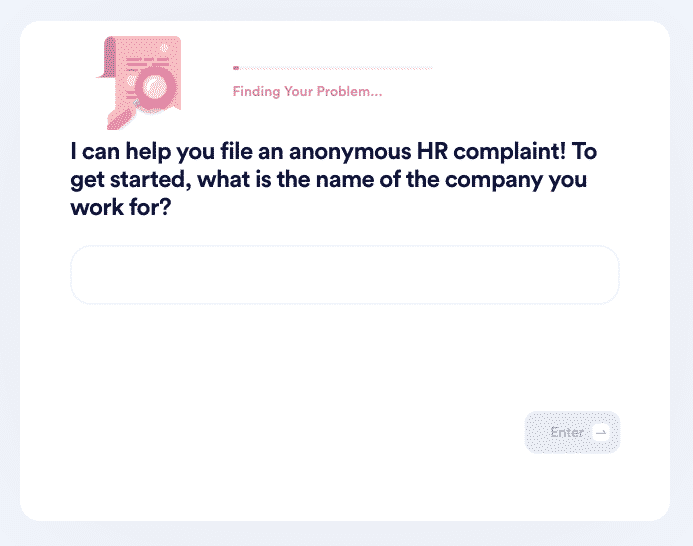 3. Explain the issues you are experiencing and how you would like them to be addressed.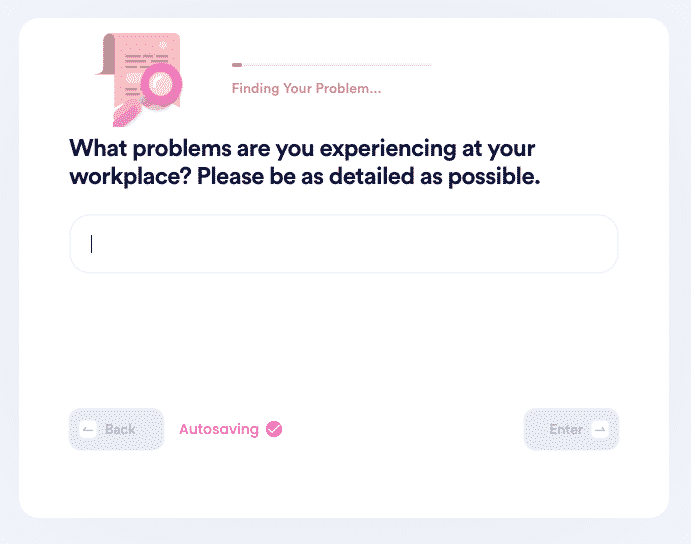 4. DoNotPay mails the report anonymously on your behalf.
DoNotPay Is Your Personal AI Assistant
DoNotPay can help clear up your schedule and handle your subscriptions, visits to the post office, chargebacks, and so much more!Take a look at what else we can offer: