Where Do I Go To File for Divorce? Get Your Answer With DoNotPay!
If you're asking yourself "Where do I go to file for divorce?" you're on the right website. We will tell you everything you need to know about filing divorce papers and getting a divorce without spending days in court or engaging lawyers.
Subscribe to DoNotPay to learn where to go to file for divorce, which documents to prepare, and how to draft a divorce settlement agreement hassle-free.
Which Divorce Forms Do You Need To File for Divorce?
Each state has different requirements for divorce forms, so you should check the forms for your county beforehand. Typically, the forms you'll need for a divorce are:
Petition for divorce
Summons
Financial affidavit
Divorce settlement agreement (if you're filing for an uncontested divorce)
Divorce decree
Can I Get Divorce Papers at the Courthouse?
The forms that you can find at a county clerk's office are valid, and all you need to do is fill them out and file them. Some county clerk offices also offer instruction booklets that can help you through the divorce process.
Your other options for obtaining the forms are:
What Court Do You File for Divorce In?
You will need to file your divorce papers with a superior or circuit court. These courts are usually county or district branches of the state's court.
The more populated the county or district is, the more divisions they'll have. Some states have a family court division as a part of the superior or circuit court. If the county is less populated, you'll have to file your petition with the main civil division of the superior or circuit court.
You can find a list of state family courts or get in touch with your county clerk's office to find out where to file for divorce. Keep in mind that, in some counties, courts that have jurisdiction over divorces are not the same as the ones with jurisdiction over child custody and visitation rights.
What Are the State and District Residency Requirements?
Before you file the divorce papers, you'll need to make sure you meet the state and county residency requirements. Typically, you'll need to have lived in the state where you wish to file for divorce for some time before submitting your divorce papers.
Alaska and Washington don't impose residency requirements.
To file for divorce in South Dakota, you need to be a resident in good faith, which means that you must not have moved to the state just to get a divorce there.
Check out the table below to see residency requirements for other states and the District of Columbia:
| Residency Requirements | Location |
| --- | --- |
| Six weeks | |
| 60 days | |
| 90 days | |
| Six months | |
| One year | |
Which Court Will Have Jurisdiction Over Your Case?
You don't always have to file for divorce in a state that issued your marriage license or even the state where you currently live. If your spouse lives in a different county or state, you can file your papers there, provided that your spouse meets the residency requirements.
If both of you file for divorce separately, the court that will have jurisdiction over your case will be the one where divorce papers were filed first.
How To File for Divorce
To file for a divorce, you should do the following:
File a divorce petition
File a divorce settlement agreement
Filing a Divorce Petition
A divorce petition is a document that asks the court to grant a divorce. You need to file it with a court in the county where one of the spouses lives. It includes important information, such as:
The names of the spouses and children (if you have any)
Separate and joint property and the division of assets
Child support or custody
Alimony
Serving the Divorce Papers
A third party that's impartial to the divorce must serve the papers. In most states, that can be a county sheriff.
Your spouse can either contest your decision, which means that your case will go to court, or agree to an uncontested divorce and sign the acknowledgment of the receipt of service.
Divorce Settlement Agreement
Do you and your spouse wish to have a friendly, uncontested divorce without involving lawyers? You should reach an out-of-court settlement and create a divorce settlement agreement that will outline all the terms of your divorce before filing for divorce.
This is a document that you can draft yourself, but that option is risky if you aren't familiar with legal terms. Another solution is to rely on a lawyer to do it for you, but they typically charge sky-high fees.
DoNotPay can help you create your divorce settlement agreement, and it is the most affordable option out there.
Create a Divorce Settlement Agreement With DoNotPay
DoNotPay can help you have a low-cost divorce with our Divorce Settlement Agreement product. We can create a properly written document that you can use to have a friendly and hassle-free divorce.
All you need to do is sign up for our platform and follow the instructions below:
Open the Divorce Settlement Agreement product
Answer a few questions regarding your spouse, the date of your wedding, and children (if applicable)
Provide information about your finances and how you wish to divide your assets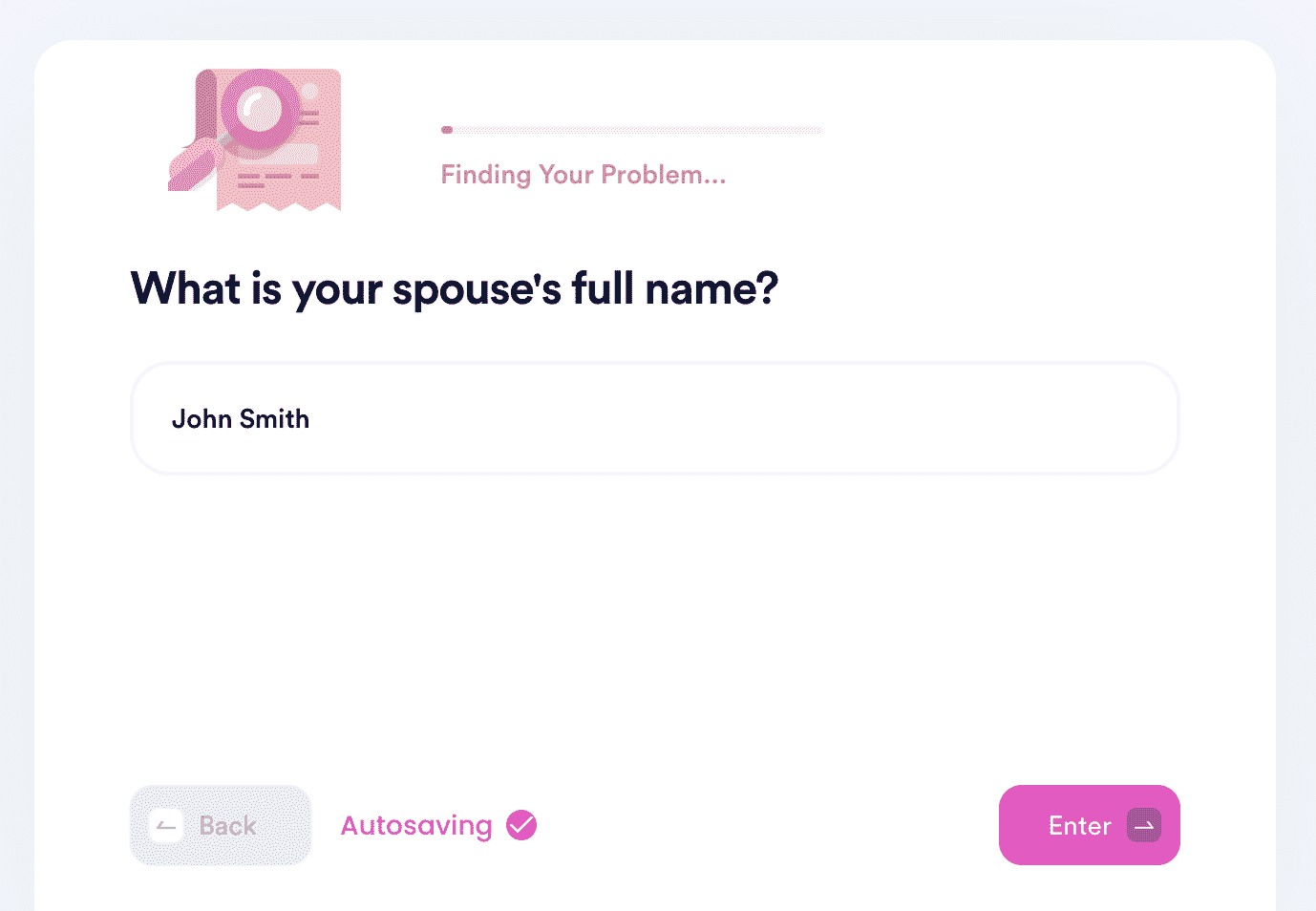 We will generate an error-free divorce settlement agreement automatically. You and your spouse only need to sign it in the presence of a notary.
DoNotPay can also help you get your document notarized if you indicate that you want to book a meeting with an online notary who will witness your signing virtually.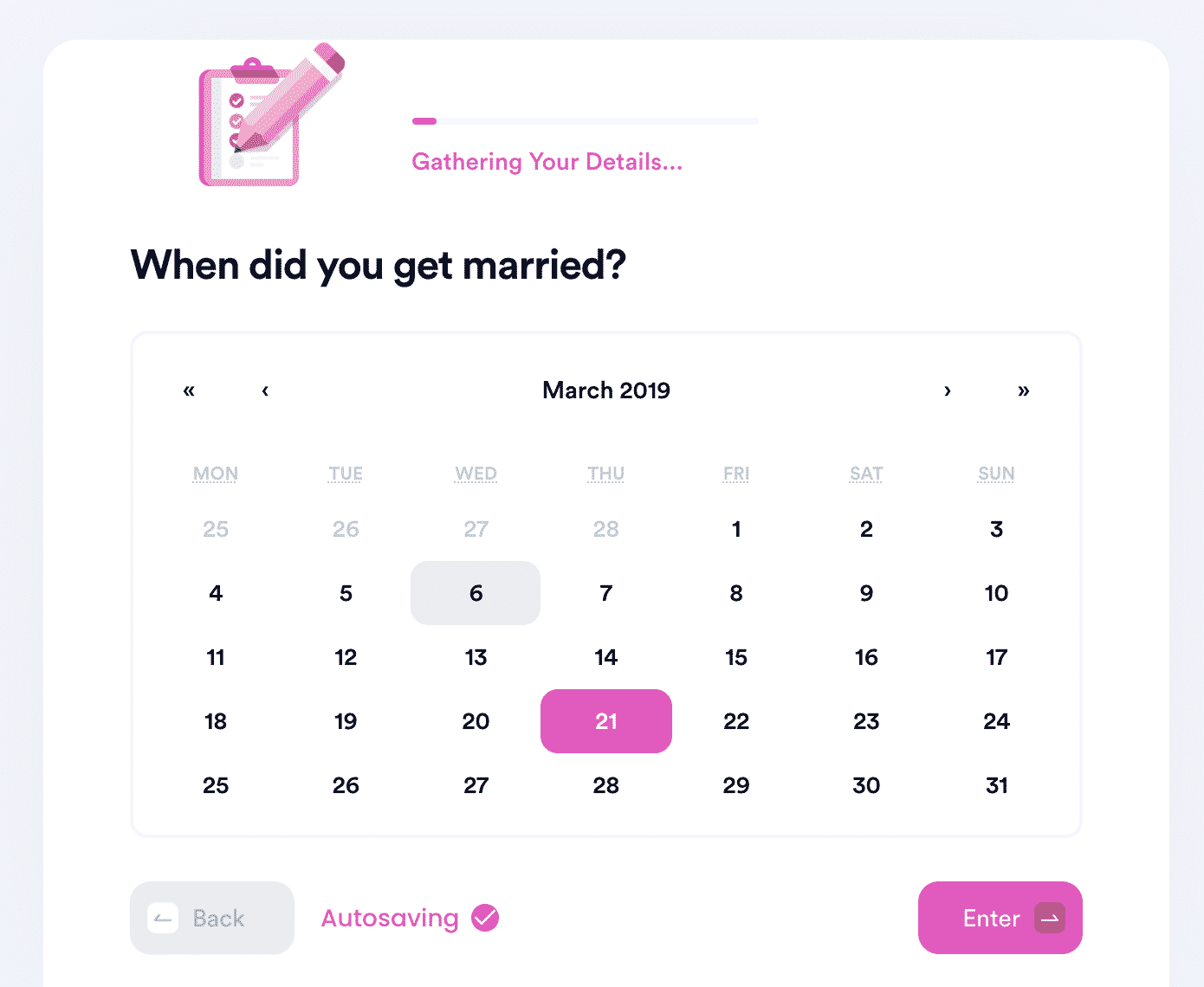 Helping you create a divorce settlement agreement is not all DoNotPay can do for you. We can also answer various questions you might have regarding the divorce process. Consult our learning center to find answers to a myriad of questions, including:
DoNotPay Can Help You With Almost Anything
DoNotPay's goal is to have a multitude of features that can be useful to you with handling various issues. Whether you want to apply for clinical trials, prepare for government tests, or even get in touch with your locked-up friends or family—DoNotPay has got you covered!
For a small yearly fee, our AI-based app will help you:
Want To Save and Earn Money at Once? Subscribe to DoNotPay
DoNotPay can help you earn and save a buck or two. We'll assist you in reducing your property taxes, canceling any unused subscriptions, and signing up for free trials with our virtual credit card.
As if that wasn't enough, we'll save you money and spare you from a headache if you receive any faulty deliveries by filing a refund or an item return request in your stead! This is just the tip of the iceberg of features that DoNotPay has in store for you.