Where Do I File a Power of Attorney? Find Out With DoNotPay
If you are going through the process of preparing and signing a power of attorney (POA), you may be wondering about where to record your POA once it is ready.
DoNotPay answers the question, "where do I file a power of attorney" to give you peace of mind. We can also help you draw up a POA in a matter of minutes!
Does a Power of Attorney Need To Be Recorded?
Signing a power of attorney document is a major step, and you need to make sure you have fulfilled all the legal requirements if you want to avoid trouble later on.
In most cases, you do not have to file a power of attorney with your local public records office.
To become valid, a POA letter must be:
Signed by the principal and the agent
Witnessed (in some states)
The process of notarization is the most important legal step you need to take when you sign a POA. The notary's job is to:
Verify your and the other signing party's identity
Ensure that you are of sound mind and that you understand what you are signing
Verify that you are not under pressure to sign the POA
To use the POA, the agent should have a copy of the document to present to:
The principal's bank to get access to his or her accounts
The deeds office and realty agent if they are transacting property deals on the principal's behalf
The principal's creditors and debtors if they are mandated to run his or her accounts receivable and payable
Business partners and employees if the agent is required to run the principal's company on his or her behalf
In a property transaction, a POA will be filed by the realty agent in the appropriate real estate records as proof that the agent had the right to sign the deed in the principal's name.
Does a Court Need To Supervise a Power of Attorney?
Courts do not normally have to be involved in the administration or execution of a POA.
Generally, the principal can grant a power of attorney without having to present it to a court to have it validated. There may be occasions when a court is asked to inspect and rule over parts of a POA. This can happen if there is a dispute, and court supervision can be requested by:
The principal—if he or she is unsure about the agent's actions
The agent—if he or she faces challenges to the POA
Any other interested party—such as the principal's bank—if he or she is concerned about the administration of the principal's finances
How Do I Set Up a POA?
You can go to the expense of hiring a lawyer to draft your POA, but in most cases, this is an expensive and unnecessary option.
If you need to appoint an attorney-in-fact and want to create a POA by yourself, you should follow these steps:
| | |
| --- | --- |
| Steps to Creating a POA | Explanation |
| Choose an agent | You should choose someone you trusts to act in your best interests |
| Draft the POA | You should pick the most appropriate type of POA and include every detail of the authority you wish to delegate |
| Sign the document | Notarized signatures of both parties seal the deal |
While preparing a POA is doable on your own, there is an even simpler solution—DoNotPay can create a customized POA in a few clicks!
DoNotPay Has the Answer to Your POA Needs!

DoNotPay is your expert resource for legal documents, and we can set up your POA in a flash—here's what you need to do:
Sign up with DoNotPay in your web browser
Go to our Create a Power of Attorney feature
Follow the prompts and fill in the details you want included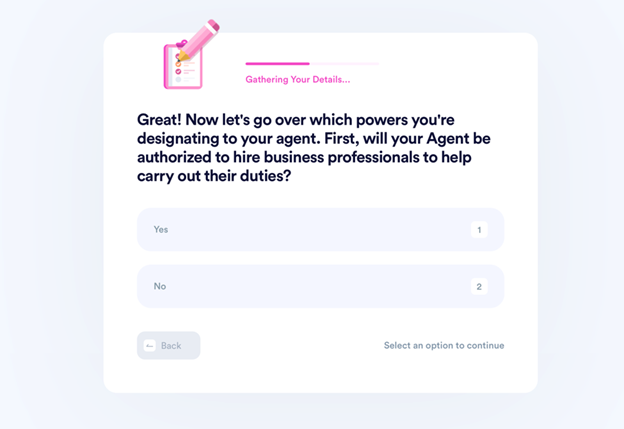 After you have entered all the relevant info, DoNotPay will handle the rest. In an instant, your POA will be created and ready for signing. You can even get it notarized with our app—you only need to notify us while completing the aforementioned steps.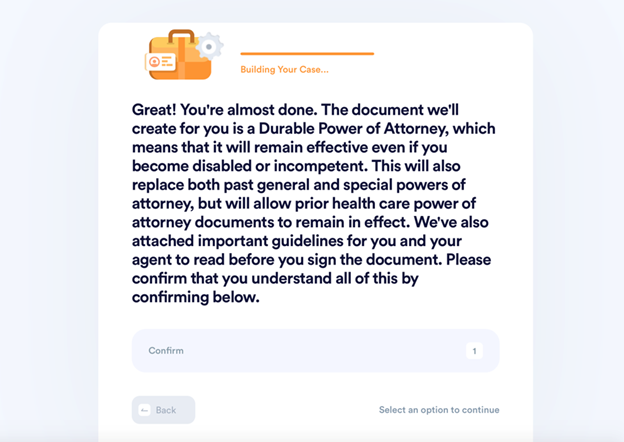 What Kinds of Power of Attorney Are There?
POA can be granted to hand control of various aspects of the principal's life to an agent or attorney-in-fact. A POA comes in various types that are designed to regulate:
When it comes into effect
When it terminates
Which powers it transfers to the agent
The types of financial POA are:
General POA
A general POA grants overall control over the principal's finances to an agent but terminates when the principal becomes incapacitated or unable to make his or her own decisions. At this point, it is usually replaced by guardianship, conservatorship, or a durable POA.
Springing POA
This type of POA only comes into effect when the principal is declared incapacitated. It should clearly state what must happen for him or her to be declared unable to handle financial affairs.
Limited POA
A Limited POA grants control to the agent for a defined time or limited areas of the principal's finances. It can be used when the principal:
Expects to be away and needs someone to represent him or her
Is temporarily unable to act on his or her own behalf
Needs someone who is an expert in certain fields, such as conveyancing or stock trading
Durable POA
Durable powers of attorney hand over full control of the principal's finances to the agent and do not terminate when the principal becomes incapacitated. This document can be rescinded if:
Principal passes away
Agent becomes unable or unwilling to carry out their role
Principal revokes the POA
You Can Count on DoNotPay To Resolve Any Issue
Are you stuck in the never-ending subscription cancellation procedures? Do you want to demand a refund once you finally reach a customer support rep? Is the company refusing to cooperate? No need for stress—your personal assistant can lend a helping hand.
Is there anything else we can help you with? You bet! Once you sign up, we can resolve a number of issues in your stead. Count on our app if you're struggling with:
You Don't Have To Suffer in Silence
Have you been experiencing workplace discrimination lately? Do you have a real-life stalker or harasser that you're too scared to confront? Do you want to get rid of robocalls and text and email spammers once and for all? You're not alone—DoNotPay is by your side and will help you deal with all of these issues.
As soon as you subscribe to our app, you'll be able to use our products to your advantage and fight for your right worry-free!