Where Can I Get Divorce Papers for Free? DoNotPay Has the Answer
Where can I get divorce papers for free? You're probably asking yourself this question if you're worried about the cost of your divorce. The expenses can pile up, but DoNotPay will help you find free divorce papers in no time! We'll show you what the best way to end your marriage is and how to get an impeccable marital settlement agreement.
Divorce Papers—The Basics
Divorce papers are official documents specifying the terms and details of marriage dissolution. Every form must be reviewed and verified by a judge. Check out the table below to see which papers you'll need to file for divorce:
| | |
| --- | --- |
| Form | Specification |
| Petition for Dissolution of Marriage | This document is one of the first papers you'll need to file. It needs to contain the basic information about you and your spouse and the reason you're filing for divorce |
| Summons | Depending on the state you live in, you'll either have to serve this form to your spouse yourself or hire someone to do it for you. Your spouse will have to respond to the summons within a set period |
| Financial Affidavit | This form needs to contain all the information regarding your finances, assets, and income |
| Notice | The notice is sent to you by the court. It contains the date of your hearing, and you should receive it via mail |
| Marital Settlement Agreement | The settlement agreement is a key document in your divorce as it outlines the terms on which you're ending your marriage. Although you can get this document for free, it's not recommended as it needs to be personalized according to your needs. An affordable and reliable way of getting one is to use DoNotPay |
| Final Decree | Once signed by the judge, this document means that your divorce is finalized |
How To Get Free Divorce Papers
You have two ways of obtaining free divorce papers:
Online—Find your state's or county's official website and download the forms for free. Once you download them, you can print and fill them out
In person—If your county's website doesn't have the forms you need, visit your local courthouse and ask the clerk for papers
After obtaining the forms, be sure to make multiple copies of them. One copy will go to the court, one will go to your spouse, and you get to keep the original.
Can You Print Divorce Papers Online?
Numerous agencies offer divorce papers and filing services for free. Although this may seem convenient, you should avoid getting these forms from third-party websites because they are often inadequate and outdated.
What To Do After Getting Free Divorce Papers
After gathering all the necessary divorce forms and filling them out, you will need to file these documents with the court. You must pay a filing fee regardless of the divorce type. Can't afford it? You can ask for a fee waiver.
If you don't want your divorce to cost a fortune, you should opt for an uncontested marriage termination. It is much cheaper as you won't have to hire a lawyer.
Perks of Getting an Uncontested Divorce
The biggest benefit of an uncontested divorce is that it allows you to get out of the marriage sooner rather than later at an affordable price. In some states, you can even settle out of court, but you will have to agree on:
What the parenting time will look like
Who gets custody over the child
How big the alimony will be
Whether there will be any child support
Most couples stay in a friendly relationship after getting an uncontested divorce, which is crucial if you have kids.
Can't agree on these divorce issues? Opt for divorce mediation and get helpful advice and guidance from a trained professional.
See the table below to learn more about divorce laws in your state:
Want a Professional Divorce Settlement Agreement? DoNotPay Can Help
Subscribe to DoNotPay if you want an affordable divorce settlement agreement that will:
Be enforceable
Comply with your state's laws
Make sure both parties get divorced on fair terms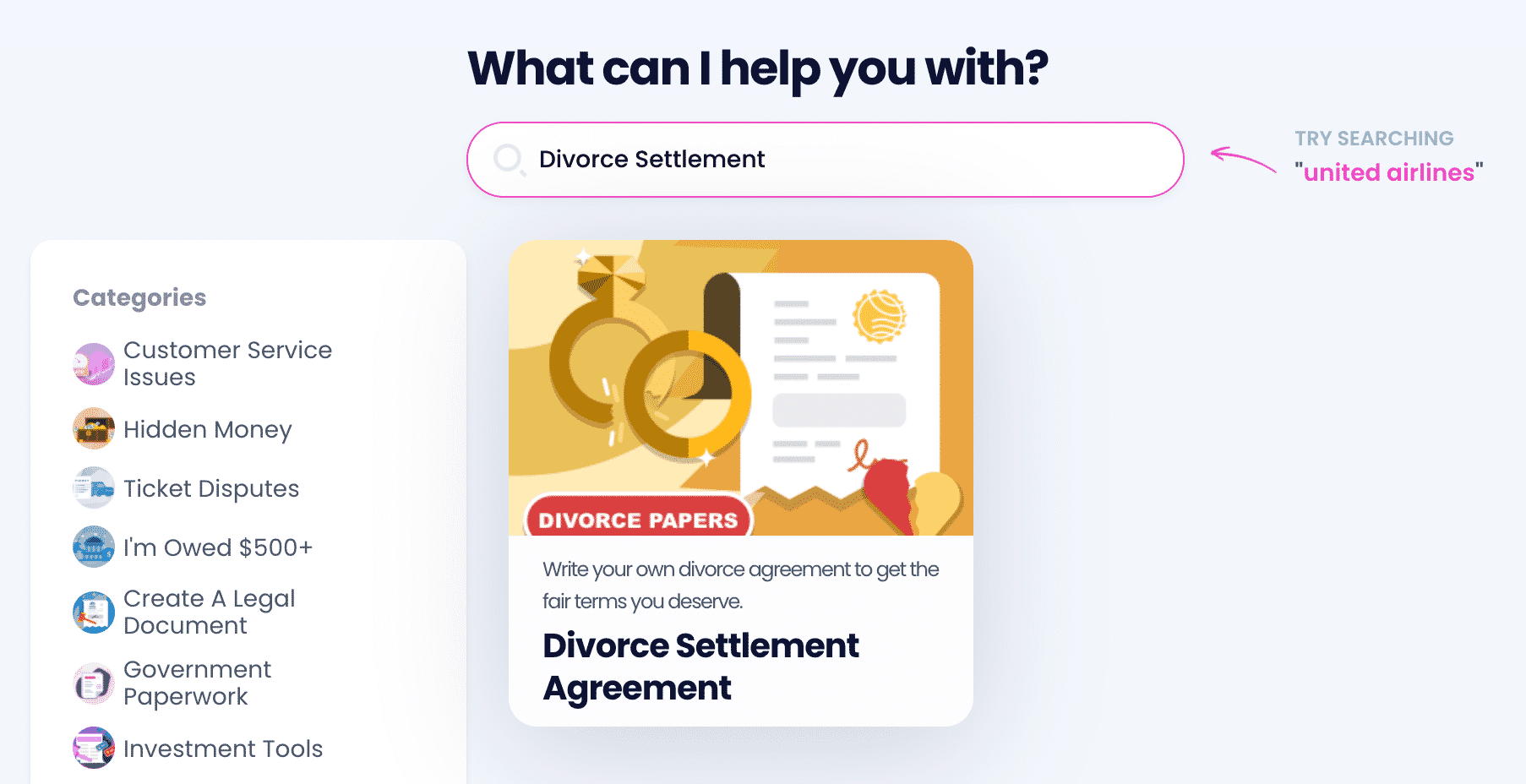 Creating this document with us requires zero effort as you will only need to follow a few easy steps:
Select Divorce Settlement Agreement
Answer our chatbot's questions about your:

Spouse and children (if any)
Income and assets

Choose whether you want to have your document notarized online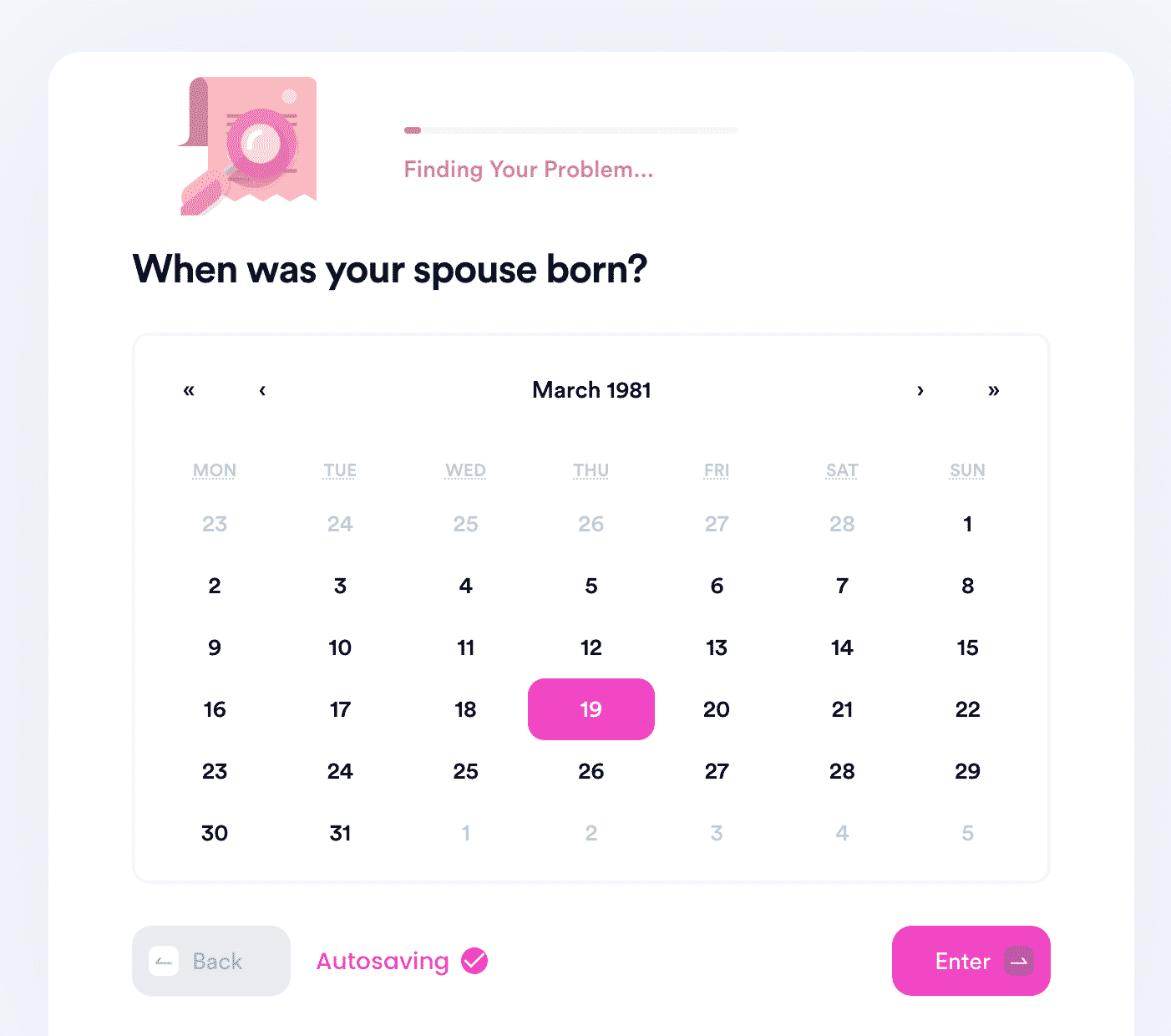 Once you submit your request, we'll use the details you gave us to create a top-notch divorce settlement agreement for you. You can then have it notarized in minutes by following the link we send you via email. Keep in mind that you need to agree to an uncontested marriage dissolution to benefit from this feature.
Check out DoNotPay's handy articles on divorces, including:
Use DoNotPay To Resolve Administrative Tasks in Minutes!
Tired of brainstorming the easiest way to deal with administrative issues? We know how you feel, and we're here to take the burden off your back!
Once you subscribe to our app, you'll be able to resolve an abundance of bureaucratic issues with ease.
Taking a valid passport photo, reporting workplace discrimination, reducing property taxes, preparing for a government test, applying for a college fee waiver, and appealing a parking ticket are some of the many tasks we assist you with.
In case you need a quick way to draft a legal document, such as a power of attorney, divorce settlement agreement, or a child travel consent form, DoNotPay will do it for you!
Learn How To File Claims the Easy Way
Are you dissatisfied with a certain company and/or its products? You don't have to stay quiet! Use DoNotPay to file your insurance, warranty, or missing/late parcel claim effortlessly! We'll also show you how to request an item return in a few steps.
If you want to cancel a subscription or request a refund or chargeback, you can do it with our assistance without breaking a sweat. Use one app to deal with countless issues!