What to Do When Your Loved One Has A Gambling Problem
If you are reading this, then you may already know what some of the experiences are like when your loved one has a gambling problem. You may feel scared and worried about addressing this issue with them. You may also feel that if you don't do something, then their problem could spiral out of control and cause damage not only to themselves, but also to you, and perhaps to others as well.
It is a stressful position to be in and no one envies the person who has to deal with all of this. Fortunately, there are resources available to help someone struggling with this specific addiction. One of those resources is DoNotPay and they have helped many people avoid the temptations that have gotten them into so much trouble.
Signs of Gambling Addiction
It's not easy to identify someone who has a gambling problem. And it is equally difficult to try and step in to help them.
If you see any of these signs, you may want to consider stepping into help a loved one:
| | |
| --- | --- |
| Lying | Individuals with gambling problems lie about their activities and their financial situations. |
| Borrowing money | They will borrow money from you and not disclose the reason for the need. The urge to gamble is difficult to control and they need to finance their addiction in any way they can. |
| Being restless and irritable | They are trying to quit their addiction without success, making them irritable and difficult to be with. |
When trying to help your loved one overcome a gambling problem, make sure you let them know that you are on their side and not condemning them.
Using a Banned List to Curb Problem Gambling Behaviors
One of the tactics to help someone with a gambling addiction is to look for concrete resources that can keep them away from the ability to place a wager in the first place. Talk therapy and speaking with them about how their gambling is impacting people beyond themselves is surely helpful, but it often is not enough to get someone with a gambling addiction to give it up. They are likely to press on even if they know that it is harmful.
A useful resource that can actually make some headway is a banned list. A banned list is:
Required to be offered by virtually all casinos
A voluntary self-exclusion list that can help keep a person away from their favorite gambling websites
A great first step towards recognizing that a problem exists, and that the gambler wants to do something about it
Banned lists are not shared with anyone else, and they are meant to serve only as a medium through which the addicted gambler can decide for him or herself that they are done with that particular website or app at this time. It is a great way to get away from some of the apps and games that might have been dragging them down up to this point.
How Long Are Banned Lists Effective?
When an individual decides to self-exclude from a specific casino or gambling app, they must choose for how long they wish to remain banned. Some common durations include:
24 hours (a cooling down period)
1 year
Forever
There are variations in between those timeframes, but these are commonly offered by many gambling establishments. They want to leave the control in the hands of the customer and offer flexible options. Some people really do just need to take a day and not allow themselves to wager any more for that specific day, but there are certainly others who might require a lengthier self-imposed sentence to stay away from their favorite gambling websites and games. It is best to have options, and it is best that the gambler is allowed to decide for themselves how long they need to stay away.
How DoNotPay Simplifies the Process
Going into each individual app or gambling website and selecting an option to self-exclude may seem simple enough, but it is not as easy as that. There are a few major problems that people tend to run into when they worry about how to deal with a family member who is addicted to gambling. Those issues are:
The addicted gambler doesn't truly want to give up their addiction
They don't ever get around to self-excluding because they keep playing "just one more bet"
They get drawn back into the habit when they go to the website to ban themselves
They have too many gambling websites to go to and it is a burden to self-exclude at that many different locations
Any of these potential pitfalls are real issues that people have run into in the past. DoNotPay has seen it happen, and they have done their best to try to help pull people back from the brink so to speak and to keep them from falling back into the habit.
What DoNotPay offers that is so special is:
The ability to self-exclude across multiple platforms with a few clicks
The chance to avoid going back onto gambling websites themselves to self-exclude
Resources that may be helpful to the problem gambler for seeking help
They have made sure to make their service useful in the sense that it keeps the problem gambler as far away from temptation as possible. No one would walk up to an alcoholic and offer them a beer, but that is essentially what happens when a problem gambler is confronted with the need to go onto a gambling website to self-exclude. They are often drawn right back into the problem. DoNotPay takes away this issue entirely.
How to Use DoNotPay to Get It Done
If you want to stop gambling but don't know where to start, DoNotPay has you covered in 6 easy steps:
1. Search Gambling Protection on DoNotPay.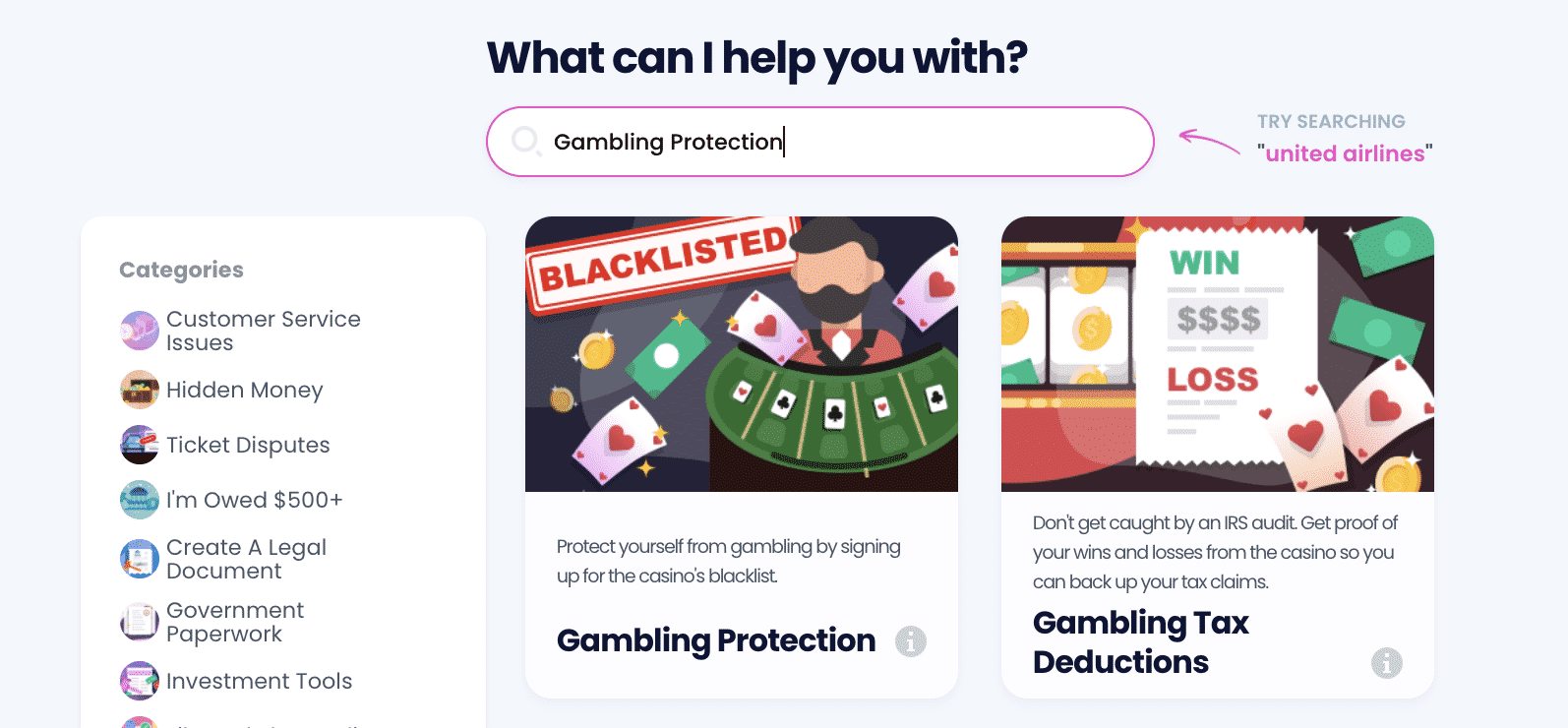 2. Enter the name of the casino and indicate whether it's online or in-person.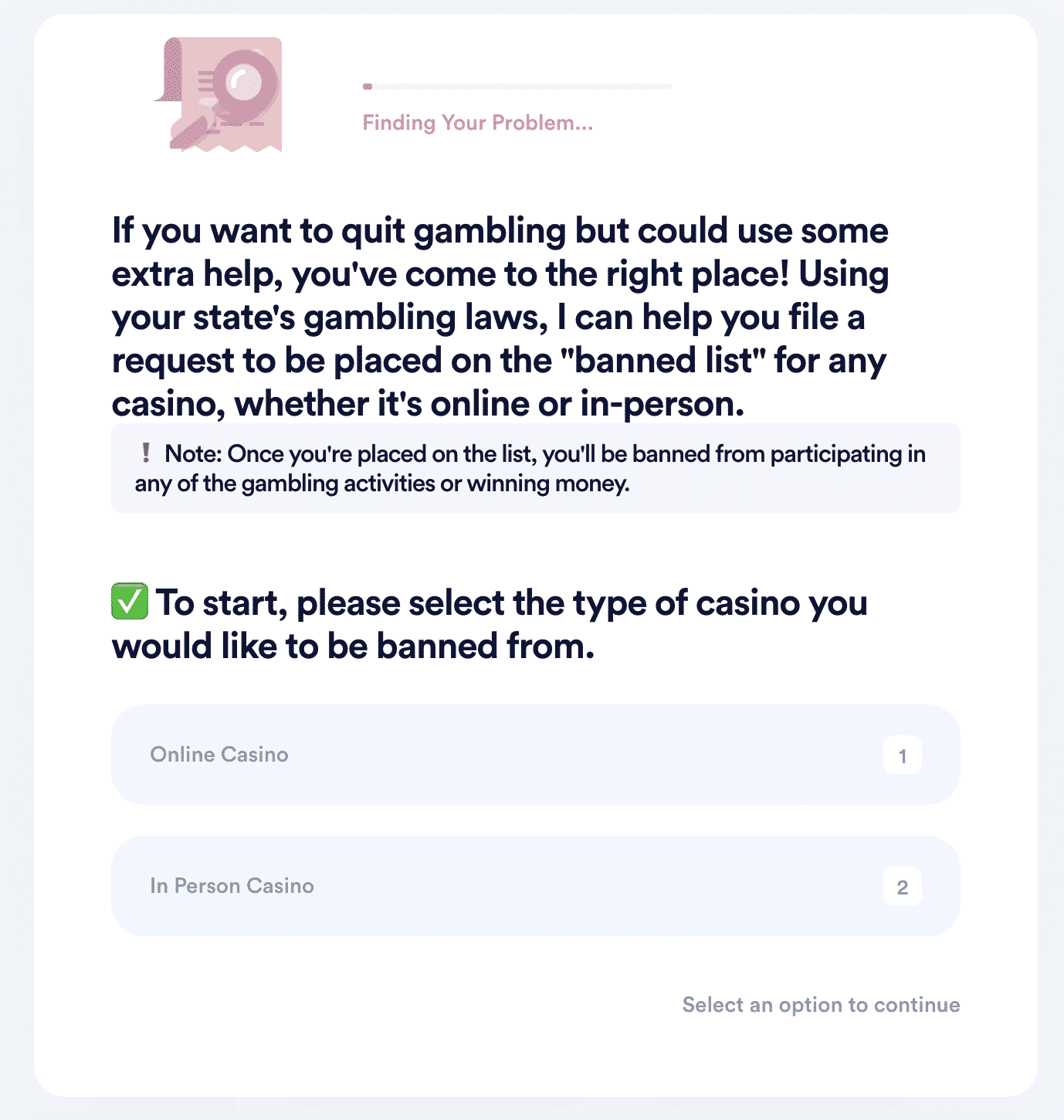 3. Tell us which state the casino is located in, or the state you're accessing the online casino from. DoNotPay will then find your state's self-exclusion laws and reference them in your request.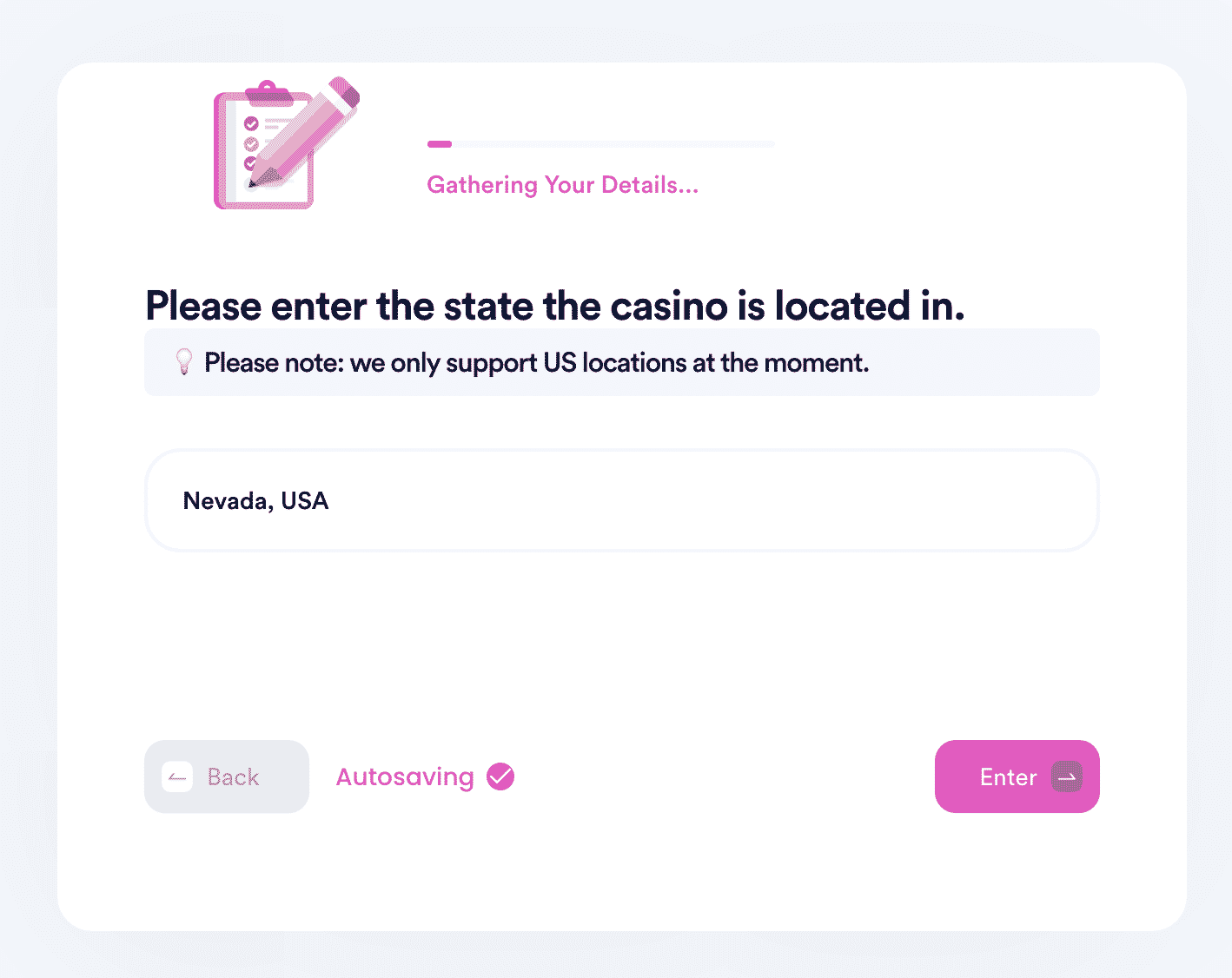 4. Select how long you want to be banned for (you can choose anywhere from 1 year to a lifetime!)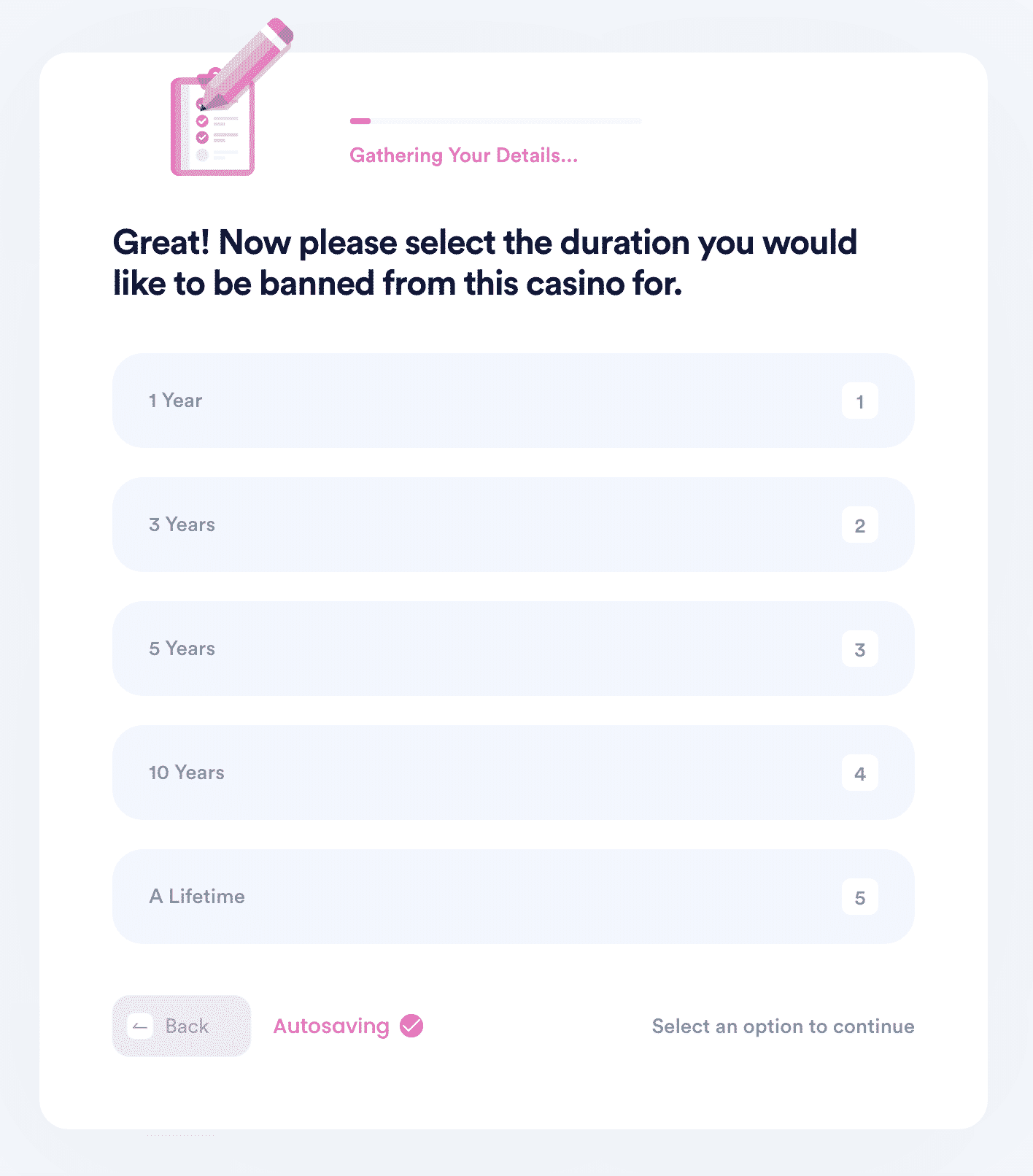 5. Answer a few of our chatbot questions so we can help the casino identify you or your online account. If you want to be banned from an in-person casino, it helps to provide information about your height, weight, race, and other identifying features.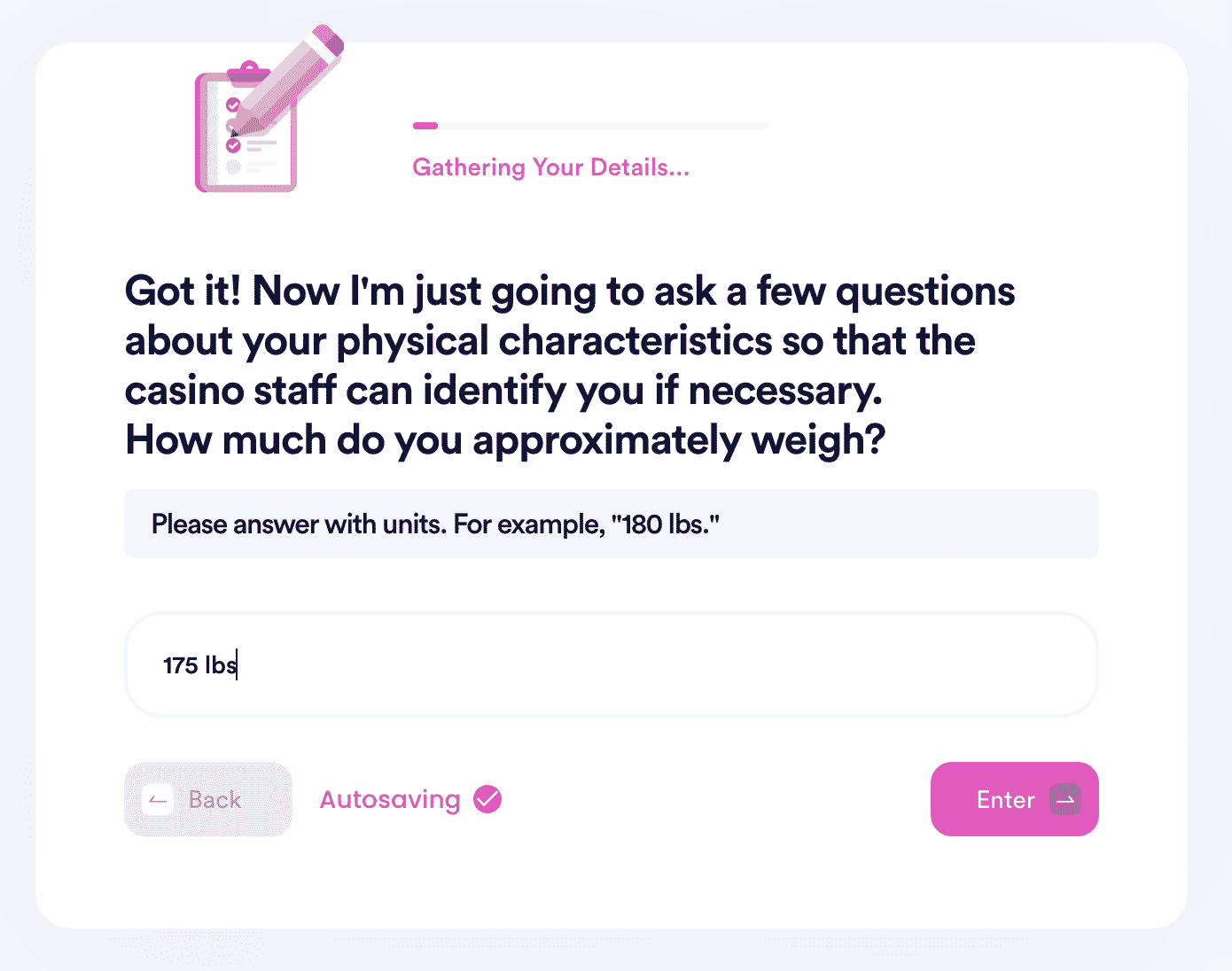 6. Choose whether you want us to email the request to the casino on your behalf. You can also choose to notarize your document to legally verify your identity.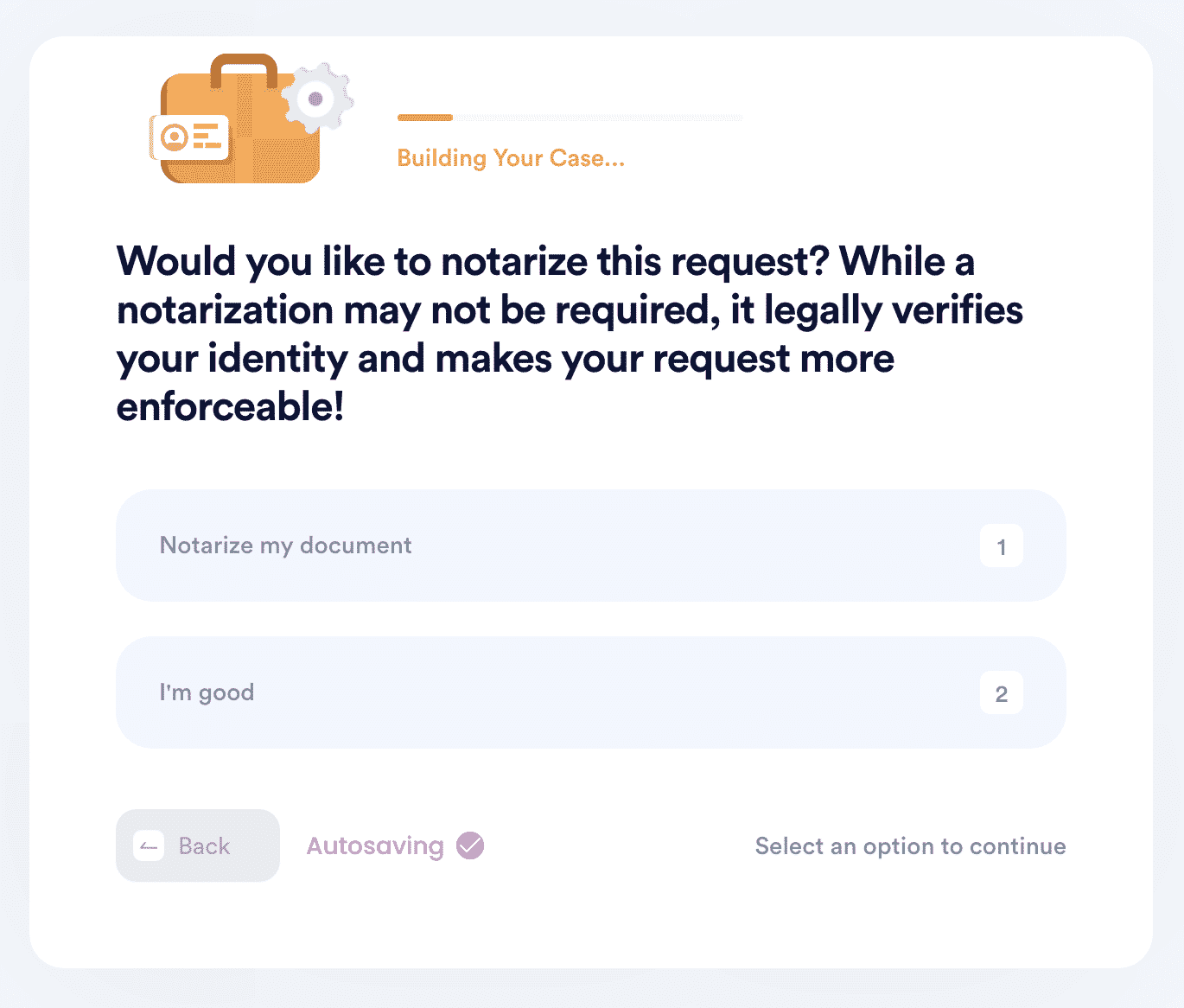 The Time to Act Is Now 
Anyone attempting to help a loved one recover from the grips of gambling addiction is doing a great service for that person. They need to know that their efforts are not in vain, and their efforts are needed now more urgently than ever.
The holiday season is particularly hard for problem gamblers. Gambling addictions tend to flare up during this season when some people can feel isolated and even depressed. The gambling websites often prey on these feelings and offer special incentives and enticements to come and play during this time of the year.
As such, self-exclusion from these sites must be a top priority at this time. It is during this time of year, in particular, that we should try to focus as much of our energy as possible on helping an addict recover.
Other Things DoNotPay Can Assist With 
While you are visiting the DoNotPay website for assistance with self-exclusion and other gambling-related matters, don't forget to take a look at some of the other things that they can help with. People have gotten assistance with:
Cancelling credit cards (that may be used for gambling funds)
Taking care of their automatic payments for utility bills (need to make sure the lights stay on and don't have that money gambled away)
Finding therapists
These are just a few of the additional resources that DoNotPay offers, but they continue to update their offerings all the time, so check in regularly to see what they are up to.