What To Expect in Divorce Mediation—DoNotPay Knows
A divorce doesn't have to last a long time and cost you a small fortune if you opt for an uncontested divorce—which implies that you and your spouse agree on all aspects of your divorce.
Most couples that file for an uncontested divorce don't agree on all divorce terms from the get-go, and that's where mediation comes in.
What to expect in divorce mediation is the question we'll answer for you in this article. We will also explain how to get divorced without hiring lawyers and attending court hearings!
What Is Divorce Mediation?
Mediation is a process that helps couples reach an agreement regarding the terms of their divorce. During the mediation process, spouses meet with an impartial third party who facilitates communication between them.
Note that the mediator merely enables couples to settle their differences—they mustn't take sides and make decisions on behalf of the couple.
Is Mediation Mandatory?
Mediation is mandatory in some states but not all. The courts in the states that didn't make mediation mandatory strongly encourage it. Check out the table below to find out more about mediation laws in the following states:
How Much Can a Divorce Mediation Cost?
The cost of divorce mediation depends on whether you've been ordered by the court to attend it or you've hired a private mediator.
In most cases, court-ordered mediation won't cost you anything. Attending private mediation sessions is different—you can expect to pay approximately between $3,000 and $8,000. The price depends on two factors:
The mediator's rate
The time you and your spouse need to reach an agreement
What Can You Expect From the Mediation Process?
Divorce mediation sessions happen in a neutral, informal, and safe environment. Here's how the mediation process typically plays out:
The mediator will explain all the steps of the mediation process and gather as much information as they can about you and your marriage
They might require you and your spouse to sign an agreement that says you'll keep the information revealed in mediation confidential
The mediator will talk about how you want to address the issues of:

Child custody and visitation

The mediator may ask to review financial documents, like tax returns and mortgage statements
You will be asked to express your expectations from the divorce
The mediator will help you identify the issues you have regarding the terms of the divorce
You and your spouse will enter a negotiation stage, during which you will explore all possible options for your divorce
The mediator will guide you through the negotiation and assist you in narrowing down the options that work best for both of you
You will create a divorce settlement agreement once you've negotiated all the terms of your divorce
How To Obtain a Divorce Settlement Agreement
A divorce settlement agreement is a document that you and your spouse will use to outline all aspects of your divorce—like child custody, alimony, child support, etc. Your mediator can help you create a divorce settlement agreement, but in most cases, the service will cost you additionally.
There are more affordable ways to get a divorce settlement agreement, and they are as follows:
Use DoNotPay To Draft a Perfect Divorce Settlement Agreement
You can use DoNotPay to create a professional and fully personalized divorce settlement agreement. We will combine the details you provide and our knowledge of the state laws to create a professional and comprehensive document in record time!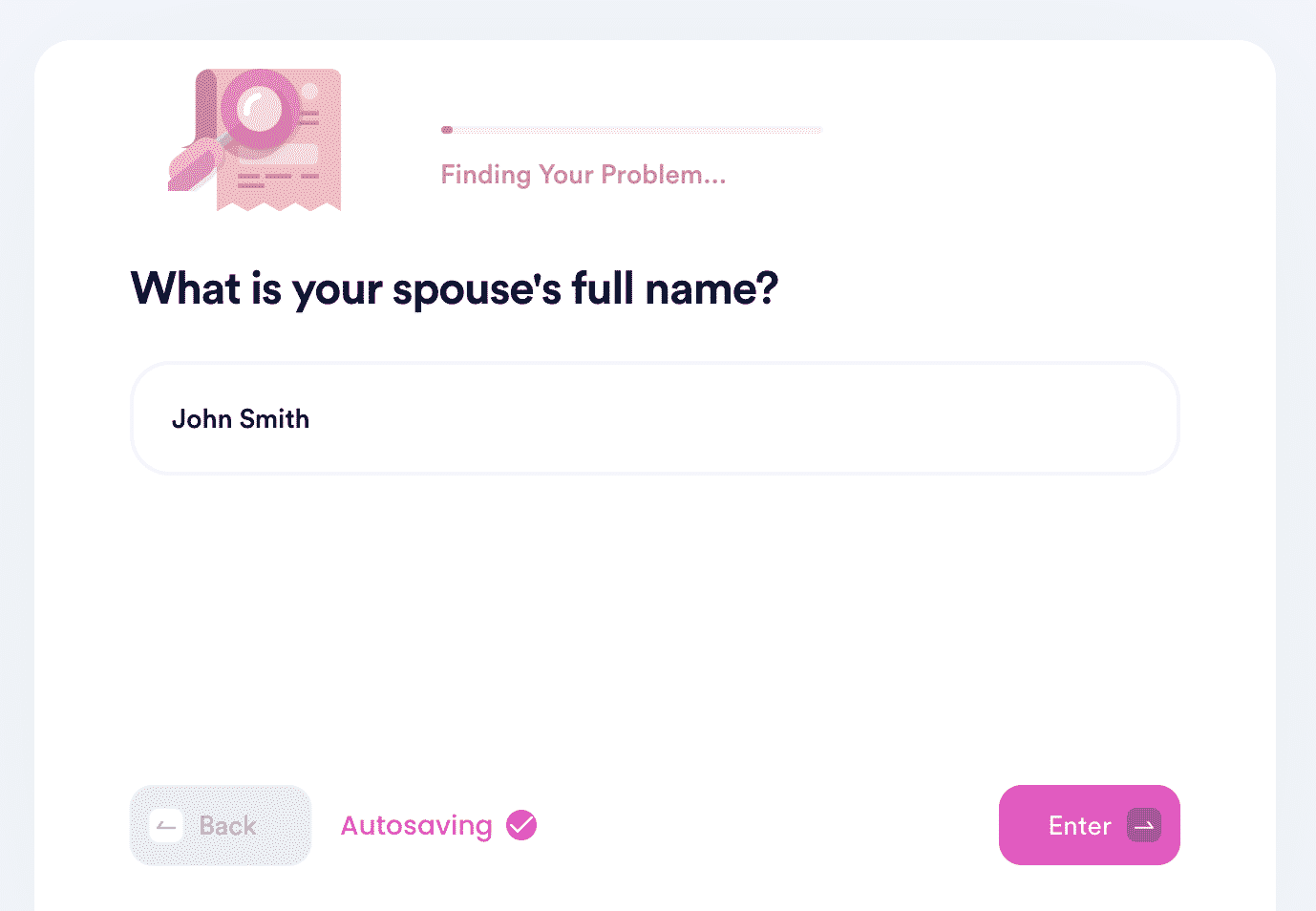 What you need to do is sign up for DoNotPay and follow the steps below:
Select the Divorce Settlement Agreement tool
Enter all the required information
Indicate whether you need a notary
We will create your divorce settlement agreement in no time and send it to you. If you opt to get your document notarized with DoNotPay, we'll make an appointment with an online notary who will witness the signing of your document remotely.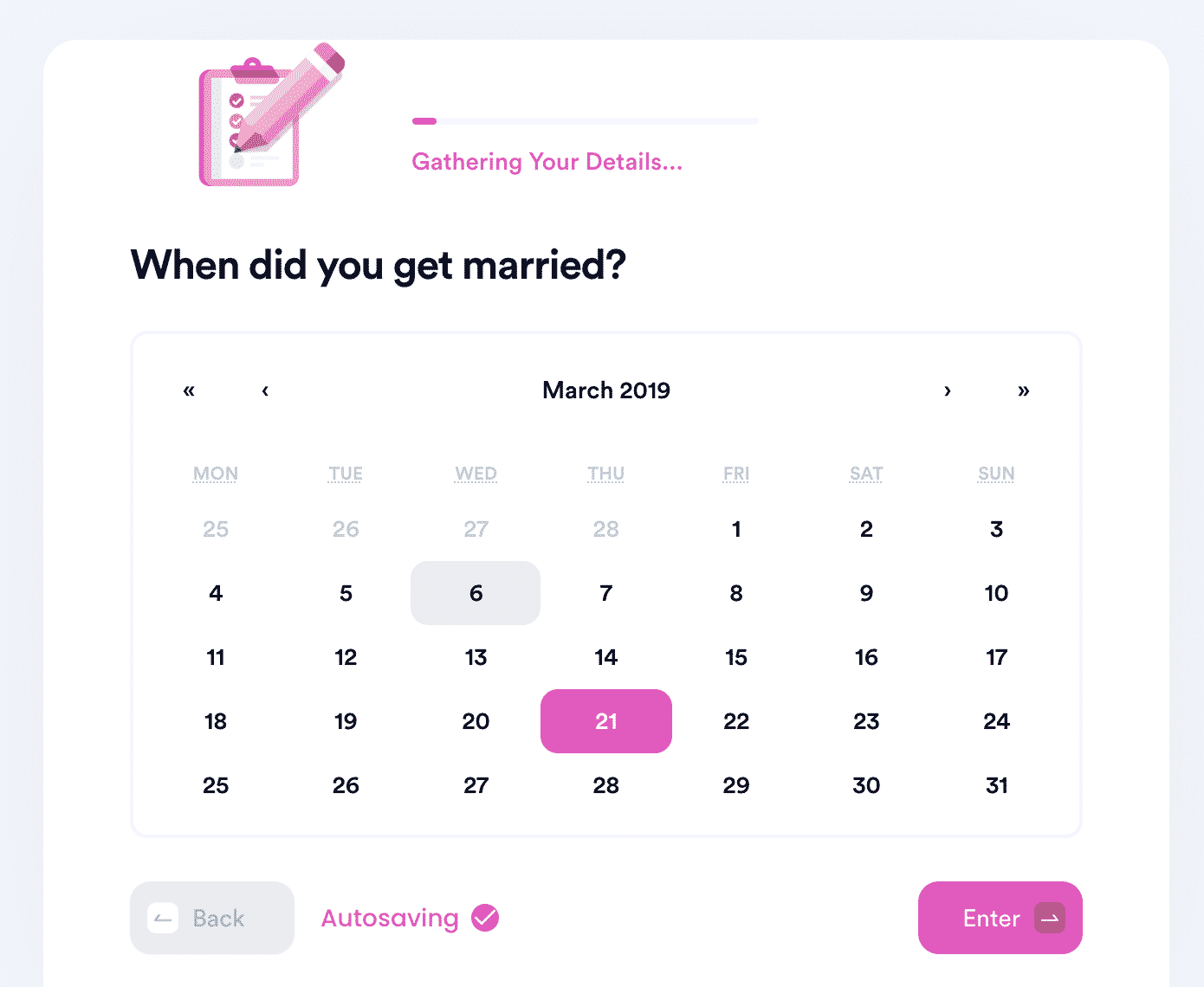 If you need more information regarding divorces, consult DoNotPay's learning center. You'll find answers to all divorce-related questions, including:
Use DoNotPay To Deal With a Plethora of Bureaucratic Tasks!
Tired of dealing with bureaucracy? We understand the struggle, and that is why our app makes handling administrative tasks a breeze!
Regardless of whether you need to compose a legal document, such as a power of attorney or a child travel consent form, appeal property taxes or your parking tickets, file a financial aid appeal and a FOIA request, or get a document notarized, DoNotPay has got you covered!
In case you also need to submit anonymous HR complaints, our app will provide you with the easiest way to do so!
Go on a Stress-Free Shopping Spree With DoNotPay
Do you like to shop until you drop? With DoNotPay, you won't have to worry about dropping! We'll make sure you can:
If you need more money to continue your shopping spree, let our app help you find any unclaimed funds under your name and enter numerous giveaways and sweepstakes!