The Great Unknown—What To Expect in a Divorce With DoNotPay
One of the most traumatic aspects of a divorce is not knowing how the process will pan out.
As you embark on the journey, you want everything to go smoothly. You hope for a low-cost, easy divorce with few court appearances and no aggressive lawyers, but most of all, you want to know that you will be able to emerge unscathed at the end.
DoNotPay is here to help you manage your fear with our guide on what to expect in a divorce.
What Happens in a Divorce?
In most states, you don't need to prove that your spouse did anything wrong to be able to file for divorce. All you have to do is attest that your marriage is irretrievably broken or that you and your spouse have irreconcilable differences.
There are two basic divorce scenarios that you could find yourself in:
Contested
Uncontested
Contested
A contested divorce occurs when you and your spouse disagree on:
The need for a divorce
The terms of the settlement
Either scenario will mean that your case will land in court if you cannot resolve it in advance. The result of a court case will always be unpredictable—even superficially similar cases may swing either in your or your spouse's favor—regardless of any precedents.
This unpredictability is one of the major causes of trauma in divorce cases—but good sense and a willingness to negotiate can avoid much of the pain.
Uncontested
Uncontested or friendly divorces are considerably less fraught, as you and your spouse agree on how the process should unfold.
Depending on the state you live in, you can file for an uncontested divorce jointly or separately. In all cases, your case will only be judged to be uncontested if you and your spouse have a divorce settlement agreement in place to regulate the dissolution of your marriage.
Filing for Divorce From A to Z
The least stressful and most inexpensive route is when you and your spouse agree on an uncontested divorce.
The exact process varies from state to state, but in most uncontested cases, filing for divorce involves three steps:
Filing a petition
Agreeing on a settlement
Filing a Petition
Your first step is to file a petition or complaint for divorce, which formally asks your county court to dissolve your marriage. In uncontested cases, some states allow you to file jointly with your spouse.
Most county courts can provide you with standard petition forms for you to fill in. You will also have to attach a list of your:
Children or dependents
Joint and individual assets and liabilities
Income and expenses
Serving Your Spouse
If you have filed separately, you have to have the divorce papers delivered to your spouse by a sheriff or professional process server. Your spouse has to sign an acknowledgment that they have received the documents.
Your spouse will have a specific timeframe for responding—if they wish to contest the divorce, this is their opportunity to say so. If they are happy to leave the divorce uncontested, they can either not respond or signify their assent to the proceedings in writing.
Agreeing on a Settlement
The most important step in the divorce process is drawing up a divorce settlement agreement.
The agreement refers to the documents attached to your petition and sets out how everything in your married life should be divided, including:
The more comprehensive and watertight your divorce settlement agreement, the more likely a judge will be to grant an uncontested divorce.
What Part of the Divorce Process Are You Most Scared Of?
Every step in the divorce process can be scary, but most steps can be managed and predicted to minimize the worry. The most common fear factors are:
Divorce Fear Element
Explanation
Future planning
The scariest part of any divorce is the life changes that you face after your marriage is dissolved. The best way to manage this fear is to plan as much as possible in advance—a well-thought-through divorce settlement agreement can give clarity on those joint areas that will be separated through the divorce
Costs
As soon as lawyers become involved, your divorce costs can escalate rapidly. Lawyers typically charge between $100 and $500 per hour for their services, and the average total costs for a divorce per spouse are:

$13,000 in contested cases
$4,000 for an uncontested divorce with lawyer support

Exposure in court
Many people fear that their darkest secrets may come to light during court procedures. In contested divorces, this may be the case. A judge will take the behavior of each spouse into account when deciding on the verdict in a divorce
The best way to avoid these three fear factors is for you and your spouse to work towards an uncontested divorce.
If you and your spouse can agree on a settlement, you can get a divorce without the need for lawyers and—in many cases—without a single court appearance. The key to this is to reach a consensus on your divorce settlement agreement.
How Can You Draft a Settlement Agreement?
Your divorce settlement agreement can be drawn up using the following resources:
| | |
| --- | --- |
| Settlement Agreement Resource | Explanation |
| Lawyer | A lawyer can draft a thorough and wide-ranging agreement but may be overkill if you and your spouse already agree on the settlement details. Even if some details are unresolved, you can avoid the expense of a lawyer by using a mediation service instead |
| Online | Numerous companies offer online settlement agreement templates. While these are undoubtedly a cheaper option, you need to exercise caution—many of the templates are generic and won't be tailored to your exact needs |
DoNotPay has the solution—our Divorce Settlement Agreement feature can generate a watertight and customized document for you without the expense of a lawyer!
DoNotPay Is the Way To Conquer Your Fear!

DoNotPay wants your divorce to be as predictable and controllable as possible! We understand that the more control you have over the process, the better you will be able to handle the trauma of your divorce.
Our Divorce Settlement Agreement product is designed to give you a watertight document that meets your and your spouse's needs.
Here's how to set up your settlement agreement:
Find our Divorce Settlement Agreement feature
Fill in the details you want to be included in your agreement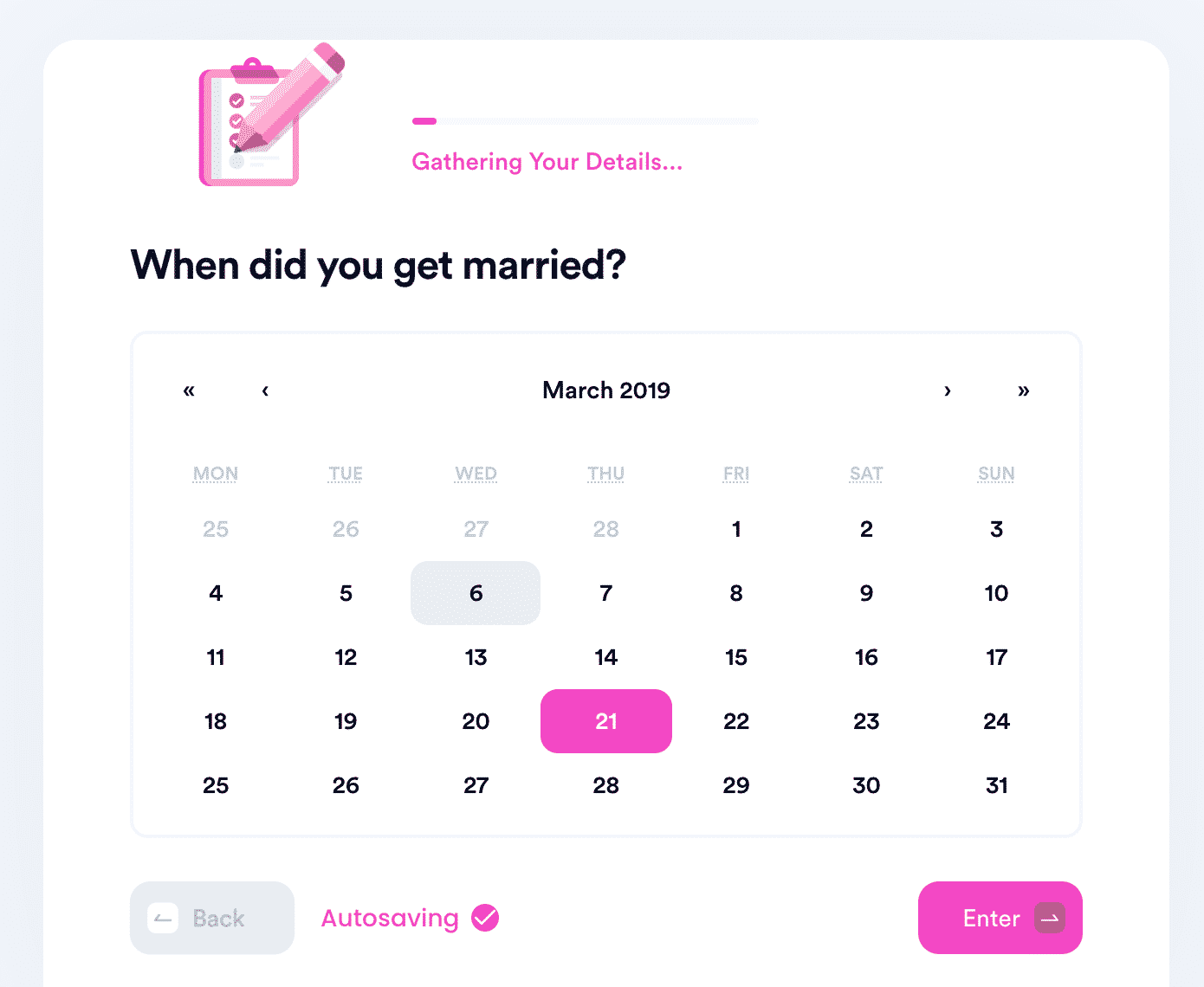 Once we have everything, your agreement is ready to go. You and your spouse can sign the agreement and have it notarized, and it can be added to your uncontested divorce papers. Don't worry if you don't know where to find a notary—you can use our online notarization service to get your documents signed and sealed!
DoNotPay Makes Administrative Hurdles a Piece of Cake
If you ever needed to deal with an administrative task, such as drafting a valid legal document or paying property taxes, you know that it's a struggle. The good news is—it doesn't have to be!
With a bit of assistance, you can draft a POA document and learn how to reduce your property taxes in a jiffy!
DoNotPay will also show you how to tackle any of the following tasks like a pro:
We Offer More Helpful Tools!
Helping you deal with bureaucratic hurdles isn't everything we got in store for you! DoNotPay boasts various other nifty tools that you can use to deal with everyday tasks. You can: