What To Do When the Neighbor's Dog Poops in Your Yard—No More Number Two's on Your Lawn
Picking up a dog's number two is unpleasant, but if you have a pooch of your own, you know cleaning up after them is part of the deal. If it's your neighbor's dog's doo-doo, you have every right to be upset about it. Neighbors can be a nuisance, but DoNotPay can help you resolve any issues you have with them—or their ill-mannered pets.
If you are wondering what to do when the neighbor's dog poops in your yard, we can help you out. for useful tips and solutions for handling any neighbor-related matter.
Is the Neighbor's Dog Pooping in Your Yard? Best Ways To Prevent the Issue
Dogs aren't aware of human boundaries and when they've crossed them, but their owners should be. If your neighbor lets their dog poop in your yard once, it can become a habit if you don't act on it. You can prevent it from happening again using the following methods:
Talk to your neighbor and find a way to resolve the issue
Take preventive measures
Make a demand letter with the help of DoNotPay
Talk It Out With Your Neighbor
If you're sure that it was your neighbor's dog who has done the deed, you can approach your neighbor about the incident politely. Ask them respectfully to pay more attention to their dog. Chances are they will not approve of their dog's behavior and will understand your inconvenience. They will likely try to prevent this from happening again by walking their dog more often or potty training them.
According to the Environmental Protection Agency, dog feces are an environmental hazard, so you shouldn't feel uncomfortable talking about this with your neighbor. If they are not responding to your calm and polite attitude or they don't believe you, it may come in useful if you have photo evidence to present.
Prevent the Neighbor's Dog From Pooping in Your Yard Again
Your neighbors should try their best to prevent their dog from relieving itself in your yard, but there are several ways you can stop this incident from happening again:
Make your fence higher and fill any holes in it that are big enough for the dog to squeeze through
Use various dog repellents in your yard (ammonia, chili peppers, vinegar, citrus fruit juice, and rubbing alcohol are all effective solutions)
Let the sprinklers do the work
Install a yard camera so you can catch the dog in the act and record it
Make a Demand Letter
In case prevention and discussion don't pan out, you can make a more formal move and let your neighbor know your demands in writing. Some neighbors are too stubborn or proud to believe their dog could be pooping in other people's yards, so make sure to provide photo evidence along with your demand letter. The letter should include an arbitration notice, a compensation request for littering, and legal action that will follow if the issue persists.
Complain to the Local Authorities or Animal Control Services
Some neighbors can be rude, so they keep ignoring your demands even after their dog has pooped or peed in your yard numerous times. You don't need to take that. It's easy to report your neighbor to the local authorities or animal control services by:
Contacting the authorities via email or phone
Describing in detail what's going on with your neighbor's dog
Mentioning other neighbors that have the same issue if that is the case
Sending proof to the authorities if they request it
The local authorities will pay your neighbor a visit, especially if the dog is pooping in other people's yards, too. Animal services might take your neighbor's dog away, and the neighbors could get a hefty fine for their ignorance.
That is why getting the authorities involved is a drastic measure. Most neighbors are likely to address the issue after they receive the complaint letter and before the authorities are involved.
How To Deal With the Neighbor's Dog's Poop Problem Efficiently—Make a Demand Letter With DoNotPay!
If your neighbor is not cooperating and you're slowly losing your patience, you can send them a demand letter. DoNotPay's versatile Neighbor Complaints feature makes it easy to address various neighbor issues, from noise and harassment to animal- and drug-related matters. All you need to do once you is:
Look for the Neighbor Complaint feature on our website
Enter the type of problem with your neighbor
Provide us with the details and dates of the event(s), as well as the amount you request to compensate for your trouble
DoNotPay will create a demand letter for you and mail it to your neighbor.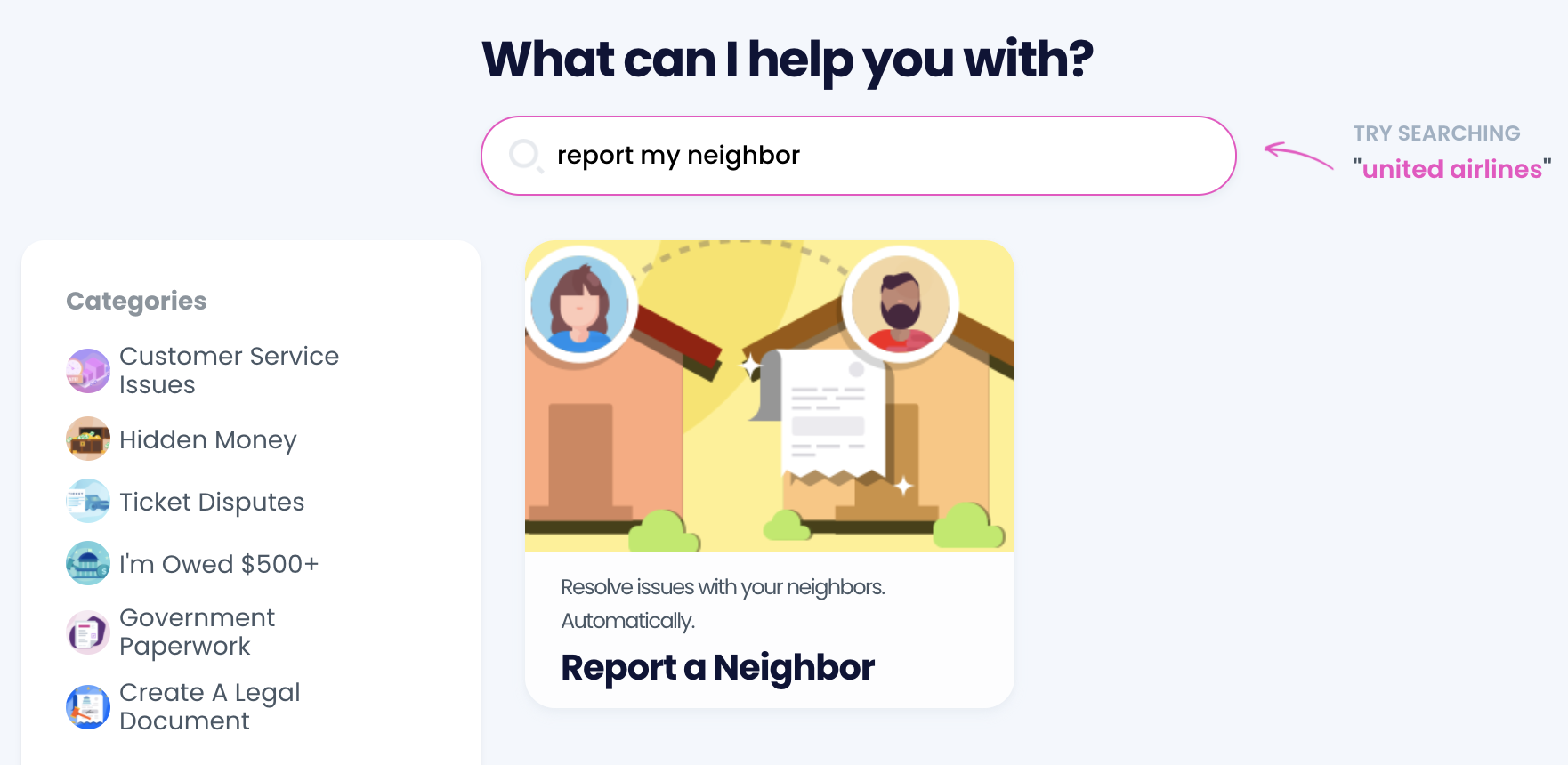 We can also help you with other issues with neighbors, such as:
| | |
| --- | --- |
| Animal-related issues | |
| Noisy neighbors | |
| Other issues | |

Save Some Coins With DoNotPay
Are various subscriptions and memberships burning a hole in your pocket? DoNotPay can help you cancel all of your memberships in a matter of minutes without having to contact customer service reps.
Next time you want to register for a free trial, prevent unexpected costs with our virtual credit card. Once the trial is over, you'll be unsubscribed right away because our virtual credit card doesn't contain any money. We will also generate a random email address you can use if you want to protect your privacy and avoid spam marketing emails.
Do you need help claiming warranties and insurance policies? DoNotPay can help with that too.
Should you need assistance returning an item or requesting refunds for purchased products, canceled flights, or late deliveries, we've got your back!
Avoid wasting money on lawyers—DoNotPay is here to help you sue anyone in small claims court and create numerous legal documents in the blink of an eye!
DoNotPay Can Help You Earn Money Too
DoNotPay users can save hundreds of dollars thanks to our app, but did you know that we can help you earn a few bucks as well? Our app enables you to claim missing money under your name or file your application for paid clinical trials in less than five minutes.
You can even get compensation for reporting robocalls or apply for a crime victims compensation program in your state by signing up for our app and following a few simple steps.