What To Do When Getting a Divorce—DoNotPay Provides the Answers
Have you and your spouse decided to part ways, but you're not sure what to do when getting a divorce? If so, don't worry—you've come to the right place! DoNotPay has prepared an article to turn your divorce procedure into a piece of cake. We'll help you choose the best divorce type and end your marriage on good terms with your spouse with a pitch-perfect divorce settlement agreement.
What To Do Before Filing for Divorce
Before you file for divorce, you should:
Opt for the right divorce type
Draw up a divorce settlement agreement
Go for divorce mediation (if necessary)
Opting for the Right Divorce Type
Choosing the right divorce type is crucial as it will impact the length and the cost of the procedure. You can get a contested or uncontested divorce. To learn about the two, check out the table below:
| Contested Divorce | Uncontested Divorce |
| --- | --- |
| This type of divorce is for couples who can't agree on certain issues, so the judge has to resolve them at multiple court hearings. The couples who opt for this divorce type will need to spend big bucks on court and attorney fees | Uncontested divorces are for spouses who are in agreement and want to go through the procedure in a friendly manner. This allows them to: |
Most couples opt for uncontested divorce because it's much easier and doesn't require them to spend a fortune on ending their marriage.
Drawing Up a Divorce Settlement Agreement
The divorce settlement agreement is a crucial document you'll need to file, among other divorce papers. It needs to contain the terms on which you and your spouse have agreed to get divorced, including:
By drawing this document up, you'll have greater control of the procedure as the judge won't have to rule on the terms of the divorce in your stead.
You have multiple ways of obtaining this document, such as:
Hiring a divorce lawyer—Although reliable, this option is quite expensive as lawyer fees are at an all-time high
Writing it yourself—If you want to write the settlement agreement yourself, be extra careful as making a mistake means that you'll have to start the process from scratch
Subscribing to DoNotPay—We provide the most efficient and affordable way of obtaining the divorce settlement agreement. DoNotPay can generate this document, personalize it according to your needs, and send it your way in a snap
Going for Divorce Mediation
Divorce mediation is a process in which a professional (called a mediator) helps spouses reach an agreement regarding different aspects to be covered by their settlement agreement. Mediators are neutral to the case and don't work for either party. Their job is to come up with solutions that the couple can use to meet halfway.
By opting for divorce mediation, you will save money you'd otherwise spend on lawyers representing you, and your divorce will be finalized without you having to go to court.
Getting Ready for Divorce—Use DoNotPay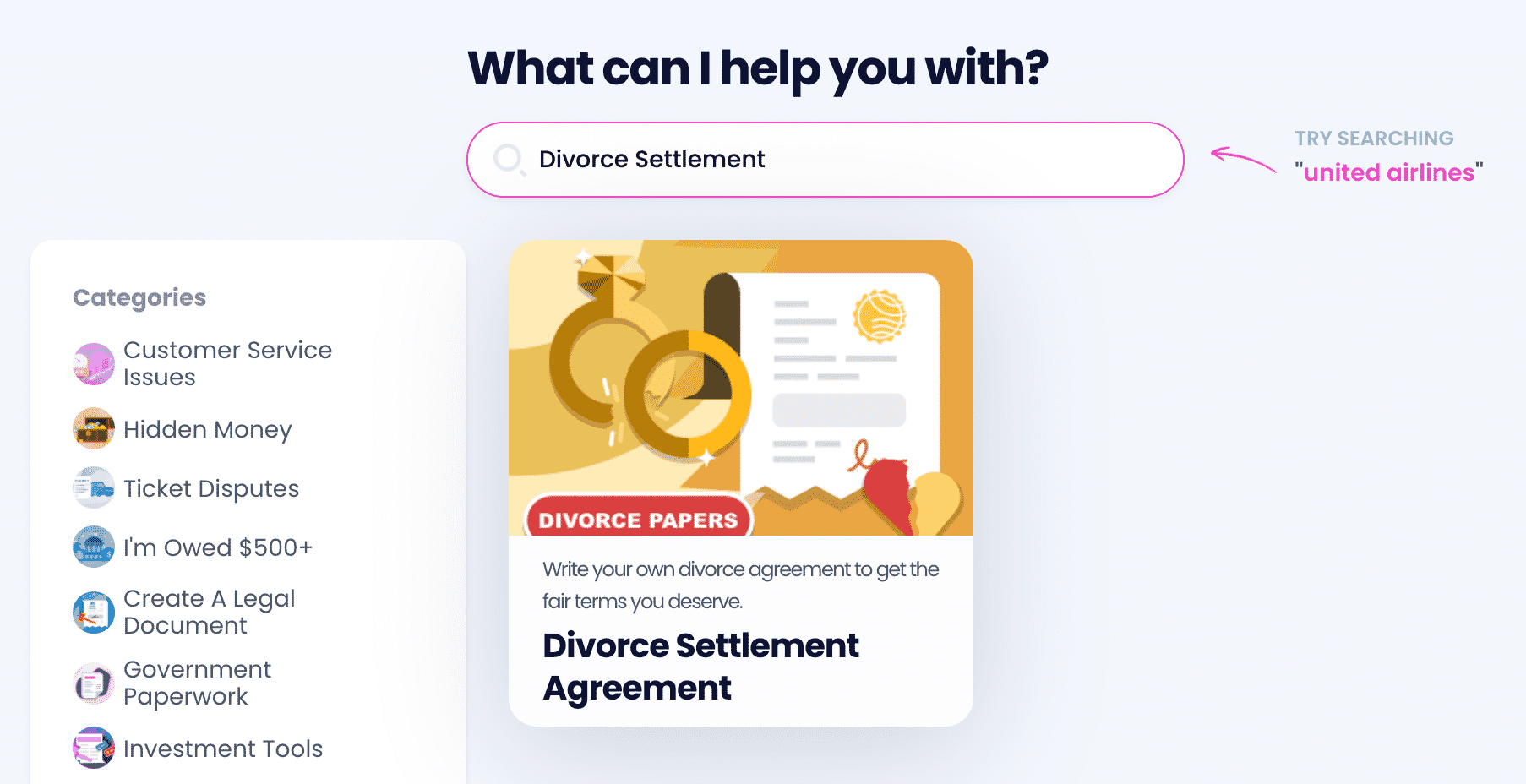 Don't waste money on expensive lawyers or time writing the divorce settlement agreement yourself—subscribe to DoNotPay instead! Our AI-powered app will generate this contract to tailor to your needs perfectly, and it will be:
Compliant with state laws
Fair to both parties
To get one, all you have to do is:
Find our Divorce Settlement Agreement tool
Enter the necessary details about your marriage, spouse, children (if any), etc.
Hit Submit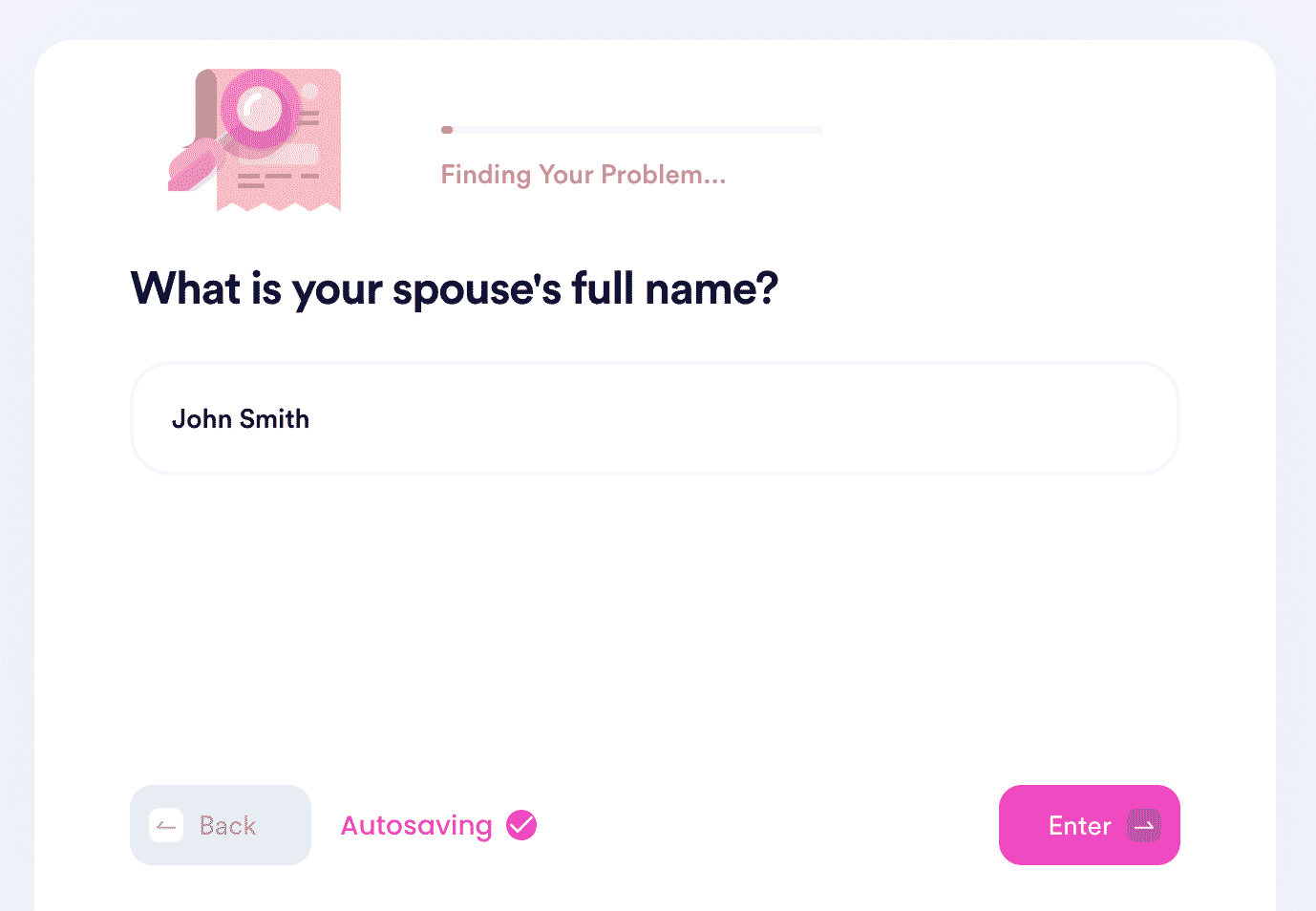 Once you tell us what you want your settlement agreement to contain, we'll generate it accordingly and send it to you via email. Some states require you to have it notarized, so you'll need to find a notary public. The search can be time-consuming and tricky, so we've created a tool to help you out. If you opt for our online notarization service, we'll send you a link that you should follow to schedule an online appointment with a notary. This way, you can make your document legally binding from the comfort of your home!
What To Know Before Getting a Divorce—DoNotPay's Learning Center Can Help You Out
Divorces are difficult, and laws can be tricky to understand. If you want to make your divorce a breeze, check out DoNotPay's articles, such as:
Divorce laws differ from one state to another, so find yours in the following table to stay in the loop:
Learn How To Solve Legal Issues in Minutes!
Do you need to draft a legal document? Spending hundreds of dollars on lawyers is not the answer. We came up with a faster and more affordable solution. Not only can our app draft child consent forms, divorce settlement agreements, and powers of attorney for you, it can also provide legal assistance by helping you take anyone to small claims court!
Drafting numerous documents is not all DoNotPay does for you! Aside from drawing up contracts and agreements, we can also assist you in getting them notarized online from the comfort of your home or office!
Explore DoNotPay's Other Nifty Features
There is more assistance on the way! You can use DoNotPay's features to handle various tasks with ease, including:
We can also help you protect your safety. If you don't know how to deal with copyright infringement, stalking and harassment, work discrimination, sex offenses, and disputes with annoying neighbors, DoNotPay has got you covered.