Figure Out What To Do if Your Neighbor Has Bed Bugs
Bed bugs can spread from one house to another, so if you suspect your neighbor's house is infested, it should be a wake-up call. Disinfecting your own house isn't enough to keep you safe—your neighbors need to do the same.
Do creepy crawlies give you the heebie-jeebies? is here to help you out!
Our app is an expert in dealing with all sorts of neighbor-related issues—noise, loud pets, all forms of harassment, and even annoyances like bed bugs.
We can teach you what to do if your neighbor has bed bugs, how to escalate the issue, and how to draft a demand letter in minutes.
What Are Bed Bugs? Should You Be Worried for Your Safety?
Bed bugs are ovalish, brown insects that survive by drinking animal and human blood. These creatures are called bed bugs because they prefer to find a home in sofas, mattresses, and other soft materials.
Their bites can cause various skin problems, such as rashes, infections, blisters, and general itching. In more severe cases, they can also induce fever and allergy-like symptoms.
How Do Bed Bugs Travel?
Bed bugs don't fly or jump. They can only walk or climb and can easily travel through drain pipes and vents.
It is rare for bed bugs to spread if you live in a detached house. Still, if you live in a condo or an apartment, a neighbor's infestation can spread to your home through wall cracks and shared walls.
How Do You Know if You Have Bed Bugs?
Various telltale signs help confirm the presence of bed bugs, such as:
Dark red spots on mattress seams and pillowcases
Red bites on parts of your body when you wake up
Foundation bug bites
Shells of bugs
Presence of an actual live bug
What Precautions Should You Take To Prevent an Infestation?
If you suspect that your neighbor has bed bugs, take the following preventative measures to protect your home:
Prevention Method
Brief Details
Examine your house
Go through every nook and cranny of your apartment to make sure you don't have any bed bugs. Crucial places you need to check include:

Mattresses
Clothes
Bags and shoes
Boxes
Wooden furniture
Books

Bed bugs love the dark, so check all dark places in your apartment to confirm your home is safe. If you've brought something over from your infested neighbor's place, make sure to examine it thoroughly

Hire a professional inspector
Doing it yourself isn't always enough. Get your home inspected by a professional to make sure it is clear of any bed bug infestations
Seal cracks
If there are any cracks near any outlets, pipes, or vents, seal them immediately
Disinfect everything
Get a professional disinfecting service to come over and disinfect your house. You also need to wash your clothes at a high temperature to kill any bugs
Avoid your neighbor
Avoid visiting your neighbor until their house has been professionally treated and disinfected
What To Do if Your Neighbor Is the Source of Your Bed Bug Infestation
Do you suspect your neighbor as the source of the bed-bug outbreak? Since bed bugs can easily travel through contact, it would be ideal to avoid your neighbor until they are free of the infestation.
This doesn't mean that you shouldn't address the matter at all. You should contact your neighbor via phone and let them know that they need to take appropriate action.
Send Your Neighbors a Demand Letter
If your neighbor refuses to listen to your requests, you should escalate the issue and send them a demand letter. The letter should include the arbitration notice, evidence of the infestation, and possible legal consequences if they don't respond to your requests.
Do you need help in drafting a professional demand letter? DoNotPay has got your back!
DoNotPay Can Draft Various Types of Demand Letters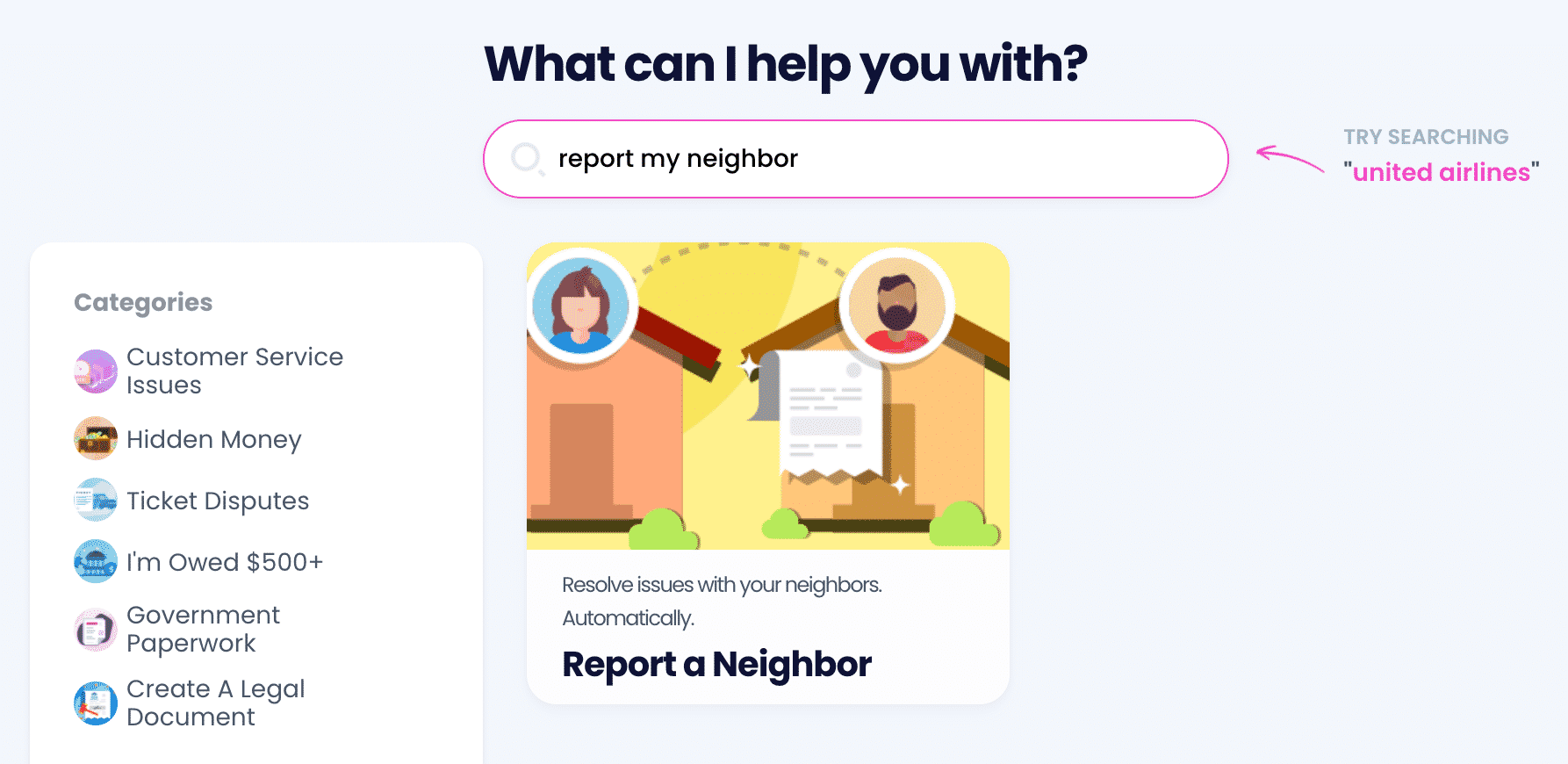 If you want to send a demand letter to your neighbor and you're not sure how to draft one, DoNotPay can help you out!
All you need to do is follow these instructions:
in your web browser
Go to Neighbor Complaint
Select the problem you're experiencing
Shed more light on the situation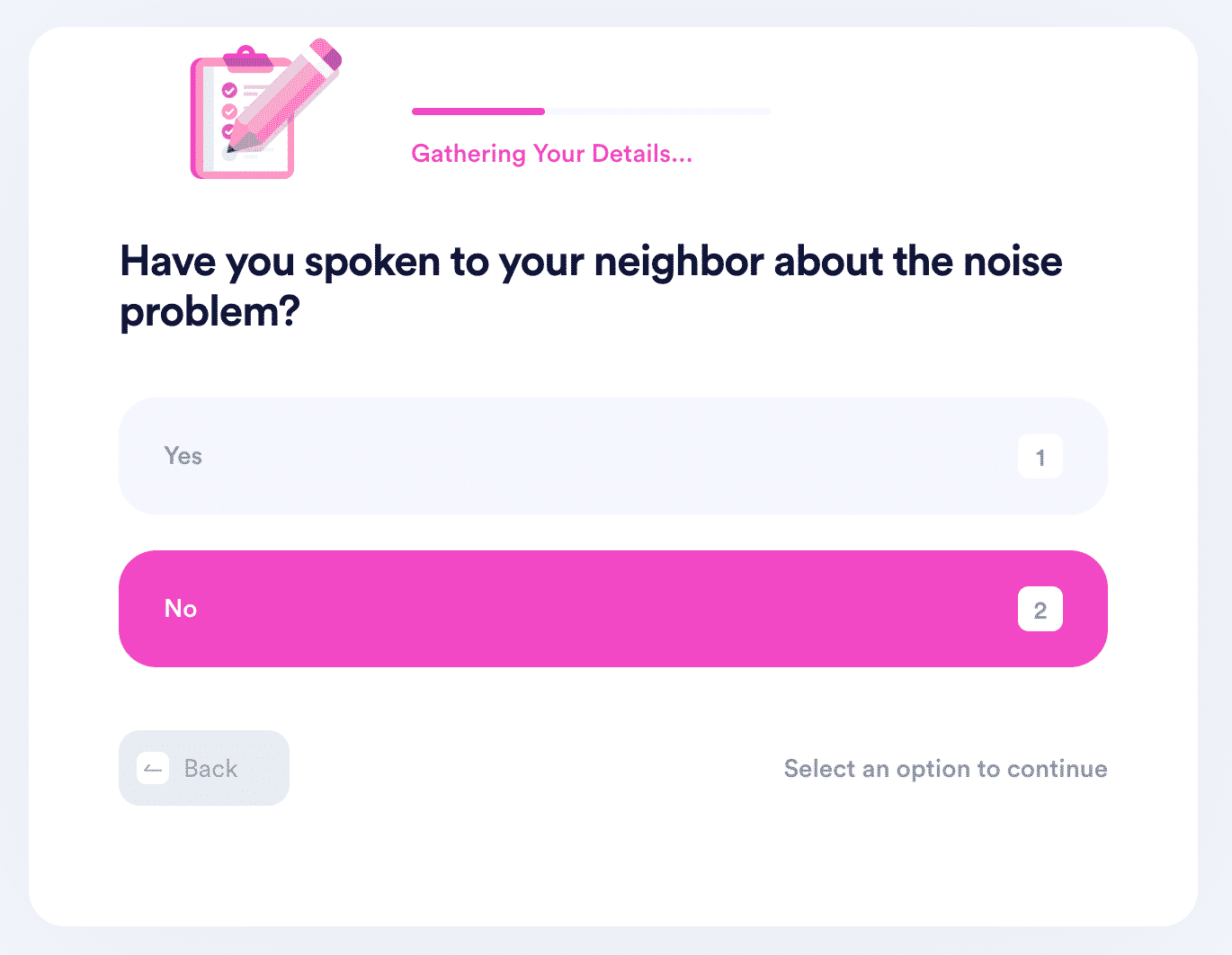 We will create the letter and send it to your neighbor. In most cases, your neighbor will realize their negligence and try to resolve the situation. If they refuse, file a formal complaint with the local authorities or take legal action, depending on the severity of the complaint.
Can You Sue Your Neighbor for Infesting Your Home With Bed Bugs?
A resident or property owner can sue an adjacent property owner for any interference or damage to their property. You can claim that your neighbors are the reason for the infestation, but it might be difficult to prove.
If you live in a rented space, a better solution is to file an official complaint to your landlord. They might have a more suitable remedy for the situation.
What Else Can DoNotPay Do for Me?
Check out some neighbor-related problems that we can help you with:
| | | |
| --- | --- | --- |
| Noisy Neighbors | Criminal Neighbor Behavior | Neighbor's Pets |
| | | |
Easy-Breezy Ways To Deal With Not So Breezy Issues
Administrative and similar tasks don't have to be as complicated as we've known them to be. With DoNotPay, dealing with paperwork and companies is done in a few clicks. Let the world's first robot lawyer help you:
Draft various legal documents
Money Troubles? I Don't Know Her!
As our app's name says, DoNotPay's mission is to put a stop to losing money and overpaying. We will help you get your hands on free trials and snatch free raffle tickets. DoNotPay can also provide solutions for you to get help covering bills and reduce your property taxes.
If you want to get some additional funds, use our app to sign up for clinical trials. You may also take our practice tests to ace a government test and land a better-paying job.
It doesn't hurt to check whether you are owed some unclaimed money, and we can help you with the application.