The Lowdown on What To Ask for in Divorce Mediation
Filing for divorce is fraught with worry about how the process will pan out.
One of the most traumatic thoughts is that of having to argue about who gets what in your divorce settlement.
You want to get your just desserts, but you also know that you should try and keep costs down by avoiding expensive lawyers and prolonged court cases wherever possible.
Many couples try to reduce costs by opting for mediation instead of lawyer-led settlement negotiation.
DoNotPay is here to help you—here is our guide on what to ask for in divorce mediation if that is your preferred route to a settlement.
How Does Mediation Fit Into the Divorce Process?
The steps in a divorce process are similar in most states and consist of:
Filing divorce papers—You start your divorce by filing a petition for divorce and all the required accompanying paperwork with your county court
Serving the papers on your spouse—Your spouse must sign that they have received copies of your divorce papers
Negotiating a settlement—Depending on whether your divorce is contested or uncontested, the process of negotiating a settlement will take place in front of the judge or out of court
In many cases, couples try to avoid lengthy and expensive court proceedings by aiming for a friendly divorce, in which the atmosphere is cooperative rather than adversarial.
When you and your spouse are working on your settlement agreement, your options for handling the negotiation process are:
Settlement Negotiation Options
Explanation
Lawyer

The traditional route taken by many couples is to hire attorneys to negotiate on their behalf. This can quickly become a costly exercise, as lawyers can charge up to $450 per hour and will normally demand a sizable upfront retainer to handle your case. Uncontested divorces involving attorneys cost an average of $4,500 per spouse

DIY

Couples who already agree on the terms of their settlement sometimes negotiate face to face with no third-party intervention. While this is the cheapest option, there is often no plan B if negotiations break down—meaning that the divorce ends up being contested in court

Mediation

Mediation offers a safe and cost-effective middle path. You and your spouse negotiate face to face, but your discussions are facilitated by an independent mediator. The mediator maintains your focus on:

The desired outcome
Concessions where necessary
Mutually acceptable dispute resolution
Mediation is a low-cost way of thrashing out a divorce settlement agreement that will pass muster with the judge in your case.
What Should You Demand in Mediation?
Your behavior—and that of your spouse—can be the deciding factor in whether mediation yields a settlement agreement you can be happy with.
As in any negotiation, your focus should be on achieving a win-win, but you should also bear in mind that a judge will require your settlement to be:
Fair and equitable
In the best interests of all parties, especially any minor children
Comprehensive (covering all the points listed in your initial divorce papers)
The most important points your settlement agreement must cover are:
Once you have determined what you need to negotiate with your spouse, you should spend some time planning the way you intend to approach the mediation sessions.
Your planning should include:
Negotiation Planning Areas
Explanation
Attitude

If you enter a negotiation with an aggressive attitude, you will likely get the same in return, resulting in the negotiation becoming a fight that could easily end in court.

You should keep in mind that—whatever your reasons for wanting a divorce—the mediation process is solely concerned with finding a settlement and finalizing your divorce

Like, intend, and must (LIM) points

For each point to be negotiated, you should prepare three numbers or scenarios, namely what you:

Would like to achieve ("L")
Will be happy to walk away with ("I")
Would not go below ("M")

This preparation forces you to think about the areas you are willing to concede on and helps you determine what is important to you.

If your spouse prepares similarly, a win-win settlement becomes considerably easier to reach

Desired result

If you have a picture of your ideal scenario after your divorce is finalized, it becomes easier to work towards that during mediation—as long as that picture is fair and not overly biased in your favor
Preparing these points can help you maintain focus and concentrate on achieving a fair and balanced outcome in your mediation sessions.
Ultimately, this can save you:
Money in lawyers' fees
Time spent in court
Trauma from protracted battles
How To Get Your Settlement Agreement Drafted
Once you have finalized the terms of your settlement through successful mediation, you need to have your agreement drawn up as a legal document.
Your choices to get this done are:
Lawyers—An attorney will be able to draw up a settlement agreement based on the terms you and your spouse have negotiated, but the cost can easily reach $1,500
Online services—Numerous websites offer settlement agreement templates for you to download and fill out, but many of these are too generic to be of any use in covering all the points you need to be included
Your solution is DoNotPay—we can create a comprehensive and watertight settlement agreement for you in a few clicks!
Get Your Settlement Agreement From DoNotPay!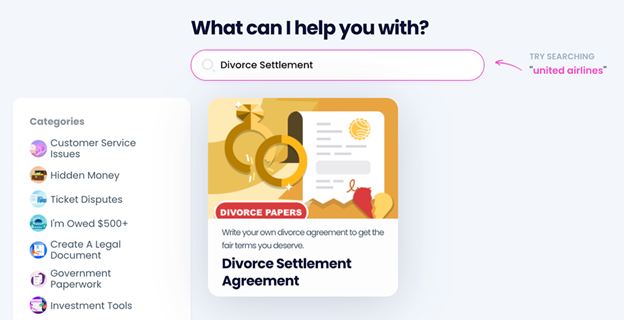 DoNotPay is committed to helping make your divorce as easy and painless as possible!
Our Divorce Settlement Agreement product is designed to take the difficulty out of drafting the most crucial document in the whole process.
We can take the terms you and your spouse have agreed on through your mediation sessions and generate a tailor-made contract for the two of you to sign.
Here's what you need to do to get your settlement agreement:
Sign up with DoNotPay in your web browser
Go to our Divorce Settlement Agreement feature
Fill in the details you and your spouse have agreed on
Once we have all the details, we will generate your document in a flash. You and your spouse can go ahead and sign it in the presence of a notary.
Don't know where to find a notary in your area? No need to worry—you can use our online notarization service to get your agreement signed and sealed!

Use DoNotPay To Complete a Variety of Tasks at Any Time
Why waste time and money completing mundane tasks on your own when you can let DoNotPay assist you? Take a look at the table below to find out what our AI-powered app can do for you:
| DoNotPay Can | Services |
| --- | --- |
| Protect your safety and privacy | |
| Draft legal documents | |
| Help you get your money back | |
DoNotPay Has More in Store for You!
Since communication is key, you'll appreciate our feature that helps you get in touch with customer service reps quickly! We'll also show you how to send faxes online and have your documents notarized by an online notary with ease!
Going on vacation? Use DoNotPay to take a valid passport photo at home or get a tourist visa!