Learn What States Have No Property Tax for Seniors With DoNotPay
Paying property taxes is difficult, especially for seniors. Even in states with low property taxes, seniors have limited income and struggle to cover their property tax bills. 
Luckily, most U.S. states offer property tax exemptions and relief programs to help their retirees. If you are wondering what states have no property tax for seniors, look no further! This article will explore various property tax exemptions for seniors across the U.S. and show you the easiest way to lower your property taxes!
What Constitutes Lower Property Taxes for Senior Citizens?
Property taxes vary from state to state, but the calculation process is more or less the same. A county assessor will assess your property value based on the current market rate in your area. Applying your area's property tax rate to the assessed property value results in your property tax amount.
Seniors struggle with property taxes because they tend to grow over time, while seniors' income stays the same. 
Senior citizens can typically apply for some property tax relief, depending on the state they live in. Available tax breaks for seniors in the U.S. include:
Deferrals

—it refers to the possibility of postponing tax payments

Tax credits

—some states offer senior citizens credit for the portion of the real estate taxes or a yearly rent

Exemptions

—property tax exemptions typically reduce the value of your home that is subject to taxation

Rate freezes

—they prevent property tax increases for eligible taxpayers
How To Qualify for a Senior Property Tax Reduction
There are some general qualifying criteria for senior property tax relief. Eligibility rules include:
Meeting the minimum age requirement for your state

Using the property as your primary residence

Satisfying income requirements
The age standard differs from state to state, but it usually ranges from 61–65 years. In some states, having a high income can disqualify you from getting property tax relief or reduce the amount of your property tax exemption. 
Are There States With No Property Tax for Seniors?
If you think it's nearly impossible to avoid paying property taxes, think again! 
While most states offer significant property tax relief to their seniors, others go even further. Meeting eligibility requirements in some U.S. states will completely exempt you from paying property taxes. 
States With Low Property Taxes for Seniors
Take a look at some of the U.S. states with the most generous property tax exemptions for seniors: 
U.S. State With No Senior Citizen Property Tax
Details

South Dakota

In addition to no state income tax, seniors residing in South Dakota can apply for the state's property tax relief programs. South Dakotans older than 70 can get a

homestead exemption

, allowing them to delay paying property taxes until the home is sold

Senior citizens in Florida can apply for a significant property tax reduction or a 100% exemption under certain circumstances

Alabama exempts senior citizens over the age of 65 from paying a state portion of property taxes

Non-military seniors in South Carolina can enjoy a homestead exemption for citizens over 65

Retirees in Georgia can apply for a property tax exemption or a property tax deferral

Seniors aged 65 and older in Honolulu can be exempt from paying $120,000 of their home value. That number will likely increase in the future

New Yorkers who are 65 or older and have an annual income of $29,000 or less can qualify for an exemption of 50% of their home assessed value

Harris County, Houston, exempts the majority of seniors over 65 from paying any property taxes. Houston area residents can get an exemption of up to $160,000 on top of a 20% home value reduction
Get a Property Tax Break for Senior Citizens With DoNotPay
Applying for a property tax exemption is a daunting task. It usually involves going through the state's government website and contacting your local county's tax office for more details on the procedure. Omitting a crucial document or failing to apply on time can cause you to lose your right to an exemption. 
Luckily, we can help you avoid the complex procedure by giving you all the information you could need in one place. 
DoNotPay will use some essential information from you to create a tailor-made guide that will save you a lot of time and effort. The guide will contain details on:
The type of exemption you qualify for 

Forms you need to complete 

Documents you must collect

Steps you need to take before you apply

Time and place for presenting the required documentation 

The course of the application process for your state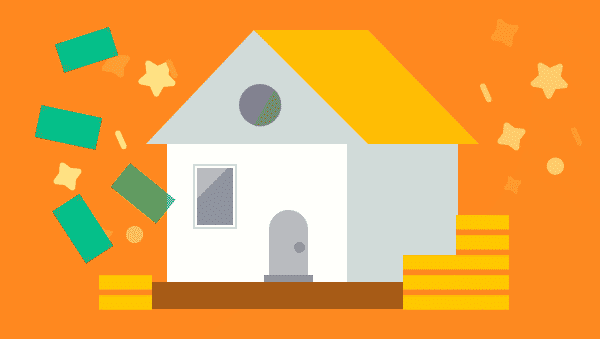 You only need to:
Navigate to DoNotPay in any

web browser

Answer basic questions regarding your property and your state of residence

Wait for our app to create a personalized guide just for you!
You can use our guide to file an appeal on past property tax assessments as well. If you need any help with paying your property taxes, we will deliver!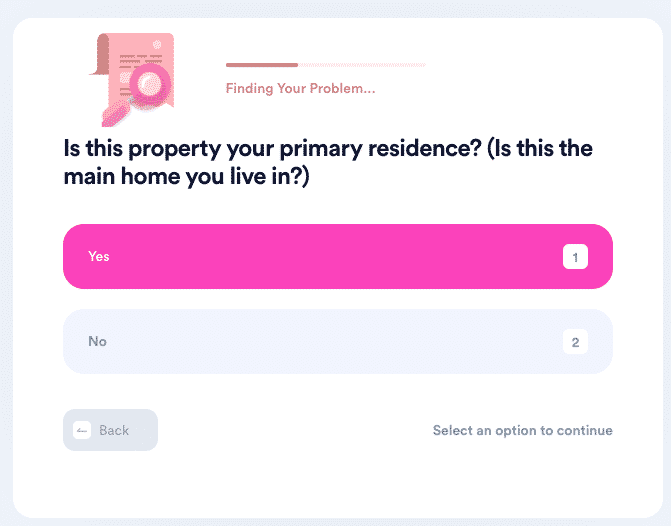 Forget About Bureaucracy With DoNotPay
There's no end to what our app can help you do. From drafting legal documents and asking for bill extensions and reducing property taxes to connecting with an inmate in a federal prison and contesting parking citations, DoNotPay can handle it all and cut through the red tape.
Need to pass a government test? Use our practice tests database to nail it. Looking to file an insurance claim? You've come to the right place. College applications drained your accounts? Request college fee waivers with our assistance.
The DoNotPay app is so versatile that it can easily locate any unclaimed funds under your name or any clinical trials that you're eligible to participate in. We can also schedule DMV appointments and take care of your small claims court documents.
Check Out What Else DoNotPay Has in Store
DoNotPay never stops upping the game. You can explore some of our latest features and see how you can access public records, receive free online fax, submit a warranty claim, or get compensation if you were a victim of a crime.
Alternatively, check out some of our most popular products that aim to reclaim your funds—from getting airline flight compensation and submitting refund and chargeback claims to canceling your unused subscriptions and getting class action cash from email, text, and robocall scammers.