What Should a Woman Ask for in a Divorce Settlement? Find Out With DoNotPay
Divorces suck for everyone, but they can be especially difficult if you are a woman.
Statistics speak for themselves—women's finances drop by 41% after a divorce. When children are involved, women can take an additional hit, even in a friendly divorce.
When drafting your marital settlement agreement, you might start wondering—What should a woman ask for in a divorce settlement?
The answer can be tricky, but DoNotPay has prepared a guide for you! We'll show you the ins and outs of this crucial document and draw one up for you in a snap.
What Is a Divorce Settlement Agreement?
A divorce settlement or a separation agreement is the most important document that you'll need to sign when ending your marriage. It contains the terms you and your spouse have agreed to get divorced on.
It's used in uncontested divorces, where the spouses are in agreement and don't have to hire a lawyer or go to court. The judge reviews the settlement agreement among other divorce papers to make sure it's:
Valid
Fair to both parties
Compliant with state laws
What To Ask for in a Divorce Settlement
Since you're filing for divorce amicably, you should discuss the following issues with your spouse beforehand:
Things Often Overlooked in Divorce Agreements
Oftentimes, spouses forget to talk out certain divorce aspects, such as:
How To Get a Divorce Settlement Agreement
You can obtain a settlement agreement in several ways, including:
Use DoNotPay and Don't Miss Out a Thing in Your Divorce Settlement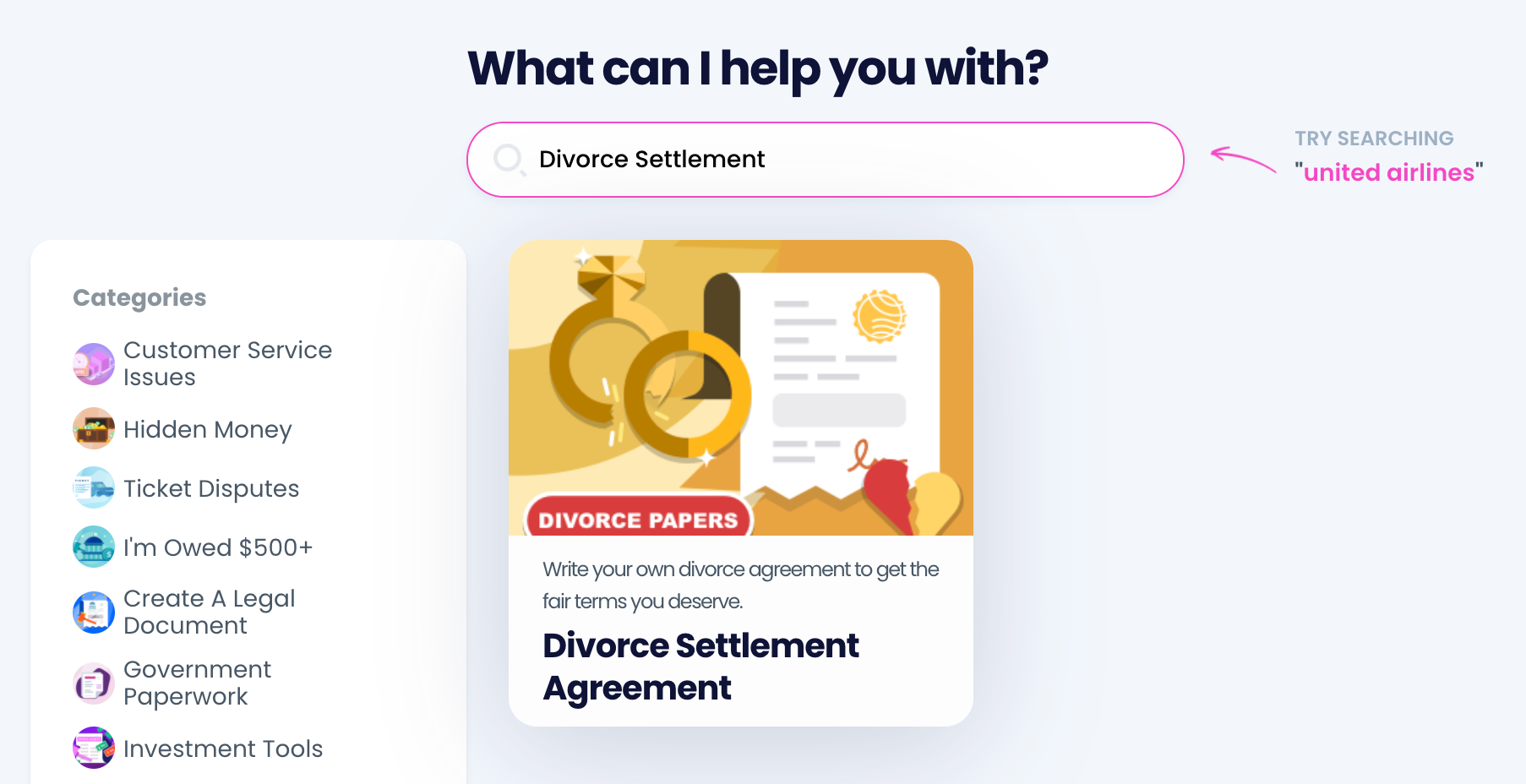 If you want to make sure you cover all the bases in your settlement agreement and get a fair deal, use DoNotPay! With our Divorce Settlement Agreement tool, you can get this key document in no time without having to hire lawyers or waste time writing it yourself. Here's the drill:
Navigate to our Divorce Settlement Agreement tool
Enter the necessary information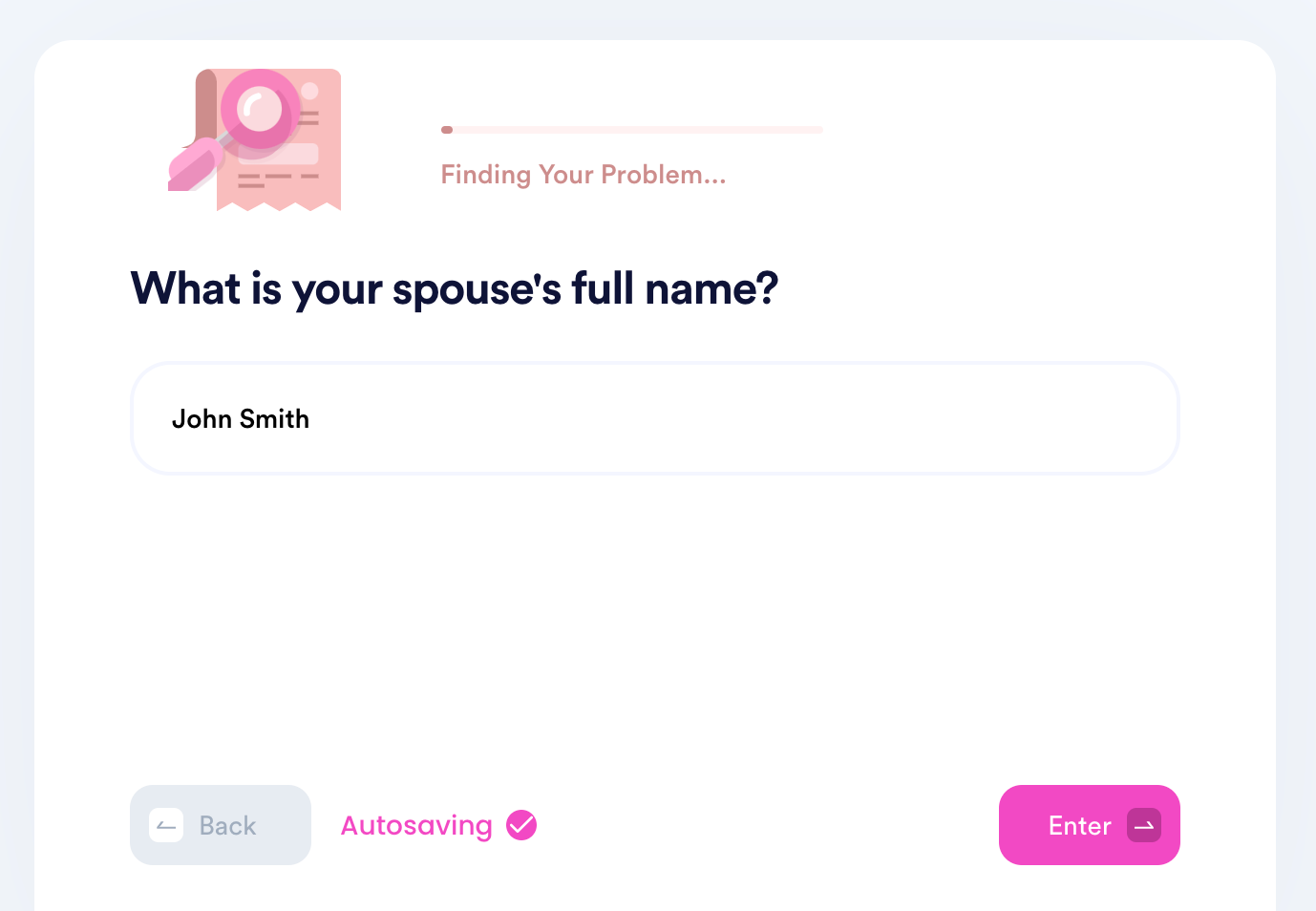 Our AI-powered app will process the details you give us and generate a personalized settlement agreement for you. You'll receive it via email in no time, along with a link that you can follow to make your document legally binding with the help of an online notary.
Need more help with divorces? Read DoNotPay's articles and find out the answers to questions such as:
As divorce laws differ in every state, we've prepared a table to help you get acquainted with them:
Use DoNotPay To Complete a Variety of Tasks at Any Time
Why waste time and money completing mundane tasks on your own when you can let DoNotPay assist you? Take a look at the table below to find out what our AI-powered app can do for you:
| DoNotPay Can | Services |
| --- | --- |
| Protect your safety and privacy | |
| Draft legal documents | |
| Help you get your money back | |
DoNotPay Has More in Store for You!
Since communication is key, you'll appreciate our feature that helps you get in touch with customer service reps quickly! We'll also show you how to send faxes online and have your documents notarized by an online notary with ease!
Going on vacation? Use DoNotPay to take a valid passport photo at home or get a tourist visa!