What Questions Do They Ask at Jury Duty Selection? Find Out Here!
Although the government gives money to jurors, this is not a job—it's mandatory for all citizens, and you'd be wise not to skip jury duty.
Receiving a jury duty summons is not a guarantee you will be part of the jury in the case you were summoned for. The way jury duty works is that you have to go through a selection process to see if you can give a fair and unbiased view of the case.
What are the eligibility factors? What questions do they ask at jury duty selection? We'll cover these topics in our article and show you how you can use DoNotPay to request jury duty leave from your employer.

Jury Duty—The Selection Process
When a court needs a jury for a case, regardless of whether it's a state or federal court, registered voters and driver's license owners from that district are randomly selected and summoned for further screening.
Eligible jurors must:
Have a United States citizenship
Be 18 to 70 years of age
Speak fluent English
Be eligible to vote
Not be convicted (or under indictment) for theft, misdemeanor, or felony
Not be an unemployed caregiver
Have no disabilities—mental or physical
If you are eligible and the court system randomly selects you, you need to prepare yourself for your jury involvement and go through the selection process. The selection consists of:
Going to court on the date announced in your summons
Filling out a questionnaire
Answering questions from lawyers to assess if you have any conflict of interest
Going to court every time the court is in session
What Questions Do They Ask at Jury Duty Selection?
To come to step four (going to court when sessions begin), you will need to show that you're capable of giving unbiased judgment by filling out a questionnaire.
The questions they ask for jury duty are related to:
Residency details
Children and relationship status
Employment status
Education level
Information on prior jury service
Other relevant experiences
When you answer them, court attorneys will ask questions about case-related experiences, knowledge of any related party, and your general opinions relevant to the case.
This way, the court will determine whether you'll remain impartial throughout the case and stick only to the proof provided.
Jury Duty—Getting Paid
The pay you receive serves as reimbursement for your beverage, food, and travel costs. Federal courts pay from $50 to $60, depending on the type of jury and the duration of the proceedings.
When it comes to county and state courts, it depends on the state you're in. Some states like South Carolina and Illinois offer zero pay, while others match the federal $50 compensation.
Check out the following table to find links about different laws for all 50 states and the District of Columbia:
Jury Duty—Employed Jurors
What happens if you're employed and can't get time off? Jury duty is not only important—it's obligatory. Regardless, some employers threaten their employees that they will demote them, reduce their salaries, or even fire them if they take their jury leave.
Most employees don't know that the law is on their side—when you send a notice to the employer, they have to respect your jury leave and let you attend court without any repercussions, regardless of how many times you're summoned.
DoNotPay Can Help You Deal With Your Employer Hassle-Free
With DoNotPay, you can request jury duty leave without any worries you'll be in your employer's bad books or suffer any consequences. With our app, you'll need only a few minutes to draft a professional leave request letter that will refer to the state law, which the employer has to respect.
All you need to do is:
Use your browser to sign up for DoNotPay
Select the Request Jury Duty Leave tool
Answer a few questions
Upload a photo of your jury summons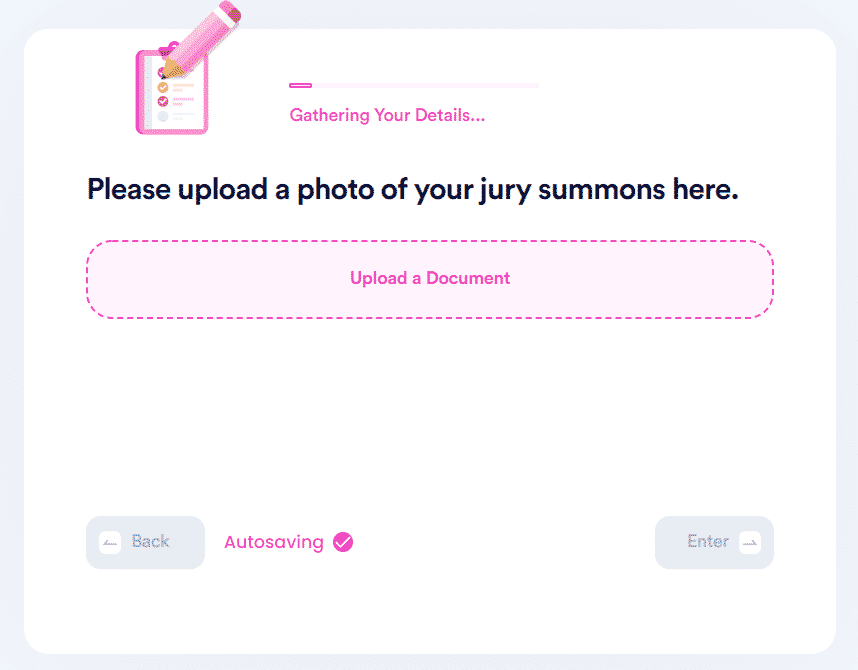 When we generate the letter, we can send it to your employer directly, or you can choose to download it for later use.
Solved Your Issue? Check Out More of Our Product Range
DoNotPay's forte is its versatility—you can use the app to resolve any problem of legal or bureaucratic nature!
As soon as you subscribe to our platform, you'll be able to:
Our App Helps You Both Save and Earn Money
Want to get more familiar with our extensive product range? Check out how, for one low monthly fee, we can help you both save and earn money by: